Veal Prince Orloff is a classic French dish combining thinly sliced roast veal, mushroom duxelles, onion soubise and creamy Mornay sauce. It's richly decadent with a taste quite unlike anything else: preparing and tasting this dish makes one understand why it was created for royalty.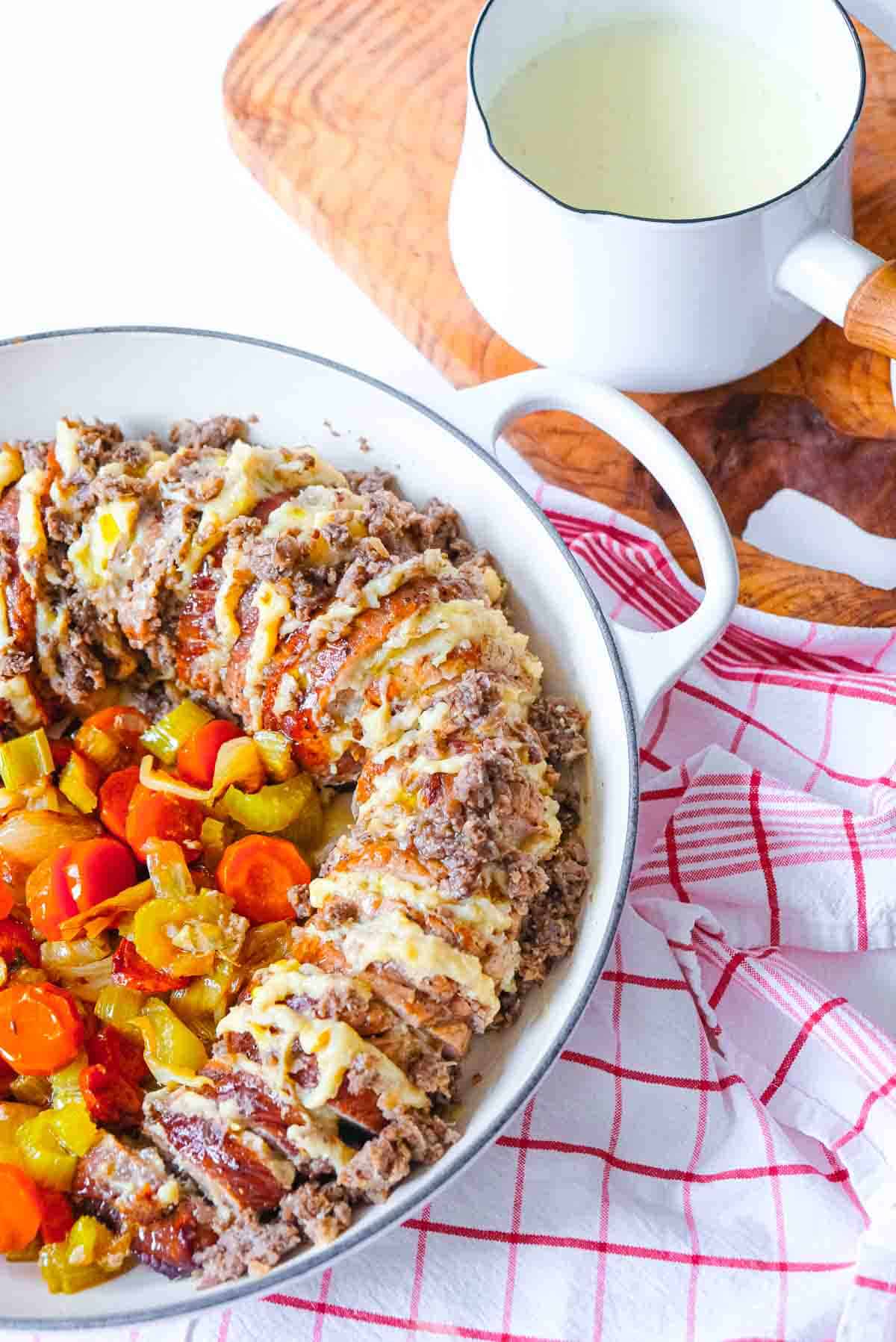 Supposedly created by a French Chef for a Russian prince, the dish was described by Julia Child in Mastering the Art of French Cooking as a "delicious creation…fine for a party as it may be prepared in the morning and reheated in the evening".
As a result of the Julia effect, the dish picked up a lot of steam in 1960s America but for some reason it's no longer the dinner party staple it once seemed to be. I suspect it has something to do with the elaborate preparation involved.
As one would expect of a classic French dish, there are many steps to make Veal Prince Orloff. Each element has to be prepared individually, which can take time. There are also some equipment requirements and a certain level of technical kitchen skills needed.
I made this recipe more as an exploration of Julia Child's work but I have to say I was pleasantly surprised by the taste. It's truly unlike anything else and the make-ahead flexibility makes all the prep work much more manageable.
I would definitely consider this recipe as the centerpiece of a future dinner party with a French classic theme.
If you try it let me know in the comments what you think.
Veal Prince Orloff Ingredients
The recipe in this post is adapted from Julia Child's recipe in Mastering the Art of French Cooking. It is mostly true to that recipe but differs in some minor aspects.
Classic French Veal Prince Orloff consists of 4 elements:
Roast veal: a veal loin (see note on choosing the right cut below) roasted and cut into thin slices, and roasting vegetables like carrots and celery if you like.
Onion soubise sauce: yellow onions, white rice, butter.
Mushroom duxelles; chestnut mushrooms, butter, and herbs like parlsey and thyme if you like.
Bechamel sauce with cheese (also known as Sauce Mornay): flour, butter, milk, grated cheese like Gruyere or similar.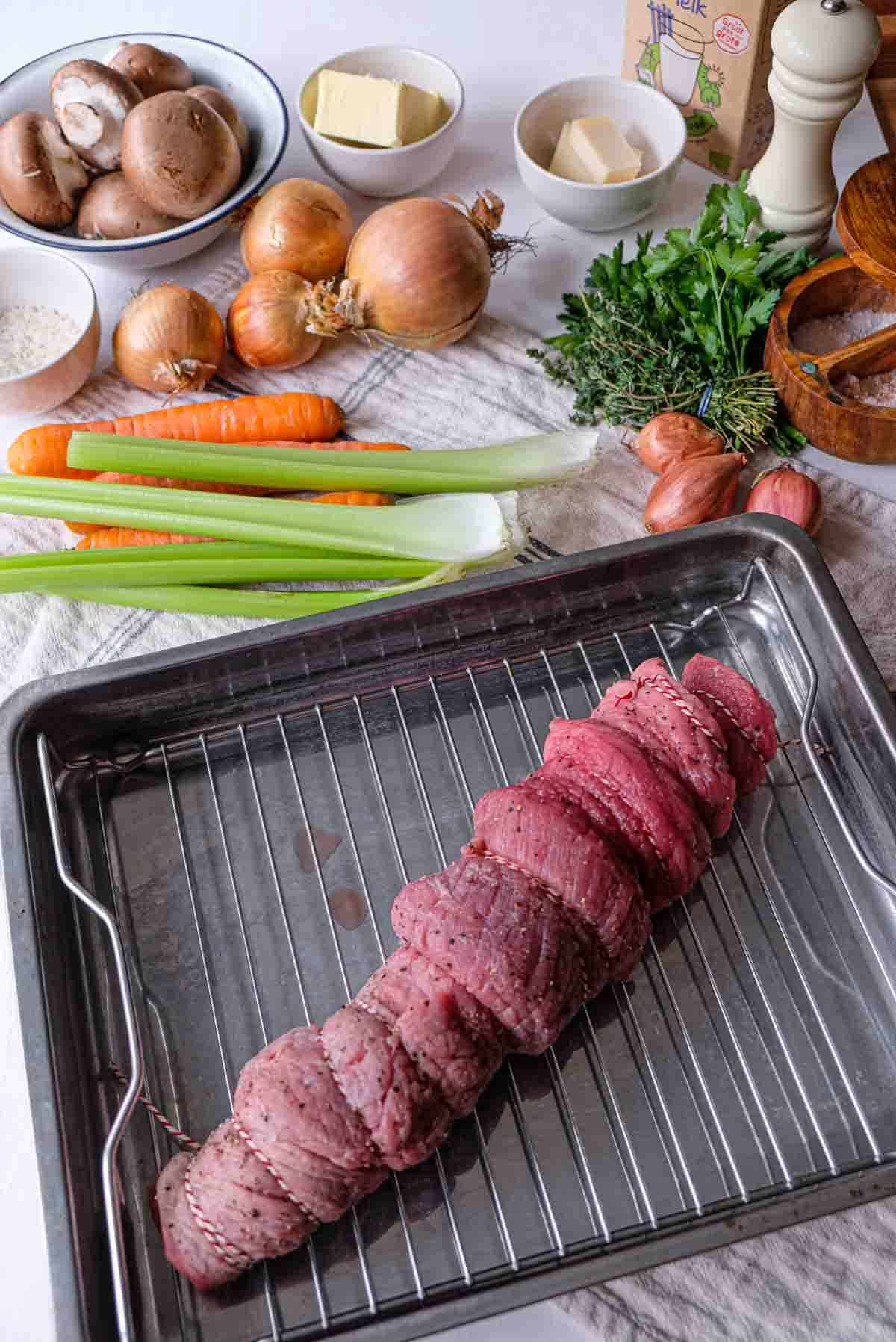 Choosing the right cut of veal
In both Mastering the Art of French Cooking and Larousse Gastronomique, the cut used for this dish is referred to as veal loin or saddle of veal. In general, any cut resembling a whole loin can work. Here are some good examples: boneless veal loin, veal tenderloin, and veal eye round. As you can see they are all sort of tubular like you'd expect a loin to be.
Butchers cuts vary in different parts of the world. Depending on where you live, you may be unlikely to find this cut in your local grocery store. If your supermarket is large enough, you may have some luck asking at the meat counter. In many cases you will need to go to a butcher.
Cost of veal
Veal is a pricey meat, and loin a pricey cut. At my local butcher, the cut most approximating sirloin came in at €70 per kilogram / $32USD per pound. The rump was a much more reasonable €40 per kilogram / $18 per pound but I still ended up paying €65 / $70 for the large rump I purchased.
So besides availability of cuts, cost may also be a reason to consider substitutes. Fortunately the sauce for this recipe is so good that a Chicken Orloff would be just as good as the classic veal.
The next section outlines good cut and meat substitutes for this recipe.
Substitutions for Veal Loin
You can ask your meat counter or butcher for any of the following:
Loin
Sirloin
Tenderloin
Saddle
Top round
Eye round
If you cannot find these cuts then try telling your butcher your intention to roast the veal and then slice, stuff and rebake: most likely they will be able to make a good recommendation.
At my local butcher in Amsterdam I wasn't able to get very far by asking for a veal loin or saddle. Despite being relatively close to France, the veal cuts are still very different in the Netherlands.
My butcher did not recognize veal loin or saddle so in the end I got a big and beautiful veal rump shown here.
I had to make a few adjustments using this cut. Instead of a long tube shape that a loin would have, the rump is square so I cut it in such a way that it would lay flat and then trussed it as you'll see in the photos below.
You can also do the same if you find something other than a loin, or otherwise if you want to use a different type of meat. The following would make great substitutes (just make sure to vary the cooking time accordingly):
Veal rump (cut and trussed as below);
Beef rump, loin, sirloin, top round etc.;
Whole boneless pork shoulder (cut and trussed as below);
Chicken breast (roasted and then sliced and stuffed).
Veal Prince Orloff Preparation Method
Preparing the Veal
Cutting and Trussing
I started with a 3.7 lb / 1.7 kg veal rump rather than a loin so I had to cut and truss it into the shape needed for this dish. The recipe in Mastering the Art of French Cooking calls for a 5lb / 2.2 kg roast which feeds 10-12 people but that was much too large for my needs.
Since I didn't need to feed so many people, I trimmed away approximately 10 oz or 300 grams of veal which I've frozen and intend to use for veal scallopini.
If you also need to do the same you can cut the piece of meat you have first into a square (or something close to it), setting aside any extra pieces for another dish. Then cut the square so that it lays flat, as shown in the photos above and below.
After cutting, the meat should be seasoned well with salt and pepper (about ½ a teaspoon of each or to your taste). I didn't use any other seasoning since I wanted to stay true (or close to) the Veal Prince Orloff Julia Child recipe.
In order to get the round medallion shape characteristic of this dish, any meat that is not already a loin or tubular shape should be trussed into that shape as shown in these photos.
How to truss the veal or other cut
Position the meat so that it is laying perpendicular to you. Unfurl at least 50 centimeters / 20 inches of food grade kitchen string. Take the end of the kitchen string and (without cutting it*) tie it to itself around the far end of the meat so that it gently pulls the edges towards the center into a cylindrical shape. *Try not to touch the raw veal with the roll of string. You can make this easier and prevent cross contamination by covering the roll in a zipper bag or plastic wrap.
Bring the long end of the string (the one still attached to the roll) towards you, and loop it around the meat, and then around itself as shown in the first picture. Pull so it's tight enough to bring the edges of the meat together into a tube shape, but not so hard that it digs in and cuts the meat.
Repeat until you get to the end of the meat (the side closest to you) and then tie it off.
If you've never done it before it may take a few tries. It's okay to start over if you don't get the shape you want on the first try.
How to roast the veal or other cut
Normally for this recipe the veal is roasted as a typical veal roast, cooked to rare or medium rare since it will be sliced and baked again.
The indications I saw in both Mastering the Art of French Cooking and Larousse Gastronomique are for very large cuts of meat (5 lbs / 2.2 kg) and need to be adjusted for the size of the cut you're cooking.
Mastering the Art of French Cooking says to brown the veal and then roast it for 2.5 hours or until internal thermometer reads 80C / 175F (no indication of what temperature it should be roasted at). Likewise, Larousse says to roast for 1 hour at 200C then another 30 minutes.
My butcher suggested to only roast my relatively smaller cut for about 40 minutes or until an internal reading of 40C / 100F. It would really be a shame to overcook such a beautiful (and pricey) cut of meat so I played it safe, falling somewhere between the cookbooks and my butcher's advice: I roasted it at 200C / 400F for 60 minutes.
It was almost at the point of being over. My research has shown that a good indication for rare beef (or veal) is 165C / 325F for 20 minutes per pound or half kilogram.
As such I've adjusted my indication accordingly. I recommend 165C / 325F for 50-60 minutes or until an internal read thermometer reads at least 49C / 120 F.
Keep in mind the ideal time and temperature to roast for will depend on the cut and type of meat. In general you should err on the side of rare since you can always continue cooking if it's too rare, but can't uncook an overcooked roast.
You can roast the meat along with roasting vegetables as I did here as they make a nice accompaniment to the final dish.
Making the onion soubise thickened with rice
A soubise is a white sauce made with onion. Traditionally a soubise can be onion puree thickened with cream, with bechamel, or with rice as is the case for traditional Veal Orloff.
The onion is simply slow roasted in butter along with a bit of parcooked white rice.
Julia Child says the liquid in the onion is enough to finish the rice but I did not find that to be the case so I advise you add a quarter cup of water. The onion can be roasted in the same oven with the veal, or if you don't have space you could do it on the stovetop.
After the onion and rice are cooked, they are blended into a thick sauce.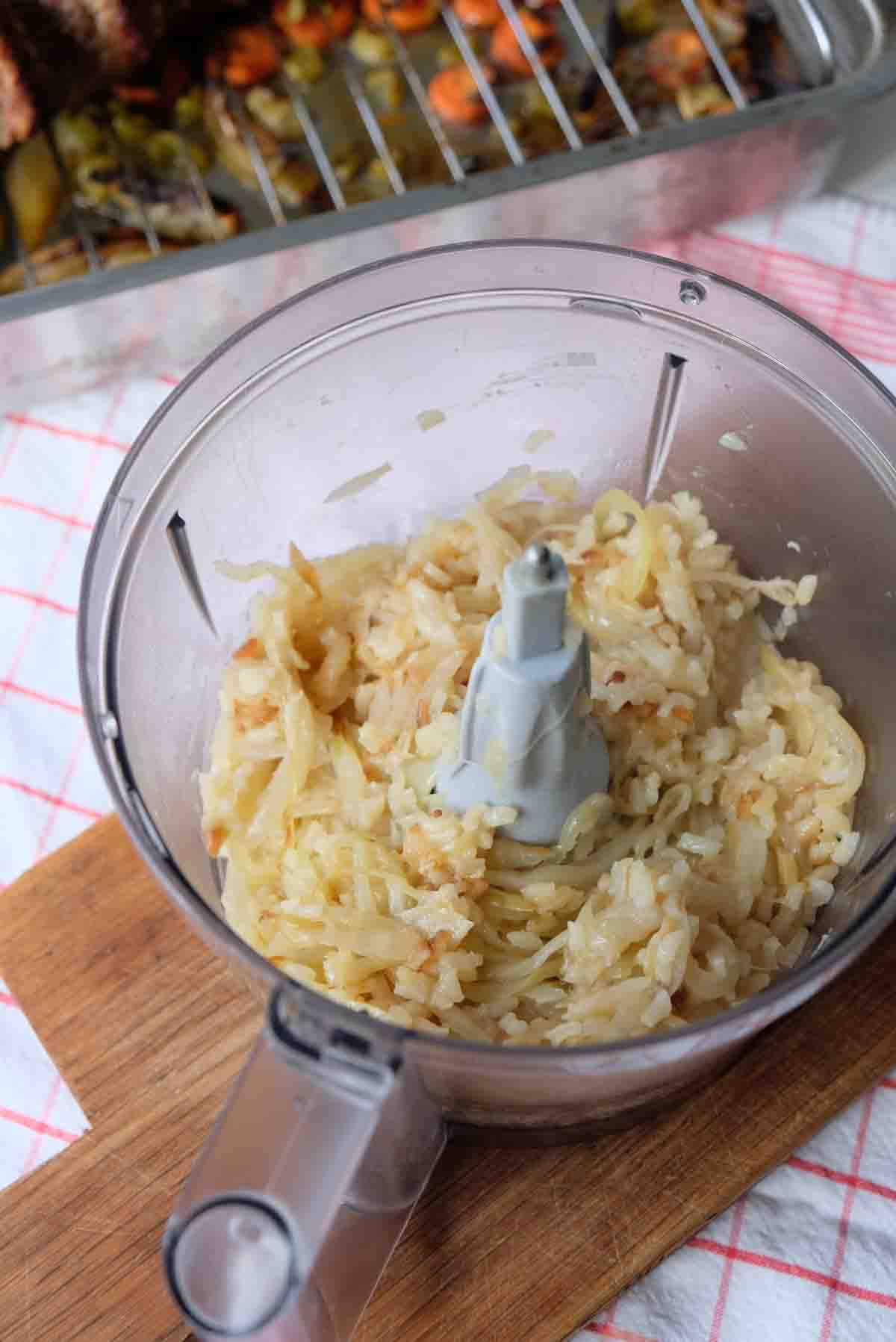 Making the Mushrooms Duxelles
Mushroom duxelles is a very flavorful mix of finely chopped mushrooms with shallots (or yellow onions) and fresh herbs like thyme or parsley.
To make mushrooms duxelles you simply have to finely chop the mushrooms, shallots and herbs.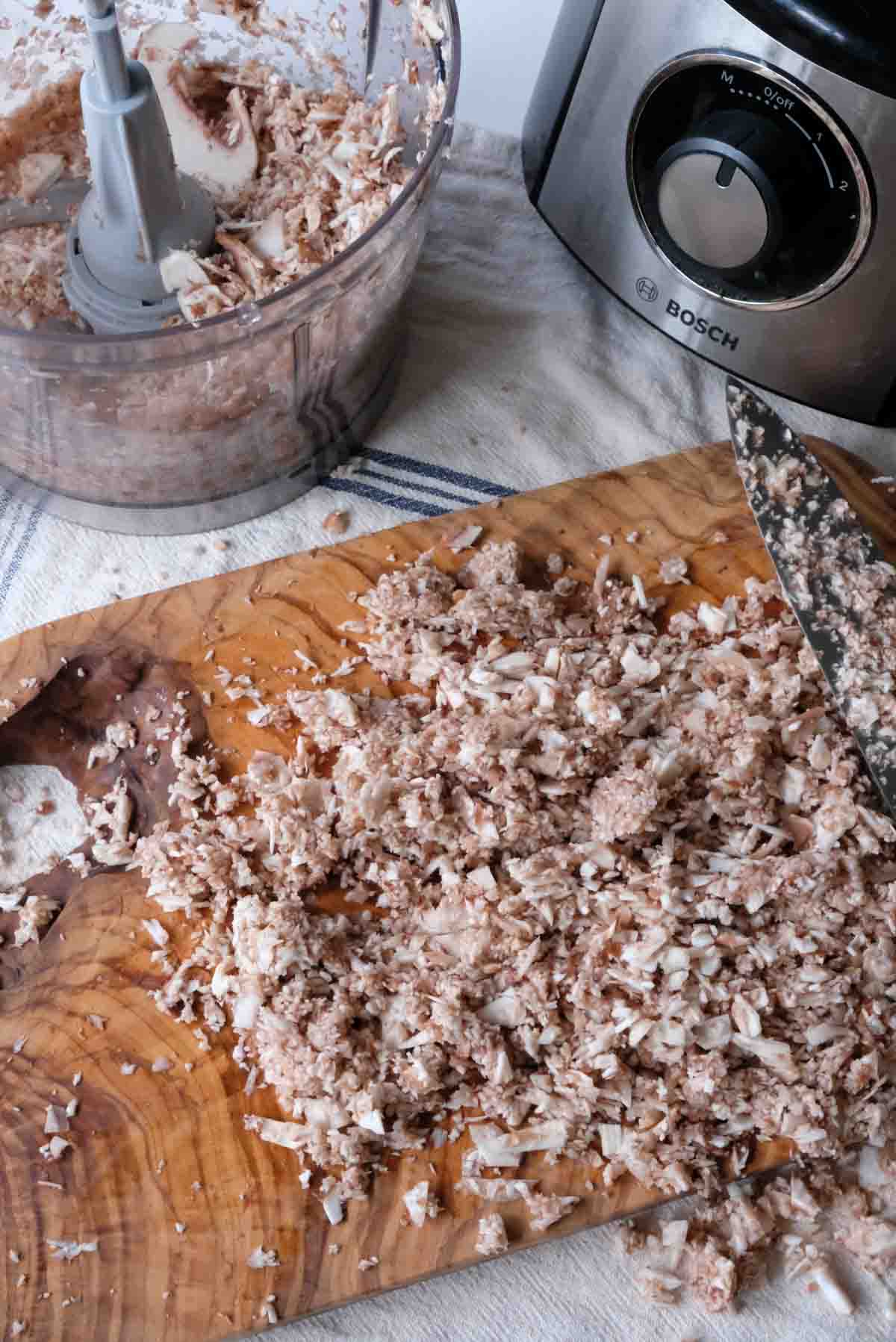 You can also use a food processor for this as I did, but it will make the mushroom very fine almost like a paste. The texture of food processor mushrooms duxelles is great for Veal Prince Orloff since it's meant to serve as a stuffing, but just note it might not be ideal for other types of recipes.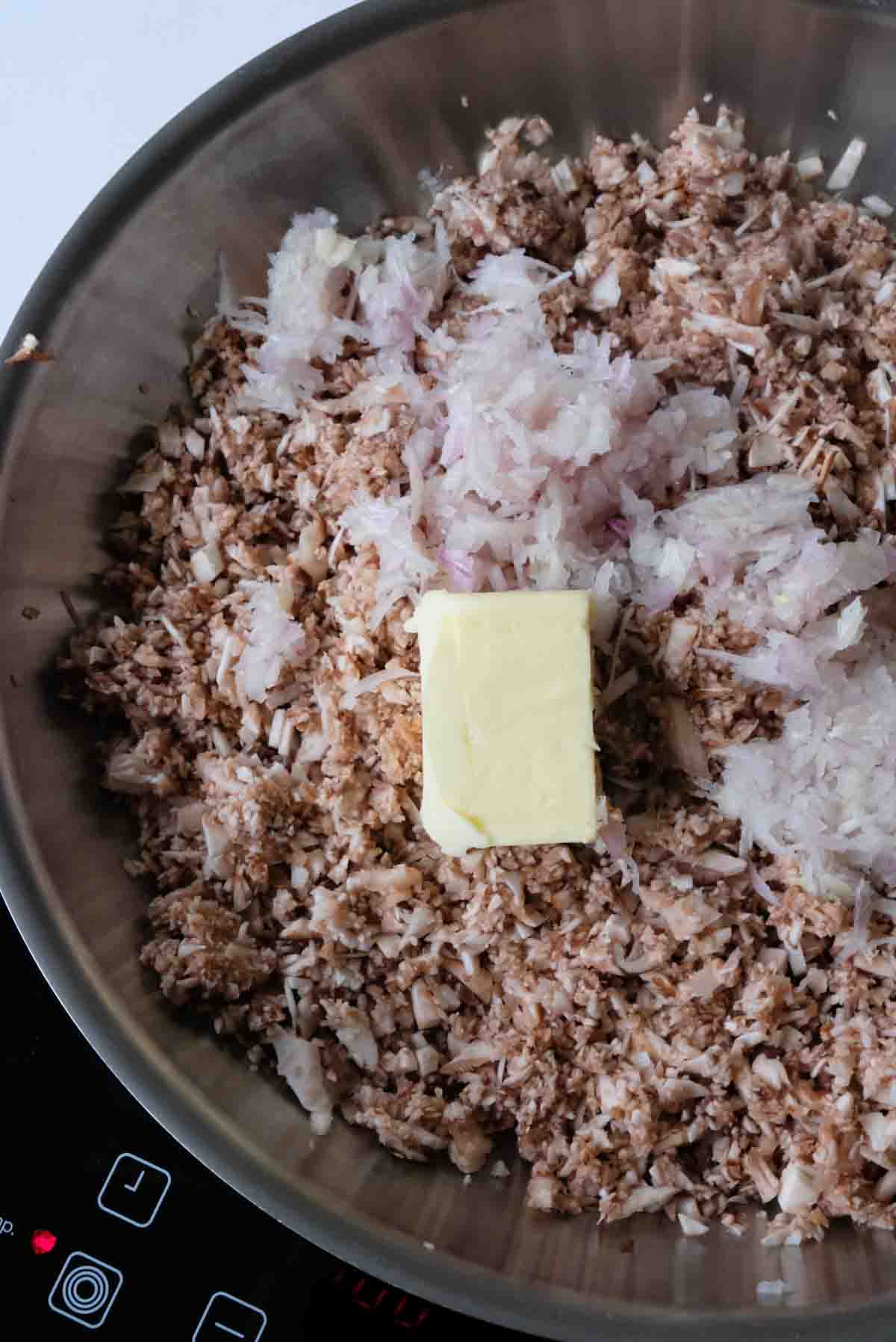 After dicing the mushrooms and the shallot, they are cooked in a skillet with butter and fresh herbs (thyme and parsley).
Making the Sauce Mornay (bechamel with cheese)
A Sauce Mornay is a bechamel sauce with cheese added. Mornay sauce should be smooth and creamy. If you need a primer on making a lump-free bechamel. I've written a whole post on making perfect bechamel.
To make the sauce you'll simply mix equal parts flour and butter, cook for a few minutes until it smells nutty and then add the milk a bit at a time while whisking very vigorously (but be careful of hot splashes).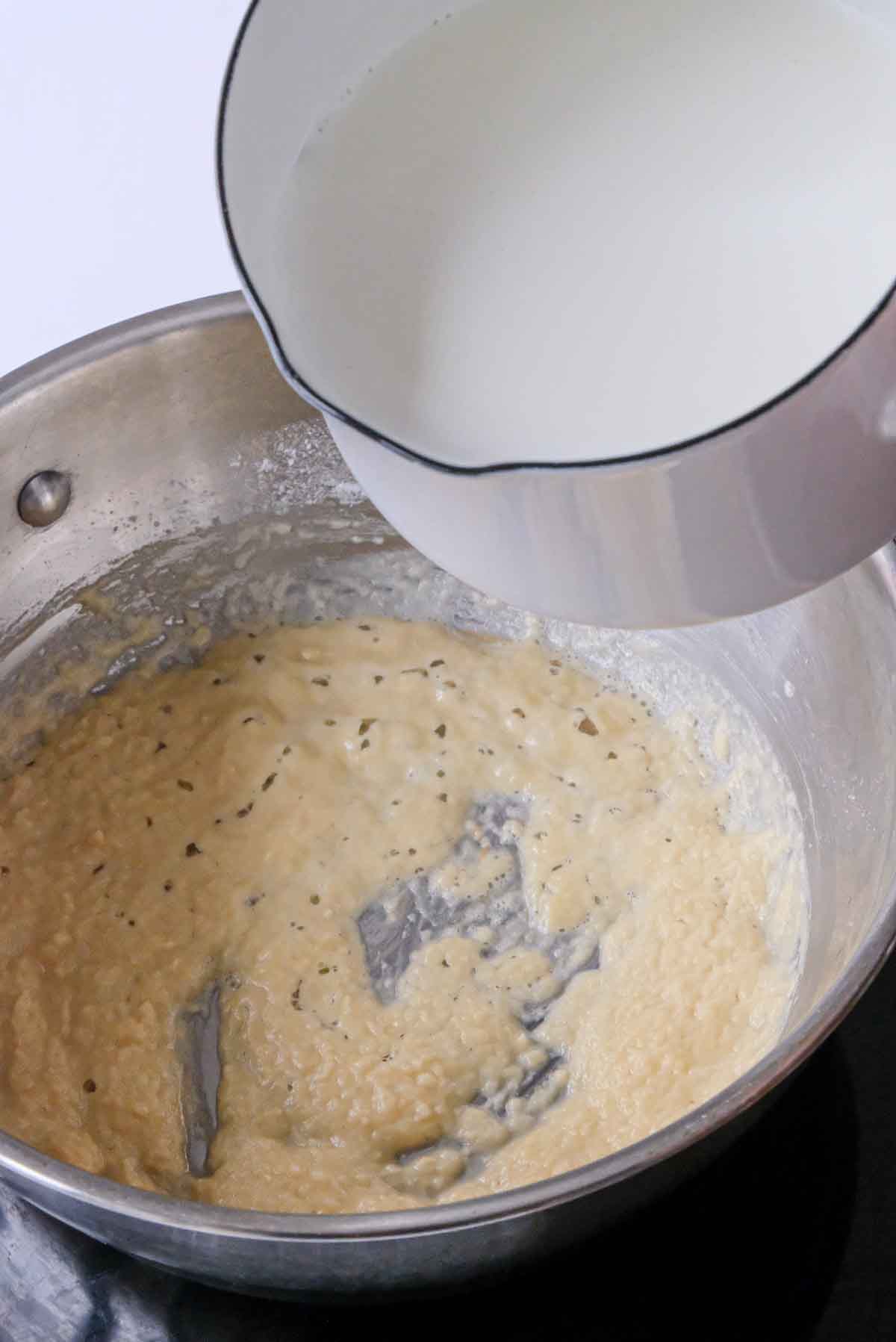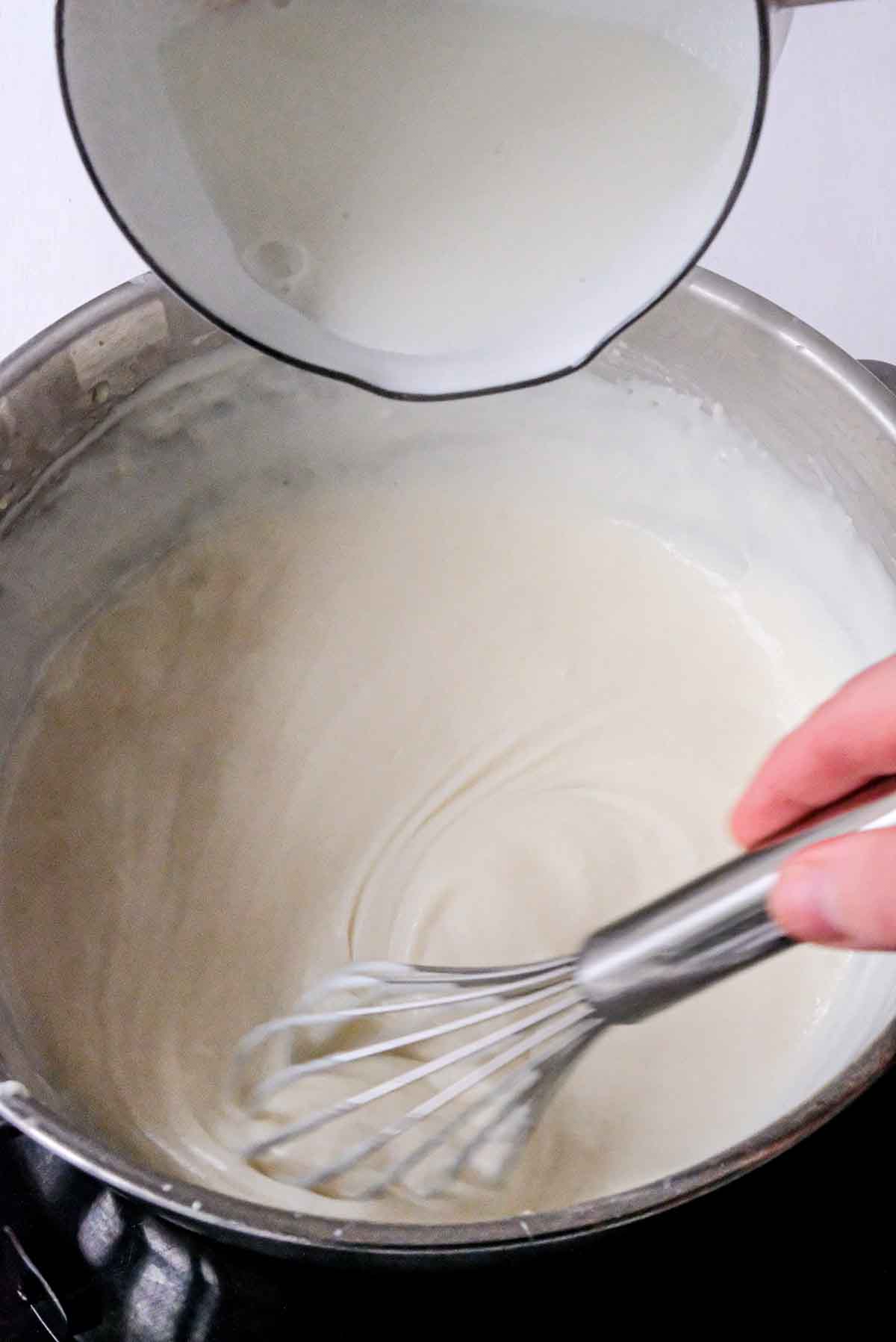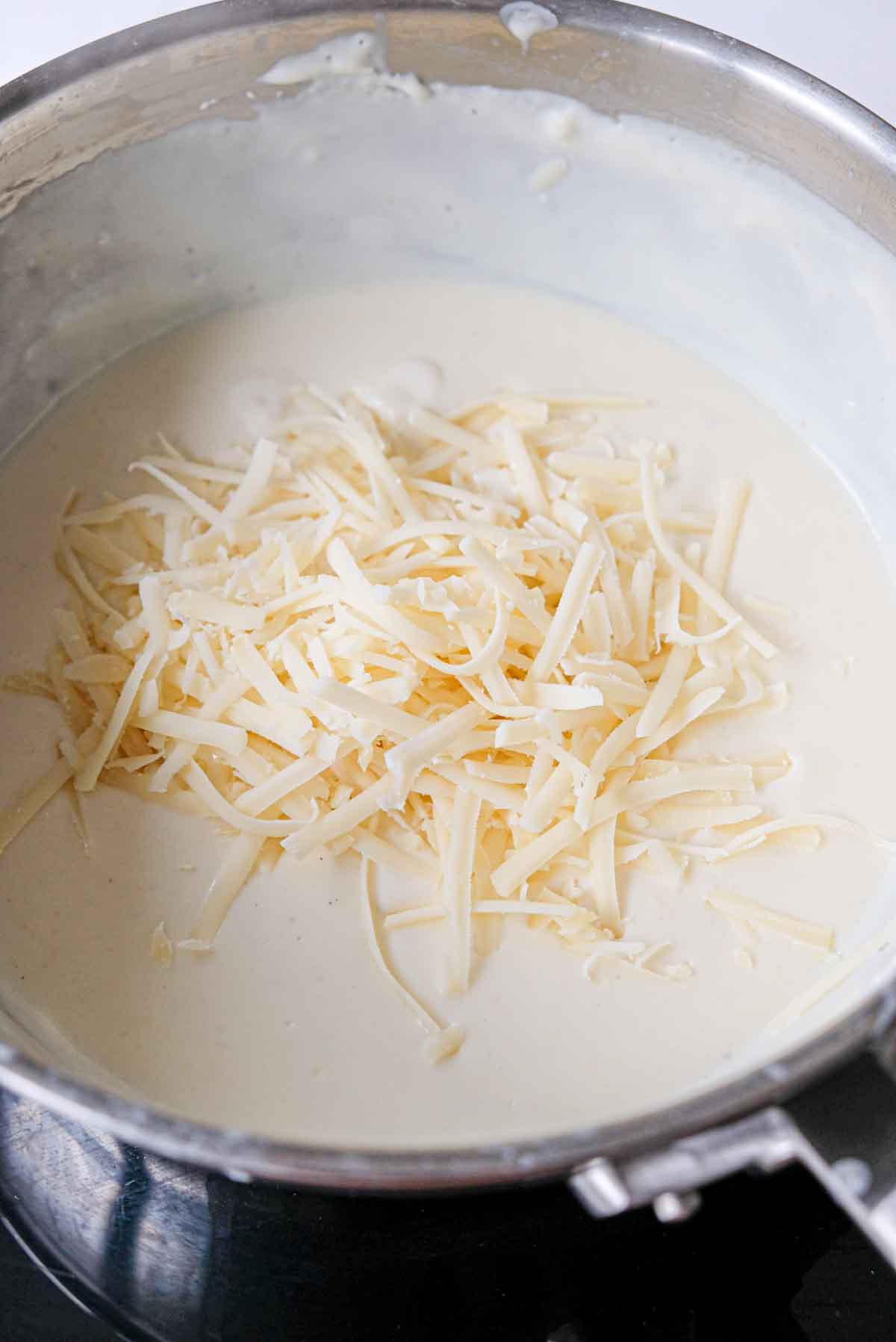 Assembling and Cooking the Veal Prince Orloff
The Veal Orloff is assembled by slicing it into 1.5 cm / 0.5 inch slices (or slightly thicker if you prefer). Each slice is smeared with a spoonful of the onion soubise, and then some of the mushroom duxelles is sprinkled in.
Once all the layers are assembled with sauce, the whole roast is covered in the mornay sauce and baked to a golden brown.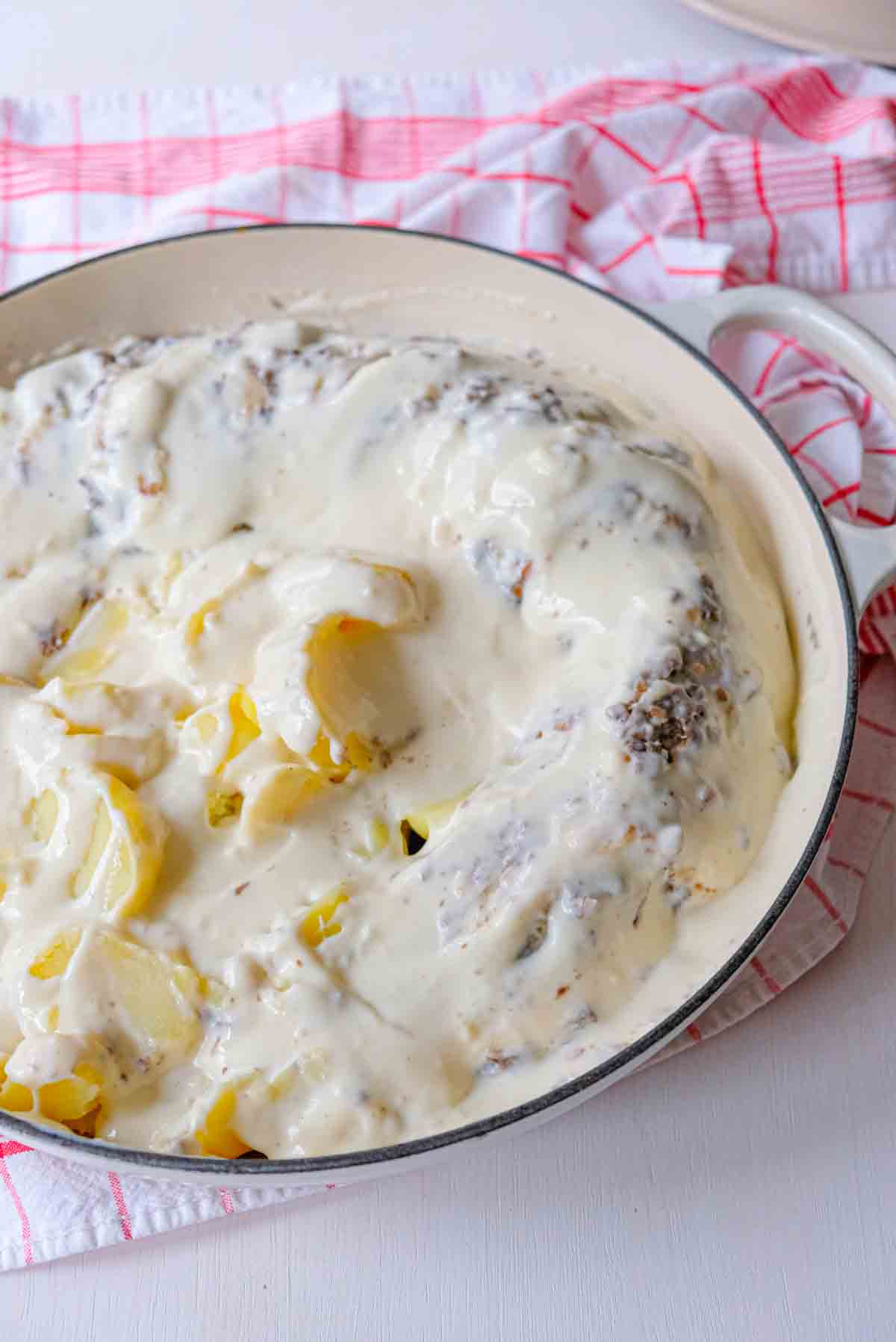 Serving Suggestions
Keep in mind that if you want to serve the whole dish to the table for a nice presentation, then the dish you assemble and cook the Veal Prince Orloff in will also be the dish you serve it in as it cannot easily be moved after cooking.
Good accompaniments include:
Potatoes (mashed or boiled and included in the dish as I have done);
Braised greens like lettuce or chicory (Julia Child's recommendation;
Steamed broccoli.
I included boiled potatoes in the roasting pan, but this is optional and not included in the recipe card or nutritional information below.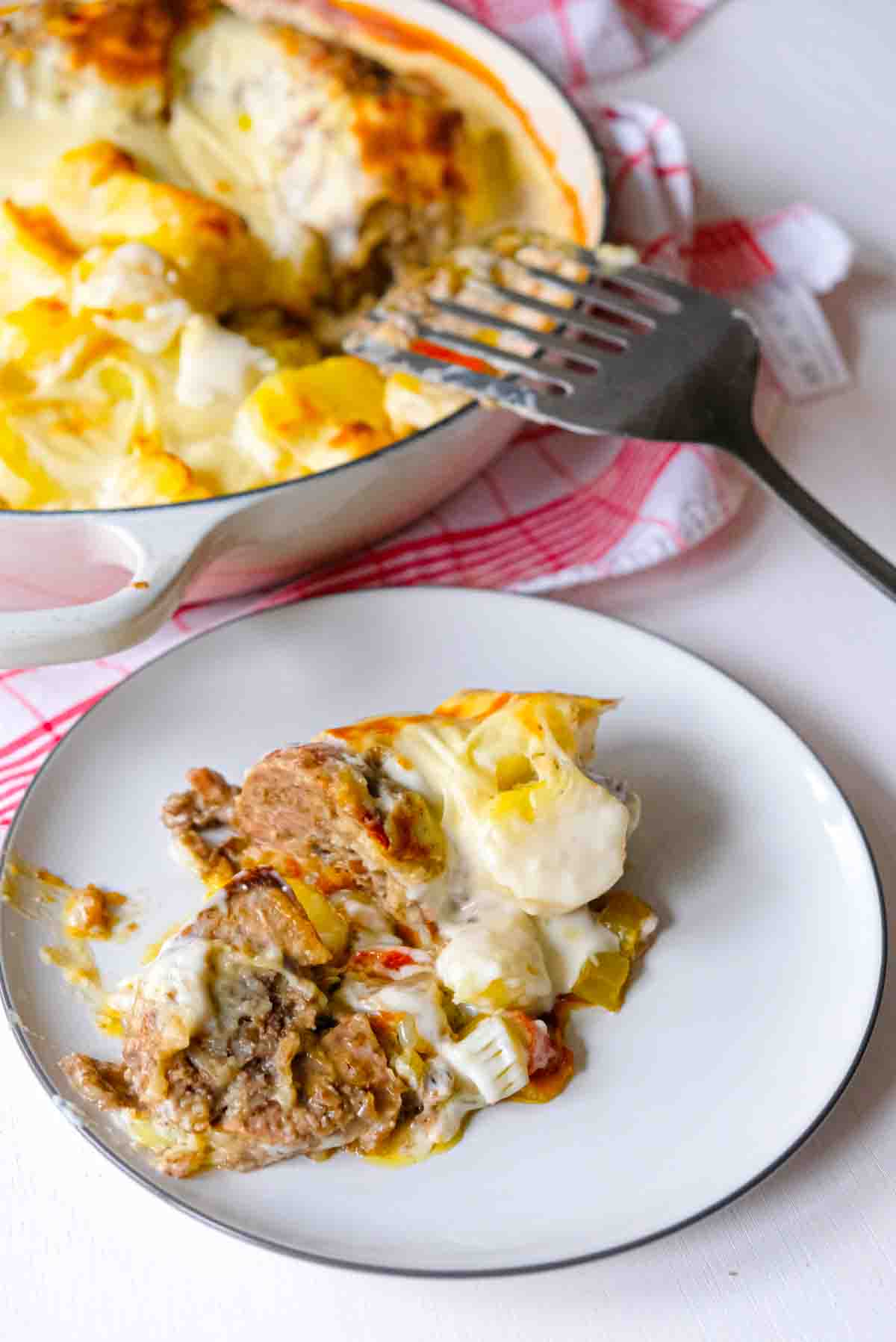 Making Ahead and Storing Veal Prince Orloff
Veal Prince Orloff is easy to make a day ahead and store. Simply refrigerate the roasted veal, mushroom duxelles, onion soubise and mornay sauce.
Some tips for making ahead:
Refrigerate the veal whole as it will lose less moisture than if already sliced. Slice immediately before you want to cook it.
The mornay should be stored in an airtight container with plastic wrap placed directly on the surface of the sauce. To return it to a pouring consistency, add 2 tablespoons of milk and reheat in a sauce pan over medium heat while whisking vigorously. Continue adding one tablespoon milk at a time until it's pouring consistency.
Recipe
Veal Prince Orloff: A French Classic Fit for Royalty
Veal Prince Orloff is a classic French dish combining thinly sliced roast veal, mushroom duxelles, onion soubise and creamy Mornay sauce.
Print
Pin
Rate
Equipment
large oven-safe dish

enameled cast iron, ceramic, glass etc. for roasting the veal

medium-sized oven-safe dish with a lid

for the onion soubise: or cover with aluminium foil

wire whisk

for the bechamel

heavy bottomed sauce pan

for the bechamel

food processor

optional for the onion soubise and mushroom duxelles

non-stick skillet

for the mushroom duxelles
Ingredients
Roast Veal
3

lbs

veal loin

see recipe post for substitute cuts and meats

1

teaspoon

salt

for the veal

0.5

teaspoon

black pepper

for the veal

3

large

carrots

peeled and cut

3

stalks

celery

cut

1

yellow onion

sliced

2

teaspoons

vegetable oil

for the roasting vegetables

0.5

teaspoons

salt

for the roasting vegetables

5

sprigs

fresh thyme

optional
Onion Soubise
1

lb

yellow onions

sliced

2

oz

raw white rice

0.25

cup

water

1.5

oz

melted butter

0.5

teaspoon

salt
Mushrooms Duxelles
0.5

lb

fresh chestnut or cremini mushrooms

finely chopped

3

tablespoons

shallots

finely chopped

1

oz

butter

0.5

teaspoon

salt

0.25

teaspoon

black pepper
Mornay Sauce
3

oz

butter

3

oz

flour

2.5

cups

milk

or combination of milk and pan roasting juices

1.5

oz

grated Gruyere cheese

or other Swiss cheese

0.5

teaspoon

salt

0.25

teaspoon

black pepper

1

pinch

nutmeg

freshly grated
Instructions
Veal
Preheat oven to 165C / 325F.

Prepare the veal as necessary: cut or truss if needed (see recipe post for details) and then season with the salt and pepper.

Cut the carrots, celery and onions. Put them in the roasting pan, season and drizzle in the oil then add the fresh thyme. Place the veal on top (or on a rack if your roasting pan has one).

Roast the veal and vegetables at 65C / 325F for 50-60 minutes or until an internal read thermometer reads at least 49C / 120F.

Remove from oven and allow to cool before the assembly or see notes on making ahead and storing.
Onion Soubise
In a medium size pot bring water to boil (about 1.5 litres or 6 cups).

When the water is boiling, add the rice to the pot and cook for 5 minutes then drain and put it in a medium-sized oven-safe dish.

Slice the onions and add them to the oven safe dish on top of the rice along with the water, salt and half the melted butter.

Cover the dish and put in the oven (at the same time as the veal if possible) and cook for 17-18 minutes. The onions will be soft and translucent and the rice cooked through. Allow to cool a few minutes.

Blend, mix or mash the onion soubise mixture to as fine a consistency as you can get. You can use a food processor (ideally), blender, or any other mixer like a mortar and pestle if that's all you have. It should be thicker than a cream soup but not as thick as mashed potatoes. If it seems too thick or clumps together, add 1 teaspoon of water at a time until it reaches the consistency of yogurt.

Once blended, set aside until assembly.
Mushrooms Duxelles
Wash and finely chop the mushrooms. Finely chop the shallots.

Melt half the butter in a non-stick skillet over medium-high heat (bit don't brown it).

Add the mushrooms and shallots to the skillet and season with the salt and black pepper.

Cook 3-5 minutes or more, until the mushrooms have softened and the liquid that comes out of them has evaporated.

Once the water is evaporated, add the remaining butter and cook another 2-3 minutes until aromatic and (ideally) beginning to brown. If the mushrooms are cut very fine like through a food processor, then they likely won't brown.

Once cooked, set aside until assembly.
Mornay Sauce
Measure out the butter, flour and milk (and pan roasting juice if using) and set aside close to your cooktop.

Heat a heavy-bottomed sauce pan over medium-high heat.

Add the flour and butter to the pan and cook 3-5 minutes or until it smells nutty.

Add the milk a little at a time while whisking vigorously. The key to avoiding lumps in bechamel is to whisk firmly and continually. Repeat until all milk has been added and the sauce is smooth and creamy. For troubleshooting see recipe post.

Season with salt, black pepper and nutmeg. Then add the cheese and mix until it's melted in.
Assembly
When ready to cook, preheat oven to 200 C / 400 F.

Slice the cooled veal roast into approximately 1.5 cm / 0.5 inch slices (or slightly thicker is fine).

Starting with an end piece, smear it with the onion soubise, and then spoon on some mushroom duxelles. The mushrooms should easily stick to the onion soubise. Place the veal in the roasting pan and repeat with each slice, arranging them in their original shape but now with sauce between the layers.

Once the sauces have been added to all the layers and the layers are arranged in the pan, add the roasting vegetables (if made) and boiled potatoes* (if made) to the pan.

Cover everything with the mornay sauce. You can optionally sprinkle some more grated Gruyere cheese over the top.

Bake uncovered for 15-18 minutes or until the white sauce is golden brown.
Notes
* I added boiled potatoes to the dish but they are not included in this recipe as they are optional. As such, the nutritional information is only for the Veal Orloff recipe not for any side dishes.
Nutrition
Calories:
611
kcal
|
Carbohydrates:
29
g
|
Protein:
40
g
|
Fat:
37
g
|
Saturated Fat:
19
g
|
Polyunsaturated Fat:
3
g
|
Monounsaturated Fat:
11
g
|
Trans Fat:
1
g
|
Cholesterol:
191
mg
|
Sodium:
1245
mg
|
Potassium:
999
mg
|
Fiber:
3
g
|
Sugar:
9
g
|
Vitamin A:
5272
IU
|
Vitamin C:
9
mg
|
Calcium:
221
mg
|
Iron:
2
mg