This caramelized leek pasta recipe is creamy, sweet, smoky and totally delicious. You will love every mouthful I guarantee.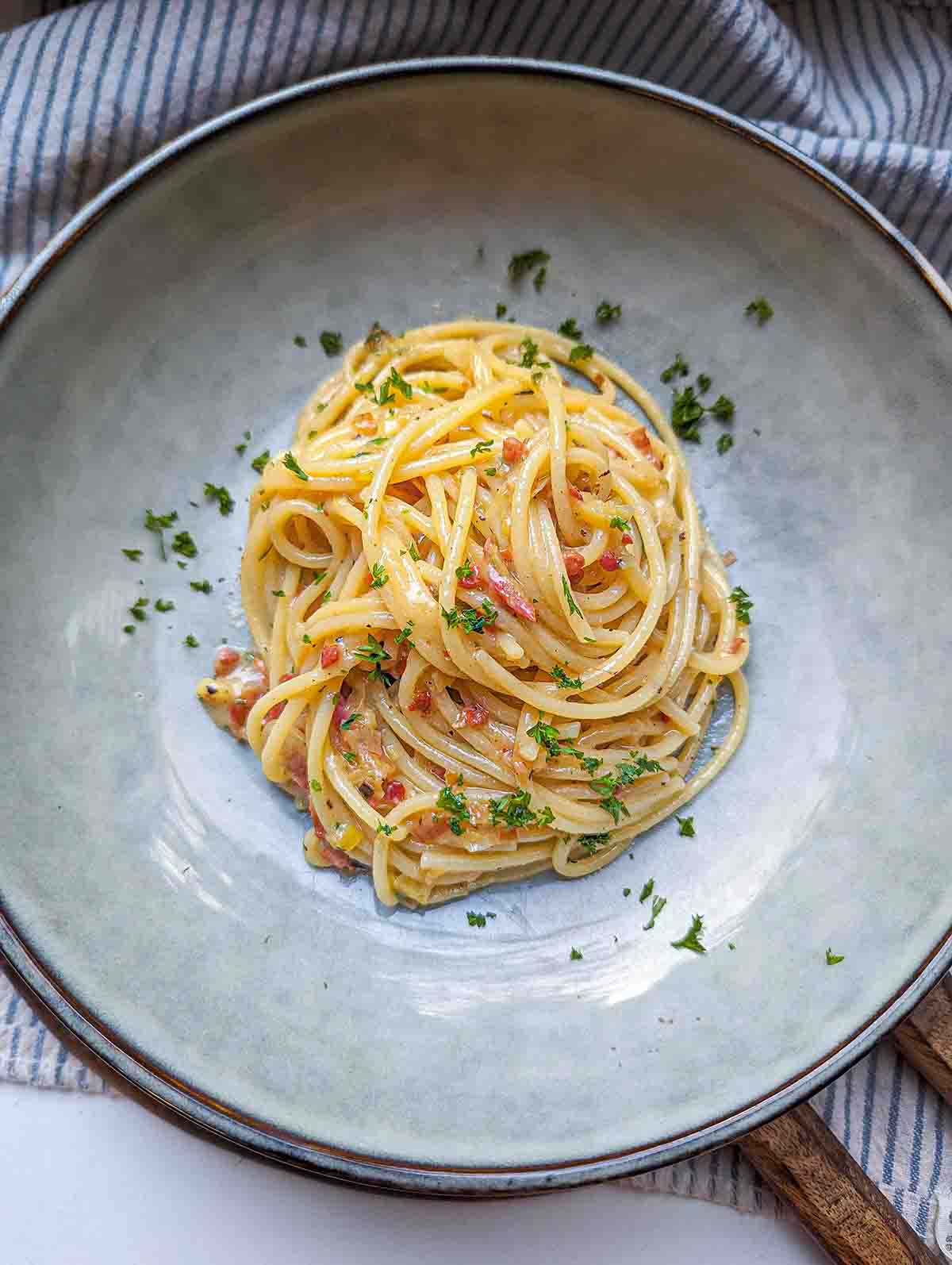 This recipe is a winner because it tastes absolutely amazing. It's a perfect weeknight indulgence when you just don't have it in you to make a fuss about dinner but also just want to eat something really good.
This is really good my friend.
This recipe only has 6 ingredients:
Boiled pasta (save the pasta water!)
1 leek
¾ cup bacon, cut into small strips (like lardons)
1 cup grated Parmigiano Reggiano (or just good ole parmesan cheese out of a shaker!)
Seasoning: salt, garlic powder, black pepper.
Some parsley for garnish (optional but recommended!)
Besides simple ingredients, it's also really easy to make.
Once you've caramelized the leeks and boiled the pasta, it's just a matter of browning the bacon and tossing it all together into this creamy, dreamy concoction.
Here are the steps in detail.
Caramelize the leek
Caramelized leek does a lot of the heavy lifting in this recipe. It adds sweetness and creaminess that contrasts very well with the bacon, cheese, garlic and black pepper.
To caramelize leek you need to trim and clean a leek, then slice it very thinly. Add it to a non-stick or cast iron skillet with around 2 tablespoons of oil over medium heat.
Stir it very frequently and cook for about 25 minutes. Nothing will happen for a while, then all of a sudden it will start browning very rapidly and can burn at that point. While you are waiting you can boil the pasta and grate the cheese but keep an eye on the leeks.
For more details or uses you can see my post on caramelized leeks.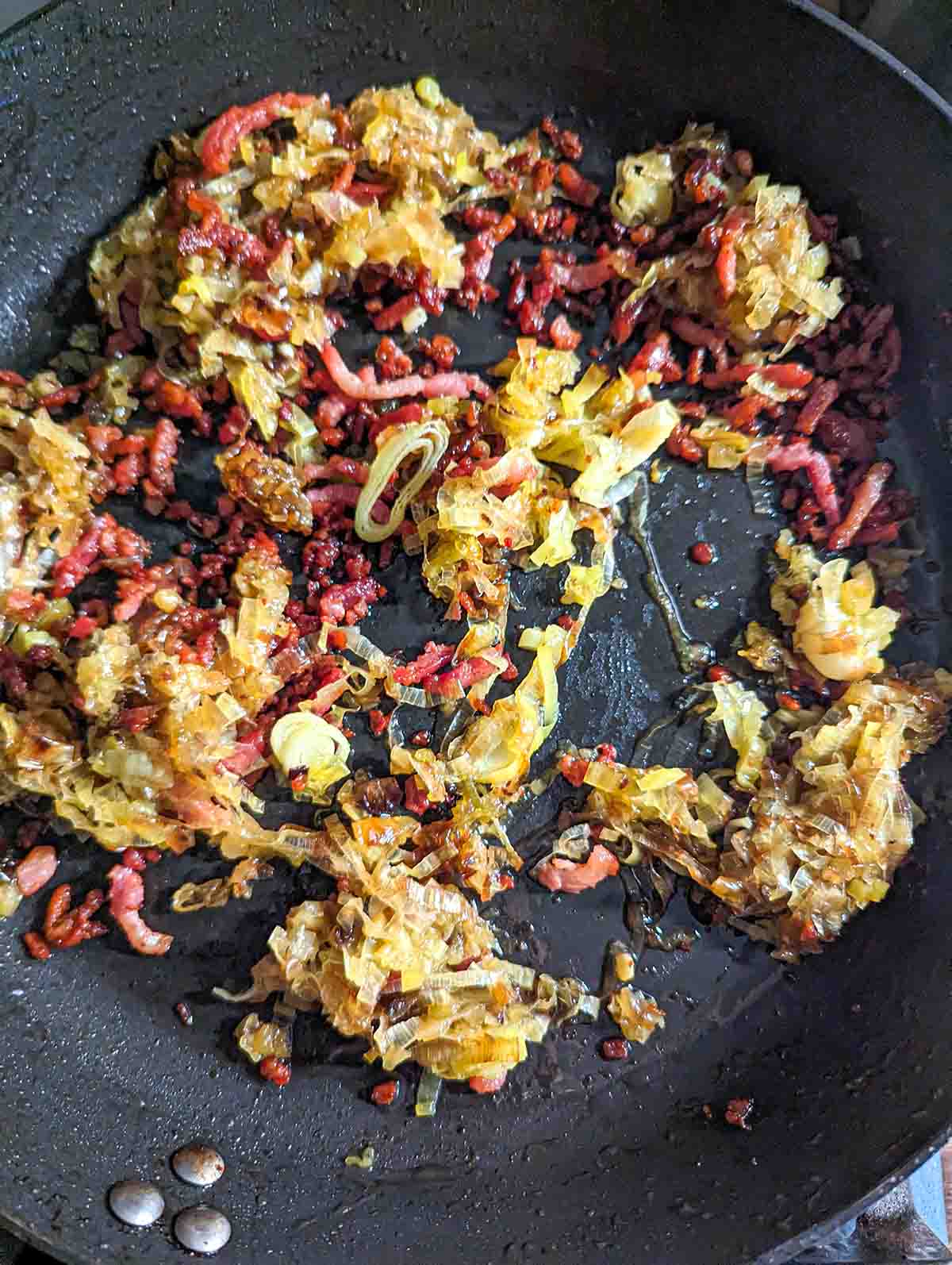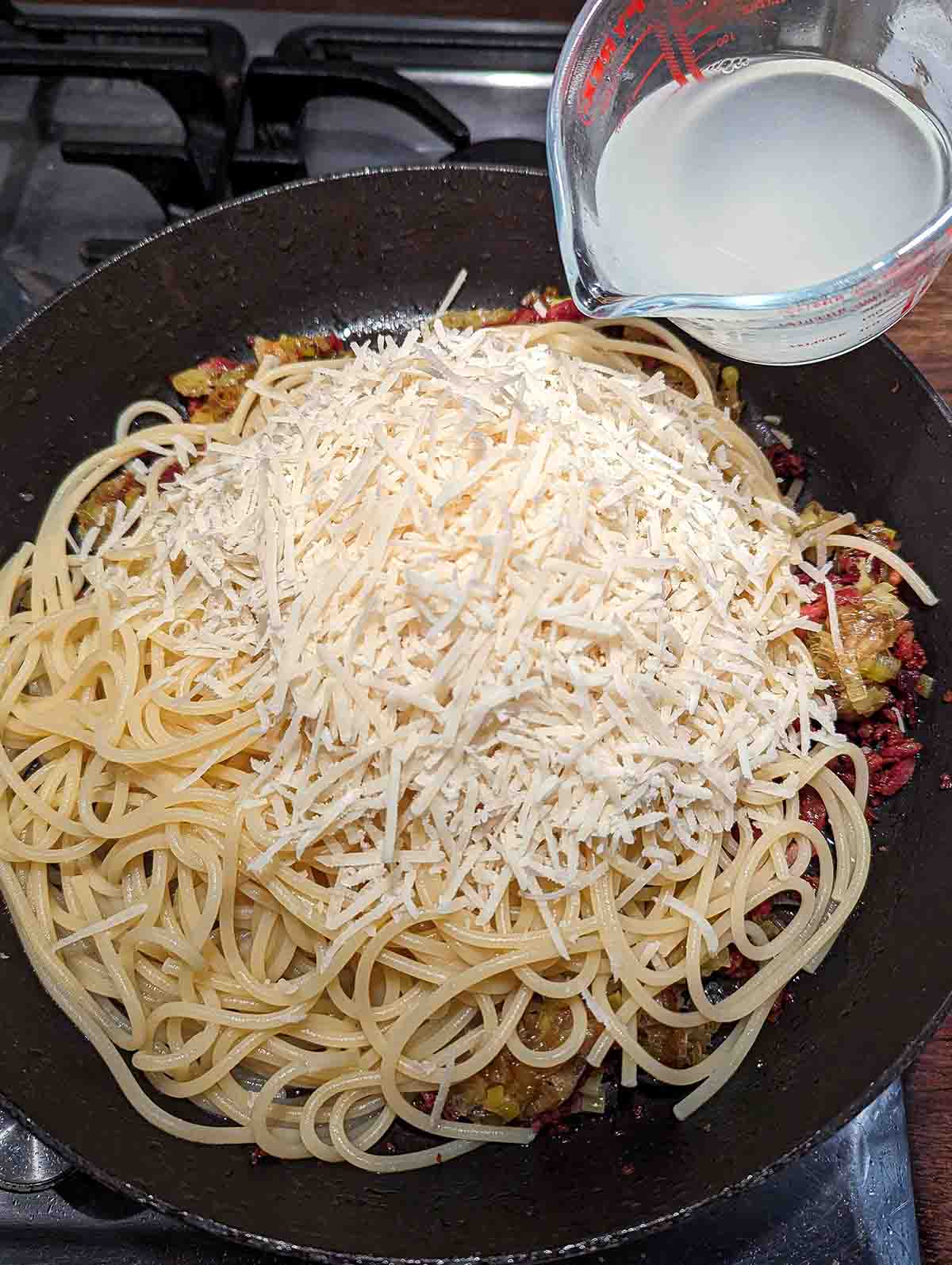 Cook the pasta
While the leek is caramelizing in one pan, cook the pasta in another pan according to package directions.
Use a good quality durum wheat pasta. I used De Cecco spaghetti no.12. I like to cook the pasta to just before al dente as it will continue cooking in the sauce. The De Cecco package says to cook for 10 minutes, so I cooked for 8.
If you're using fresh pasta or homemade pasta, it will only need a quick dunk (2 minutes should do it).
My preferred method is to time is so the pasta isn't sitting too long in the water once it's done. Otherwise it can continue cooking and get too mushy.
Fry the bacon
Once the leek is caramelized, spoon it out of the skillet into a small dish so you can fry the bacon. Add the bacon to the skillet and fry until it's reduced and brown.
Once the bacon is brown, if it released a lot of oil into the skillet, make sure to drain it off. The dish has more than enough richness and leaving this fat in would just make it overly heavy and greasy.
Mix it all and make a sauce
This part is where the magic happens. Make sure your cheese is grated and all your other ingredients are ready to go including:
½ teaspoon garlic powder
½ teaspoon fresh black pepper
With the burner still on at medium to medium-low heat, add the caramelized leeks, pasta, cheese and seasonings to the pan with the bacon along with half a cup of hot pasta water and toss it all rapidly and constantly until it forms a luscious, creamy sauce.
My preferred method is to use a pasta spoon to take the cooked pasta out of the pot and into the skillet where I'm making the sauce.
I use a glass Pyrex measuring cup or a stainless steel ladle to then collect some of the pasta water to use in the sauce.
Keep tossing and add more pasta water a half or quarter cup at a time until the sauce is a nice consistency.
Once it's at your desired consistency, turn off the heat, finish with finely diced fresh parsley and enjoy!
Recipe
Caramelized Leek Pasta
Caramelized leek pasta is creamy, dreamy mouthfuls of flavor easy enough for a weeknight but you'll want to eat it over the weekend too.
Print
Pin
Rate
Ingredients
250

grams

spaghetti

salt

to boil the pasta

1

leek

3

tablespoons

olive oil

¾

cup

bacon strips

170 grams

1

cup

parmesan cheese

½

teaspoon

garlic powder

½

teaspoon

black pepper

3

tablespoons

fresh parsley
Instructions
Put a large pot of salted water to boil.

Trim, clean and thinly slice the leeks.

Add 2-3 tablespoons of olive oil to a non-stick skillet and cook the leeks over medium heat, stirring constantly, until they're caramelized (about 25 minutes).

When the leeks are almost done, boil the pasta to slightly under done.

Take the leeks out of the pan and then add the bacon. Fry the bacon until brown, then drain the excess oil out of the pan.

Add the caramelized leeks, pasta, and grated parmesan cheese to the pan with the bacon (still cooking on medium heat) along with the black pepper, garlic powder and ½ cup of hot pasta water.

Toss rapidly and constantly, the cheese will melt and the ingredients will combine with the pasta water to make a creamy sauce.

Add another ¼ to ½ cup of hot water water until desired sauce consistency is achieved.

Garnish with parsley and enjoy.
Nutrition
Calories:
624
kcal
|
Carbohydrates:
52
g
|
Protein:
23
g
|
Fat:
36
g
|
Saturated Fat:
12
g
|
Polyunsaturated Fat:
5
g
|
Monounsaturated Fat:
17
g
|
Trans Fat:
0.1
g
|
Cholesterol:
46
mg
|
Sodium:
705
mg
|
Potassium:
315
mg
|
Fiber:
3
g
|
Sugar:
3
g
|
Vitamin A:
837
IU
|
Vitamin C:
7
mg
|
Calcium:
330
mg
|
Iron:
2
mg