Sweet cheese strudel is a dessert reminiscent of the holidays. It's one of those desserts that has a warming quality that makes it taste like Christmas.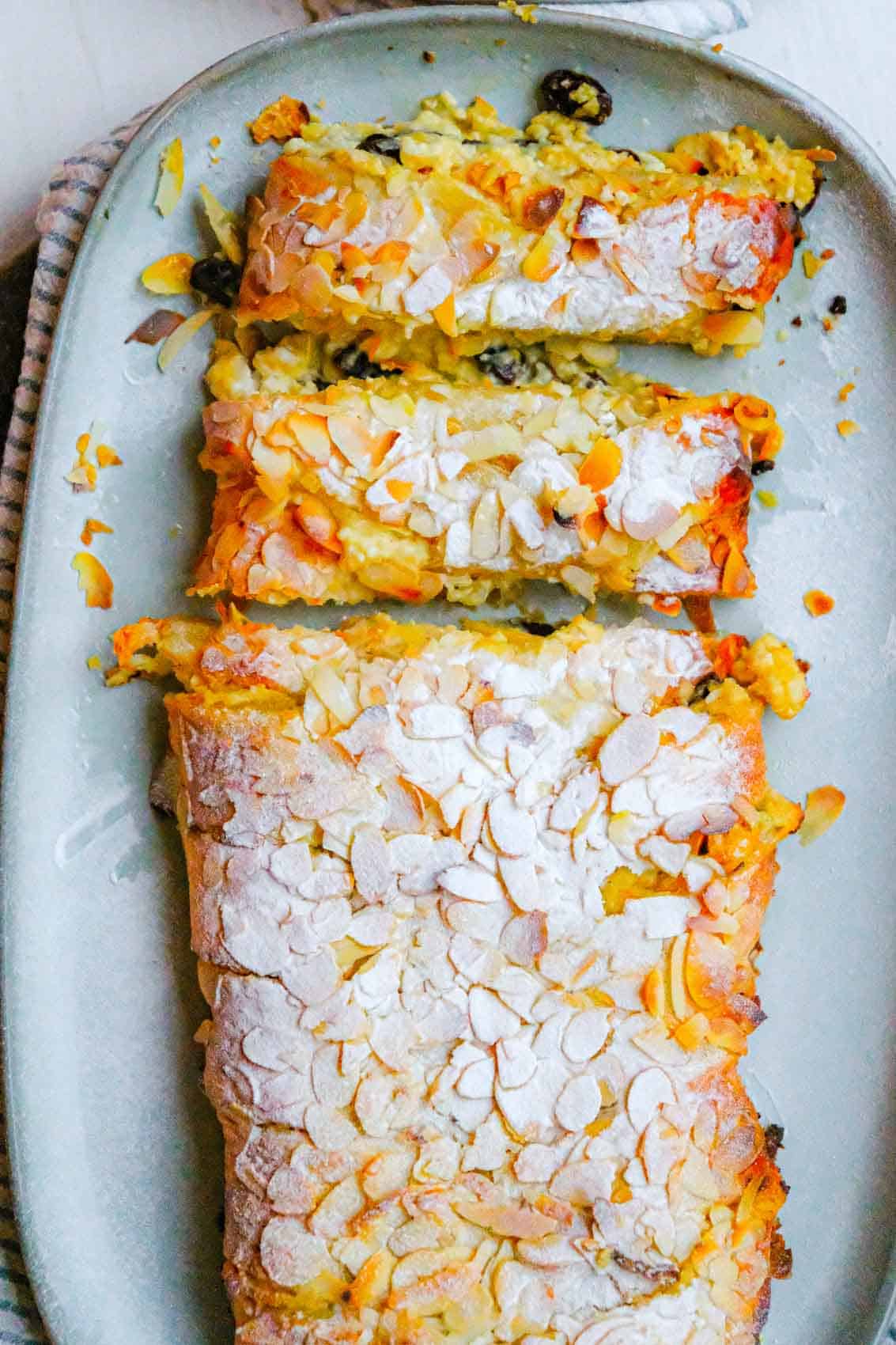 The sweet and creamy filling is accentuated by the addition of lemon and orange zest, vanilla, rum soaked raisins, and rum extract.
The filling in this sweet cheese strudel is very common in Romanian cuisine and can be found in a lot of different types of small and large sweet breads. A very similarly flavored filling goes into Romanian Easter cheesecake called Pasca.
The beauty of this recipe is that once you have the ingredients ready to go, it's so easy to make. Puff pastry is a great shortcut for the crust so you can have the strudel on the table and ready to eat in no time.
Ingredients for sweet cheese strudel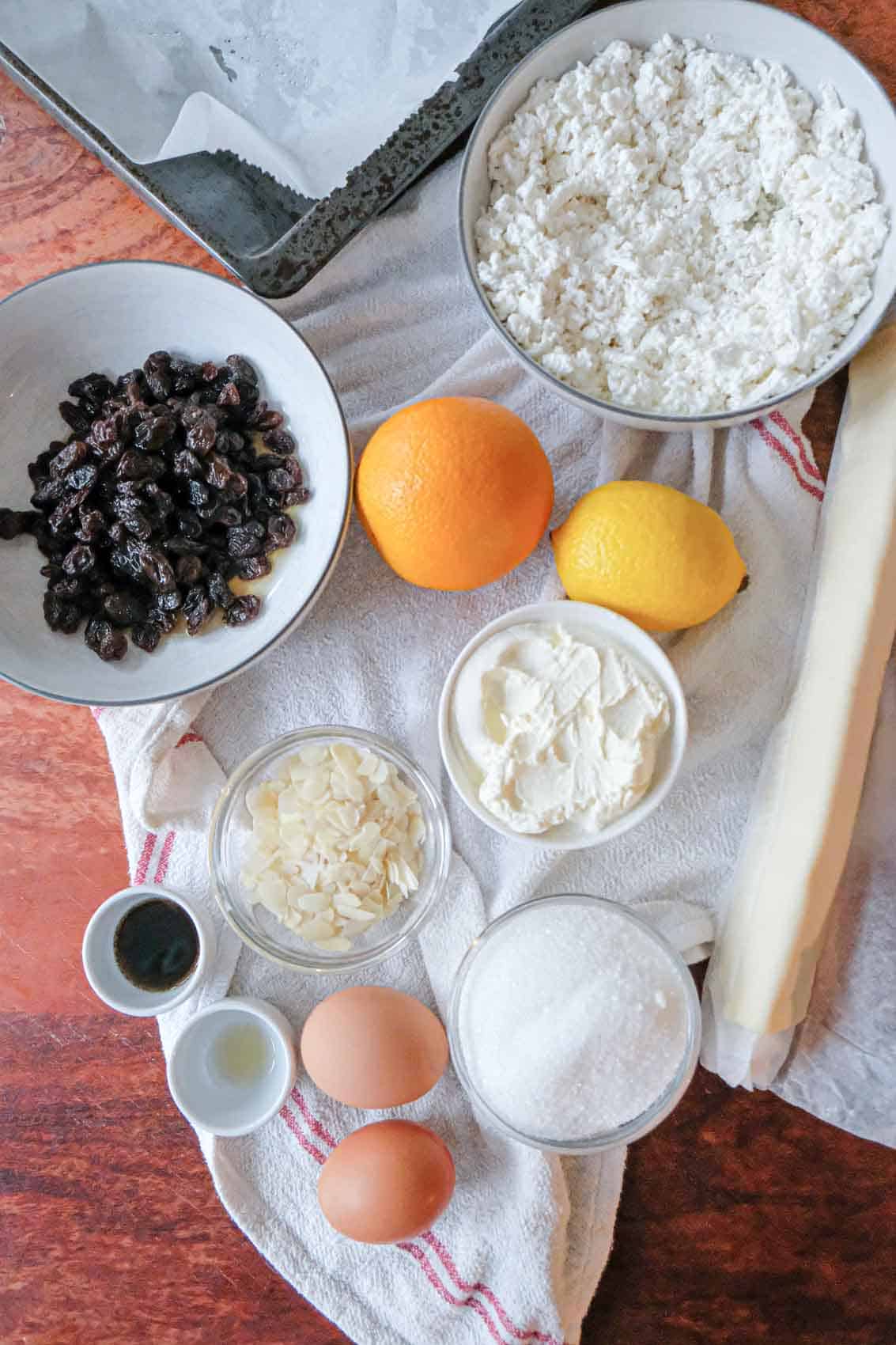 Puff pastry: The recipe calls for a package of puff pastry which for me was one roughly rectangular sheet that weighs 270 grams or 10oz and measures 34 by 26cm or 13 by 10 inches. This is just for reference of course so you can gauge whether the puff pastry you use is roughly the same size. Unless your puff pastry sheet is substantially bigger or smaller then the amount of filling should still work.
Eggs: Two egg yolks go into the filling. Another egg is useful for doing an egg wash (so the sliced almonds stick) but if you don't want to use a whole egg for the egg wash then reserve a teaspoon from the egg yolks and mix it with 2 tablespoons of egg white - this should be enough to cover the strudel.
Rum soaked raisins: The raisins are soaked in about a quarter of a cup of Stroh Austrian rum. It has an amazing flavor for baking. You can substitute other spiced rum or just soak the raisins in some orange juice or other sweet liquid. If you are short for time, pop the raisins in the microwave for 30 seconds or on the stovetop for a few minutes - the heat will help the liquid soak in, just don't put them into the filling mixture while still hot.
Lemon and orange zest: Lemon zest is very traditional in this filling but I love adding orange as well since it gives an extra sweetness and aroma that goes so well.
Vanilla: Vanilla gives a base to the other brighter flavors. I used Nielsen Massey vanilla bean paste but feel free to use whatever vanilla you have.
Cheese:
In my family and friend circles, we've always made sweet cheese filling with feta since that's what we most often had available and also because the saltiness brings a nice depth of flavor when combined with sugar in the filling. Sometimes (but not always) the feta is combined with another creamy dairy addition like crème fraiche or sour cream.
I used sheep's milk feta and crème fraiche for this recipe but you can use cow or even goat feta with the same amount of sour cream if that's more available to you. Also word to the wise you of course don't need to use the highest quality or most expensive feta. Also keep in mind the salt content can vary by brand so best to taste the filling before adding the egg.
You can also substitute fresh farmers cheese like Tvorog or try cottage cheese. If you do substitute the cheese, again make the filling and taste it before adding the egg to make sure the flavor balance is right. It could be you need a bit less sugar or to add a pinch of salt to make it balance.
Crème fraiche: When combined with feta, the crème fraiche keeps the filling soft and creamy rather than firm. It can be substituted with sour cream or totally omitted if you're using a very soft farmers cheese or if you want the filling to be firm.
Sugar: Sugar is needed of course or otherwise you'll be eating a feta pie with raisins :p This recipe calls for white sugar but you can substitute brown if that's all you have.
Sliced almonds: The almonds are beautiful, add a crunchy texture, and give a bit of nutty flavor. I've used sliced almonds without the peels but sliced almonds with peels look just lovely too.
Powdered sugar: The powdered sugar makes for a very nice presentation and also adds a bit of extra sweetness to each bite.
Instructions for making the sweet cheese filling and assembling the strudel
The beauty of this dessert is that you basically just mix up the filling in a bowl and wrap it in the puff pastry.
That's basically the gist of it but there are a few tips to make the whole thing look a bit more refined.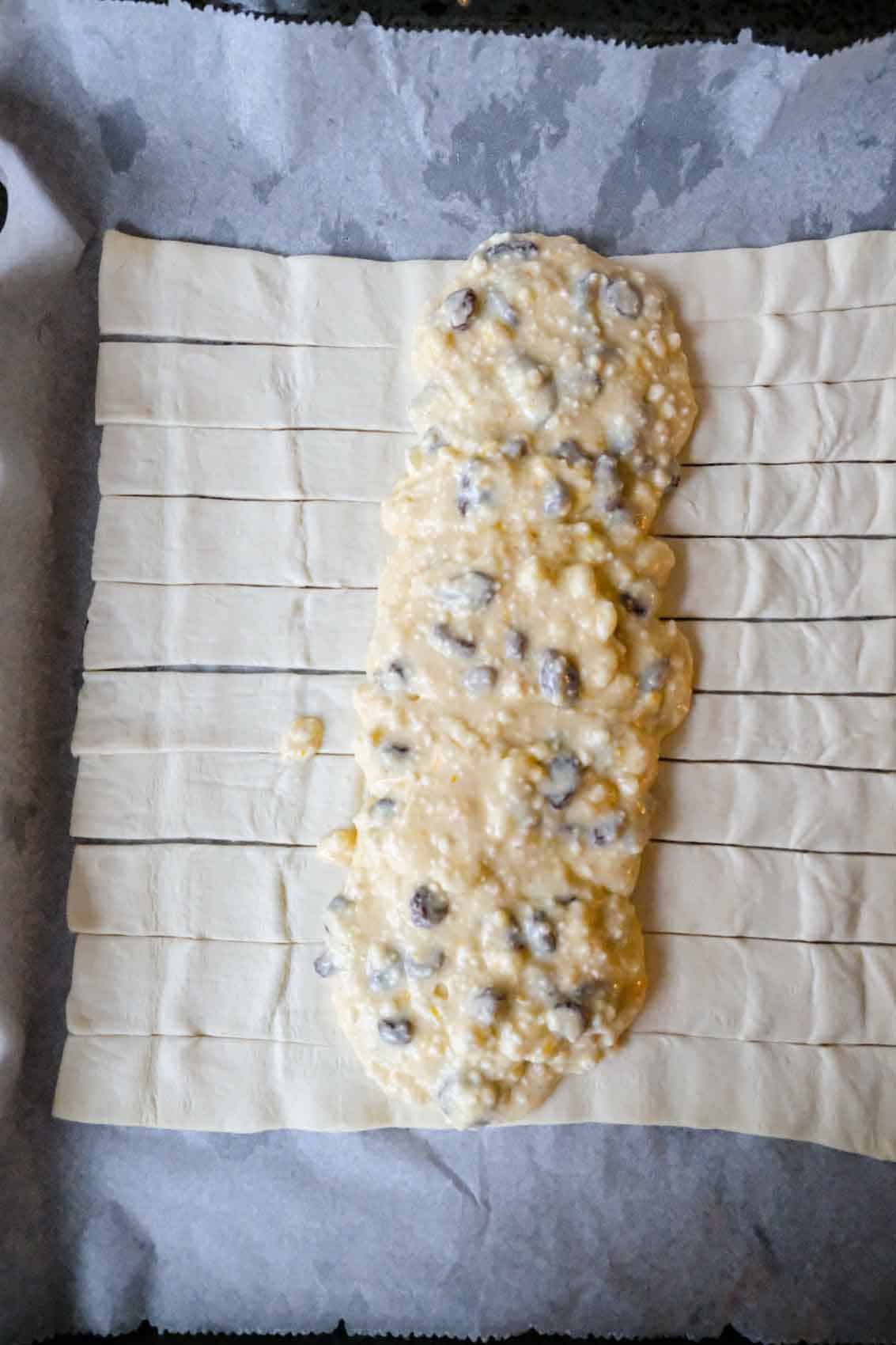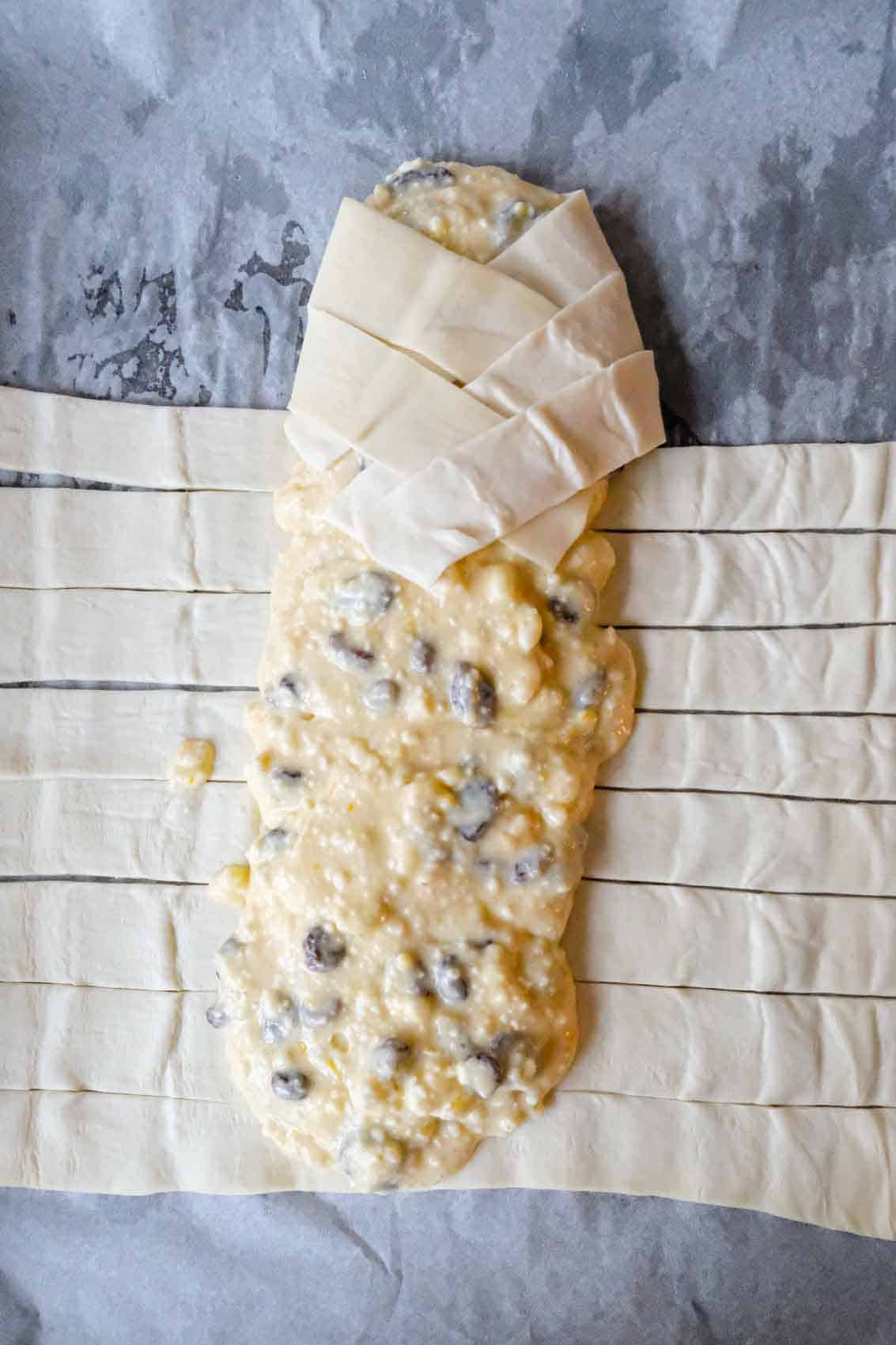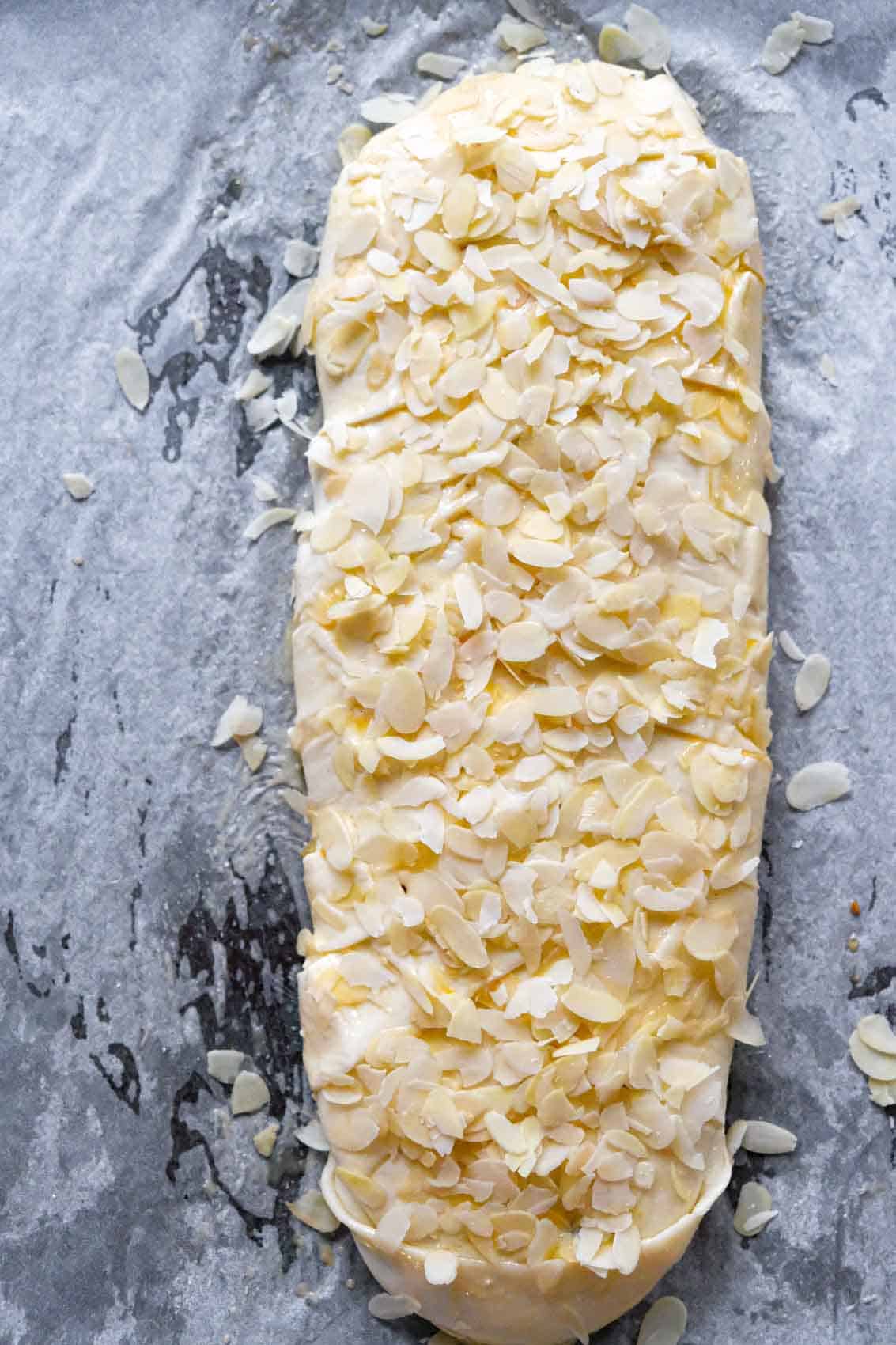 You can just simply bring each end of the puff pastry in to wrap the filling up, but if you put a few cuts in the puff pastry as shown in the photos above then it will make for a nicer presentation.
If you think of the dough in thirds, then the middle will have the filling, and each side piece will be cut into strips about 2cm/1 inch side (they don't need to match up though).
Once you spoon the filling into the middle, then bring a strip in towards the center over the filling, alternating sides to the end. Once you read the end you will have two pieces that might overlap. You can simply overlap them, or if you need a bit more at the other end (the part of the strudel where you started) then cut one strip off and use it on the other end of the strudel.
Once the filling is fully wrapped up, then apply an egg wash and a generous sprinkle of sliced almonds over the top.
Once baked, allow to cool for about 5 minutes and then you simply sprinkle on some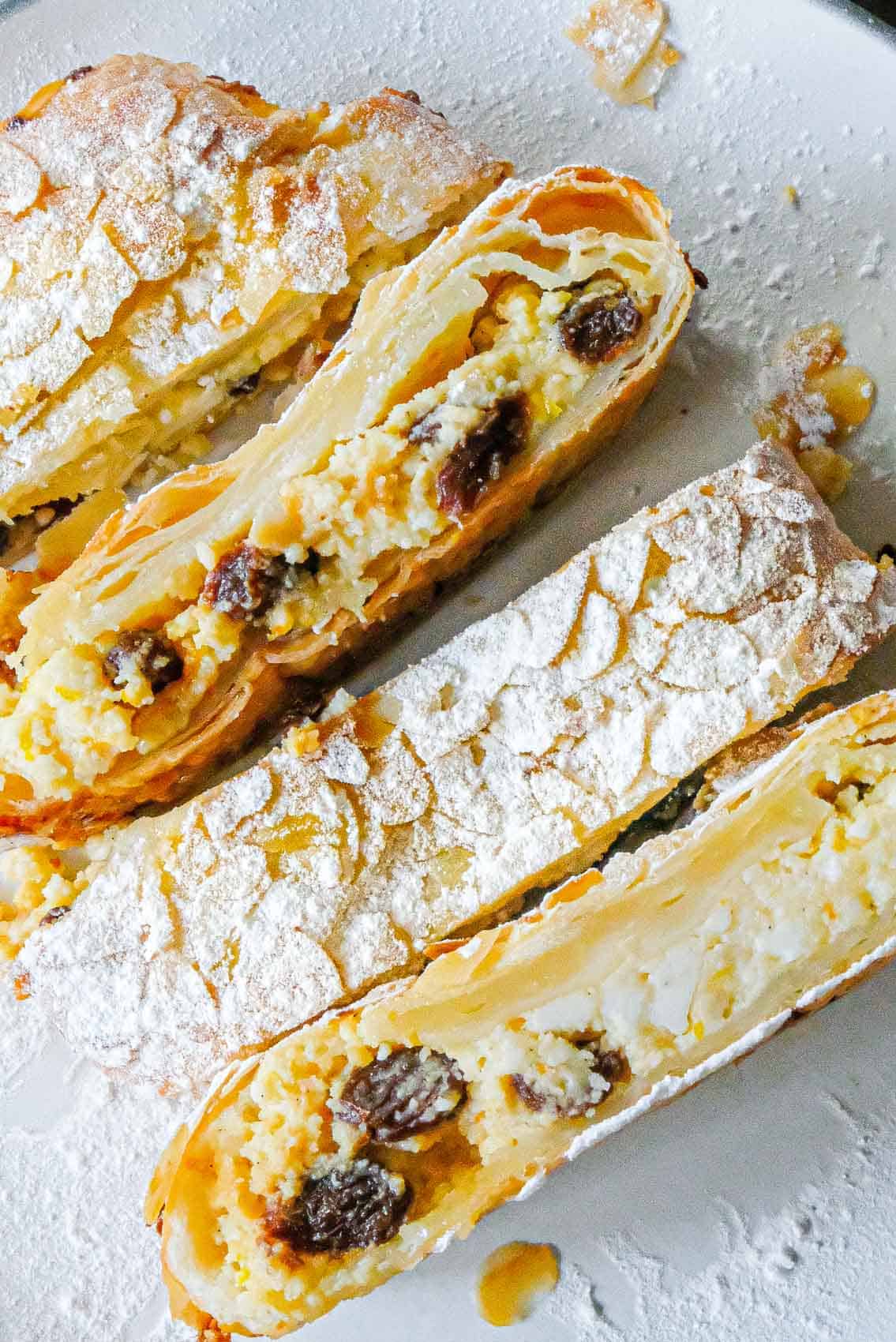 Related
Looking for other dessert recipes like this? Try these:
Recipe
Easy Sweet Cheese Strudel with Puff Pastry
This easy sweet cheese strudel has a creamy cheese filling with rum soaked raisins, citrus zest and vanilla in an almond covered puff pastry crust.
Print
Pin
Rate
Ingredients
1

package

puff pastry

270 grams or about 10oz
for the filling
200

grams

finely crumbled feta cheese

about 1.5 cups

125

grams

crème fraiche

or about ½ cup

2

egg yolks

0.25

cup

spiced rum

Stroh or the like

0.5

cup

raisins

0.5

cup

white sugar

zest of one lemon

zest of one orange

1

teaspoon

vanilla bean paste

or vanilla extract

0.5

teaspoon

rum extract
for the topping
3

tablespoons

whole egg

for egg wash

0.5

cup

sliced almonds

0.25

cup

powdered sugar
Instructions
Preheat the oven to 170 C / 340 F and line a baking sheet with baking paper.

Soak the raisins in the rum until they soak in the rum and get soft (or heat in the microwave or stovetop a few minutes to speed up the process but allow to cool before using).

Combine all the filling ingredients in a bowl and mix well until homogenous. The mixture can have a few lumps of cheese but overall should have a smooth consistency.

Lay out the puff pastry. See recipe post for directions on how to cut it or otherwise leave it whole.

Spoon the filling into the center of the puff pastry, leaving the edges so they can be folded in.

Bring each edge towards the center to cover the filling. If there is overlap between the pieces of puff pastry, smear on some egg or filling to help the pieces stick together so that the edges don't come apart while baking.

Apply egg wash to the strudel then sprinkle with the sliced almonds.

Bake in preheated oven for 22-25 minutes or until golden.

Allow to cool for 5 minutes and then sprinkle with powdered sugar and serve while warm.
Nutrition
Calories:
397
kcal
|
Carbohydrates:
54
g
|
Protein:
11
g
|
Fat:
36
g
|
Saturated Fat:
12
g
|
Polyunsaturated Fat:
4
g
|
Monounsaturated Fat:
18
g
|
Trans Fat:
0.004
g
|
Cholesterol:
101
mg
|
Sodium:
455
mg
|
Potassium:
202
mg
|
Fiber:
2
g
|
Sugar:
17
g
|
Vitamin A:
298
IU
|
Vitamin C:
1
mg
|
Calcium:
172
mg
|
Iron:
2
mg