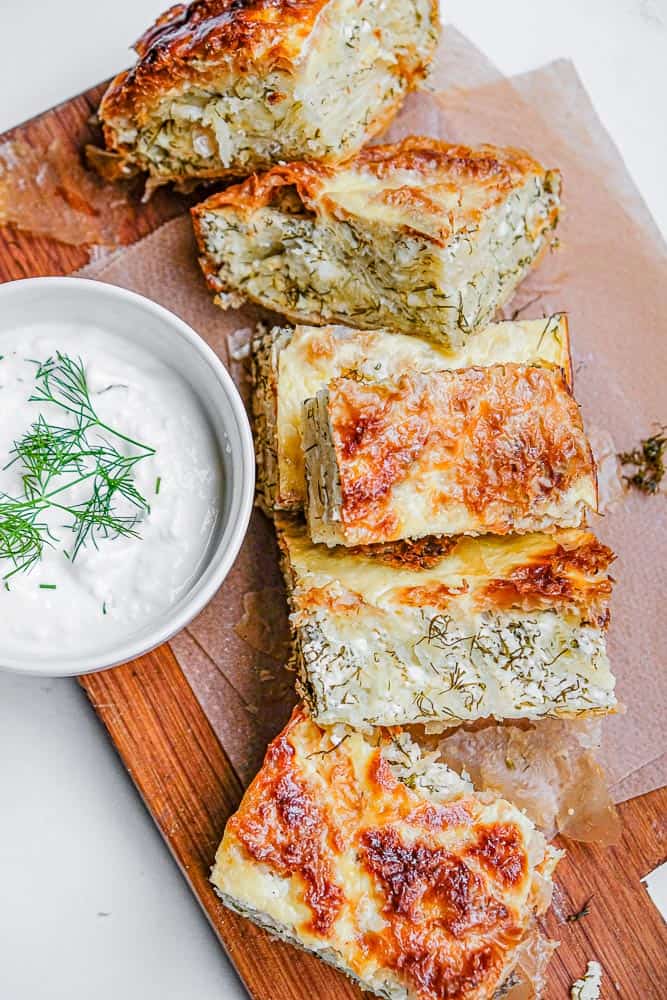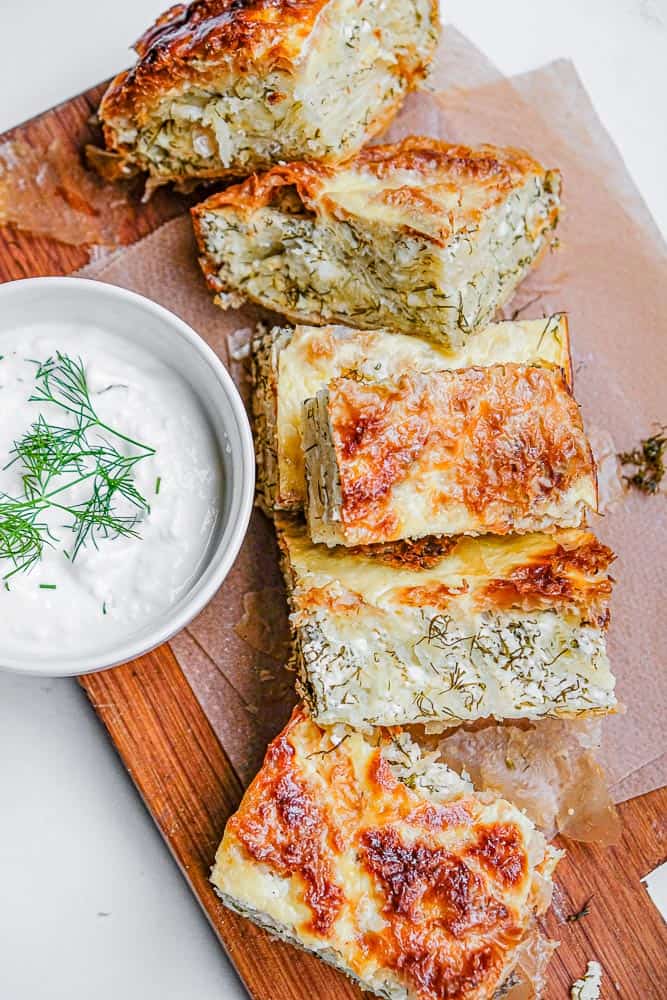 Traditional Romanian feta pie or plăcintă cu telemea features layers of flaky phyllo dough filled with a creamy mix of feta cheese, yogurt, egg and fresh dill. If you look at variations of this recipe across the Balkans, Turkey, the Middle East and Central Asia you see immediately that there are many different variations.
Every region and household has its own special way of doing it. There are probably as many ways to make feta pie as there are households in that part of the world. Oftentimes it also just comes down to adapting the basic ingredients and method to whatever size cooking vessel you're working with and the number of people you want to feed.
This particular version reflects the way my grandmother makes feta pie in Romania with homemade phyllo and the way my mother adapted the recipe in Canada using store bought phyllo.
It involves making little gathered parcels with the phyllo and arranging them on a baking tray in different configurations depending on the size of the tray and the type of dough. After baking to almost finished, the whole thing is covered in more egg and yogurt and baked again. This step is optional and I often skip it to get a crispy pie instead of a dense one.
This style of feta pie more broadly reflects the region we're from in the far east of Romania called Dobrogea. Dobrogea has been under Greek, Roman and most recently Ottoman occupation so the culinary milieu is varied. The influence of Turkish cuisine can't be understated though and this version of feta pie made in my family bears a striking similarity to Turkish Su Böreği (although unlike Su Böreği the plăcintă dobrogeana does not feature pre-boiled phyllo).
Anyway it all started last Friday night when my husband's work hosted a cultural diversity potluck: the perfect opportunity to make Romanian feta pie. All the Romanians in the office got together the night before to cook. Together we made a big bowl of salata beouf, a chopped salad of boiled potatoes, carrots, celery root, chicken, pickles and homemade mayo that's often made for big family gatherings and holidays.
I happened to have Friday off so I decided to make the phyllo from scratch. Growing up I spent every summer with my grandparents in Romania and whenever I arrived my grandmother always welcomed me with a fresh, homemade feta pie - of course with homemade phyllo. Showing her love in only the way a grandmother can, to this day mamaia still welcomes me back this way.
More Romanian recipes:
Sărățele: 3 Ingredient Cheese Sticks with Mascarpone
Making and eating this feta pie takes me back in time. So few things are made with traditional methods anymore that the only way to experience this unique taste is by making it yourself. There is nothing like the bite and texture of homemade phyllo. Much like homemade pasta, once you've had it you won't look at the store-bought stuff the same way again.
Certain foods bridge time and distance. Tastes, scents, and secrets are passed down from generation to generation, evoking other eras, other kitchens, other people. How Chefs Preserve Family Memory Through Food
Homemade phyllo is a really beautiful labour of love that I recommend everyone try at least once. It's not as hard as it looks and the texture of the dough comes out a bit thicker than the paper thin industrially produced phyllo in stores - it creates a very different bite and gives you an idea of how these types of pies tasted a hundred or more years ago before industrialized production.
Of course homemade phyllo is time consuming so if you don't have the time for all that you can just as easily use store bought. The ratios are the same - calculate about 1.5 times the amount of filling by relative to dough. So if you have a 500 gram (1 lb) package of phyllo, you'll need about 750 grams (1.6lbs) of filling.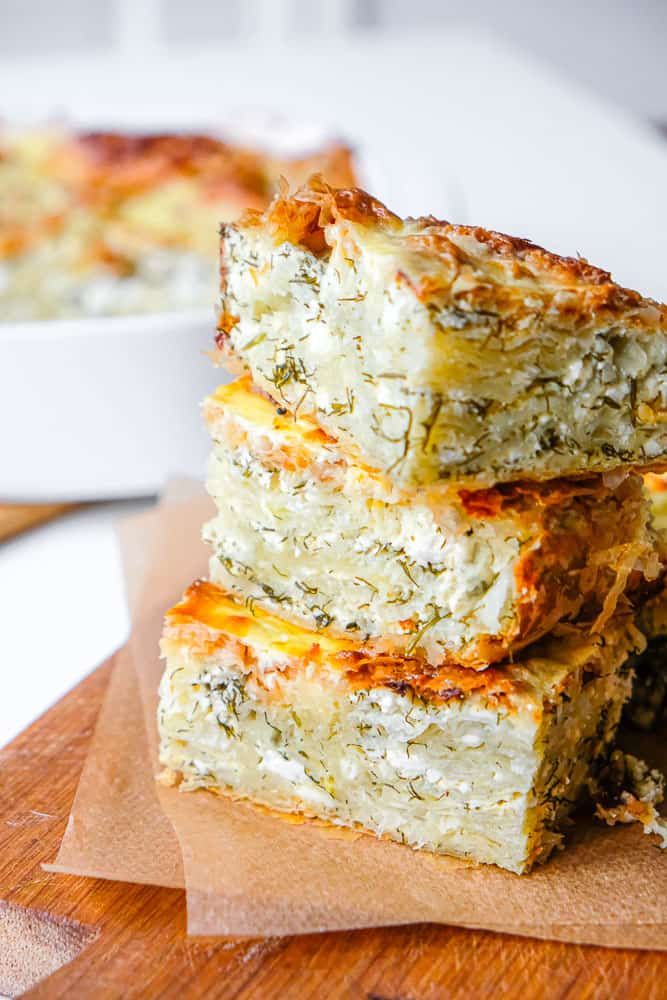 Feta pie, or plăcintă cu telemea (pie with sheep cheese) as we call it in Romania, is still one of my absolute favourite Romanian foods. It's a much beloved classic in Romania and (in different forms) throughout Eastern Europe, Central Asia and the Middle East. There's burek in Serbia, boregi in turkey, and boureki in Greece.
Placenta is a dish from ancient Rome consisting of many dough layers interspersed with a mixture of cheese and honey and flavored with bay leaves, then baked and covered in honey....The name placenta (Greek: "πλατσέντα") is used today on the island of Lesbos in Greece to describe a baklava-type dessert of layered pastry leaves containing crushed nuts that is baked and then covered in honey. Another variant of the Roman dish survived into the modern era as the Romanian plăcintă cake. Placenta cake on Wikipedia
Since this dish has been around for a very long time it's been adapted and interpreted according to local ingredients and cooking methods so it's made in a lot of different ways around the world and even within Romania. For example in my part of the country Dobrogea, in the southeast, plăcintă (a word simply meaning 'pie') is made not only with feta and herbs but also with mince meat.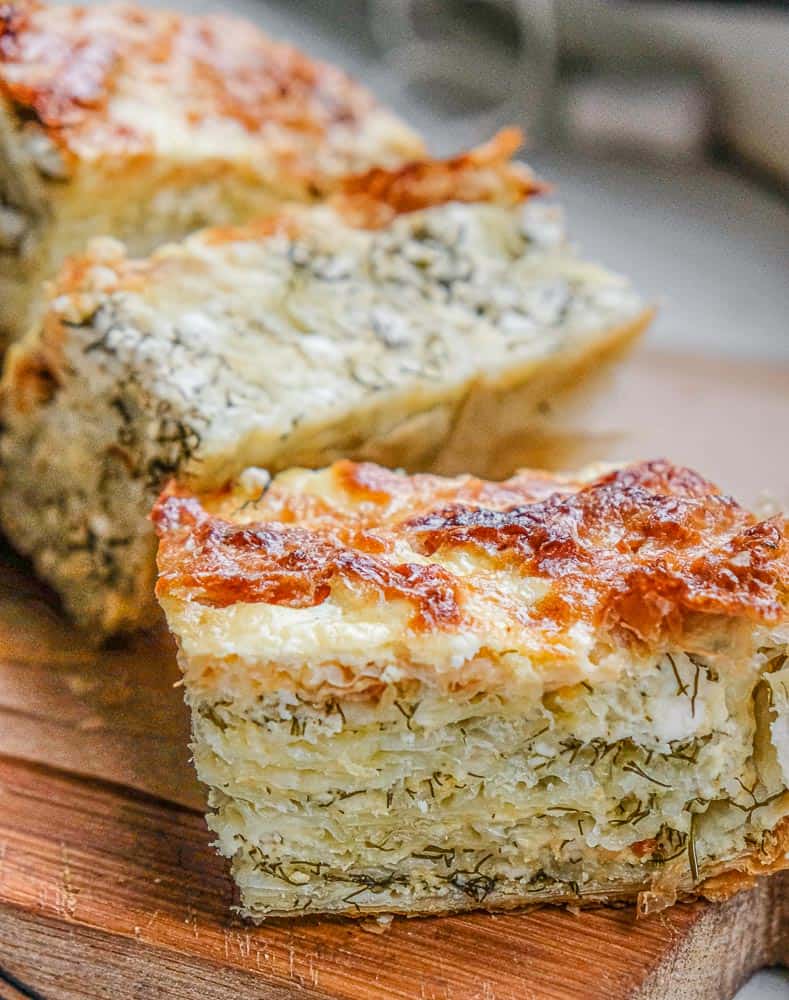 In Romania, the food falls under the name "plăcintă" and is most often made with cheese or cheese and spinach. In Dobrogea, eastern territory that used to be a Turkish province, one can find both the Turkish influence - plăcintă dobrogeana either filled with cheese or with minced meat and served with sheep yoghurt or the Tatar street food Suberek - a deep fried half Moon cheese filled dough. Börek on Wikipedia
Though I had wanted to make a meat version as well, I only managed to make the cheese version this time. If you want to know more about variations and substitutions, scroll past the recipe - I've included a meat filling variation at the bottom.
How to make feta pie
How long does it take?
For store-bought phyllo you're looking at about 20 minutes prep time and 35 minutes in the oven.
For homemade phyllo it will take about 90 minutes to prepare and 45 - 50 minutes in the oven. If you love taking your time in the kitchen like I do then you just might love the process. But if you're short for time or energy then go for the store-bought.
How much does this recipe make?
This recipe makes about 12-15 servings. It freezes very well in airtight zipper bags.
If you need either less or more pie you can easily adjust the recipe by following the ratio of approximately 1 part dough to 1.5 parts filling.
Following and modifying the recipe
As mentioned above - there are a ton of different ways to make feta pie and oftentimes the method and quantity of ingredients will depend more on the size of the baking tray and how many people you want to feed.
As is the case with most grandmothers and mothers that cook in the traditional way, the women in my family eyeball the ingredients and usually I do too. That is to say that these indications are only guidelines.
Following this exact recipe will get you a perfect feta pie - but you can also feel free to make modifications to suit your particular preferences, the size of your baking tray, or the number of people you want to feed.
Ingredients
500 gram (1 lb) store bought or homemade phyllo dough

650 grams (23oz) feta

4 eggs

½ cup yogurt (Balkan or Greek)

1 cup fresh dill +/- to your preference or omit altogether

1 cup spinach (optional)

½ cup (maybe more) of oil or melted butter
Topping (optional)
2-3 eggs
½ cup yogurt (Balkan or Greek)
What kind of feta to use for feta pie
Since feta is the star of the show the type of feta you use makes a big difference. In Romania (and Dobrogea in particular) sheep feta is more commonly used than cow feta. Goat feta is also very nice. In general if you like the taste of the feta on it's own then it will be great in a pie.
Since the feta also makes up a big part of this recipe, you may need to make some choices about quality and cost. Feta can get quite expensive in some places. I was lucky to find large cans of good quality feta at my Turkish grocer for about €7.00 / $8.00 per 800 grams / 1.8lbs.
Wherever in the world you live I suggest you try to find good feta at your local 'ethnic' markets rather than the big supermarkets. When I lived in Michigan and Toronto the prices for feta at big stores like Kroger and Superstore were way higher than the prices at Romanian or other 'ethnic' markets.
Directions
The basic premise is that you make the filling, oil the phyllo sheets, fill the phyllo sheets and then bake. There are some details to be aware of.
Type of baking tray
I used a Zenker extendable baking tray measuring approximately 40 x 33 cm (15 x 12 inches.) You can easily substitute a half-sheet pan (45 x 33 cm or 18 x 13 inches).
The filling
There are a lot of variations to the filling. For the feta based version you can add dill (or not) and likewise you can add spinach that's been lightly sauteed in butter until its excess liquid is released and evaporates.
You can also try variations like meat pie or cabbage phyllo rolls. The cabbage version features slow roasted cabbage and is very popular during the liturgical fasts that many Romanians participate in throughout the year.
To modify the recipe just follow the basic ratio of approximately 1 part dough to 1.5 parts filling.
The Phyllo Dough
The homemade phyllo dough traditionally used for this dish is very thin and crisp - much like phyllo dough though not nearly as thin as mechanically produced phyllo. It's made from unleavened wheat dough with the addition of oil and a bit of vinegar, which helps maintain the integrity of the dough and makes it easier to stretch or roll out very thin.
You can also use store bought phyllo.
Store bought phyllo dough
This is the easiest way to get from zero to feta pie.
Since mechanically produced phyllo is so thin, it can dry out very fast. Be sure to keep unused phyllo covered and use oil very liberally throughout the process.
When using store-bought phyllo dough you'll want to use 3-4 sheets at once.
Lay out the sheets, use a basting brush to cover them with a thin layer of oil, especially around the corners, and then spoon in the filling and follow the directions in the recipe as usual.
Other dough options
Pre-made puff pastry
Puff pastry also works well for this recipe. Follow the same basic directions as in the recipe but don't scrunch the dough - just fold into little envelopes, pinch the corners, and place seam-side down into a buttered baking tray. Bake according to package directions.
Pro tip: Use an egg wash and sprinkle on some raw white and black sesame seeds for extra pizzazz.
Preparing and filling the phyllo dough
Oiling the phyllo
Phyllo needs a lot of oil in order to actually cook instead of adhering together into a raw doughy mass. There should be oil or melted butter between each individual layer of phyllo. Use a basting brush to brush each phyllo sheet before putting another sheet on top.
Making phyllo parcels
The pie is made up of parcels of phyllo arranged in different shapes depending on dimensions of the baking tray and the type of phyllo you're using.
Each parcel will be made up of 1 sheet of homemade phyllo or 3-4 sheets of store-bought phyllo.
Homemade phyllo
Since homemade phyllo is a bit thicker it's better to make it into long parcels with filling between each layer. This is how my grandmother does it in Romania.
If you gather up the homemade phyllo like you would the store bought phyllo, it could end up being too thick and won't cook properly in the center which will result in a gummy and raw tasting pie.
Here are two examples of how you can fill and gather homemade phyllo dough.
Store bought phyllo
Since store bought phyllo is a lot thinner you have different options for arranging the parcels. This is the method my mother uses in Canada. 3-4 oiled or buttered sheets of phyllo are gathered into a parcel and put into the oiled or buttered baking tray.
Even though store bought phyllo doesn't need filling separating each layer - it does need oil or butter between each layer or it can stick together and not cook just like the homemade phyllo only instead of tasting gummy it will taste chalky. Trust me - I've been there.
Baking feta pie
Baking temperature and time depends on the type of dough and shape of the baking tray. In general these guidelines are applicable.
Store bought phyllo dough
Store bought phyllo dough gathered together in parcels does well at a moderate temperature - hot enough to turn it golden but not so hot that it browns unevenly.
175 C / 350 F for 30 - 35 minutes.
Homemade phyllo dough
Homemade dough is thicker and requires a different cooking time. This will also depend on the shape you make it into.
Optional egg and yogurt topping
For the optional topping mix about ½ cup Balkan or Greek yogurt with 2 eggs and pour over the pie at around the 30 minute mark then bake another 10 minutes or until set and golden.
Serving suggestion
Cut into squares and serve warm with a side of cooling Balkan yogurt for a very traditional experience. Makes a great breakfast too.
Reheat in the microwave for 1-2 minutes or (ideally) in the oven at 175 C / 350 F for 7-10 minutes.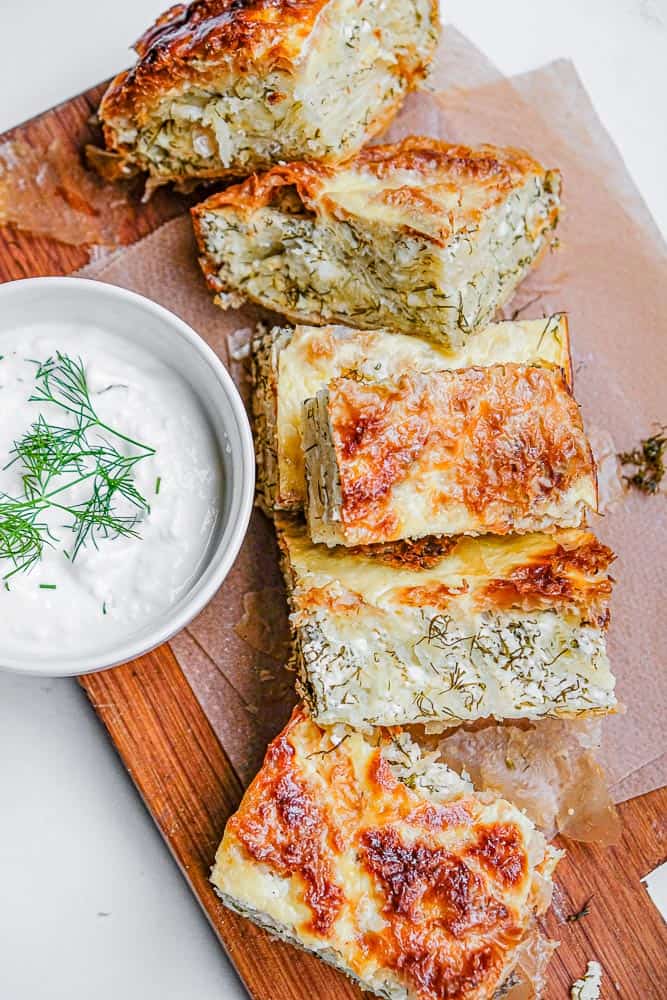 Recipe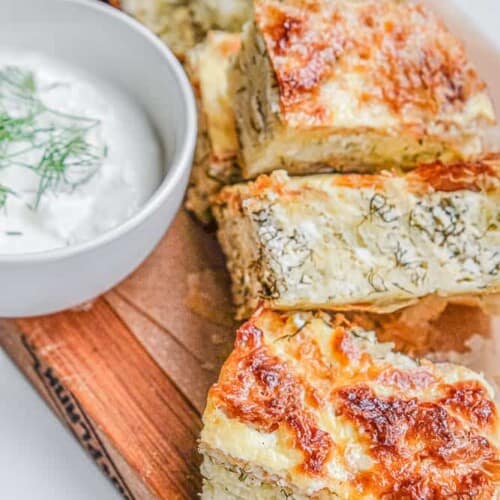 Plăcintă cu Telemea si Marar | Romanian Feta Pie with Dill & Handmade or Store Bought Phyllo
Sharp and creamy sheep's milk feta cheese speckled with fragrant dill layered between waves of phyllo dough. Serve with a side of cool balkan yogurt and sliced tomatoes or eat as it is.
Print
Pin
Rate
Ingredients
500

gram

1 lb store bought or homemade phyllo dough

650

grams

23oz feta

4

eggs

½

cup

yogurt

Balkan or Greek

1

cup

fresh dill +/- to your preference or omit altogether

1

cup

spinach

optional

½

cup

maybe more of oil or melted butter

Topping

optional

2

eggs

½

cup

yogurt

Balkan or Greek
Instructions
Preheat oven: 175 C (350 F)

Prepare baking sheet: oil or butter your baking try.

Mix the filling: Combine the feta, eggs, yogurt and dill. Break down any very large chunks of feta.

Oil the dough: Brush each sheet of phyllo liberally with oil or melted butter before filling. See recipe for more details.

Fill the dough: After oiling/buttering each sheet, scoop 3-4 heaping spoonfuls of filling into 1 sheet of homemade dough or 3-4 sheets of store bought dough. Gather into a parcel or roll into a carpet and place into baking tray.

Bake: 160 C  for 35-40 minutes or until golden and crispy.

Optional topping: Whisk the egg and yogurt mixture together and pour it over the pie after it's started browning (at about the 30 minute mark) then bake another 10 minutes or until set.
Notes
The dough: If making homemade prepare the dough and allow it to rest while you make the filling. If using store bought don't open the package until ready to fill or it can dry out. Salt: The filling doesn't contain any salt because feta is salty enough on its own. If you use an unsalted variety of feta you can add extra salt but I've personally never added salt to a feta pie and it's always been salty enough. Extra filling or dough: When I made this I only ended up with a little bit of extra dough which I put aside to use for another pastry another day. If you end up with extra dough you can do the same (make a mini pie and fill it with anything in your fridge: meat, kimchi, cheese, fruit, nutella - go wild.) If you end up with extra filling you can add it to an omelet or hollow out a tomato, fill it with the filling and bake for 20 minutes at 200 C / 400 F.