This Romanian style slow roasted caramelized cabbage is the caramelized onion of the cabbage world. It's sweet, spicy, smokey, tangy, and full of complex flavours. Through the magic of slow roasting, plain cabbage is transformed into a decadent comfort food that can be served over cornmeal porridge, in a bun, with potatoes, or even with buttered noodles.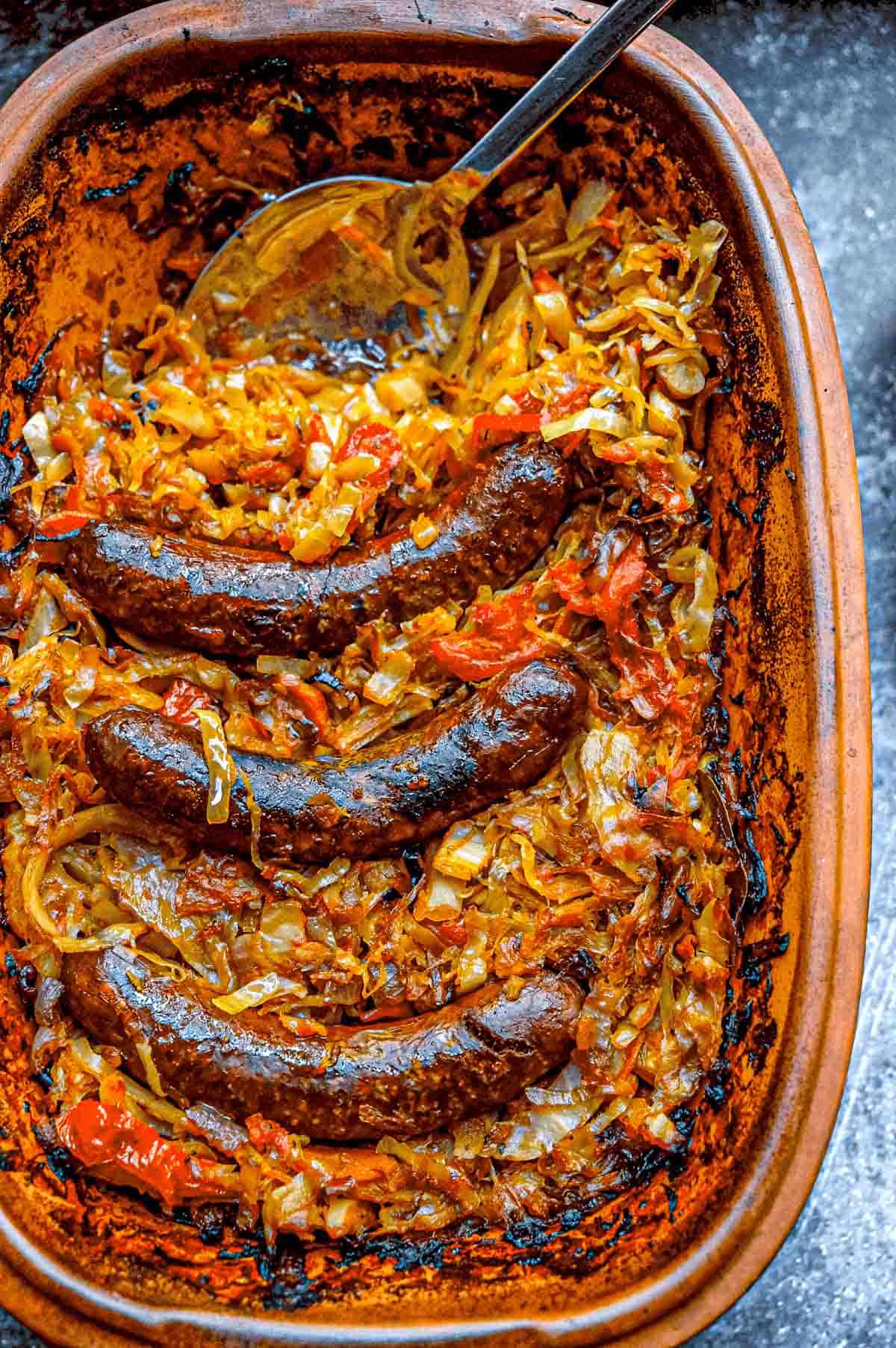 Slow roasted caramelized cabbage is a versatile, unpretentious, low effort but full flavour plant-based dish that you can serve with a protein of your choice - meaty like the sausages shown here or keep it plants!
There are also some great ways to transform it for second day serving like Flaky Cabbage Stuffed Savoury Pancakes or Cabbage Phyllo Spirals.
If you make this slow roasted caramelized cabbage there's a good chance it'll open your eyes to what cabbage can do.
Long Story Short
Like many good dishes, this one started as humble peasant food so it is wholly unpretentious. As long as you have a head of cabbage, some tomato (fresh, canned or paste), oil and seasonings you can make this recipe work.
I made this with what I had on hand. No supermarket trip required. These are the ingredients I used:
½ head of cabbage, sliced into thin strips
500 grams of sauerkraut, well drained
7 medium sized tomatoes, diced
1 carrot, sliced
3 onions, finely diced
8-10 cloves of garlic, sliced
1 red hot pepper with seeds, sliced thinly
1 handful of fresh thyme threads
⅓ cup of vegetable oil
1.5 tablespoons smoked paprika
3 bay leaves
2 teaspoons summer savoury (or substitute thyme)
2 teaspoons salt
1 teaspoon black pepper
Mix it all together, roast in an oven safe dish starting high at 225 C / 440 F for the first 30 minutes and then reduce heat to 160 C / 320 F and continue roasting for another 2.5 to 3 hours.
If you don't have some of these ingredients, check out my section below on ingredients.
Ode to the Humble Cabbage: An unsung culinary hero
Cabbage may not have the range of the potato, but it does have a lot of untapped potential that's woefully underrepresented in the Western culinary world.
Sure you have your slaws and your cabbage steaks - which are undoubtedly delicious - but those methods only capture part of what cabbage can do. There are magical things that happen to cabbage when it's cooked just right - things that people in other parts of the world have known for ages.
Cabbage in Romania, Eastern European and Beyond
In my native Romania we eat a lot of cabbage so I was especially happy to share this recipe (and sing the praises of cabbage) since it's so close to home.
Of course, the most known and loved way to eat cabbage in Romania is in the form of cabbage rolls, or sarmale, which are basically our national dish.
It's not just Romania that loves cabbage rolls though. Cabbage rolls are prepared in a wide range of culinary traditions throughout Eastern Europe, the Balkans, Turkey, the Caucuses, Central Asia, the Middle East and even China.
There's good reason for this worldwide love of cabbage and it isn't just because cabbage makes a good wrapper.
What cabbage can really do
This is the secret potential of cabbage. In a feat of absolute culinary alchemy, when cabbage is slow roasted with the right ingredients the texture is totally transformed. The water evaporates and becomes a luscious pan sauce, and what's left of the hearty cabbage leaves are paper thin almost glassy layers of concentrated flavour with crispy wisps on the edges, tender stems, and the soothing mouthfeel of buttery noodles.
Besides cabbage rolls, in Romanian and other culinary traditions it's also very common to thinly slice and slow roast either fresh or fermented cabbage - which is what brings us to this recipe.
The Recipe & Method for Slow Roasted Caramelized Cabbage
Ingredients
This recipe is made with both fresh and fermented cabbage combined with fresh diced tomatoes, a carrot, onions, garlic, fresh hot pepper, fresh thyme, smoked paprika, dried summer savoury, bay leaves, black pepper, salt and a generous amount of oil.
The amount of oil might seem excessive to some, but it's a key ingredient to transform the cabbage from crunchy and leafy to tender and crisp.
Substitutions, omissions & additions
Cabbage
The most common type of cabbage for this dish in Romania is plain green cabbage. But you can use any kind of cabbage - even purple cabbage will do.
For this recipe I've combined fresh and fermented cabbage because the combination results in a tangier flavour and more tender leaves. You can substitute ½ head of fresh cabbage for 500 grams of fermented or likewise substitute fermented for fresh.
Tomato
You can easily substitute the fresh tomatoes for a can of diced tomatoes, 2 tablespoons of tomato paste, or even a combination of all.
Other vegetables
Carrots are not a traditional ingredient in this dish in my household but they add a nice sweet element. If you have carrots lying around then they can be added. A more traditional vegetable is sweet red pepper. You could also leave out additional vegetables altogether.
Herbs & spices
The combination of paprika, summer savoury, bay leaves and pepper is quite traditional and complements the cabbage and tomato very well.
Fresh thyme: If you don't have fresh thyme, substitute ½ a tablespoon of dried thyme.
Summer savoury: Summer savoury is more common than thyme in Romania. If you have any summer savoury or cimbru as it's called in Romania then it's an essential flavour - if not then use thyme and add 2 teaspoons of dried oregano to mimic the flavour of summer savoury.
Anchovy oil: Since I like making use of what I have I also added about a teaspoon of anchovy oil that I had leftover from the anchovy butter and sesame crostini I made last weekend. I wasn't totally sure what would happen - whether my cabbage would taste fishy or not - but I reckoned the Romans put garum on everything so how bad could it be?
The cabbage didn't come out fishy and if the anchovy oil provided any flavour enhancement - I'm not sure. This isn't essential obviously.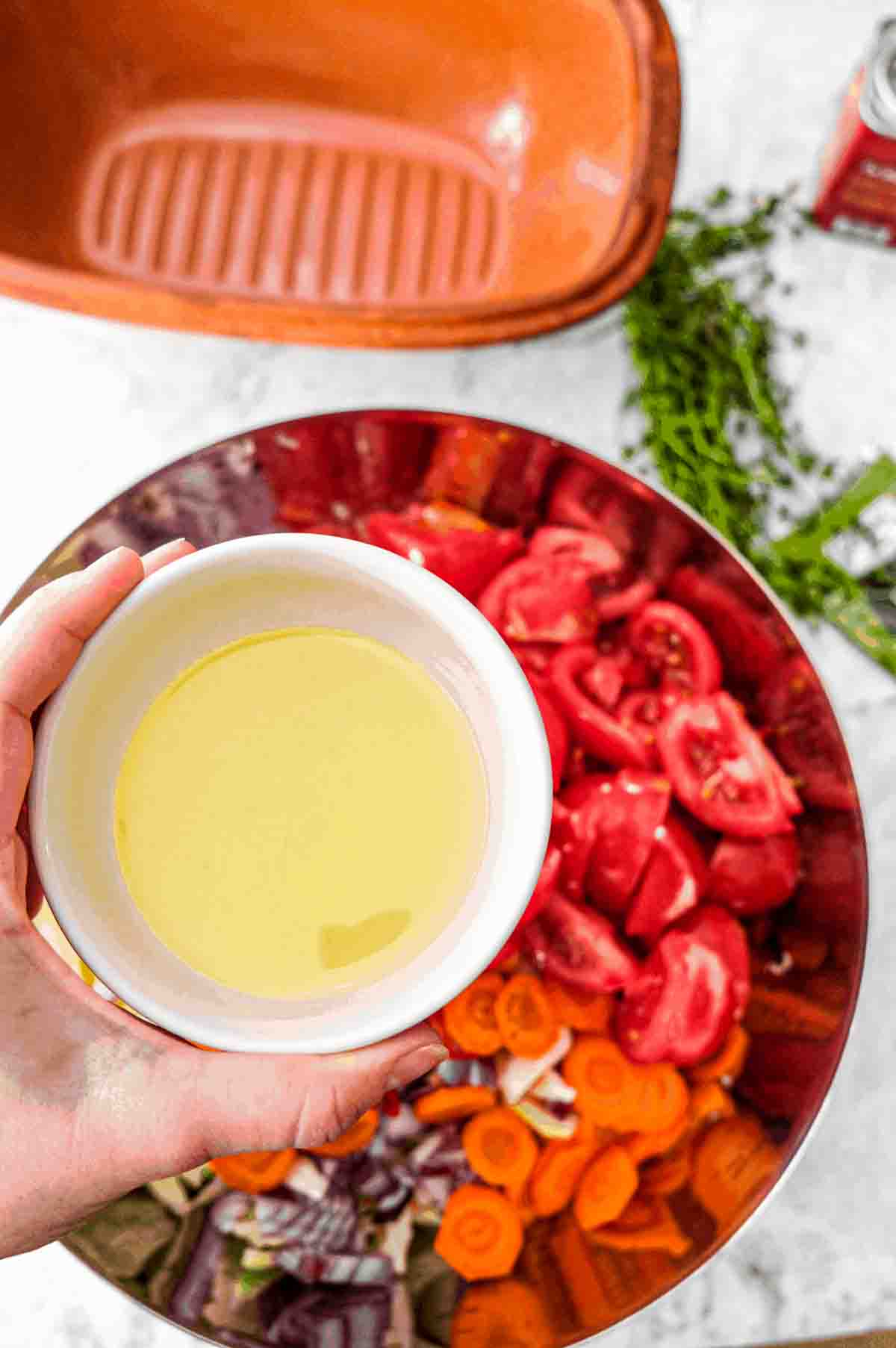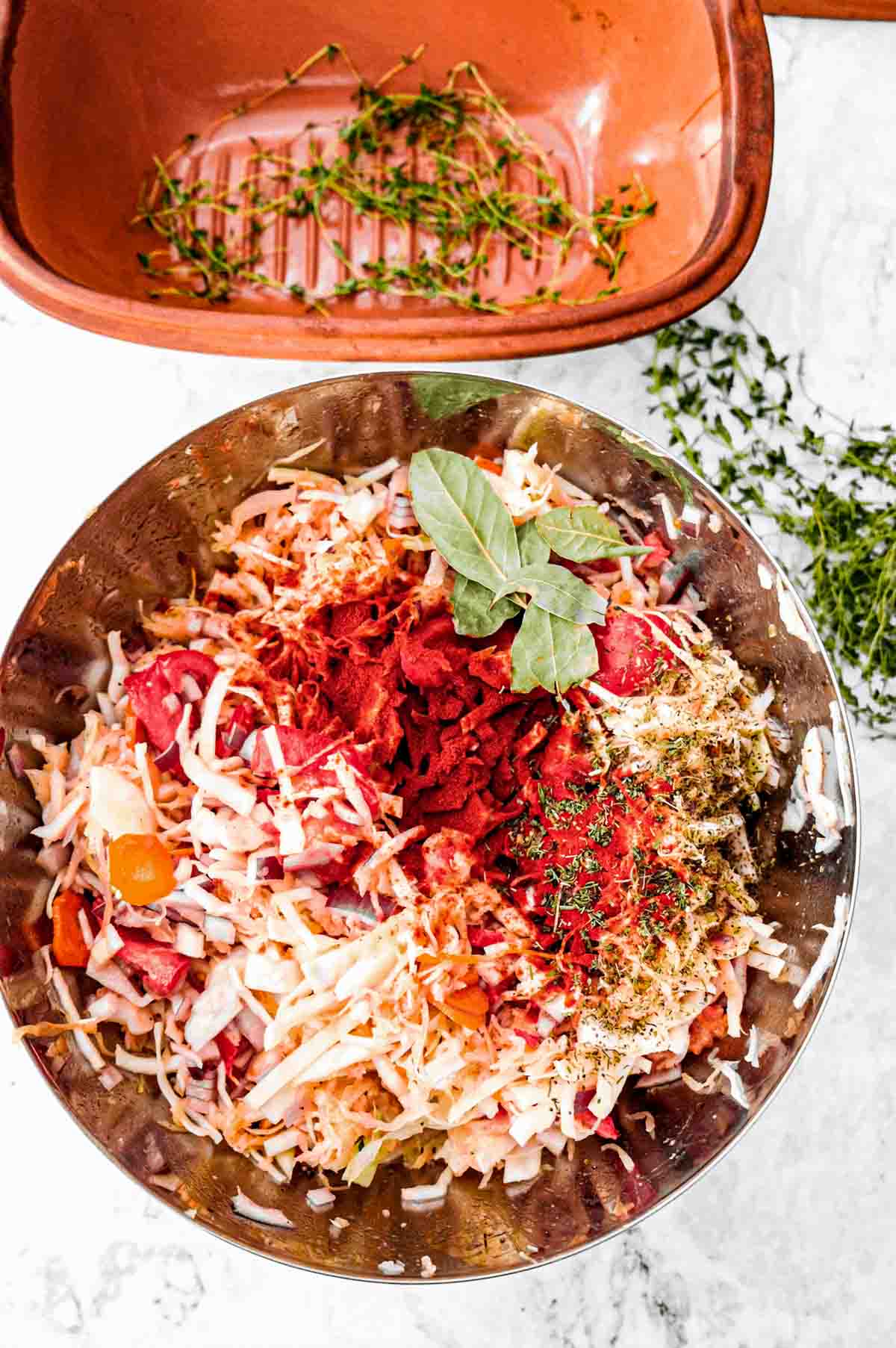 Oil: I used about ⅓ of a cup of plain vegetable oil. Any unflavoured oil will work. I would personally avoid extra virgin olive oil since it would be a waste to cook it for so long. Likewise for any cold pressed unrefined oil. Good options are corn oil, sunflower oil, canola oil, peanut oil, and avocado oil.
As I mentioned before - using a lot of oil is essential for transforming the cabbage texture. Don't be afraid of the oil.
Protein
Vegan/vegetarian option: Since the sausages just sit on top of the dish, you can easily make this vegetarian or vegan by using some veggie sausages instead. Just add them nearer to the end of cooking so they don't overcook. For a whole foods option, add a can or two of white or brown beans to the mix before cooking - beans and cabbage are a traditional combination for good reason.
Adding smoked meat: Smoked meat goes exceptionally well with slow roasted caramelized cabbage. Add a bit of bacon, smoked turkey, or smoked sausages to really enhance the flavours.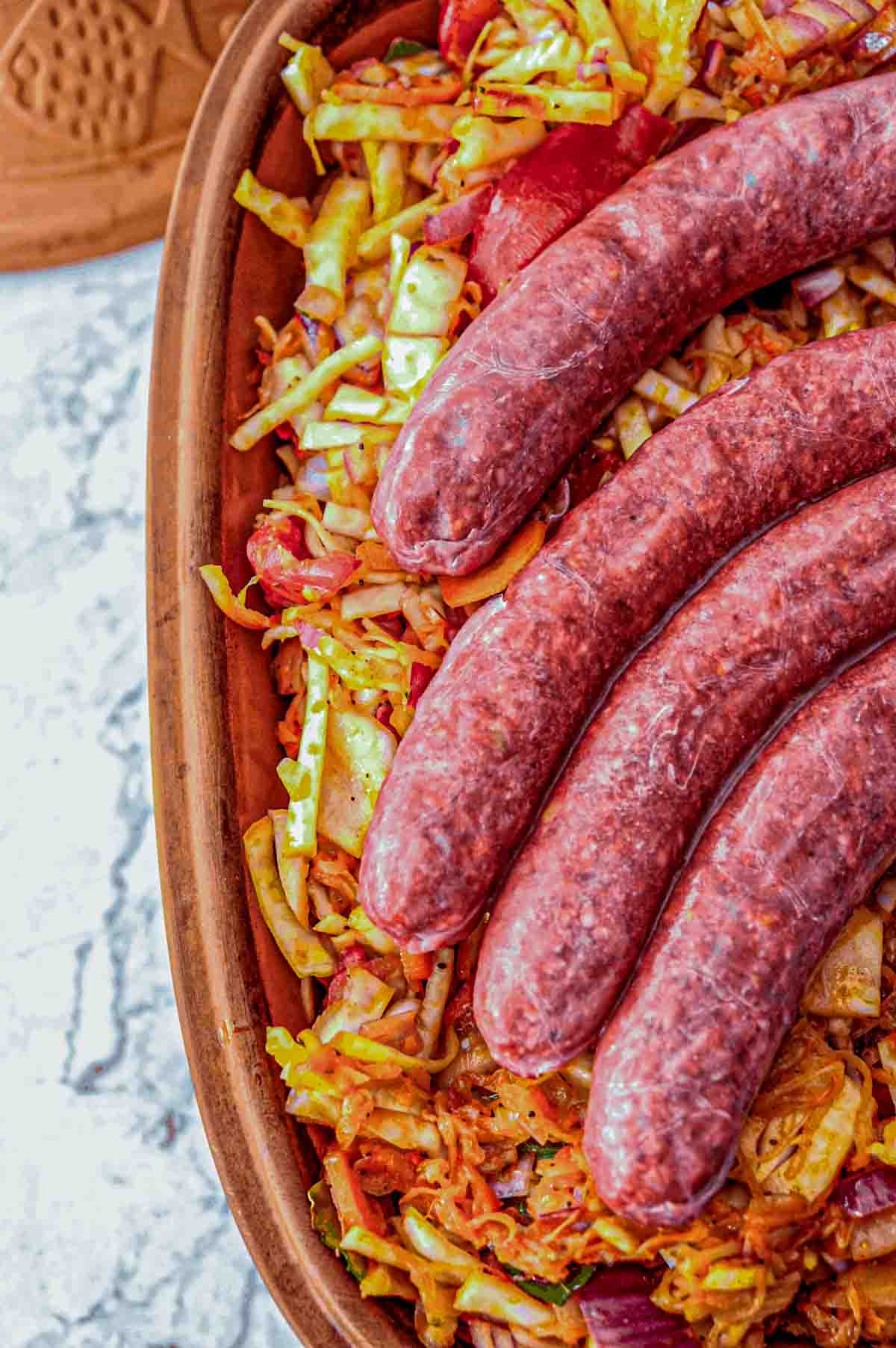 Equipment for Romanian slow roasted cabbage
You don't need any special equipment. If you want you can put the cabbage through a food processor to get extra thin strips you can - this will increase the surface area of the cabbage and hold onto more of the rich pan juices (like using spaghetti instead of fettuccini).
Preparing the ingredients
Preparing the ingredients is simple and low effort. Wash and dice the tomatoes roughly - large pieces are fine since they'll break down anyway. Peel and finely dice the onion, cut the garlic cloves into rough slices. The thyme can go in whole on the bottom of the baking dish.
Shred the fresh cabbage finely. If you're using any fermented cabbage, be sure to squeeze out as much of the juices as you can.
Pro tip: save the fermented cabbage juice - it's a probiotic charged superfood. You can use it in soups, as a marinade, or even just drink it as we often do in Romania - it's our best known hangover remedy.
Once everything is cut, put it all in a bowl, sprinkle with salt, and pour in the oil. Use your hands to massage the cabbage and all the other ingredients. Using your hands to crunch everything together breaks down the vegetable fibers and helps to soften the cabbage. For even lower effort skip this step - the difference is probably fairly minute.
How to cook caramelized cabbage
Type of baking dish
The best baking dishes for caramelizing cabbage are dishes meant for low and slow cooking. A cast iron Dutch oven is a great option, as is an earthenware dish like the romertopf I used.
It's best to use a baking dish with a lid for this type of preparation. The lid seals in the steam, which helps to soften the vegetable fibers and infuse the aromas.
Temperature and time
The cabbage should be treated like a roast - start with very high heat for 30 minutes and then reduce the heat and roast low and slow for 2.5 - 3 additional hours.
In this case I preheated my oven to 225 C / 440 F and roasted for 30 minutes, then reduced the heat to 160 C / 320 F and roasted for an additional 3 hours or so.
Braising vs roasting
While braising involves adding a liquid, roasting is done dry. It's important that the cabbage be roasted and not braised, since adding a liquid will prevent the water from evaporating from the leaves and not result in that beautiful caramelized texture.
Serving suggestions
I've served the cabbage here with sausages over cornmeal porridge aka polenta. This type of slow roasted cabbage is commonly served with cornmeal porridge in Romania, often with a dollop of sour cream and a few sprigs of fresh dill or parsley. I also added about 2 tablespoons of dried parmesan and gouda to my cornmeal porridge, which gave it a really nice cheesy contrast.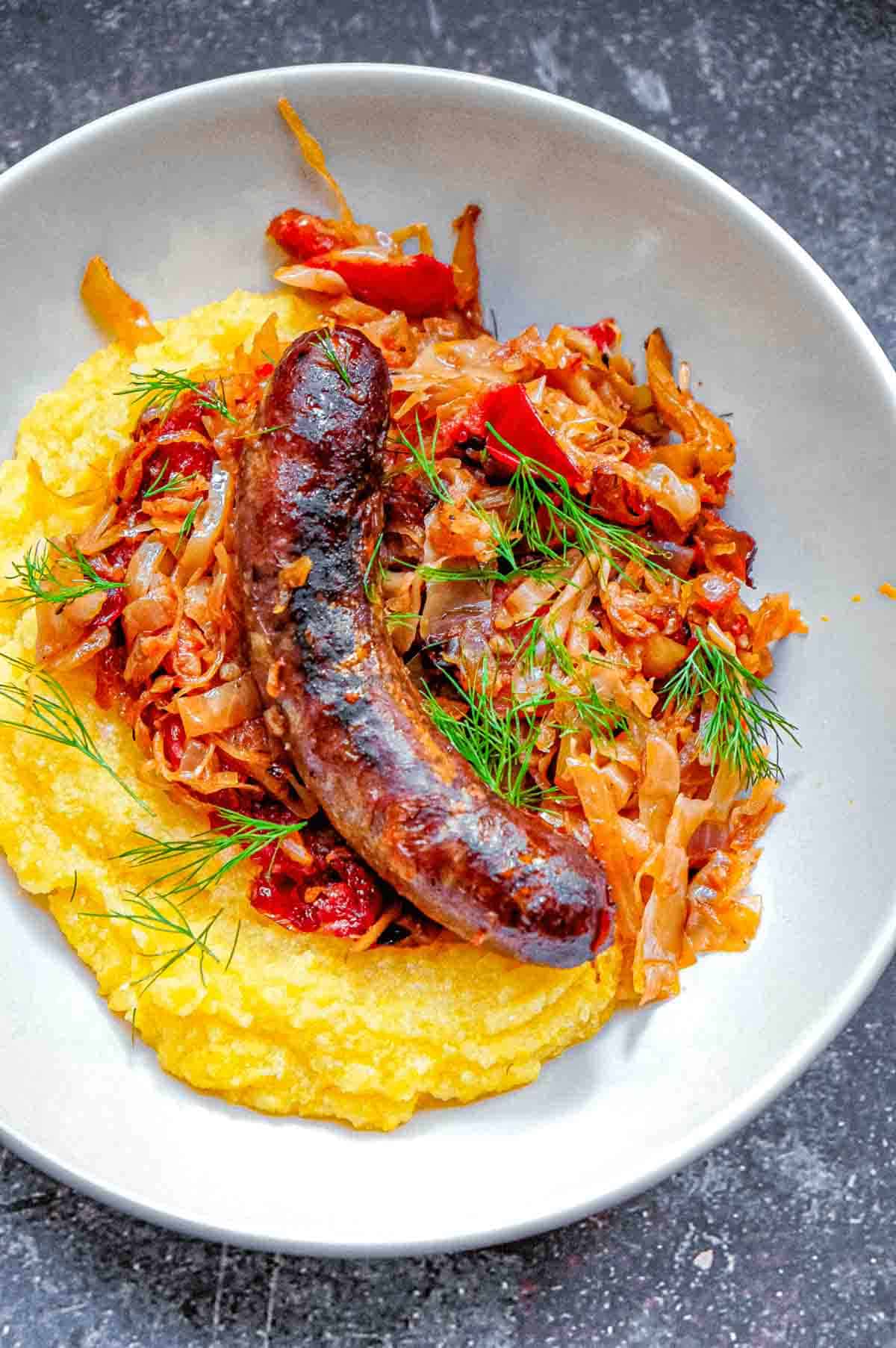 You can also serve it on a bun, with some buttery dill potatoes or crispy roasted potatoes, or even a la haluški, the perfect combination of slow roasted cabbage with noodles which (fun fact) is the national dish of Slovenia.
Second day serving
Besides being delicious, caramelized cabbage is also really versatile. Even if you eat it with cornmeal porridge and sausages the first day, you can change it up the next day and have it another way.
For example, with one simple dough recipe you can transform leftover roasted cabbage into flaky cabbage pancakes or comforting cabbage stuffed phyllo spirals.
More Romanian recipes:
Fasole bătută: White Bean Spread with Tomato & Garlic Sauce
Macaroane cu lapte: Sweet Cinnamon & Brown Sugar Pasta
Plăcintă cu telemea: Homemade Phyllo Pie with Sheep Feta
Mancare de Mazare: Green Pea, Tomato & Bacon Stew
Recipe
Romanian Slow Roasted Caramelized Cabbage
This Romanian style slow roasted caramelized cabbage is the caramelized onion of the cabbage world. It's sweet, spicy, smokey, tangy, and full of complex flavours. Through the magic of slow roasting, plain cabbage is transformed into a decadent comfort food that can be served over cornmeal porridge, in a bun, with potatoes, or even with noodles.
Print
Pin
Rate
Ingredients
½

head

cabbage

sliced into thin strips

500

grams

sauerkraut

well drained

7

medium sized tomatoes

diced

1

carrot

sliced

3

yellow onions

finely diced

8

cloves

garlic

sliced

1

tablespoon

red chilli pepper with seeds

sliced thinly

1

tablespoon

summer savory

or substitute thyme

⅓

cup

vegetable oil

1.5

tablespoons

smoked paprika

3

bay leaves

2

teaspoons

summer savoury

2

teaspoons

salt

1

teaspoon

black pepper
Instructions
Preheat oven to 225 C / 440 F.

Prepare the vegetables

Finely slice fresh cabbage or thoroughly drain fermented cabbage; roughly dice tomatoes, peel and slice the carrot, finely slice the hot pepper, peel and finely dice the onions, and roughly slice the garlic cloves.

Add the vegetables, salt and oil to a large bowl and massage

Add all the vegetables to a large bowl, sprinkle salt first and then add the oil and massage - crunching the cabbage in your hands to break down the vegetable fibers.

Add the herbs and spices

Put the fresh thyme leaves in the bottom of your baking dish and add the smoked paprika, summer savoury, black pepper and bay leaves to the vegetables. Mix with your hands or utensils.

Roast on high 30 minutes

Add everything to your baking dish and roast covered for 30 minutes.

Reduce heat and slow cook

Reduce heat to 160 C / 320 F and roast another 2.5 - 3 hours - checking about halfway through and mixing things around a bit.
Notes
This recipe and the nutritional values indicated are just for the caramelized cabbage. If you want to add a protein, you can add it either at the beginning or near the end of cooking depending on what it is. Sausages, bacon and other smoked meat can be added near the beginning, whereas chicken and veggie proteins may be better suited to go in near the end so they don't dry out.
Nutrition
Calories:
201
kcal
|
Carbohydrates:
21
g
|
Protein:
4
g
|
Fat:
13
g
|
Saturated Fat:
2
g
|
Polyunsaturated Fat:
7
g
|
Monounsaturated Fat:
3
g
|
Trans Fat:
0.1
g
|
Sodium:
1355
mg
|
Potassium:
650
mg
|
Fiber:
8
g
|
Sugar:
9
g
|
Vitamin A:
3410
IU
|
Vitamin C:
61
mg
|
Calcium:
146
mg
|
Iron:
3
mg