This vanilla loaf cake with vanilla bean glaze is decadently moist with big vanilla flavor. The cake and glaze go together perfectly and the recipe is very straightforward to make. If you love vanilla cake you are going to love this one!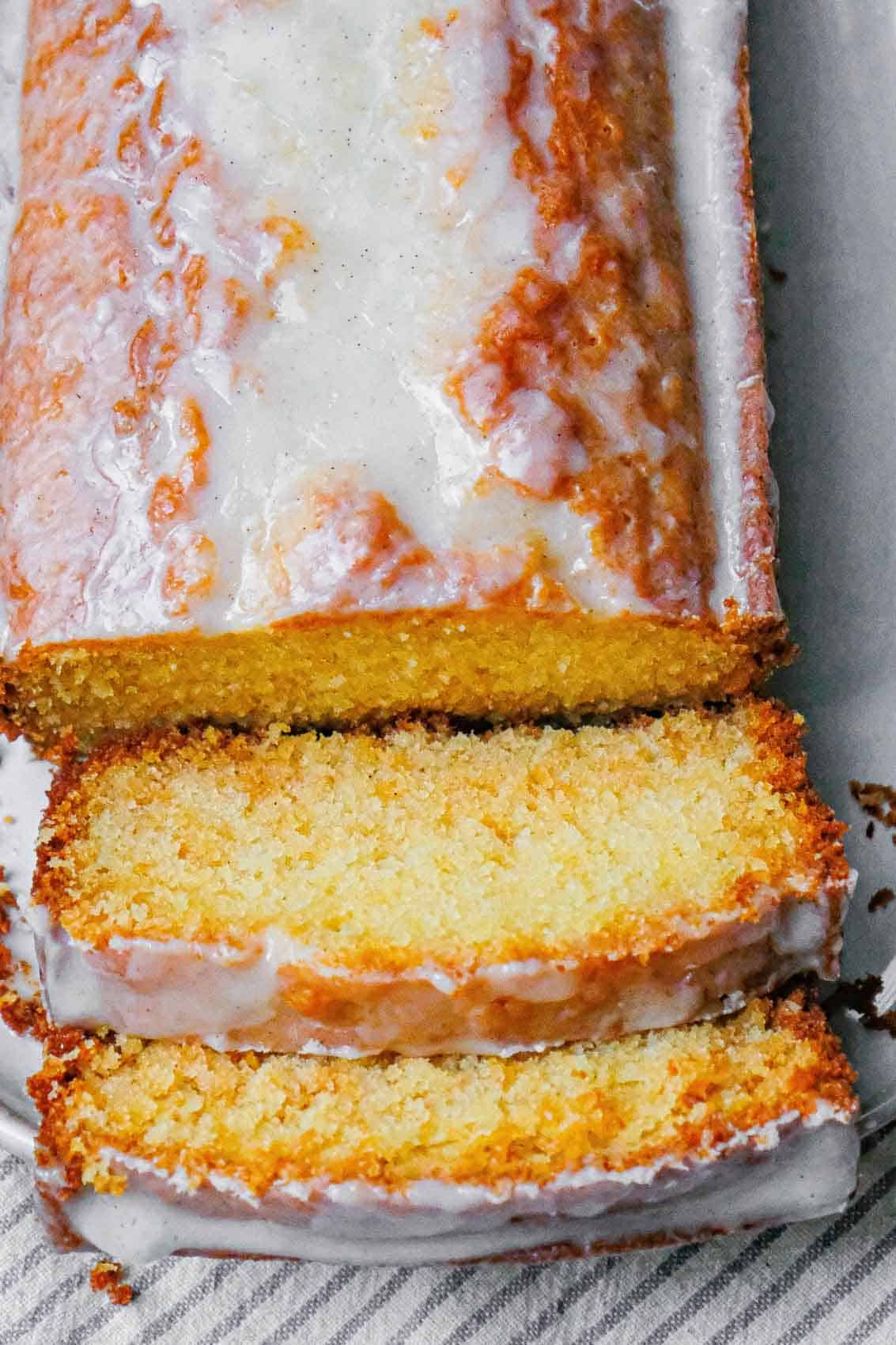 Vanilla lovers unite. This cake is for you!
Vanilla sometimes get a bad rap for being 'boring' and is basically a synonym for plain. But the vanilla flavor in this super moist loaf cake is anything but plain.
The vanilla flavor in this cake is very pronounced because there are different kinds of vanilla in the recipe. This creates a layered vanilla flavor profile that adds more richness to the cake.
Jump to:
Ingredients
The ingredients for this vanilla loaf cake are straightforward fridge and pantry staples. The only exception is the vanilla bean paste or vanilla bean.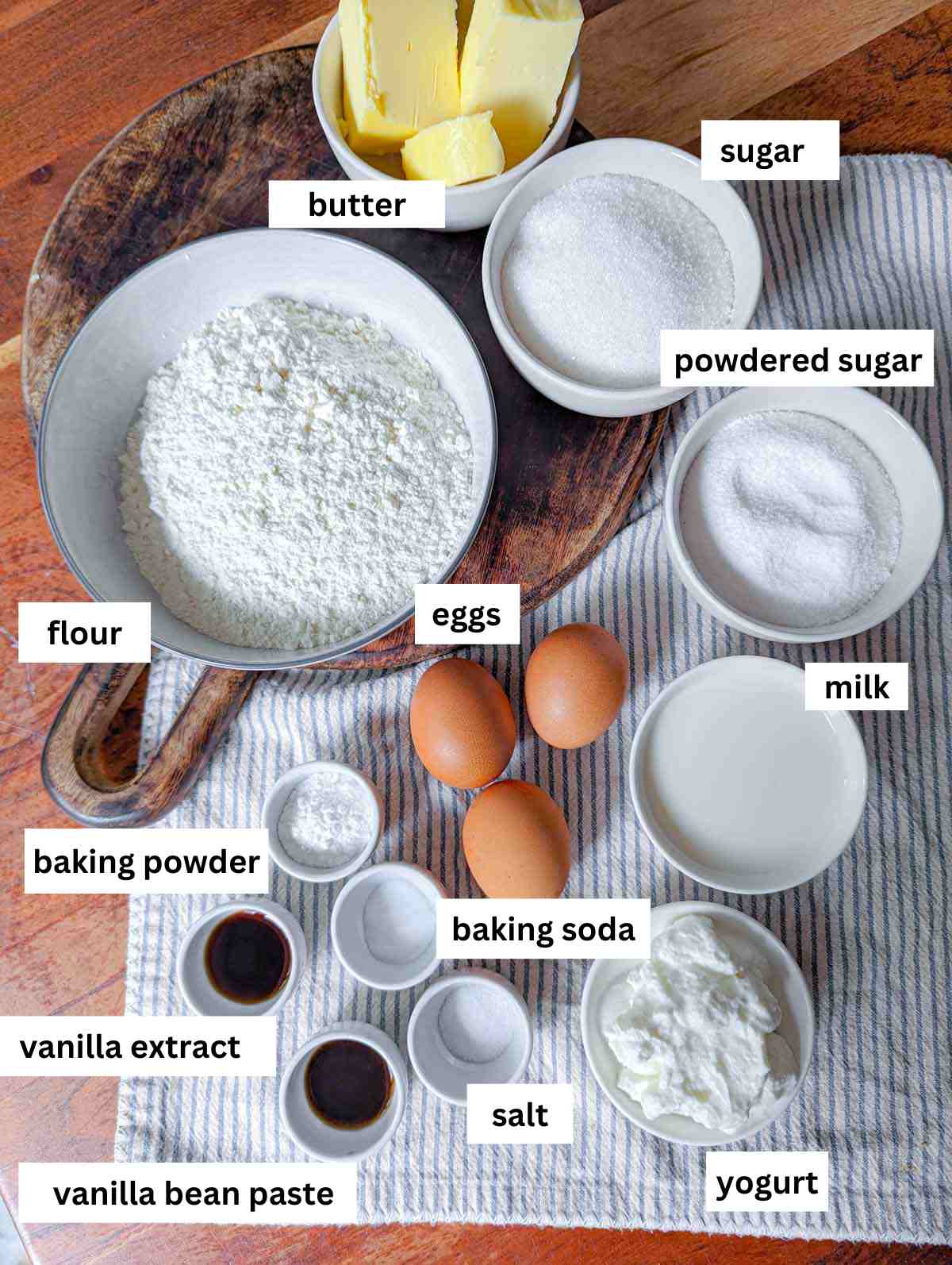 Ingredients for the loaf cake
Flour: Regular white flour is good.
Butter: The butter should be room temperature so it's very soft. If you don't manage to get it out of the fridge ahead of time, you can zap it in the microwave for 30 seconds or so to soften it.
Sugar: Regular white sugar.
Eggs: Regular whole eggs.
Yogurt: The yogurt is key - it adds a lot of moisture and a rich texture to the cake. This recipe is made with non-fat strained yogurt. Other types of yogurt can be used but might slightly alter the texture of the cake. Likewise, if you substitute other dairy like sour cream or buttermilk, you could end up with a slightly different texture.
Baking powder and baking soda: Two rising agents for a lighter texture.
Vanilla extract and vanilla bean paste: Not all vanilla is created equal. They all have different flavors. You can get even more lovely vanilla flavor if you combine two different kinds of vanilla extract. Vanilla bean paste also adds flavor beyond what extract can achieve. My recommendation is Nielsen Massey Vanilla Bean Paste. You can also substitute a vanilla bean - add ¾ of it to the cake and reserve ¼ for the glaze. See recipe card for details on preparing the vanilla bean.
Salt: To balance the sweet and bring depth of flavor.
Ingredients for the vanilla bean glaze
Powdered sugar: Also known as caster sugar. It's really essential to use very fine powdered sugar (and to not substitute regular white sugar) because regular sugar will just clump up.
Milk: The milk is the liquid component of the glaze. You only need a very little bit.
Vanilla bean paste: This adds a lot of flavor and the vanilla speckles also look really nice in the glaze. You can of course use a whole vanilla bean or vanilla extract instead.
Salt: Just a little sprinkle will bring dimension and pop to the other flavors.
See recipe card for quantities.
Instructions for vanilla loaf cake with vanilla bean glaze
Instructions for making the vanilla cake
To make the cake you just need to combine wet ingredients with wet ingredients, dry with dry, and then mix it all together.
There are a few specifications to help the ingredients mix better.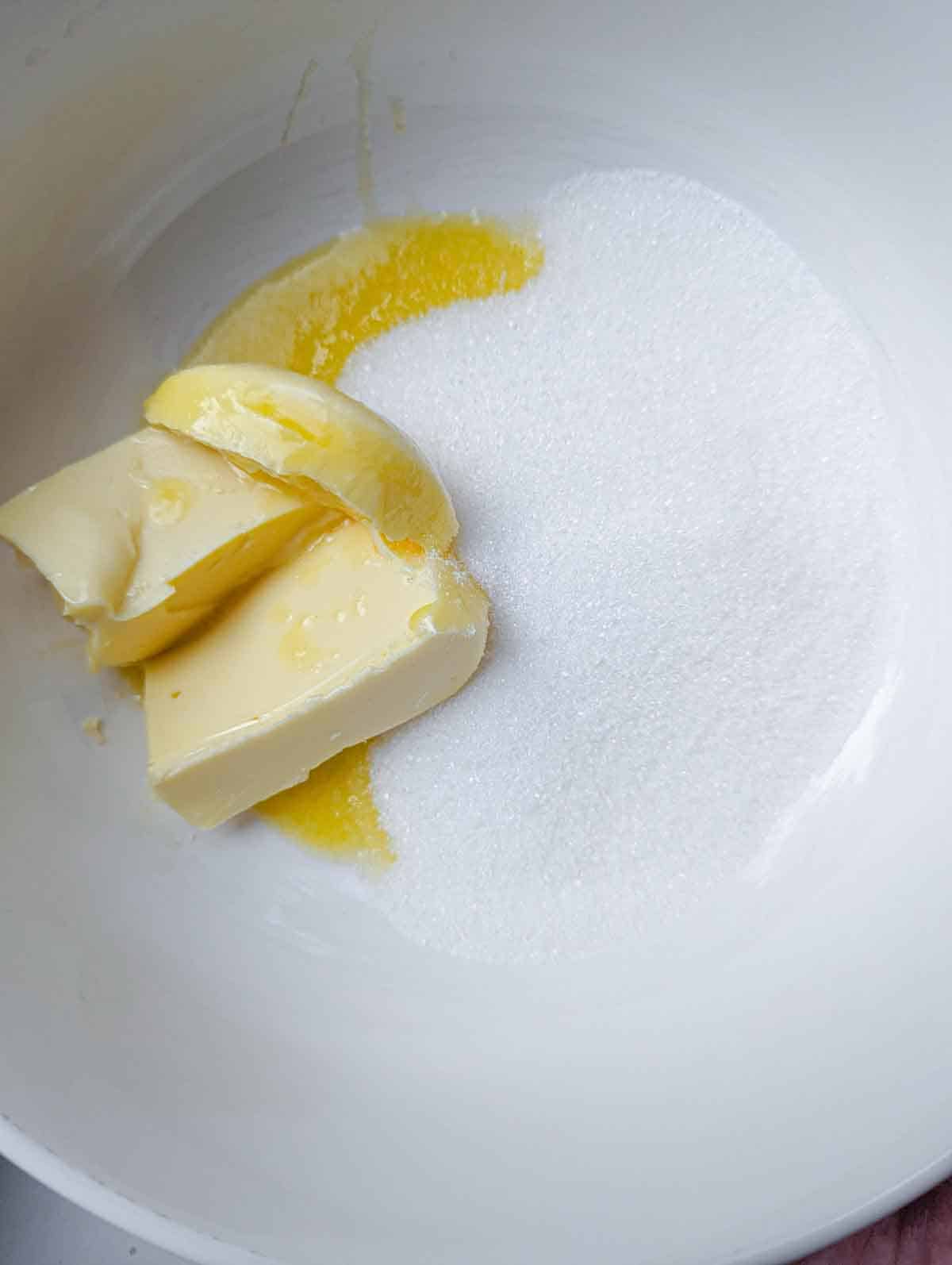 First combine the softened butter and sugar. Whisk until light and homogenous. This way you won't get unincorporated chunks of butter.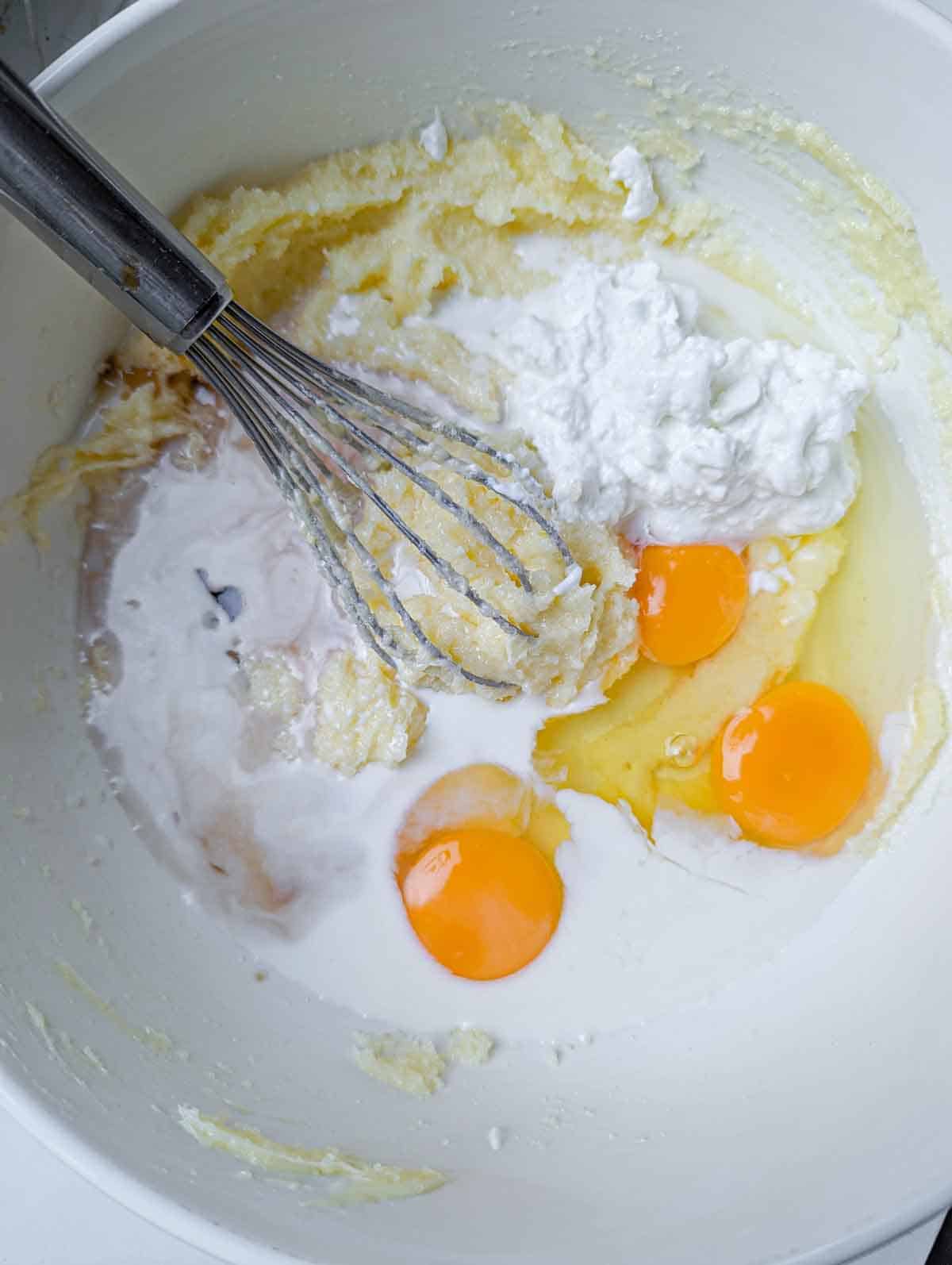 Add the rest of the wet ingredients and mix well.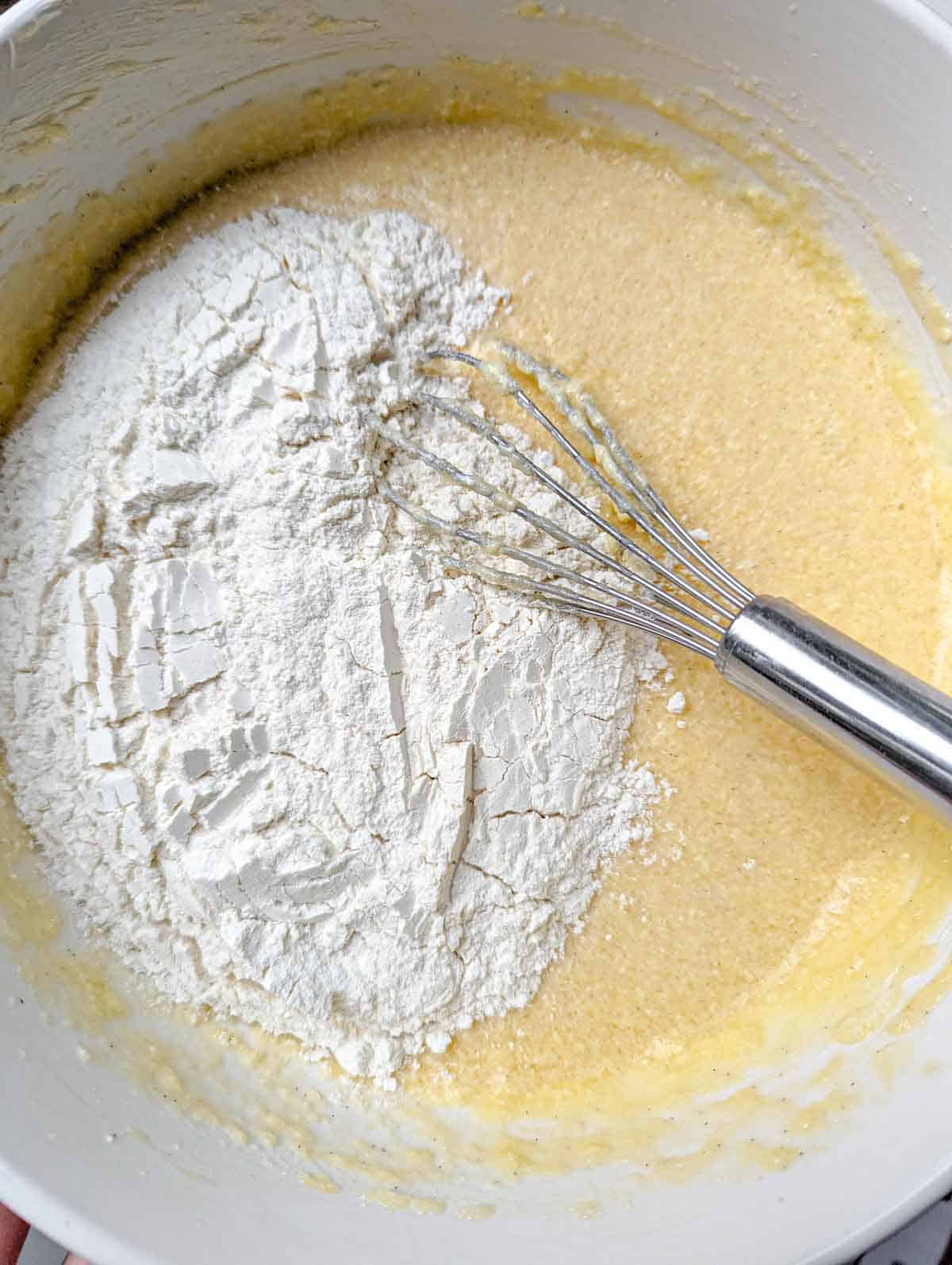 Mix all the dry ingredients together in a small bowl and then pour them over the already mixed wet ingredients.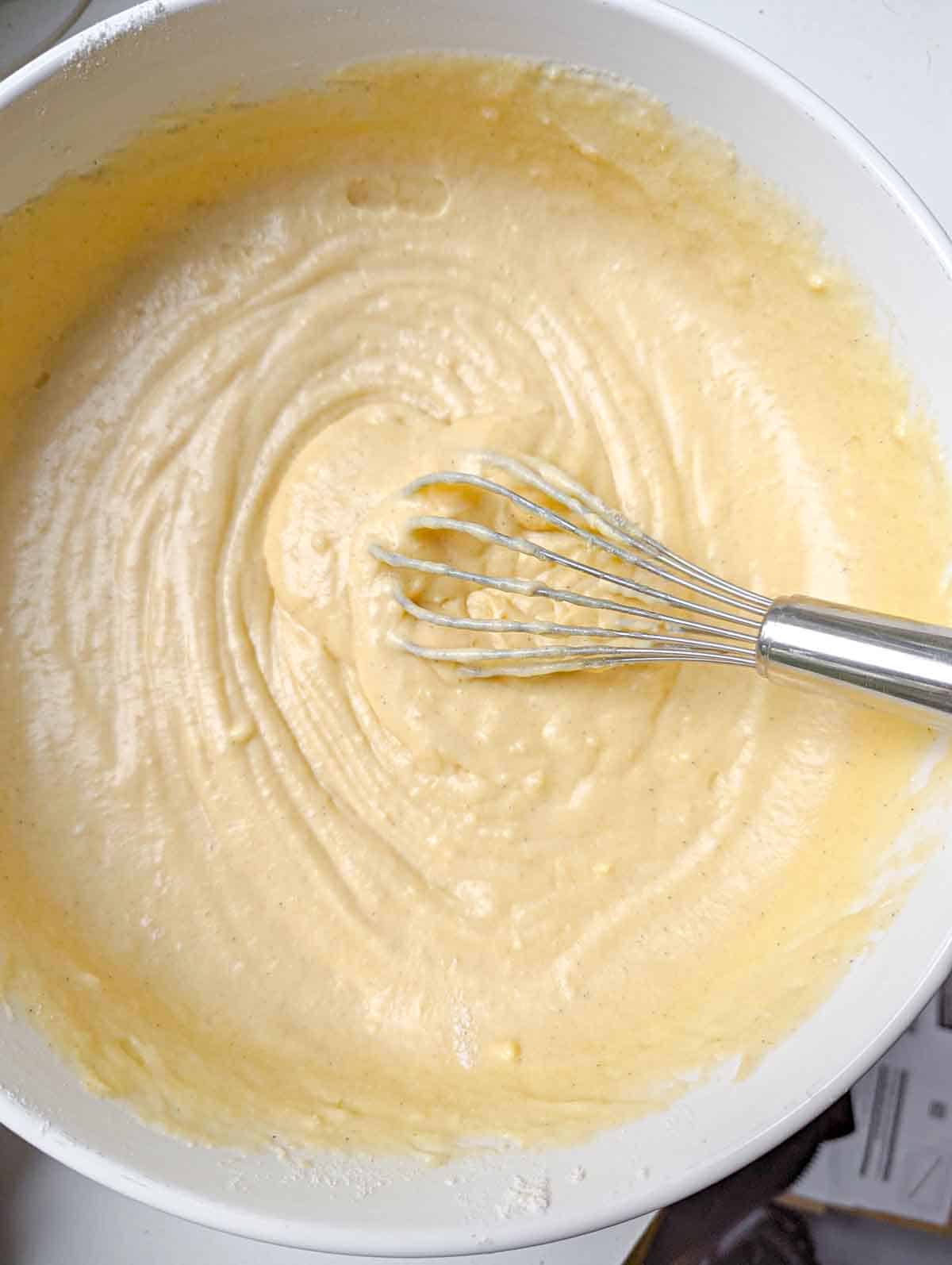 Whisk until smooth (it shouldn't take too long).
Once the cake ingredients are mixed you just need to prepare the cake pan (see equipment section below for tips) and you can bake.
Instructions for making the vanilla glaze
The glaze is very simple to make. It only takes about 20 seconds.
These are the steps to make the glaze:
Combine the vanilla extract/paste with milk and a sprinkle of salt;
Pour the liquid over the powdered sugar and mix until it's smooth;
If the glaze is clumping or too dry, add more milk 1 teaspoon at a time until it's a smooth pourable paste that's thick enough to coat a spoon.
Be sure to only mix the glaze right when you're ready to pour it over the baked and cooled cake or otherwise it may harden as it sits and could form lumps.
Variations
This recipe is really flexible and in the past I've adjusted it in a lot of different ways. Here are just a few ideas.
Vanilla raspberry loaf cake - pour half the batter into the loaf pan, sprinkle a handful of raspberries in and pour the rest of the batter on top. I like using frozen raspberries and crushing them a bit in a mortar and pestle so there are more smaller pieces of raspberry throughout the cake.
Vanilla chocolate chip loaf cake - as above, but chocolate chips instead!
Marble loaf cake - for a really basic and simple take on marble cake, put half the batter in another bowl and add 3 tablespoons of cocoa powder. Then layer the two color batters into the pan. Use a chopstick to swirl it a bit for that marble effect.
Equipment
Besides a large bowl and a whisk, the only critical thing you'll need for this recipe is an appropriately sized baking pan that won't stick. You can mostly address the issue of sticking by greasing with butter and dusting with flour if there's any doubt.
As for the size/dimensions of the cake pan, the cake here is a loaf cake so it's baked in a loaf pan (a 30 cm / 8 inch one to be precise), but you can easily make this recipe in a different shaped cake pan like a larger loaf pan or a bundt pan.
Baking pan sizes that will work with this recipe
Loaf pan: 20cm / 8 inch to 30cm / 12 inch at the widest point;
Bundt pan: 20cm / 8 inch to 26cm / 10 inch at the widest point (6 to 10 cup capacity).
If you go too far outside these dimensions you may end up with a cake that's a bit too high or a bit too low.
Baking pan materials that will work with this recipe
The materials below have been tested with this recipe and won't stick if the indications are followed.
Aluminum (greased with butter and dusted with flour): very lightweight and highly conductive. If your oven runs very hot or uneven, it's a good idea to reduce the baking temperature by 5-10 degrees and rotate the cake at the halfway mark.
Non-stick metal; very forgiving.
Carbon steel (greased with butter and dusted with flour); nicest exterior.
Silicone; very forgiving.
The cake in these photos was baked in a 30cm aluminum loaf pan greased with a layer of butter and then dusted with flour as shown in the image below.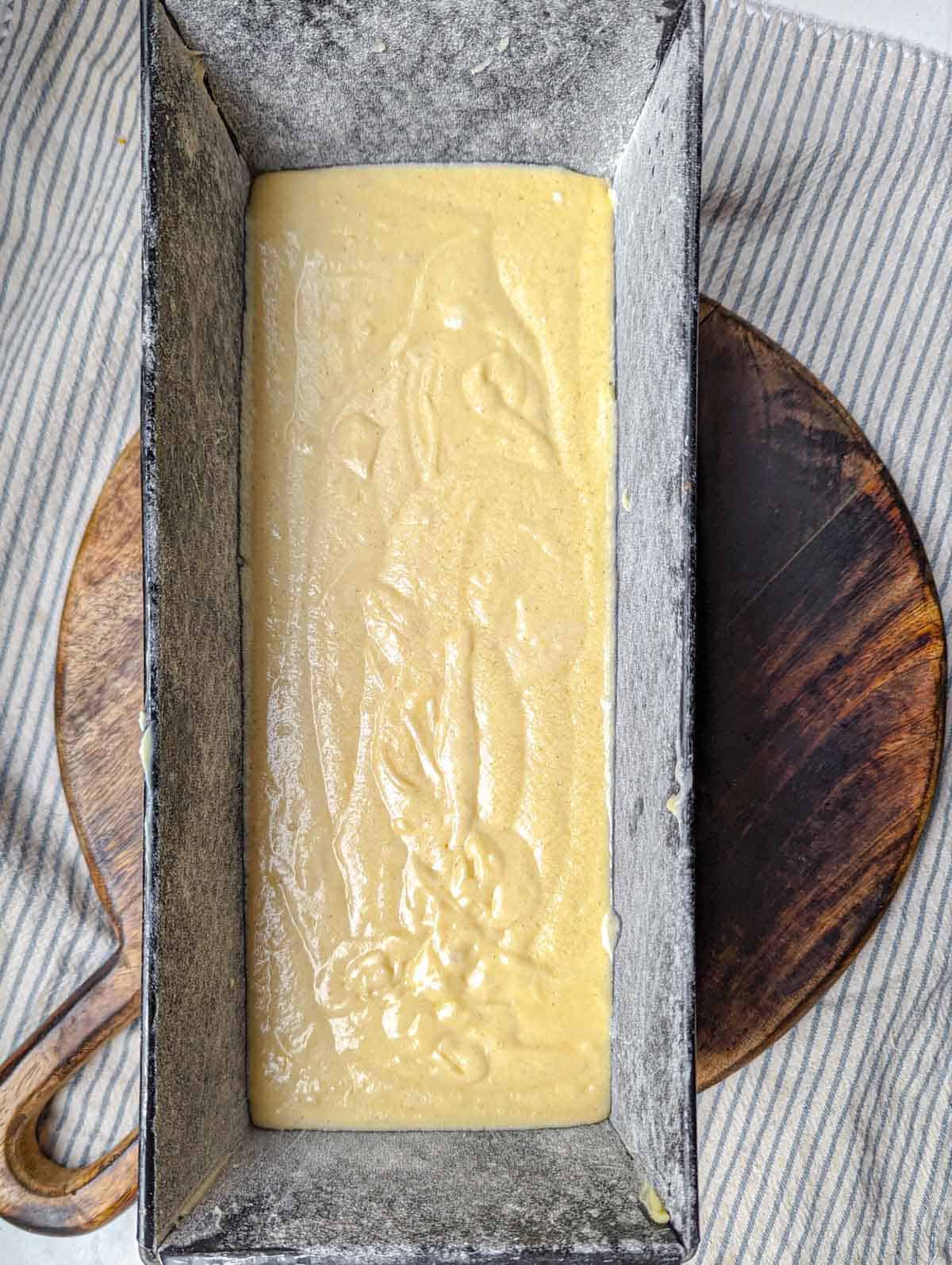 I've previously made this recipe in all of the types of pans listed above and it's worked in all types.
I haven't tried this recipe with stainless steel, uncoated metal, glass or ceramic so if you want to use those materials but aren't sure about whether they will stick, best to grease with butter and dust with flour to be safe.
I also haven't tested paper but I think it would work as long as you allow the cake to fully cool before taking it out of the mold.
My personal favorite bakeware for loaf cakes and bundt cakes is carbon steel. It seems to always come out with a very evenly caramelized golden exterior that has a tiny bit of crunch to it like caramelized sugar would.
Storage
You can keep this cake at room temperature for 3-4 days (depending on the humidity of your home). Cover the loaf with one layer of baking paper and a clean kitchen cloth.
If your environment is especially dry or you notice the cake drying out too quickly then take the parchment wrapped cake and put it in a zipper bag that can be sealed and the air pressed out.
Top tip
The quality and variety of vanilla extract or paste you use will really determine the flavor profile of the cake. Since this is a vanilla cake, it's really worth using a few different types of high quality vanilla to get the most flavor into the cake.
FAQ
What are the ingredients in a loaf cake compared to a regular cake?
A loaf cake cake tends to be a bit denser than a regular cake so they're usually made with butter rather than oil (which gives cakes a lighter texture). While regular cakes and loaf cakes all have eggs, a regular cake recipe might call for divided eggs where the whites are beaten to incorporate more air and make a lighter cake.
What's the difference between a pound cake and a loaf cake?
There can be a lot of overlap here but in general a loaf cake is a broader concept (basically if it's made in a loaf pan, it's a loaf cake) whereas a pound cake is traditionally made with one pound each of flour, butter, sugar and eggs, which is a stricter definition and more narrow category of cakes compared to loaf cakes.
What are the ratios in a loaf cake compared to a pound cake?
A loaf cake can be a pound cake as long as it's baked in a loaf pan, but it can also be a lot of other types of cakes so the ratios can vary. A pound cake, on the other hand, generally needs to have a 1:1 ratio of flour, butter, sugar and eggs.
What size baking pan is this pound cake made in?
The photos for this recipe feature a 30 cm / 8 inch coated aluminum loaf pan but the different size and type pans that can be used are listed in the equipment section above.
Why do recipes always call for a teaspoon of vanilla?
Vanilla is a great base flavoring for a variety of sweet desserts from pies and tarts to sophisticated pastries, and usually a teaspoon is enough as a base flavor. But there's absolutely no reason we can't add more than one teaspoon of vanilla if we want to make a vanilla focused cake!
What's the difference between vanilla bean extract and vanilla bean paste?
Vanilla bean extract is made by soaking vanilla bean in an alcohol solution to extract the flavor. Vanilla extract that's synthesized rather than extracted from beans is artificial vanilla extract. You can also have vanilla sugar, which is sugar that's been kept with vanilla beans in order to take on the flavor. Vanilla bean paste is a type of vanilla extract that includes the extracted flavor compounds as well as the vanilla seeds, which give a very nice aesthetic appearance as well as extra flavor.
Does all vanilla taste the same?
No! If you were to do a blind taste test between different vanilla extract brands you would notice a difference. There are different extractions methods that can impact flavor development but also different species and cultivars of vanilla bean which all have different flavor profiles.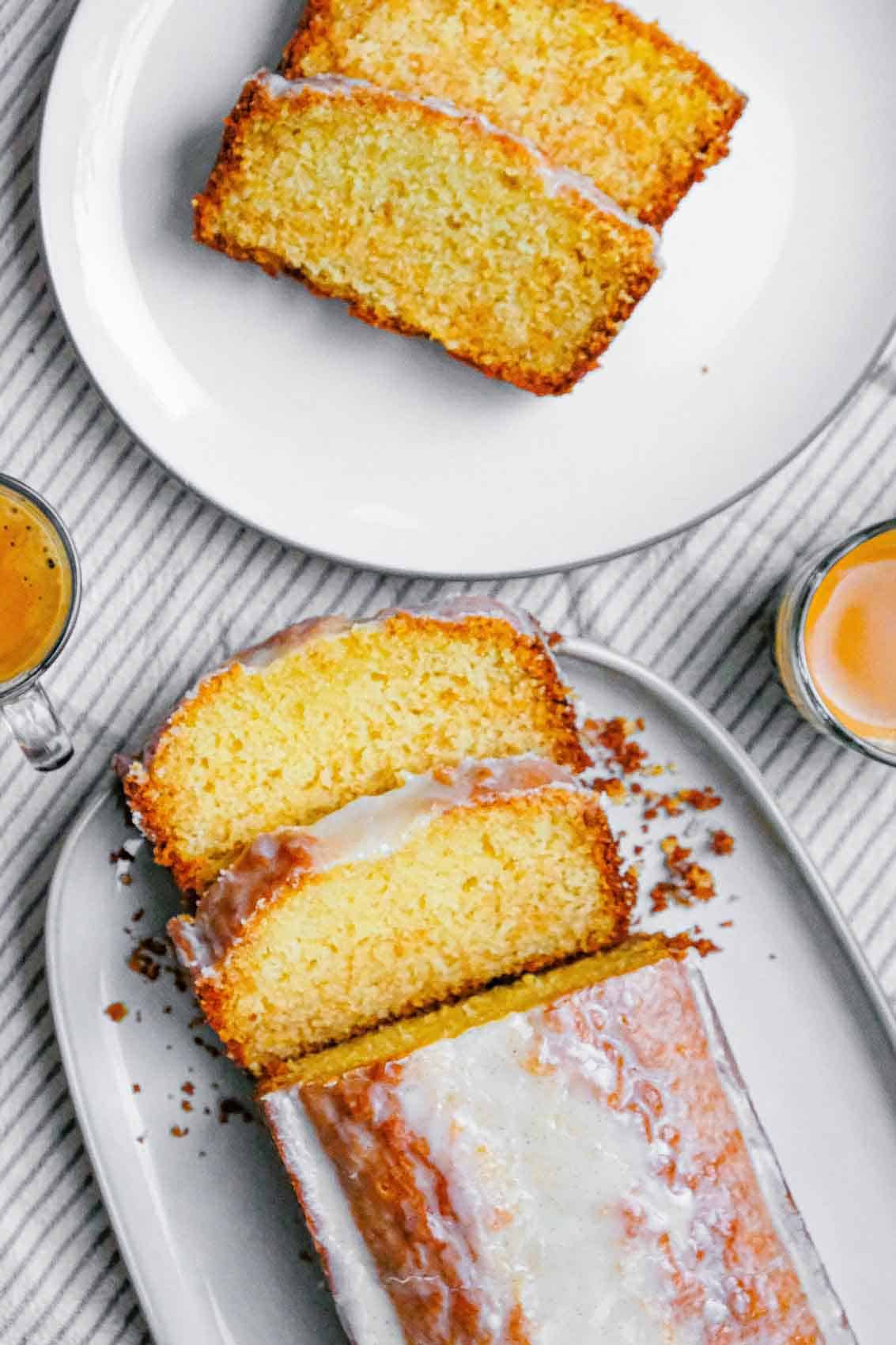 Related
Looking for other recipes like this? Try these:
Recipe
Vanilla Loaf Cake with Vanilla Bean Glaze
This easy vanilla loaf cake is decadently moist with big vanilla flavor.
Print
Pin
Rate
Equipment
20cm / 8 inch prepared loaf pan
Ingredients
for the cake
200

grams

white flour

all purpose / regular flour

200

grams

white sugar

180

grams

unsalted butter

4

tablespoons

strained yogurt

I used Fage 0% non-fat Greek yogurt

3

egg

60

ml

whole milk

2.5

teaspoons

baking powder

0.5

teaspoons

baking soda

0.5

teaspoons

salt

1

teaspoon

vanilla bean paste

or substitute a whole vanilla bean, reserving about a quarter of it for the glaze

1.5

teaspoons

vanilla extract

combine a couple different vanilla extracts if you have them
for the vanilla bean glaze
¾

cup

powdered sugar

1.25

tablespoon

whole milk

0.5

teaspoons

vanilla bean paste

or use some of the whole vanilla bean

0.5

teaspoons

vanilla extract

pinch

salt
Instructions
setup
Preheat oven to 175C / 350 F on convection setting.

Take the butter out of the fridge to soften. You can also microwave for 20-30 seconds to get it soft.

Prepare your loaf pan (see recipe post for options).

If you are using whole vanilla bean, cut it lengthwise and use a butter knife to skim the seeds from the middle of the pod. Take the pod and put it in the milk, rubbing it with your fingers to get all the vanilla out of it, then discard the empty pod.
for the cake
In a small bowl combine the flour, salt, baking powder and baking soda.

In a large bowl, cream together the butter and sugar until homogenous.

Add the wet ingredients (eggs, yogurt, milk, vanilla bean extract and vanilla bean paste) and mix until incorporated.

Add the dry ingredients (flour, salt, baking powder and baking soda) and mix until just incorporated (don't overmix).

Pour the batter into the prepared loaf pan.

Bake in preheated oven for about 50 minutes.*

Check the cake at the 20 minute mark and if it's already very browned on top, then tent it with some aluminum foil, being careful not to press the foil down too hard so it doesn't stick to the top of the cake.

After 50 minutes the cake should be ready. If it still seems jiggly in the middle, use a toothpick to poke the middle of the cake and see if it comes out clean. If it isn't clean, bake another 5-10 minutes until it's set.

Take cake out and allow to cool for about 15 minutes before take it out of the loaf pan and glazing it.
for the glaze
Make the glaze right before you are going to use it (when the cake is already cool) or it can harden and get lumpy.

Mix the wet ingredients (milk, vanilla bean paste and salt) together.

Pour the wet ingredients over the powdered sugar and mix until a smooth glaze forms.

Pour the glaze over the cooled cake.
Notes
* If you are not using a convection setting, you may need to bake for longer (10-15 minutes). Check doneness with a toothpick and adjust accordingly. 
Nutrition
Calories:
289
kcal
|
Carbohydrates:
38
g
|
Protein:
4
g
|
Fat:
14
g
|
Saturated Fat:
8
g
|
Polyunsaturated Fat:
1
g
|
Monounsaturated Fat:
4
g
|
Trans Fat:
0.5
g
|
Cholesterol:
74
mg
|
Sodium:
253
mg
|
Potassium:
55
mg
|
Fiber:
0.5
g
|
Sugar:
25
g
|
Vitamin A:
445
IU
|
Calcium:
75
mg
|
Iron:
1
mg