Polenta doesn't have to be plain or dry. This creamy parmesan polenta with roasted garlic is not only silky smooth but also full of flavor. Perfect as an elegant side or a comfort food staple.
Being raised in a Romanian household, I grew up eating polenta. But the polenta I ate was mostly of the plain variety - just cornmeal and water.
Nothing wrong with plain polenta and it can be a fabulous side dish in it's own right. But variety is the spice of life and polenta with cream and cheese is just a whole nother way to enjoy polenta.
Obviously you can add different flavorings yourself - this recipe is just a starting point.
The only things to keep in mind are that the type of cornmeal you use might impact how long you cook the polenta for, and (more importantly) how much liquid you need to add for it to be smooth and not lumpy.
Jump to:
Ingredients
The polenta itself contains cornmeal, roasted garlic, grated parmesan cheese, heavy cream, and salt.
Below you'll find some details on the ingredients that provide more information on what exactly you'll need and why.
Cornmeal or corn flour: The type of cornmeal or corn flour you use will have the biggest impact on how you cook the polenta. Two factors to consider are 1) the coarseness or fineness of the grind and 2) whether it's precooked or not. In general it's a safe bet to use cornmeal specifically marketed as being for polenta or grits. These products tend to be grittier, which makes for a coarser polenta. If you can find a finely milled cornmeal or corn flour that isn't too fine (i.e. it still has some grit - not as fine as wheat flour) then that would be ideal as it makes for a smoother and creamier polenta. As far as cook time goes, it's a good idea to follow package directions but also use your judgment in case something seems off about the texture. I used Valle Del Sole finely ground yellow corn flour. As you can see in the photo, this is a finely ground corn meal that still has a bit of grit to it. The package directions said to cook for 40 minutes, which I did and was okay. It also said to use half a liter of water for the amount of corn flour. It was immediately obvious this was far too little water because the mixture clumped up.
Water: Again, the amount of water will depend on the package indications but also use your judgment - the polenta should be quite loose so in general you might need a bit more water than the package indicates (or like in my case, a lot more).
Roasted garlic: make your own by roasting whole unpeeled garlic in oil (olive oil is the norm but any oil will do).
Parmesan cheese: Parmesan cheese and Parmigiano are different. Parmesan is a term that can apply to a wide variety of cheeses in the broad category of a grated hard white cheese, while Parmigiano Reggiano is a legal designation of origin which means the product can only come from a specific region and be produced in a specific way. While parmesan can be just as high quality as Parmigiano, there is much more variation in quality since parmesan is not as strictly regulated.
Heavy cream: Adds more richness and a smooth consistency to the polenta.
Salt: Add a moderate amount to the polenta (per the recipe card) when you start cooking the polenta and only add more after cooking and adding the parmesan cheese (to avoid over-salting).
Please see the recipe card for quantities.
Instructions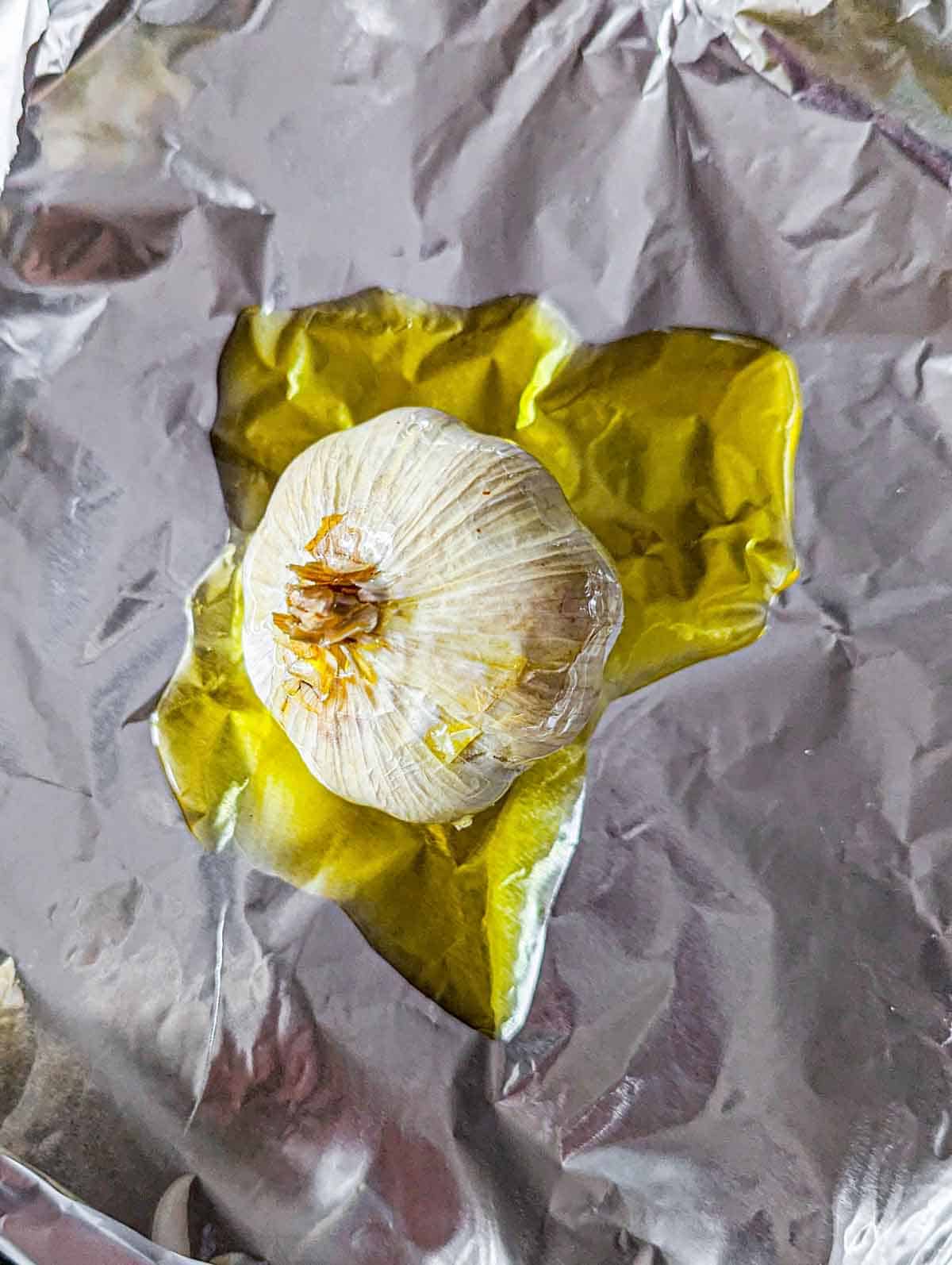 Drizzle half a garlic bulb with oil.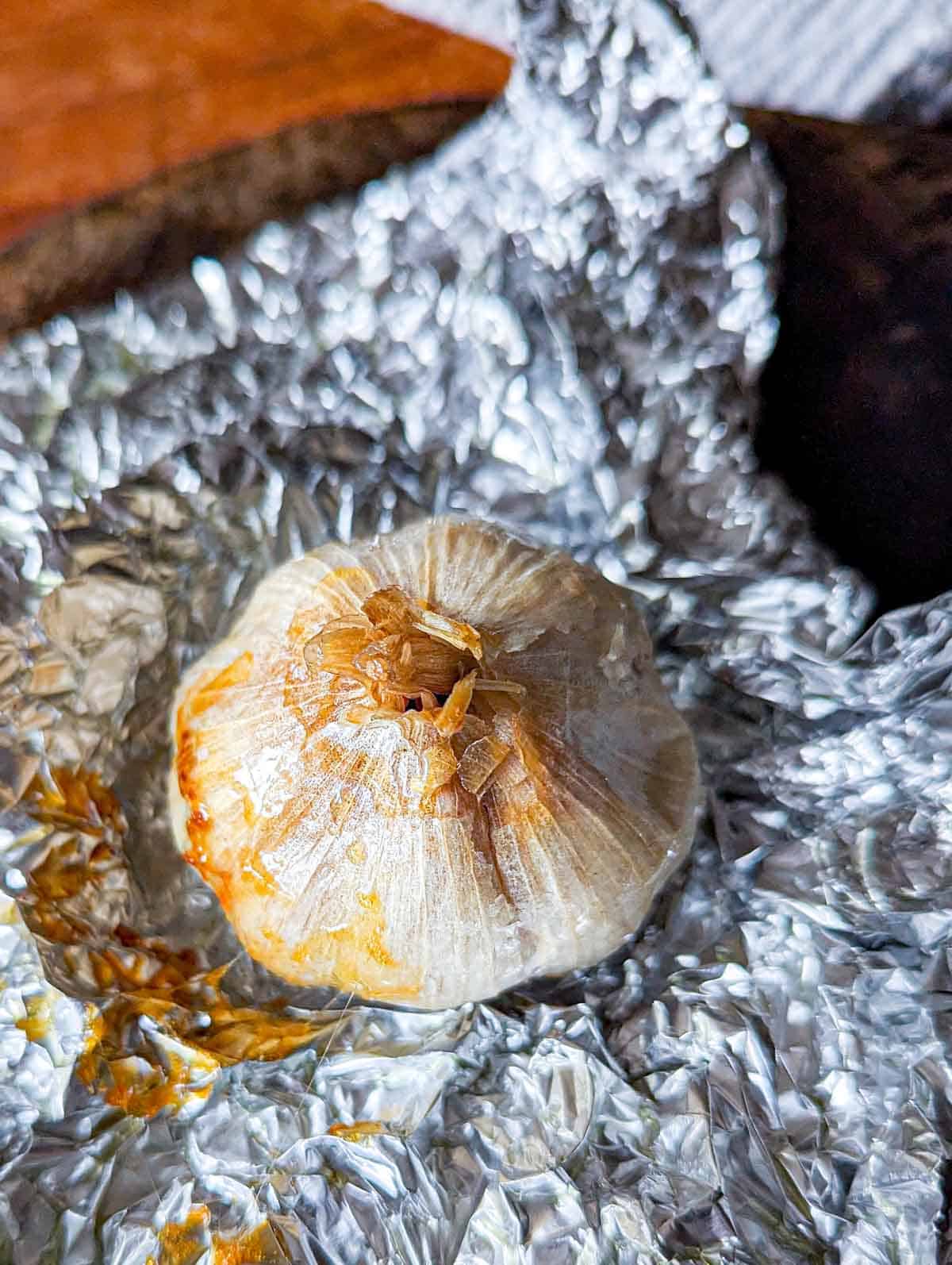 Wrap it tightly in aluminum foil.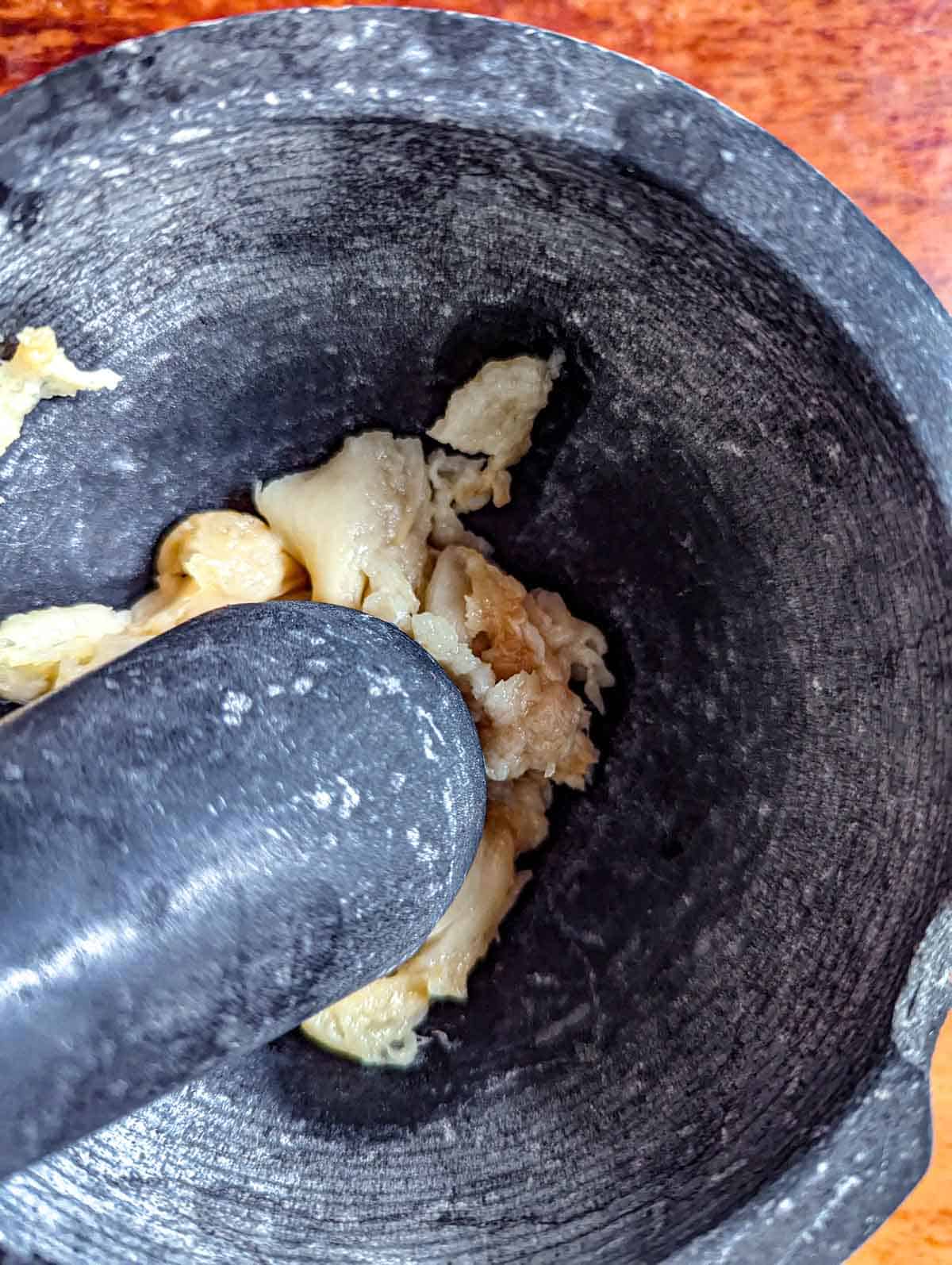 After roasting, squeeze the cloves out of the peels and mash them until smooth (you can also just use a fork).
If your polenta will take longer to cook then the garlic, then start the polenta first. If the polenta will only take a few minutes (like if it's instant or precooked) then start the garlic first.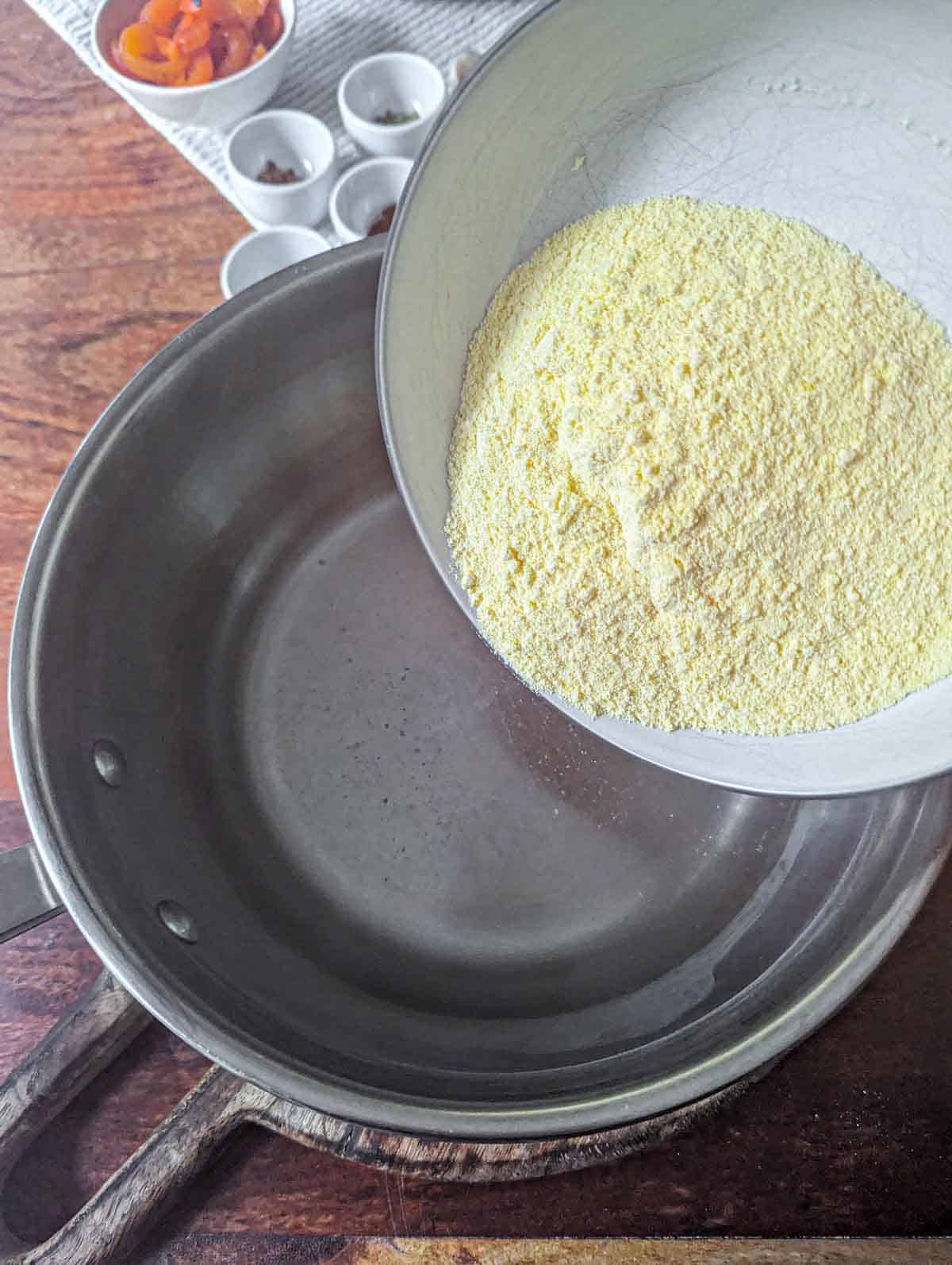 Add the cornmeal or corn flour to simmering water.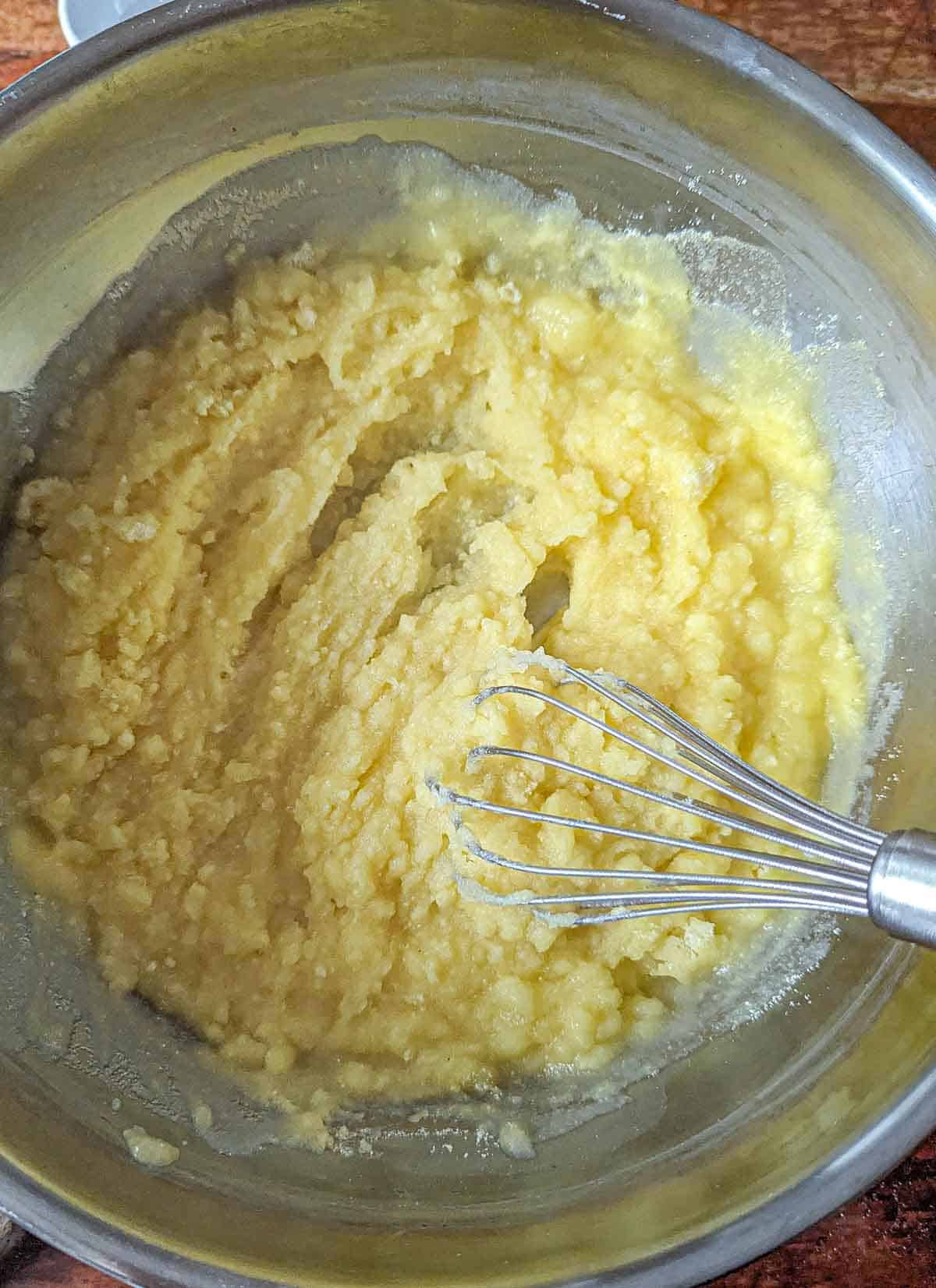 Whisk together. The consistency should not be clumpy as above. If it already looks clumpy - add more water.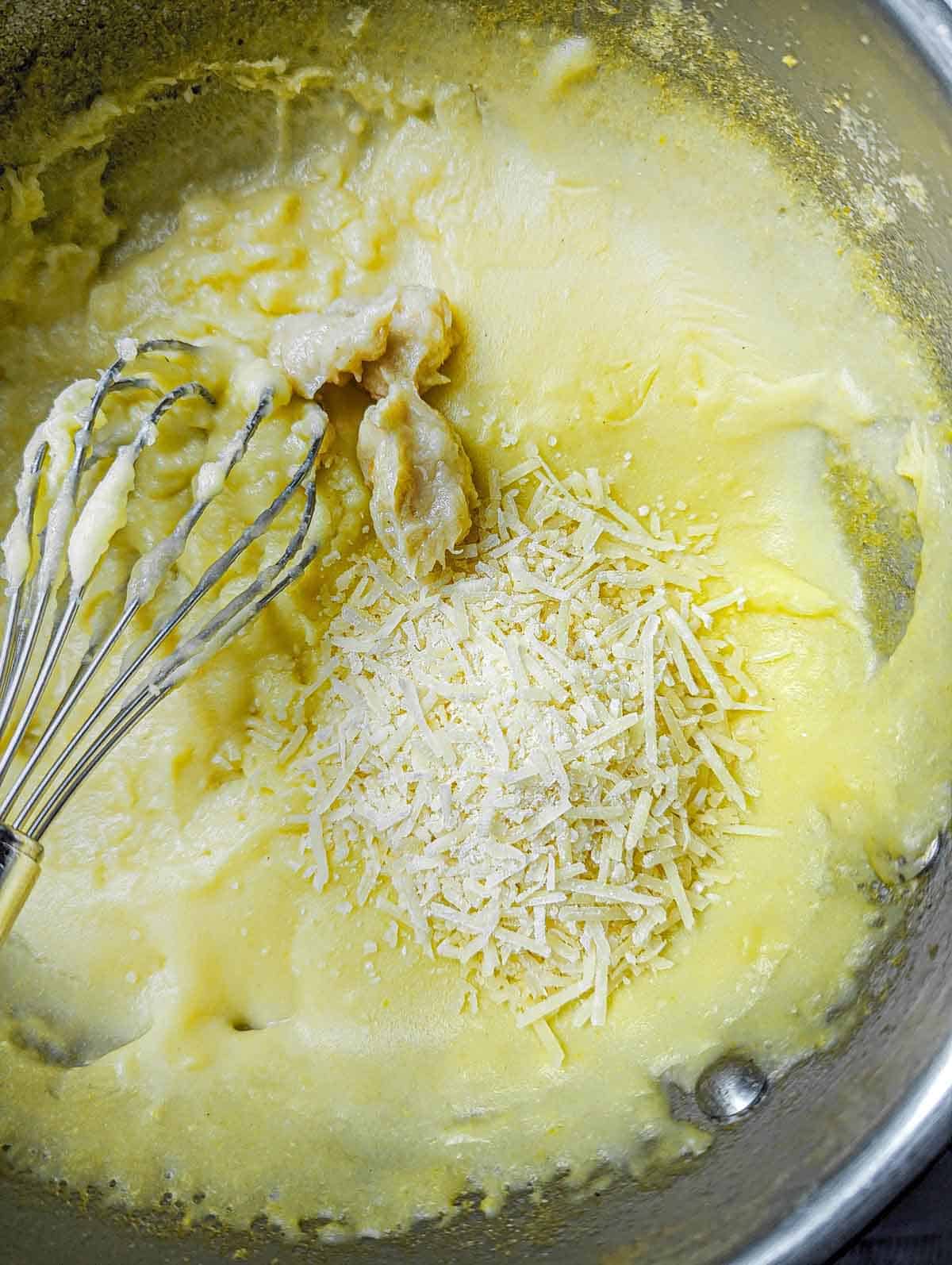 After cooking, whisk in the parmesan cheese, roasted garlic and heavy cream. Taste and adjust salt if needed.
Storing and reheating
You can store this polenta in the fridge in an airtight container for 3-4 days. When reheating you can use either the microwave for 2-3 minutes or reheat on stovetop. In either case you should whisk the polenta periodically to smooth out any lumps.
The cheese, cream and roasted garlic give it a really creamy texture so it doesn't clump (and stay clumped) like plain polenta normally does.
In case you do notice any clumps, add a couple tablespoons of liquid. Good options include heavy cream, milk, water, chicken broth) and then whisk rapidly until it's smooth.
Serving Suggestion
Polenta is generally really versatile. The additional ingredients in this version (cheese, cream and roasted garlic) add more flavor but aren't so strongly flavored that this polenta would clash with many other dishes.
Here are some nice serving suggestions:
Top tip
Make a bigger batch and enjoy some more polenta for breakfast - top it with some crispy fried eggs or shakshuka for a delicious breakfast treat.
Pairing
Here are some recipes that could go well with this one:
Recipe
Creamy Parmesan Polenta with Roasted Garlic
Polenta doesn't have to be plain or dry. This creamy parmesan polenta with roasted garlic is not only silky smooth but also full of flavor. Perfect as an elegant side or a comfort food staple.
Print
Pin
Rate
Ingredients
125

grams

Valle Del Sole maize flour

or substitute other cornmeal and follow package directions

1

liter

water

or follow package directions

0.5

bulb

garlic

or around 8 large cloves

2

tablespoons

olive oil

or other vegetable oil

3

tablespoons

grated parmesan cheese

3

tablespoons

heavy cream

1.5

teaspoons

salt

or more to taste
Instructions
to roast the garlic
Preheat oven to 200 C / 390 F

Use a sharp knife to cut the very tops off the garlic cloves (the parts not attached together. This will make it easier to squeeze the garlic out after roasting.

Take out a dinner plate sized piece of aluminum foil and double it on itself. Put the half garlic bulb in the foil and drizzle it with the olive oil. *

Fold up the foil tightly around the garlic bulb and roast in the oven for 35 minutes.

Take out of oven and leave to cool.

When cool, squeeze the cloves out of the peels and mash them with a fork until smooth.
to make the polenta
Put one liter of water** and 1.5 teaspoons of salt in a saucepan over high heat.

When the water is simmering, whisk in the cornmeal or corn flour. Whisk until there are no lumps. If there are lumps, you may need to add more water.

Cover and simmer for 40 minutes over low to medium-low heat.***

Once the polenta is cooked, whisk in the cream, parmesan and roasted garlic. Taste and adjust salt to your preference.
Notes
*Alternatively, to save some time you can roast individual cloves in a ramekin. Toss the cloves into a small oven-safe ramekin, cover with oil and put an aluminum foil cover on top. Roast at 250 C / 480 F for 20 minutes
** This recipe uses 1 liter of water but you may need to use more or less depending on the specific type of cornmeal or corn flour you use. Follow package directions accordingly, add more water if the polenta is lumpy.
*** Cook for as long as is indicated on the package. Check occasionally and add more water if the polenta is lumpy. It should be smooth like potato puree.
Nutrition
Calories:
153
kcal
|
Carbohydrates:
16
g
|
Protein:
3
g
|
Fat:
9
g
|
Saturated Fat:
3
g
|
Polyunsaturated Fat:
1
g
|
Monounsaturated Fat:
4
g
|
Cholesterol:
11
mg
|
Sodium:
637
mg
|
Potassium:
67
mg
|
Fiber:
1
g
|
Sugar:
1
g
|
Vitamin A:
133
IU
|
Vitamin C:
0.1
mg
|
Calcium:
61
mg
|
Iron:
0.4
mg