This prosciutto wrapped parmesan meatloaf with crispy sage is so delicious, unbelievably easy to make and presents beautifully. It's easy enough for a weeknight but nice enough for company.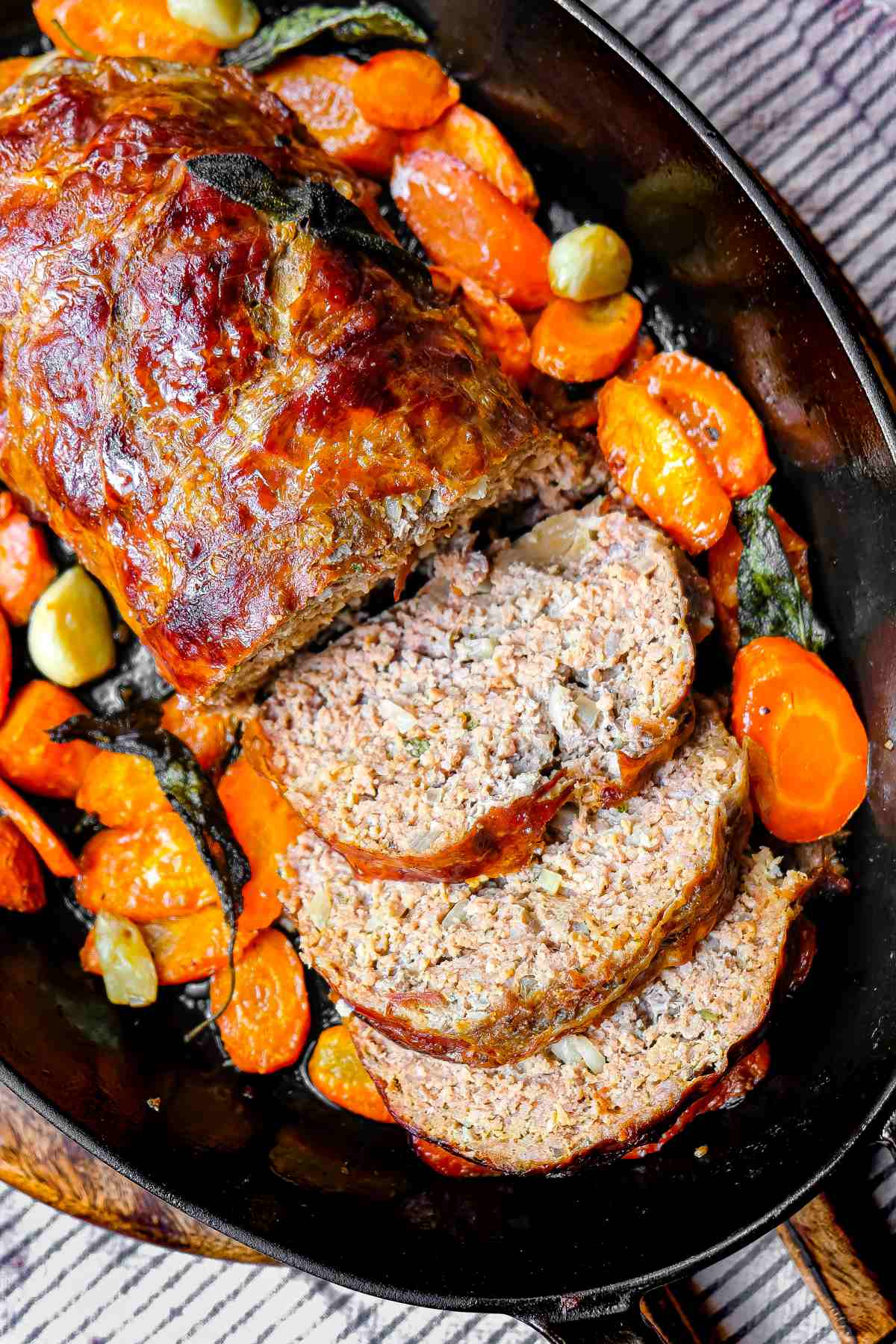 I can't say enough good things about this prosciutto wrapped meatloaf! It's soft and tender with a crispy umami crunch, mellow herby notes, light crispy wisps of sage, and (if you so desire) a luscious pan dripping gravy to top it all off.
This recipe was inspired by a weekend in the Belgian Ardennes where I enjoyed a very refined take on meatloaf that was served with creamy Dijon sauce.
As soon as I got home to Amsterdam I found myself craving the rich, heartiness of meatloaf again.
This meatloaf delivers on comfort and flavor. It's incredibly tender and flavorful because it's made with lots of flavorful ingredients that add moisture like parmesan cheese, fresh sage and thyme, and soft bread soaked in milk.
The prosciutto wrapping adds a nice crispy texture as if the whole meatloaf has a meaty, salty crust. Plus, with its striated marble-like exterior punctuated by sage leaves like a laurel crown, it looks beautiful too.
In general I find ground meat to be so versatile. I always keep some in the freezer so I can make a quick meal when needed. A lot of the time I end up making meatballs, for example porcupine meatballs in tomato sauce, Romanian meatball soup, super saucy, sweet & spicy hoisin meatballs, and melt-in-your-mouth coconut curry meatballs. Can you tell I really like meatballs?
So ground meat gets big points in my books for being versatile....but until now I didn't really see it as a refined ingredient. Did you know it can also be so refined? Ground meat can indeed be nice enough to make a special meal for company! I guess all it takes it wrapping it in prosciutto and throwing in some sage. Who knew.
Plus, this fancy meal only takes about 20 minutes to whip up and 40 minutes to cook. Maybe an extra 5 if you also make the pan dripping gravy.
You can find all the details here to make your own, whether for an intimate weeknight meal or a special occasion when entertaining guests.
Jump to:
Ingredients
Parmesan meatloaf
Ground beef and pork: This meatloaf is made with a combination of beef and pork. You can of course use all beef, all pork, or some other ground meat.
A few slices of soft bread soaked in milk: This is a classic technique for making meatballs and meatloaf. The milk soaks into the bread and this adds moisture and binds the meat together.
Parmesan cheese: Not only adds flavor but also lots of moisture.
Prosciutto: Prosciutto is thin, salty and roasts up perfectly crisp. Since it's so thin and has ribbons of fat running across it, it also gives the meatloaf a quite refined (almost marble-like) look. You can substitute other cured ham like serrano or even bacon (just keep in mind bacon is cut a bit thicker and releases more water).
Eggs: The eggs bind the meat and help it keep its shape.
Worcestershire sauce: Worcestershire sauce is a fermented condiment that adds umami and depth to dishes.
Soy sauce: Another great sources of umami and salt.
Tomato paste: Adds umami, depth, moisture and a bit of sweetness.
Maple syrup: A little bit of sweetness for nice flavor balance. This will not make the meatloaf sweet - you won't taste sweetness, just nicely balanced flavor. The fact that it's a liquid also adds more moisture. You can also substitute another liquid like honey or agave. Alternatively a tablespoon of brown sugar will also work.
Onion and garlic: finely diced onion and garlic add flavor and moisture.
Fresh sage and thyme: fresh herbs bring much more bright flavor than dried but if all you have is dried then you can substitute half a tablespoon dried for every one tablespoons fresh.
Seasonings. Only salt and pepper are needed since so much nice flavor already comes from the onion, garlic, sage and thyme.
Accompaniments
Carrots: The carrots are a nice accompaniment to this dish because they add some sweetness as well as color. They cook at the same time as the meatloaf, and caramelize beautifully. You can swap them out for other roots vegetables like potatoes, parsnip, celery root, sweet potato or beets - or combine them all to make a roasted root vegetable medley.
Roasted garlic: The garlic roasts alongside the carrots until it's sweet, very soft and caramelized. It's delicious to eat as is and you can also use a few cloves to make the gravy.
Fresh whole sage leaves: The sage leaves go into the roasting pan whole, drizzle with a bit of olive oil and they will cook alongside the meatloaf. The sage darkens after roasting but stays surprisingly crispy without burning.
Roasted garlic and white wine gravy
Butter: Butter is combined with flour and pan drippings to make a roux, and a bit of butter is leftover to finish the gravy.
Flour: The flour thickens all the other ingredients into a sauce.
Pan drippings and roasted garlic: there's a ton of flavor in pan drippings and the roasting garlic is so tasty and also adds some nice sweet elements.
White wine: the base flavor in the gravy is white wine. Keep in mind that the flavor of the wine will really come through in the gravy so if the wine is especially sweet or dry, then you will taste it. Be sure to let the alcohol burn off before adding other ingredients. You can also skip the wine and use chicken, beef or vegetable stock instead. Or go wild and use red wine.
Milk: The milk adds creaminess to the gravy.
Please see the recipe card for detailed quantities.
Instructions
The instructions are separated between the meatloaf and the gravy made from pan drippings (which is wholly optional but highly recommended).
Meatloaf
Combine all the meatloaf ingredients in a bowl and mix until homogenous.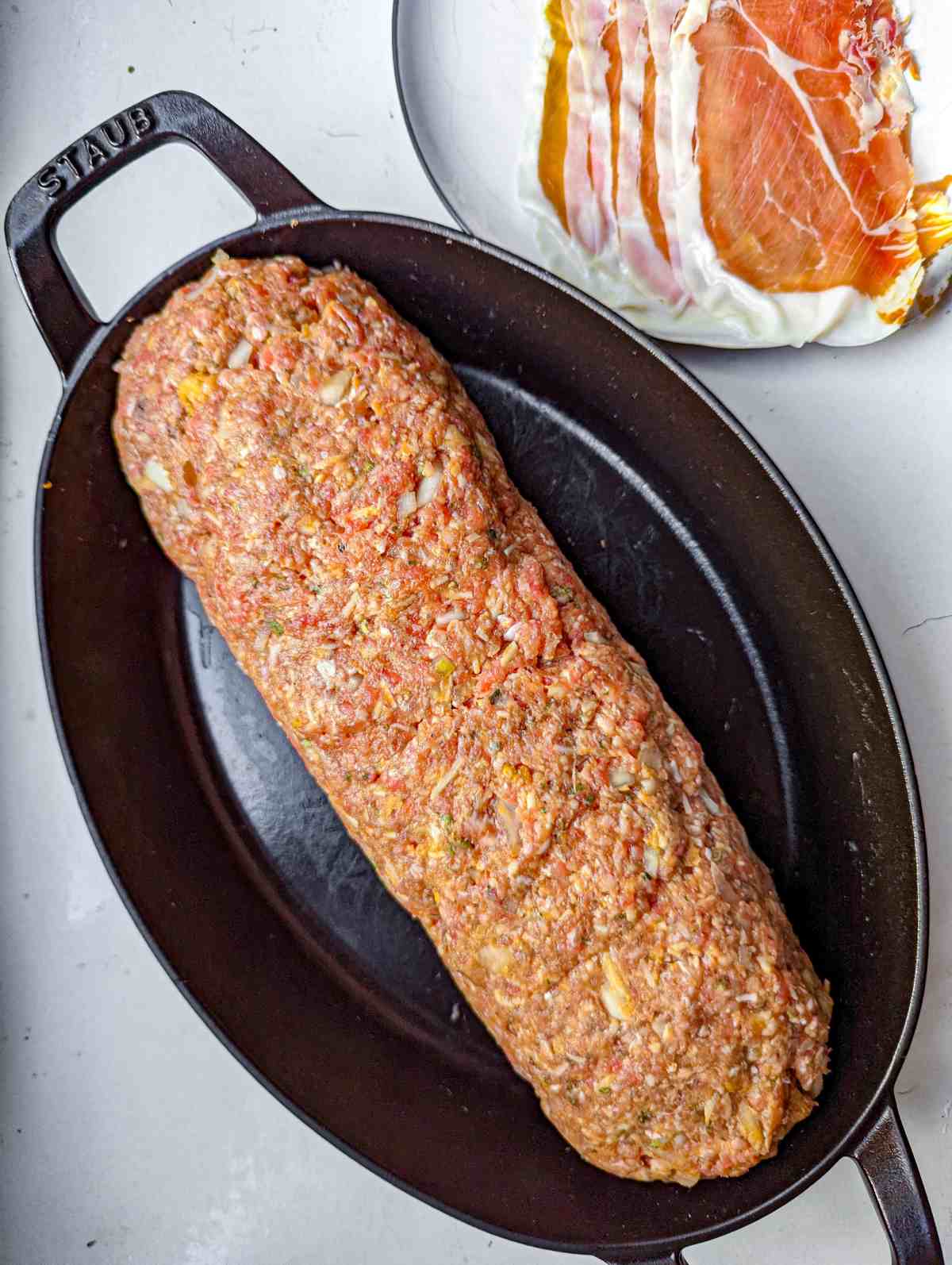 Form the meat into roughly a loaf shape in a large roasting pan.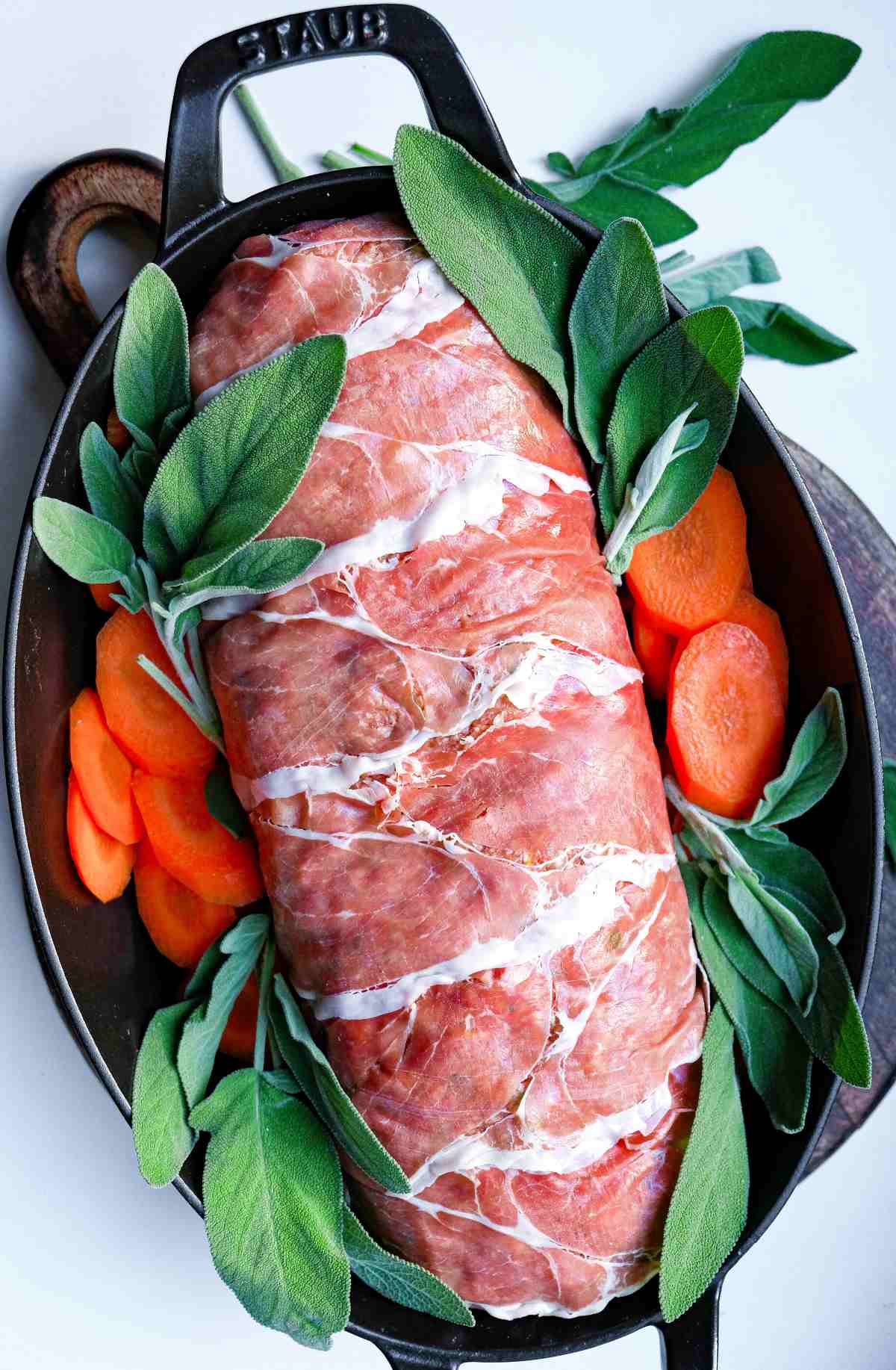 Cover the loaf with about 8-10 slices of prosciutto. Add sliced carrots and sage to the pan, then roast in a preheated oven.
I can honestly say it's basically foolproof making this parmesan meatloaf. Even the gravy is (relatively) more challenging than the meatloaf...what with making a roux and all.
For the meatloaf all you need to do is combine all the ingredients in a large bowl and mix well.
There are just a few technical elements to note that will make the result better:
Preparing the meatloaf ingredients: The ingredients for the meatloaf should be finely diced. Big chunks of onions will give the meatloaf a rough or choppy appearance and (worst case) can cause it to fall apart.
Shaping the meatloaf: Of course the more care you put into shaping the loaf, the better is will look after cooking. Since meat contracts and stiffens when cooked, if you make a wonky or lopsided loaf - it goes without saying that it will be wonky or lopsided after cooking (maybe even more so).
Wrapping the meatloaf with prosciutto: There are different ways you can do this. For me it felt simplest to just lay the prosciutto across the top of the meatloaf and then gently lift the loaf up one end at a time and slide a few slices (lengthwise) underneath it. That way all the surface area was covered, but I didn't necessarily need to wrap it all the way around with prosciutto. You can indeed wrap it all the way around (for example see how I did it with this prosciutto wrapped pork tenderloin) but this will take more prosciutto for a loaf this size. I think probably double the amount but since the prosciutto is thin, it will still render and get crispy. Really just depends how 'special' you want to make it.
Roasted Garlic & White Wine Gravy
Making the gravy isn't technically challenging per se, but there are a few things to be aware of. See the captions below for tips to make a nice gravy.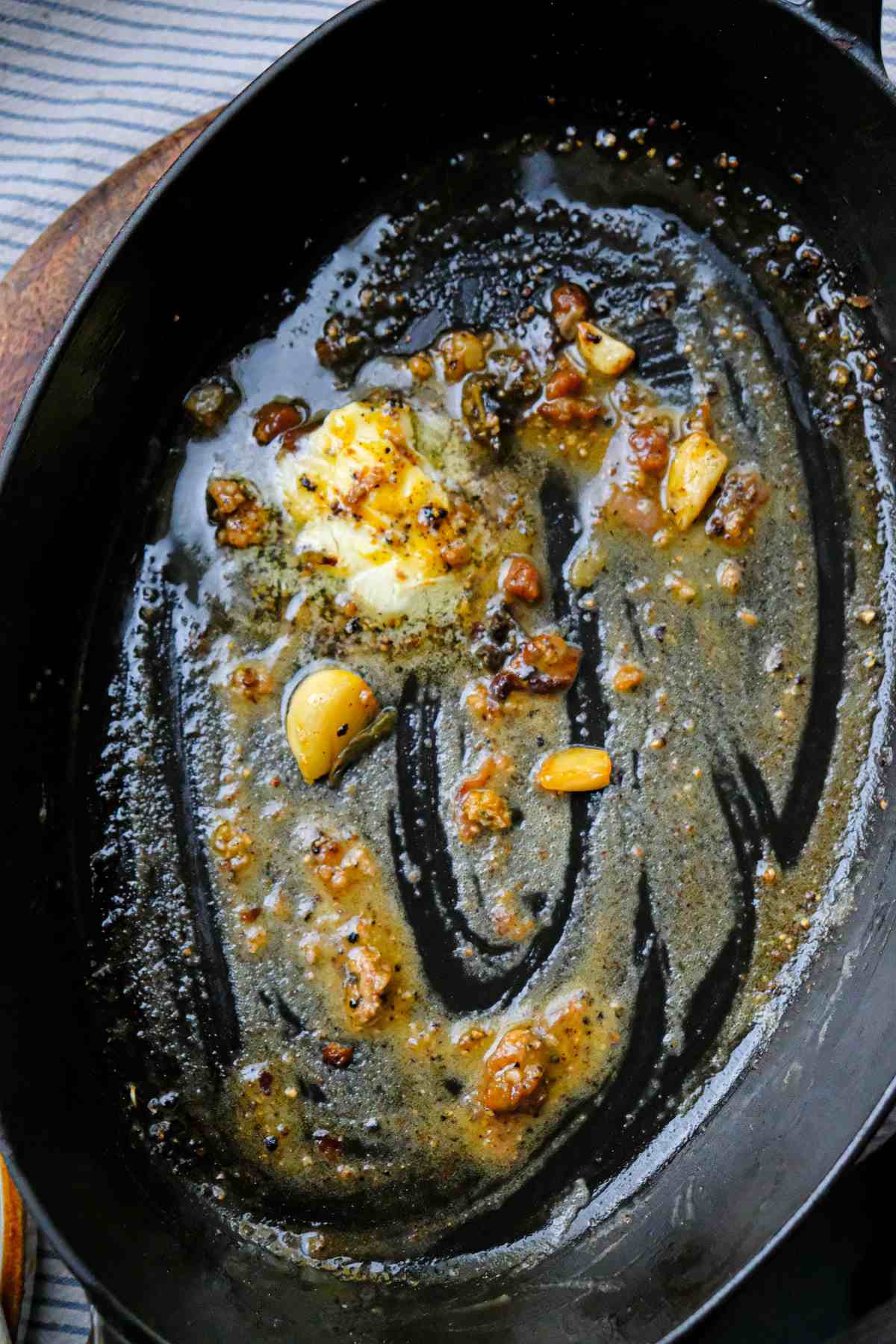 Heat the pan drippings, roasted garlic and butter. Add flour and stir, squishing the garlic to make a smooth roux. Use a spatula to press out any lumps in the flour.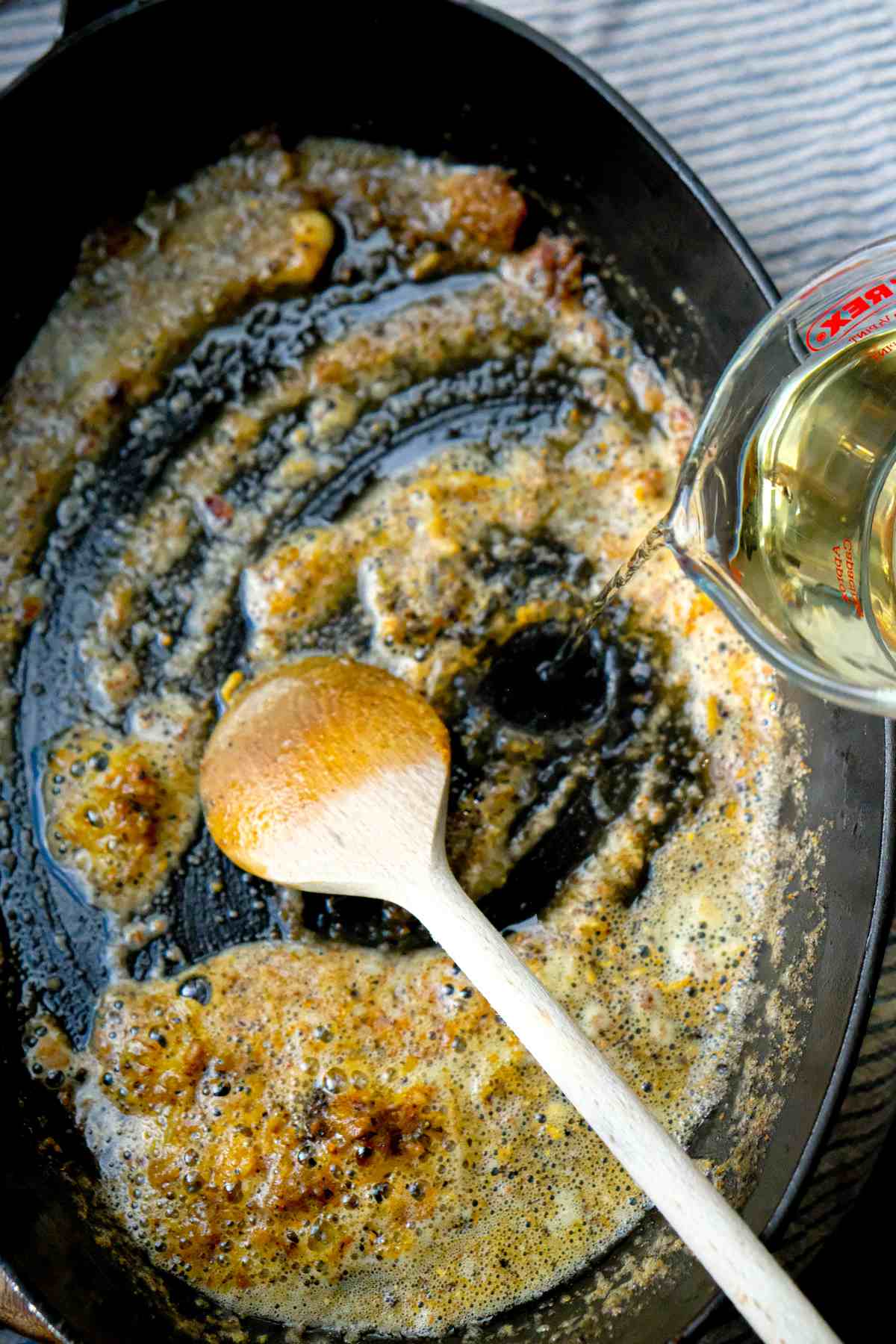 Add wine to the roux. It should sizzle and will release steam which smells strongly of alcohol. Whisk until thickened and the smell mellows out.
Pour in the milk, and again whisk until thickened enough to coat a spoon. Add some more butter to finish.
Equipment
Any large oven safe roasting dish will do.
I used a Staub cast iron oval roasting dish which is 24 cm / 9.4 inches at its longest point. It was just the right size but there was no extra room (for more vegetables for example).
Storage & Reheating
Meatloaf
This meatloaf is quite large and can easily serve 4-6 people in one sitting. If you don't finish the whole thing in one sitting, no worries, it also makes very good leftovers.
I recommend storing it in an airtight container in the fridge without slicing it if possible. Storing it intact will keep it moist.
To reheat you can either zap it in the microwave for a few minutes (depending on your microwave settings) or otherwise reheat in the oven.
To reheat in the oven, set the temperature to 180 C / 360 F. Put the meatloaf in a roasting pan. If it seems to have dried out, drizzle a quarter cup of water over it (if sliced then directly onto the slices), cover and warm for 10-15 minutes or until warmed through.
Gravy
The gravy can be stored in the fridge in an airtight container. It may develop a skin on the surface but that can just be whisked away after heating.
The simplest method is to reheat the gravy in the microwave - about a minute should do it. If the gravy seems too thick after reheating, add a teaspoon at a time of water, milk or stock and stir until it's the right thickness.
The gravy can also be frozen. Defrost in the microwave or a saucepan.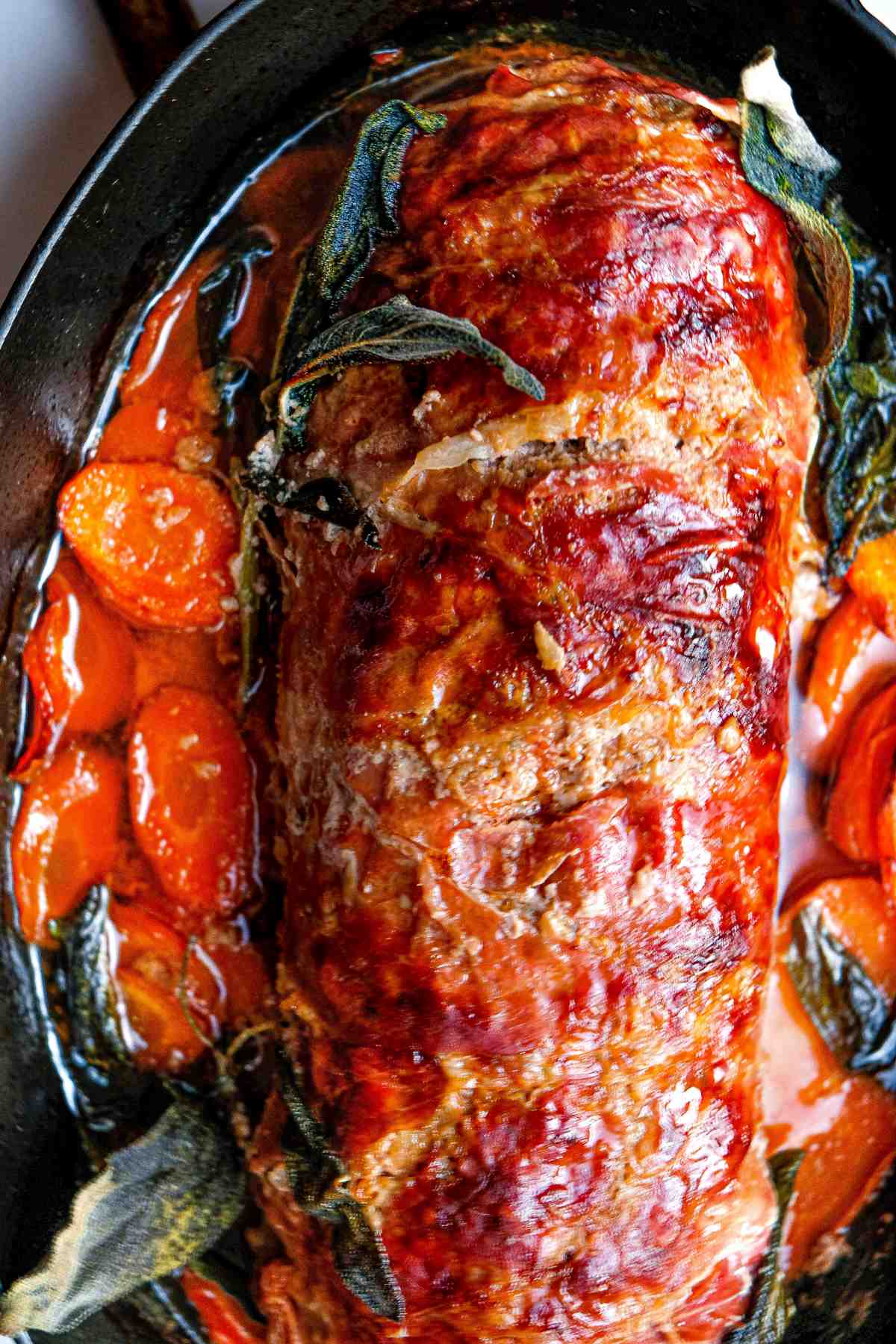 Serving Suggestion
I served the meatloaf over a roasted garlic and root vegetable puree. Another nice option would be polenta, for example roasted garlic and parmesan polenta.
You could also make it a one pan meal by roasting it in a large roasting pan with more space for other additions like potato/sweet potato, parsnip, celery root etc.
When ready to serve, simply slice and drizzle with gravy.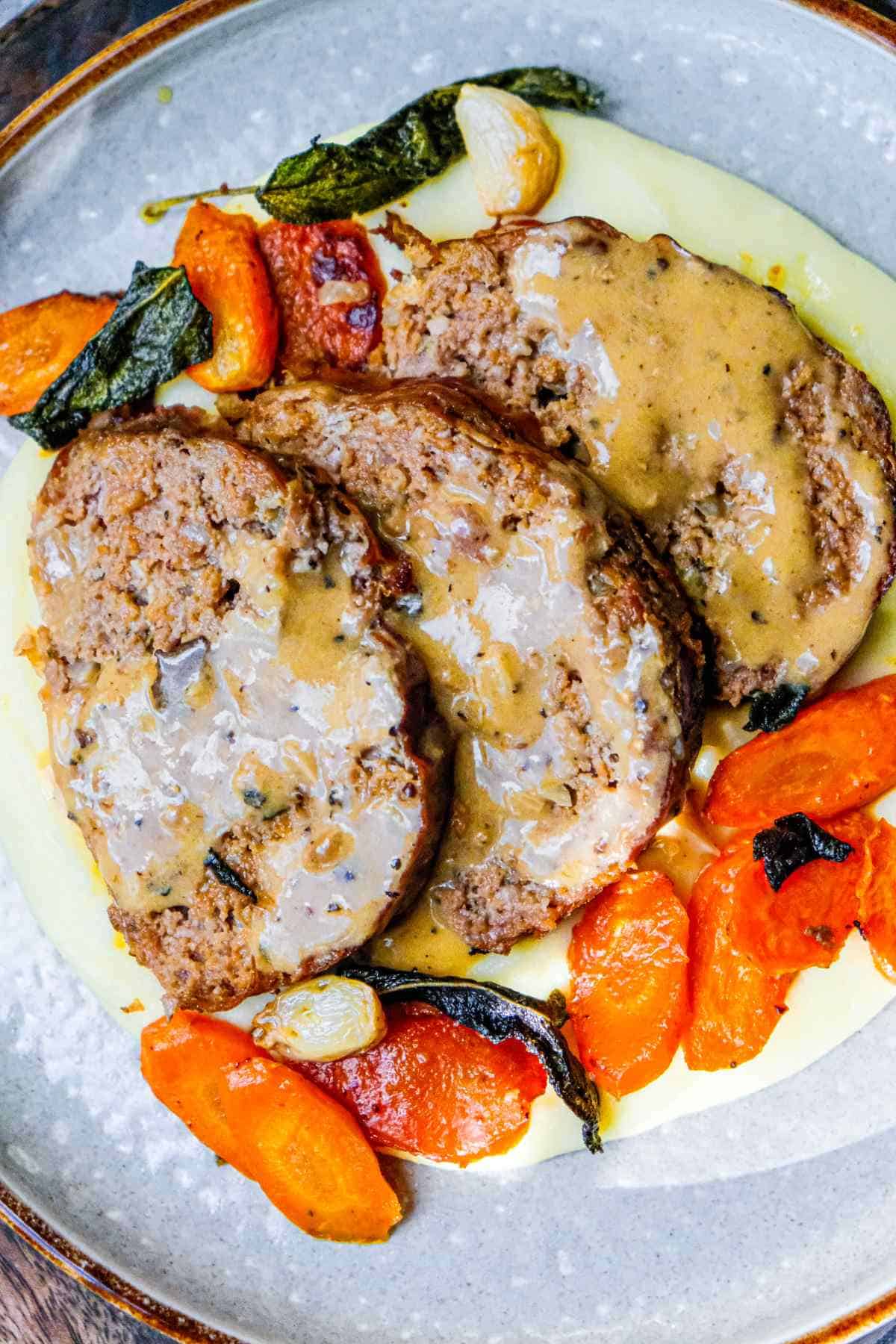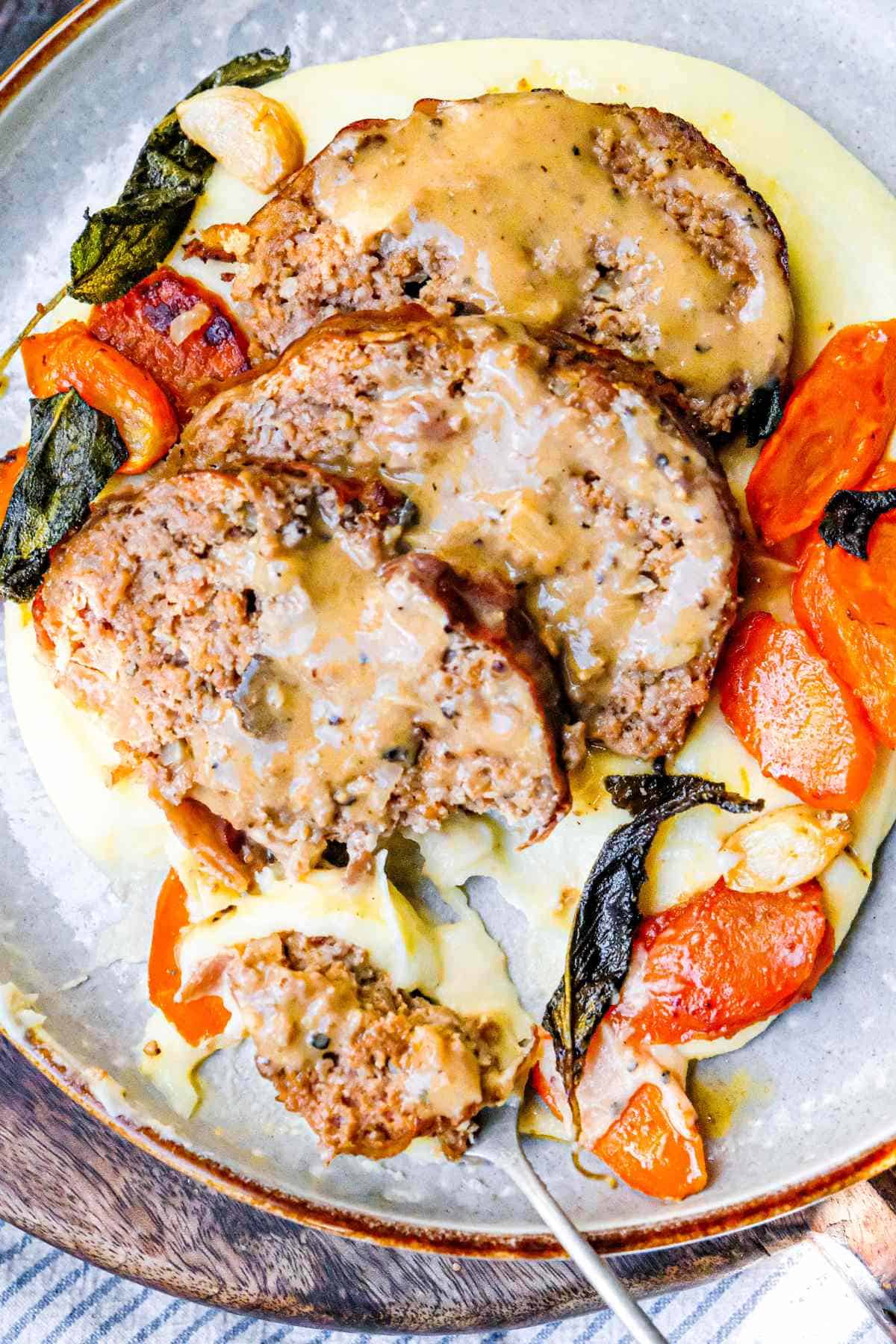 Pairing
Looking for some side dishes to go with this recipe? Try these:
Related
Looking for other main course inspiration? Try these:
Recipe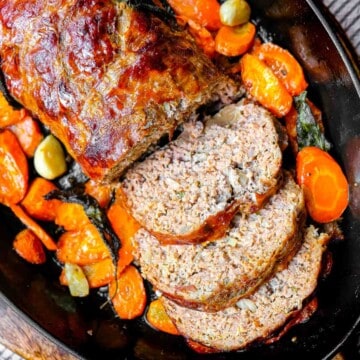 Prosciutto Wrapped Parmesan Meatloaf with Crispy Sage
This prosciutto wrapped meatloaf with parmesan and sage is so delicious, unbelievably easy to make and presents beautifully. It's easy enough for a weeknight but nice enough for company.
Print
Pin
Rate
Ingredients
Meatloaf
500

grams

ground beef

80% lean

500

grams

ground pork

2

slices

soft bread

0.5

cup

milk

1

tablespoon

Worcestershire sauce

1

tablespoon

soy sauce

1

tablespoon

maple syrup

3

tablespoons

tomato paste

⅔

cup

parmesan cheese

grated

2

teaspoons

salt

0.5

teaspoon

black pepper

1

yellow onion

finely diced

3

cloves

garlic

finely diced or mashed

2

tablespoons

fresh sage

finely diced

2

tablespoons

fresh thyme

finely diced

80

grams

prosciutto

about 8-10 slices
Accompaniments
5

carrots

medium-sized, sliced thinly on a diagonal

1

bunch

fresh sage leaves

12

garlic cloves

peeled whole cloves

2

tablespoons

olive oil
Roasted Garlic & White Wine Gravy
3

tablespoons

butter

divided

1

tablespoon

flour

0.5

cup

white wine

0.5

cup

milk

0.5

teaspoon

beef bouillon powder

or cube (just beware of over-salting)

4

cloves

roasted garlic
Instructions
Meatloaf
Preheat the oven to 200 C / 400 F.

Pour the milk over the bread in a bowl and set it aside to soak in. You can also use your hands to squeeze the bread until it falls apart and dissolves into the milk.

While the bread is soaking, finely dice the fresh sage, thyme, garlic and onion for the meatloaf. Grate the parmesan if necessary.

Combine all the meatloaf ingredients in a bowl and mix together until the mixture is homogenous.

Put the meatloaf in the roasting pan and shape it into a loaf.

Lay the prosciutto across the meatloaf, each slice slightly overlapping the last. You do not need to wrap the prosciutto all the way around the loaf. You can just cover the top and then (if you wish) gently lift the meatloaf and slice 2 or so slices lengthwise across the bottom.

Slice the carrots and add them along with the peeled garlic cloves to the roasting pan. Drizzle half the olive oil over them and toss them a bit to coat. Then arrange the sage leaves around the loaf, and again drizzle them with olive oil (but no need to toss).

Roast uncovered in the preheated oven for 42-45 minutes - the prosciutto should look crispy and the carrots and garlic should also be caramelized.

Take the roasting pan out* and let it sit for 5 minutes to cool.

Use a large spatula to gently remove the loaf from the roasting pan and place it on a serving plate. Use a slotted spoon to take out the carrots, crispy sage and most of the roasted garlic, then arrange them around the roast.

Slice and serve while hot.
Roasted Garlic & White Wine Gravy
Put the roasting pan over high heat on the stovetop (or move the drippings to a stovetop safe pan if necessary).

Add 2 tablespoons of butter, a tablespoon of flour and the beef bouillon. Mi them up, squishing the garlic cloves into the mixture as you do to make a smooth roux.

Let the roux sizzle for a minute until it's aromatic then pour in the white wine and whisk rapidly until the mixture thickens (1-2 minutes). It will initially smell quite strong like alcohol as the ethanol burns off. Stir until the smell dissipates.

Add the milk and continue whisking until the mixture is homogenous and thick enough to coat a spoon (should be 2-3 minutes or so).

Add the remaining tablespoon of butter and turn off heat. Pour the gravy into a gravy boat or other serving dish.
Notes
* If you start with very cold meat, it could cause it to squeeze out a foamy grey liquid (denatured proteins). You can prevent this by letting the meat come up to room temperature before cooking, but in general it's difficult to avoid. If it happens, simply use a spoon to scoop the foamy liquid away - you can throw it out or reserve it in a bowl to add it to the gravy - it's just meat proteins so it's perfectly fine to eat. 
** The nutritional information here is for 12 slices but it could be that you slice the loaf into more or less pieces. Please adjust accordingly. 
Nutrition
Calories:
375
kcal
|
Carbohydrates:
12
g
|
Protein:
19
g
|
Fat:
28
g
|
Saturated Fat:
11
g
|
Polyunsaturated Fat:
2
g
|
Monounsaturated Fat:
12
g
|
Trans Fat:
1
g
|
Cholesterol:
78
mg
|
Sodium:
800
mg
|
Potassium:
482
mg
|
Fiber:
2
g
|
Sugar:
5
g
|
Vitamin A:
4534
IU
|
Vitamin C:
7
mg
|
Calcium:
153
mg
|
Iron:
2
mg