This classic Romanian soup features hearty rice speckled meatballs simmered in a flavourful broth with diced veggies and potatoes then finished with sour cream and fresh herbs like lovage, parsley and dill. Serve with hot pickled peppers and crusty bread for a perfect cold weather meal.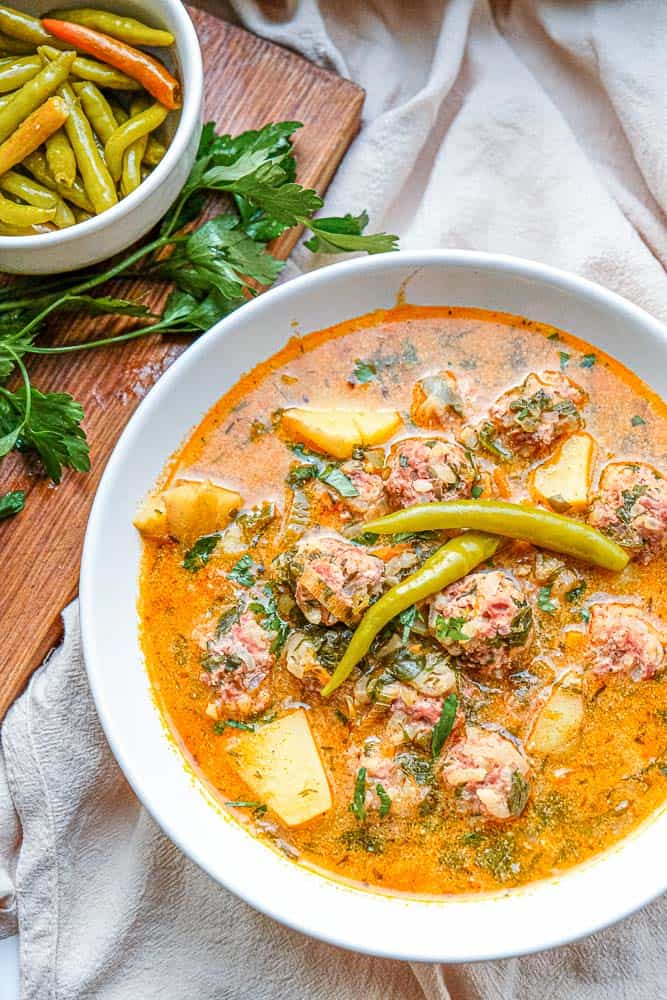 Winter has officially arrived in the Netherlands. Over the past week I've noticed it getting progressively colder on our daily jaunts to the park with our doggo Oliver. Today it hit the lowest it's been all season: - 6 C (or 40 F for my American friends).
It's funny how your perspective on cold shifts when you live in a (relatively) warmer climate. When we used to live in Canada and Michigan the winters were undeniably frigid. Amsterdam winters feel like Ontario spring.
But still, every winter we're here I get more and more accustomed to the balmy Dutch weather and find myself less and less able to tolerate temperatures like today.
No matter what climate I'm in though I appreciate warm soup when the temperature drops. I made a big pot of this this Romanian porcupine meatballs soup last Sunday and it kept us warm all week.
This soup is especially good once it gets cold outside but just like the Smoky Romanian Bean Stew I posted recently, we eat this throughout the year even in the summer. There's so much to love about meatballs dotted with rice. The rice not only makes the meatballs less dense, it also adds heartiness. It's pure comfort in a bite.
More Romanian recipes:
I didn't know until recently that the Romanian style rice meatballs I grew up had a name in English! I learned about a year ago that they're called porcupine meatballs. Which can also be prepared American-style in tomato sauce - also delish. It's a great name - much more creative than what I was calling them - meatballs with rice (not as fun).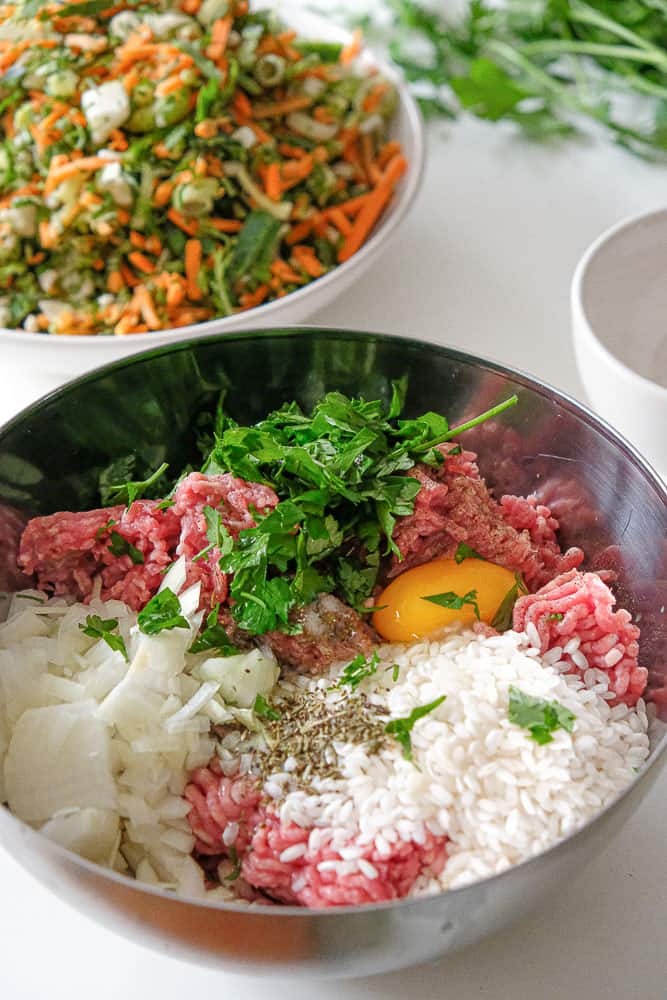 Like most dishes that come from humble peasant origins, this one is really versatile. You just need to have a few key ingredients to get the essential flavour profile:
Aromatics: I used finely diced onion, leek, and parsley as an aromatic base for this soup. Usually each Romanian cook will have their own preference for the base so it varies widely. It can be as simple as 2 large onions or you can add other aromatics to deeper the flavour. Another common aromatic used in Romanian cuisine is parsnip, which adds earthy sweetness.
Tomato: You can use both tomato paste and fresh tomatoes. Substitute approximately 1 medium tomato for a tablespoon of tomato paste.
Vegetables: I added finely shredded carrots and potatoes to make the soup heartier. You can omit both or add other vegetables as you prefer. I've also seen recipes with chopped summer squash, kohlrabi, red pepper, cauliflower and celery.
Meatballs: I made these meatballs with pork and short grain rice like arborio or carnaroli (basically the same rice used for risotto or paella). Where I grew up pork is the classic meat for ciorba de perisoare, but you can use any kind of meat - chicken and turkey are great options too. The rice makes the meatballs extra hearty.
Dried herbs and spices: The primary flavourings in this meatball soup are Romanian cimbru (aka summer savoury), smoked paprika, and black pepper. Cimbru is probably the defining herb of Romanian cuisine but if you can't find any then you can substitute a mix of thyme, oregano and fenugreek as indicated in the recipe below.
Lovage & other fresh herbs: Lovage is an herb that's almost always used to finish sour soups in Romania. The flavour is very strong, reminiscent of celery and parsley but with fresh citrus notes and pungent notes similar to dried fenugreek.
Sour cream and pickled chili peppers: Maybe it sounds strange if you haven't tried it I don't know but the sour cream adds rich creaminess to the broth and the pickled chili pepper is just how this meal is done right. You can find these specific spicy pickled green chili peppers (known as ciușcă in Romanian) at Romanian and other ethnic shops (Turkish, Bulgarian, Lebanese, Syrian etc.). If you can't find these exact peppers its not a big deal, you can substitute pickled jalapeños or even fresh chilies like Thai bird chilies.
What's the deal with 'sour' soup?
Sour soup is a much beloved culinary treasure in Romania. The Romanian language has two words for soup. One is simply supa which refers to "sweet" soups like tomato soup, chicken soup, and semolina dumpling soup. The other word is ciorbă - which almost always refers to a sour soup like this one.
I always thought the Romanian ciorbă was borrowed from the Turkish çorba, but as it turns out the word has deeper roots. According to Wikipedia, chorba "is one of various kinds of soup or stew found in national cuisines across the Balkans, North Africa, Central Europe, Eastern Europe, Central Asia, Middle East and the Indian subcontinent." Huh...the more you know.
In Romanian cuisine there are a lot of different ways of 'souring' a soup. The most common and most traditional is by using borș, or fermented wheat bran. You can usually find borș at Romanian or Polish stores. Bors is used to add sour notes to the soup after it's cooked. That's a recipe for another day.
Other good options are lemon juice, white vinegar, and citric acid powder (in Romanian we call it lemon salt - sare de lamaie - but it's not to be confused with lemon salt in the English sense, a seasoning salt infused with actual lemon). I used citric acid in this dish because I keep it around for this very purpose. It has a very sour taste and you only need about half a teaspoon so it tends to last forever.
The basic rule of thumb is that you make the soup as you normally would, adding slightly less salt than you would normally add. This is already factored into this recipe and I erred on the side of less salt so make sure to taste and adjust to your liking.
Personally I prefer my sour soups on the less sour side so I only add about ½ a teaspoon of citric acid to the soup. My husband will usually add more to his soup at the table. Likewise, you can  serve your souring agents on the side at the end - citric acid, vinegar, lemon juice or even borș.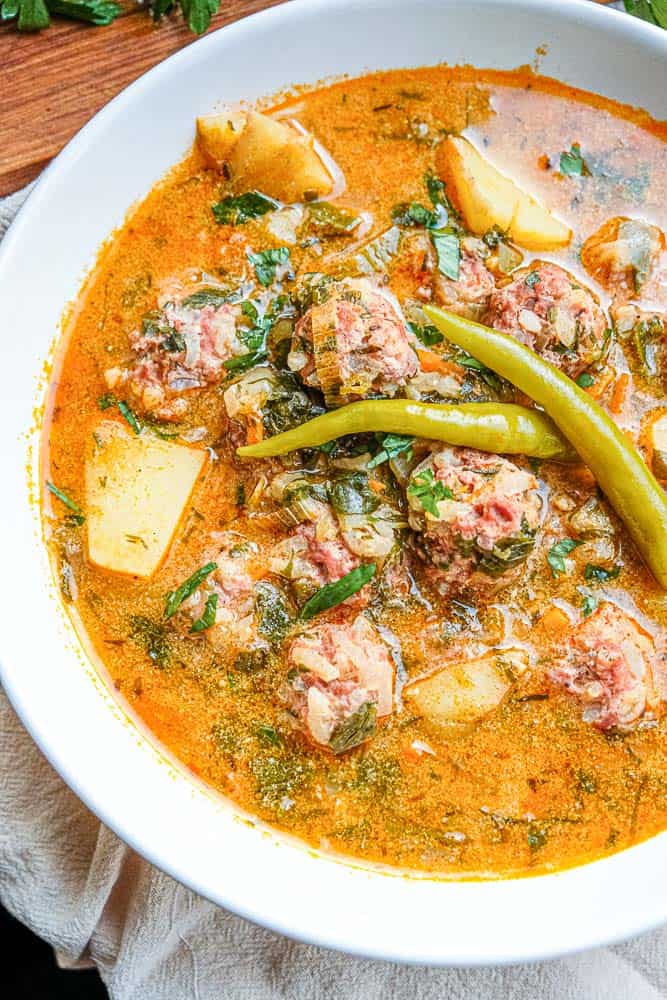 Recipe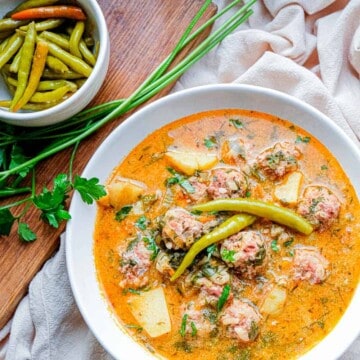 Ciorba de Perisoare | Romanian Porcupine Meatballs Sour Soup
This classic Romanian soup features hearty meatballs simmered in a flavourful broth with diced veggies and potatoes then finished with sour cream and fresh herbs like lovage, parsley and dill. Serve with hot pickled peppers and crusty bread for a perfect cold weather meal.
Print
Pin
Rate
Ingredients
For the soup
1

yellow onion

finely diced

½

leek

finely diced

3

carrots

grated or cut into small pieces

½

cup

parsley

finely diced

2

tablespoons

cimbru *

2

tablespoons

sweet or smoked paprika

½

teaspoon

black pepper

1

tablespoon

tomato paste

1

chicken or veg bouillon cube

1

teaspoon

salt

¼

teaspoon

citric acid

or 2-3 tablespoon lemon juice

3

liters

water

½

tablespoon

vegetable oil

2-3

potatoes

cut into bite-sized pieces

2

tablespoons

lovage **

finely diced and added just before serving

2

tablespoons

fresh dill

finely diced and added just before serving

2

tablespoons

fresh parsley

finely diced and added just before serving

3-4

tablespoons

sour cream

added just before serving or on the side
For the meatballs
500

grams

ground pork

or substitute beef, chicken or turkey

½

cup

short grain rice

3

tablespoons

chopped parsley

1

yellow onion onion

very finely diced

1

egg

½

teaspoon

salt

½

teaspoon

cimbru

¼

teaspoon

black pepper
Instructions
Cut and prepare all the vegetables and herbs.

Mix the meatball ingredients together in a bowl and then form the meatballs.**

Add oil to a large stockpot and saute the onion and leek on medium-high heat until translucent and just beginning to brown.

Add the rest of the vegetables, the ½ cup parsley, tomato paste, salt, dried herbs and spices.

Cover with about 2.5 liters of water and bring to a boil then reduce heat and simmer covered over low heat for about 30 more minutes.

After the soup has simmered covered for about 30 minutes, uncover and gently drop the meatballs into the still simmering broth. Cover and simmer another 10 minutes.

Turn off heat and allow to cool at least 5 minutes.

Add the chopped fresh herbs, lemon juice or citric acid if using.

Taste the soup and adjust the seasoning to your liking.
Notes
* Cimbru is summer savoury. It has a distinctive flavour. If you can't find any you can substitute the same amount of thyme (along with a small pinch of dried fenugreek if you have it).
** Lovage is a staple in Romanian soups. It has an herbaceous, citrusy and earthy smell. You can sometimes find it as specialty shops where they carry Romanian goods or otherwise at some Asian markets.
*** You can make the meatballs any size you like just remember the rice will inflate and make them inflate to about 1.5 times their original size. The meatballs pictured here are made with approximately 1 tablespoon of the mixture each.
Nutrition
Serving:
1
g
|
Calories:
426
kcal
|
Carbohydrates:
40
g
|
Protein:
20
g
|
Fat:
22
g
|
Saturated Fat:
8
g
|
Polyunsaturated Fat:
3
g
|
Monounsaturated Fat:
9
g
|
Trans Fat:
0.01
g
|
Cholesterol:
91
mg
|
Sodium:
724
mg
|
Potassium:
927
mg
|
Fiber:
7
g
|
Sugar:
5
g
|
Vitamin A:
7594
IU
|
Vitamin C:
36
mg
|
Calcium:
204
mg
|
Iron:
6
mg