This Romanian green pea stew or mancare de mazare is a comforting and healthy stew reminiscent of childhood for many Romanians.
This dish is called mancare de mazare in Romanian, which literally means pea food but a better translation is pea stew. My grandmother made this for me a lot when I summered with her in the Romanian countryside during my childhood.
The basic flavours are peas in a tomato base with a lot of fresh dill. During the Orthodox fast it's usually served vegetarian, as shown in this recipe. But it's also very common to add smoked meat like bacon or ham hocks. You can see a similar recipe but with smoked meat in my potato stew with peas and ham hocks.
Ingredients for Romanian green pea stew (mancare de mazare)
In the photos below you can see all the ingredients in their whole or raw form, and then in the next photo the ingredients after being prepared to go into the stew.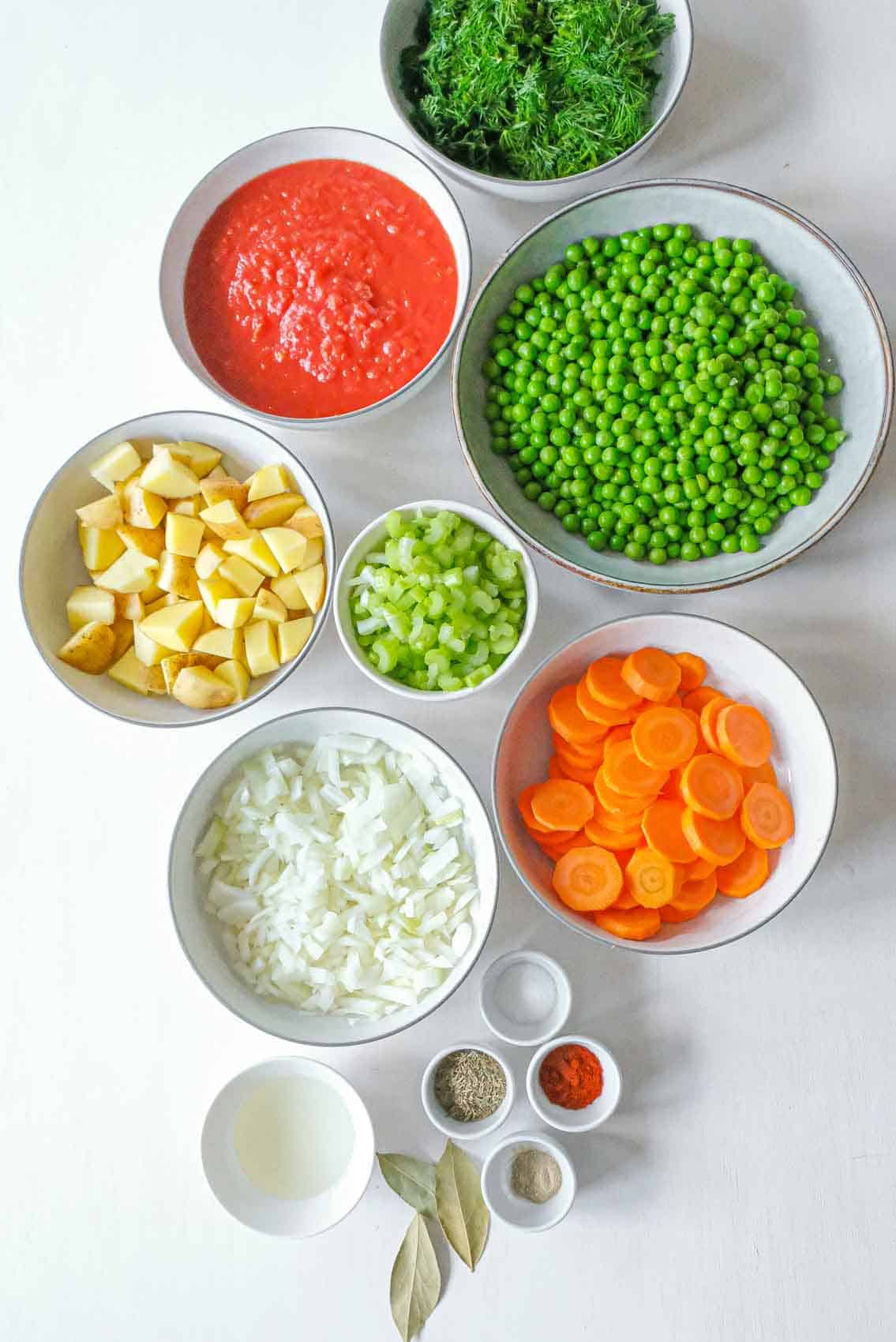 Green peas: The preference is for frozen or (if it's the right time of year) then fresh. Frozen peas tend to keep their flavor and texture better than canned but if all you have is canned then that is okay. If using fresh just follow the same directions in the recipe card.
Crushed tomatoes: I used a can of Mutti Crushed Tomatoes (Polpa) but you can use any other type of tomato puree like crushed tomatoes or tomato passata etc.
Carrots: Carrots sliced into medallions bring some sweetness, heartiness and color to the dish.
Celery: Celery bulks up the stew and brings a more neutral counterpoint to the sweetness of peas, carrots and tomatoes.
Potatoes: My grandmother always made mancare de mazare with potatoes but they aren't a very traditional addition. I left them unpeeled for more vitamins and fiber but if you're aiming for a more traditional approach then do note that potatoes are basically never left unpeeled in the Romanian kitchen.
Yellow onion: The onion adds a lot of flavor to the stew. I highly recommend browning it first to bring out more of the deeper flavor notes so get a nice balance with the sweeter elements in the stew. If you don't have yellow onion feel free to substitute the same amount of white, red, or even shallot.
Cimbru: Cimbru is Romanian summer savoury and is a very important seasoning in Romanian cuisine. If you don't have it you can substitute the same amount of dried thyme or 2 tablespoons fresh thyme.
Bay leaves: They add some earthiness to the flavor.
Paprika: This dish can be made with sweet or spicy paprika depending on your taste. I always use smoked sweet paprika from La Chinata - it's my absolute favourite and I'm never without it.
White pepper: It's a bit milder and mustier than black pepper and what my grandmother always used for more delicate dishes. If you don't have it you can substitute black pepper, either the same amount or slightly less if you don't want it to be very prominent.
Salt: I started with a teaspoon of salt, cooked the stew and added the fresh dill at the end, then tasted to see if it needed more salt. I added a whole additional teaspoon of salt (so two teaspoons total).
Sunflower oil: Sunflower is the traditional choice but any neutral flavoured oil will work.
Fresh dill: After the peas and tomatoes, dill is a key flavor in this dish. Some recipes or households only use a few strands but I've always loved a lot of dill so I put in a whole bunch. Roughly chop and add it at the end once the stew is ready to serve.
Instructions for making mancare de mazare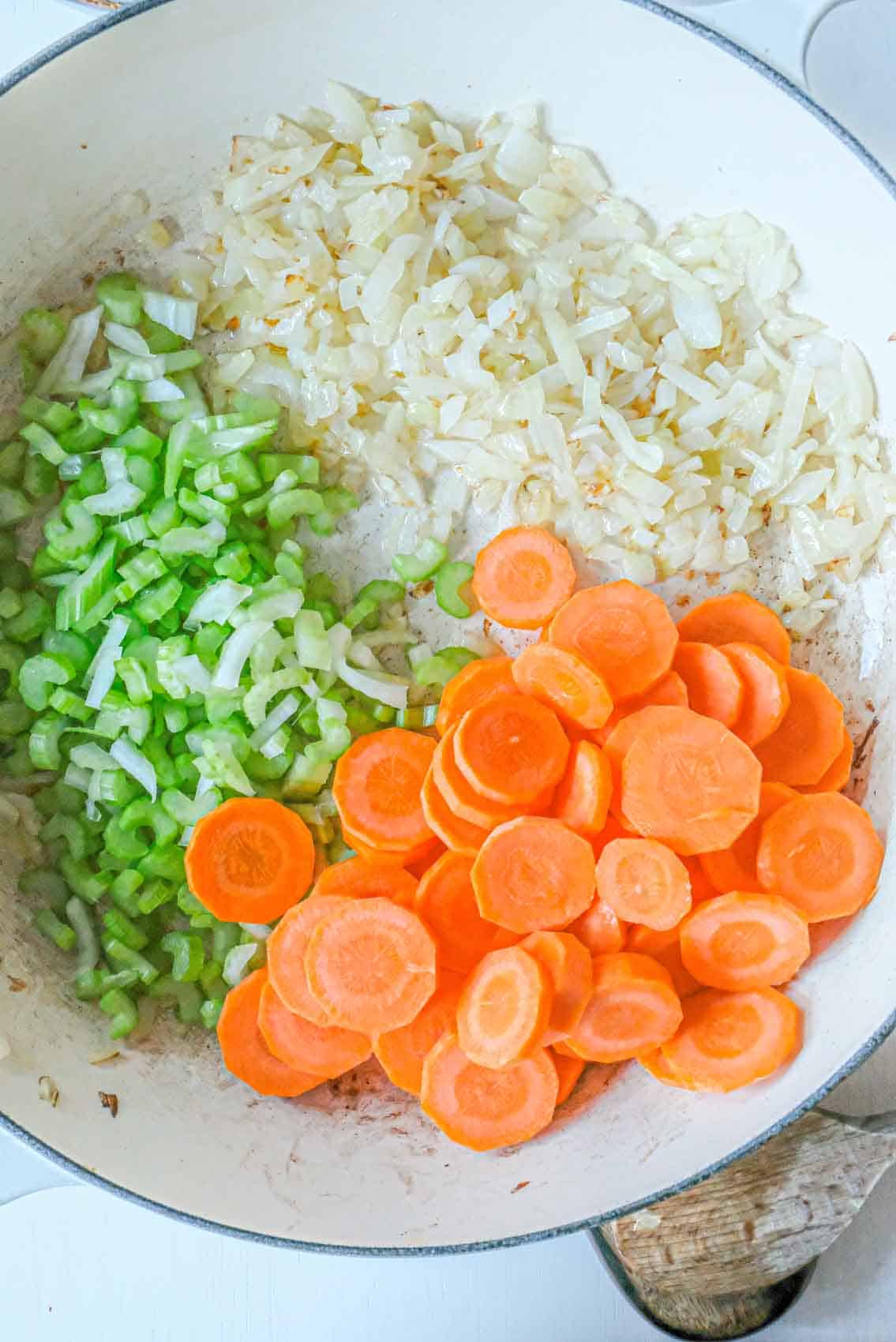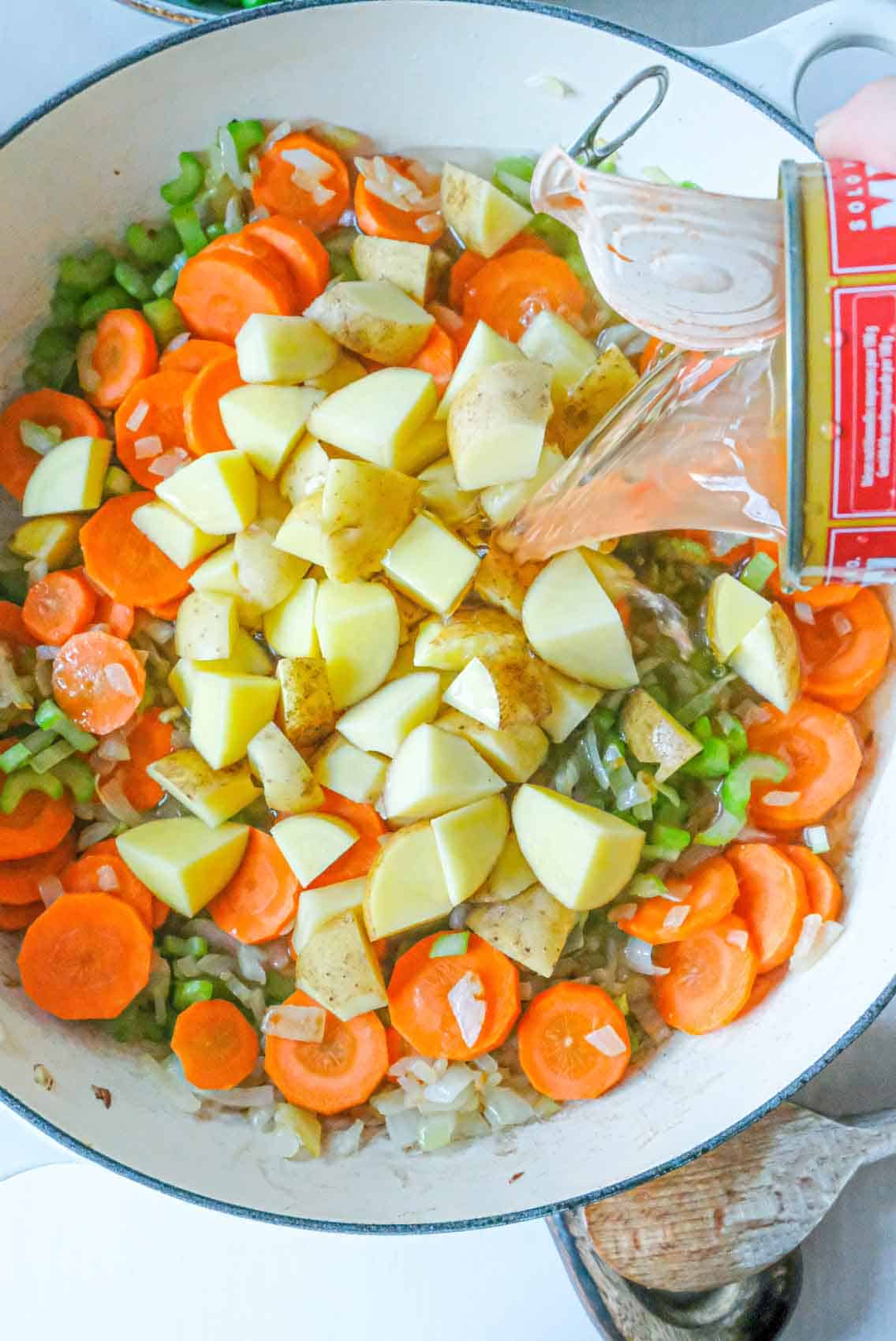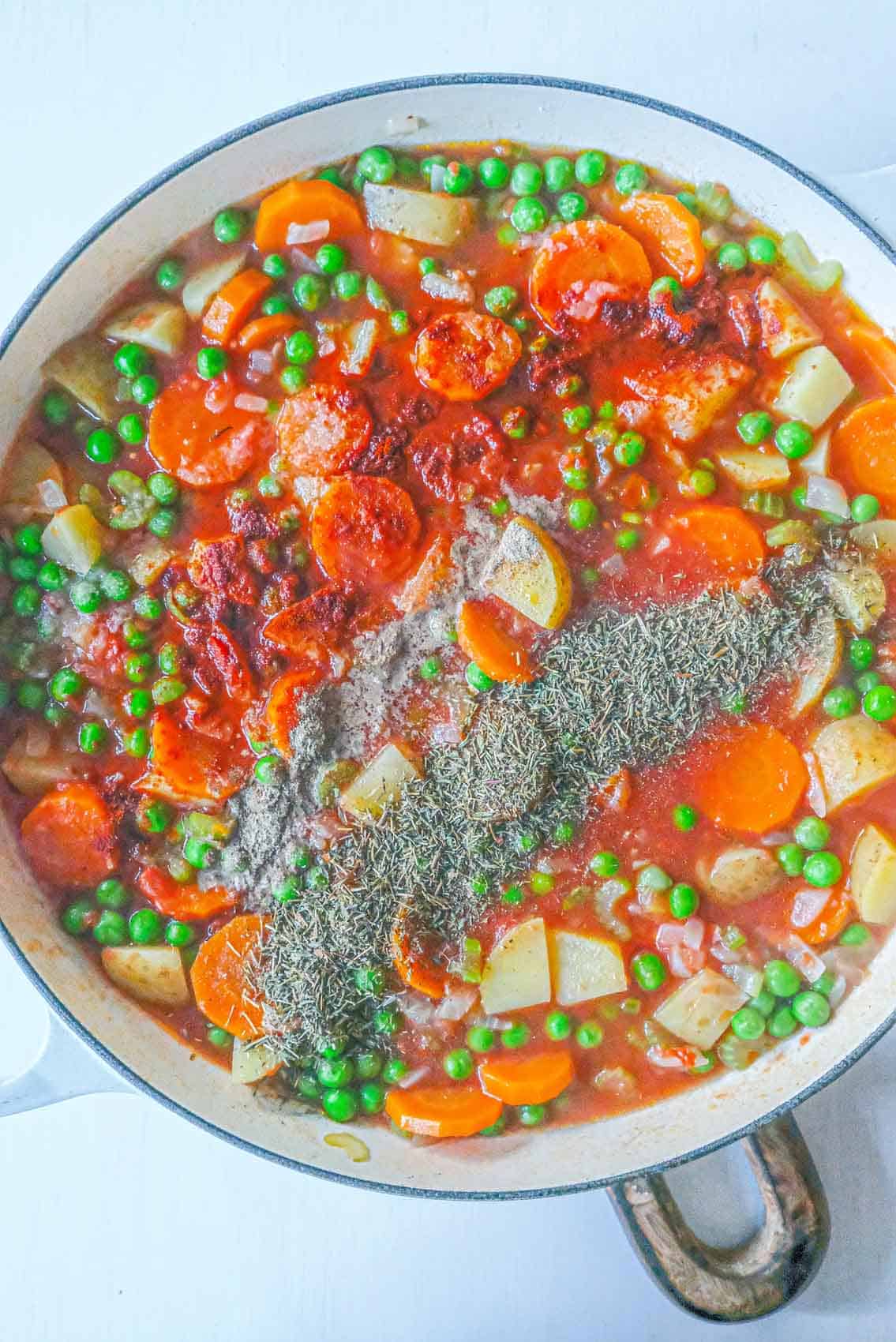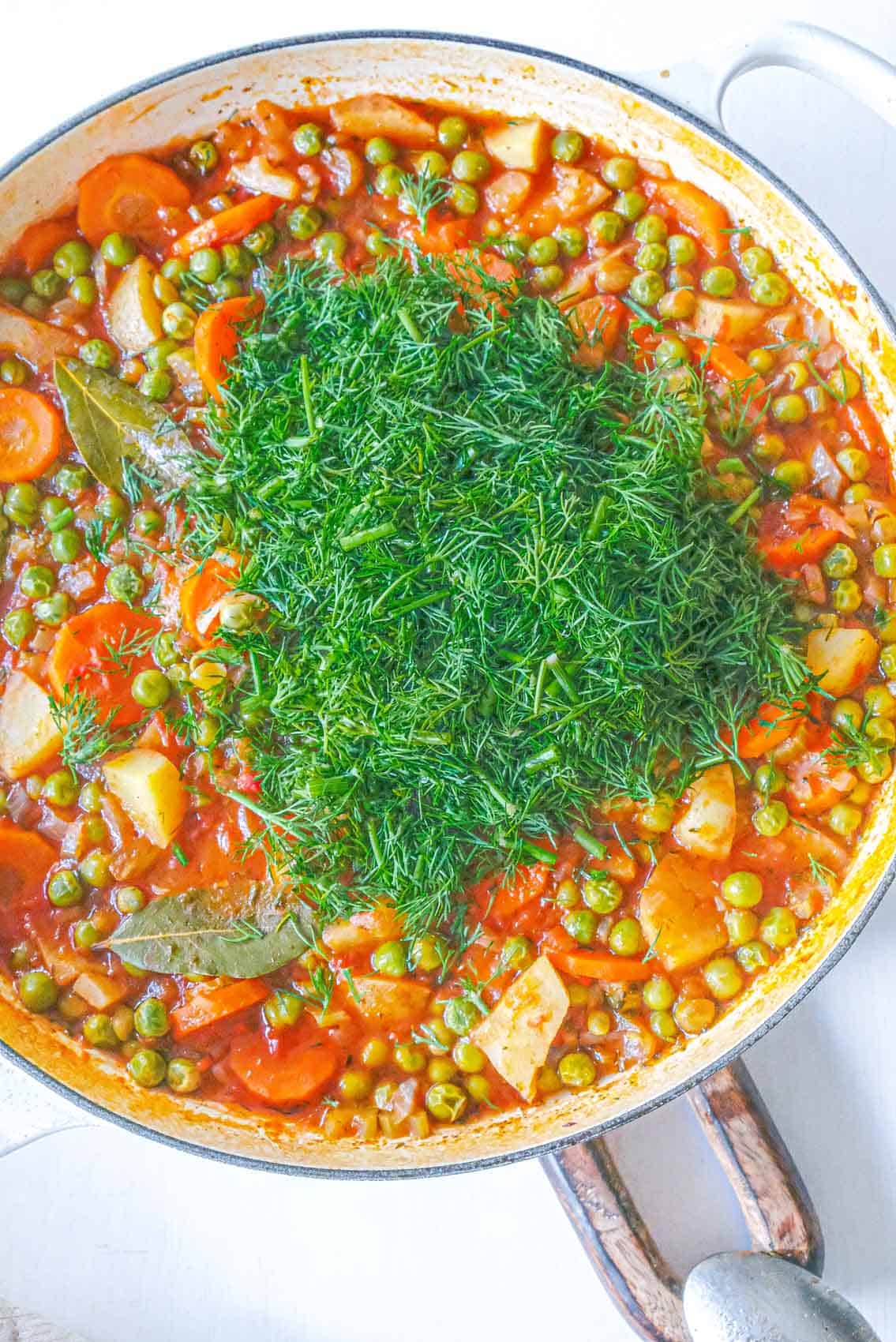 Equipment
You will need a large pot with a lid. Mancare de mazare can cook fully over the stovetop or partially on the stovetop and partially in the oven.
My preference is to start it on the stovetop and finish it in the oven since it's more hands-off and also introduces a bit more dry heat which I think develops more complex flavors.
If you plan to do the oven method then make sure to preheat the oven and note that you'll need a large pot with a lid that also can go from stovetop to oven.
The photos show a 3.3 liter / 3.5 quart Le Creuset braiser to make this dish but I've also made this stew in a cast iron standard sized (5.5 liter / 6 quart) enameled Dutch oven.
Method
Heat the oil in the pot over medium heat. When the oil is hot add the onion and cook it for a few minutes until they have begun to brown.
This step is important because it's an opportunity to develop more complex flavors. Since the dish is just vegetables (many of them sweet) just adding them all to a pot with water can make the dish too sweet. Browning the onions first allows more complex umami flavors to develop.
Once the onions are browned, then add the carrots and celery and sauté for another 3 or so minutes.
Add the potatoes and about 400ml of water. I used the can from the tomato puree to get all the last bits of tomato out of there. Put the lid on the pot and cook covered over high heat for 8 minutes or until the potatoes are fork tender.
I recommend this step because if you pour the crushed tomatoes directly over the potatoes, the acid in the tomatoes can really slow down the cooking of the potatoes. So doing this additional step is a time saver in the end.
If you need more hands-off time and less steps, then you can also skip this and compensate by cooking the stew for longer on stovetop or in oven. Normally it's 30 minutes on the stovetop or oven so cook for at least 40 and then use a fork or taste to see if the potatoes are cooked through.
Serving Suggestion
This dish is best (and most traditionally) served hot with nice crusty bread.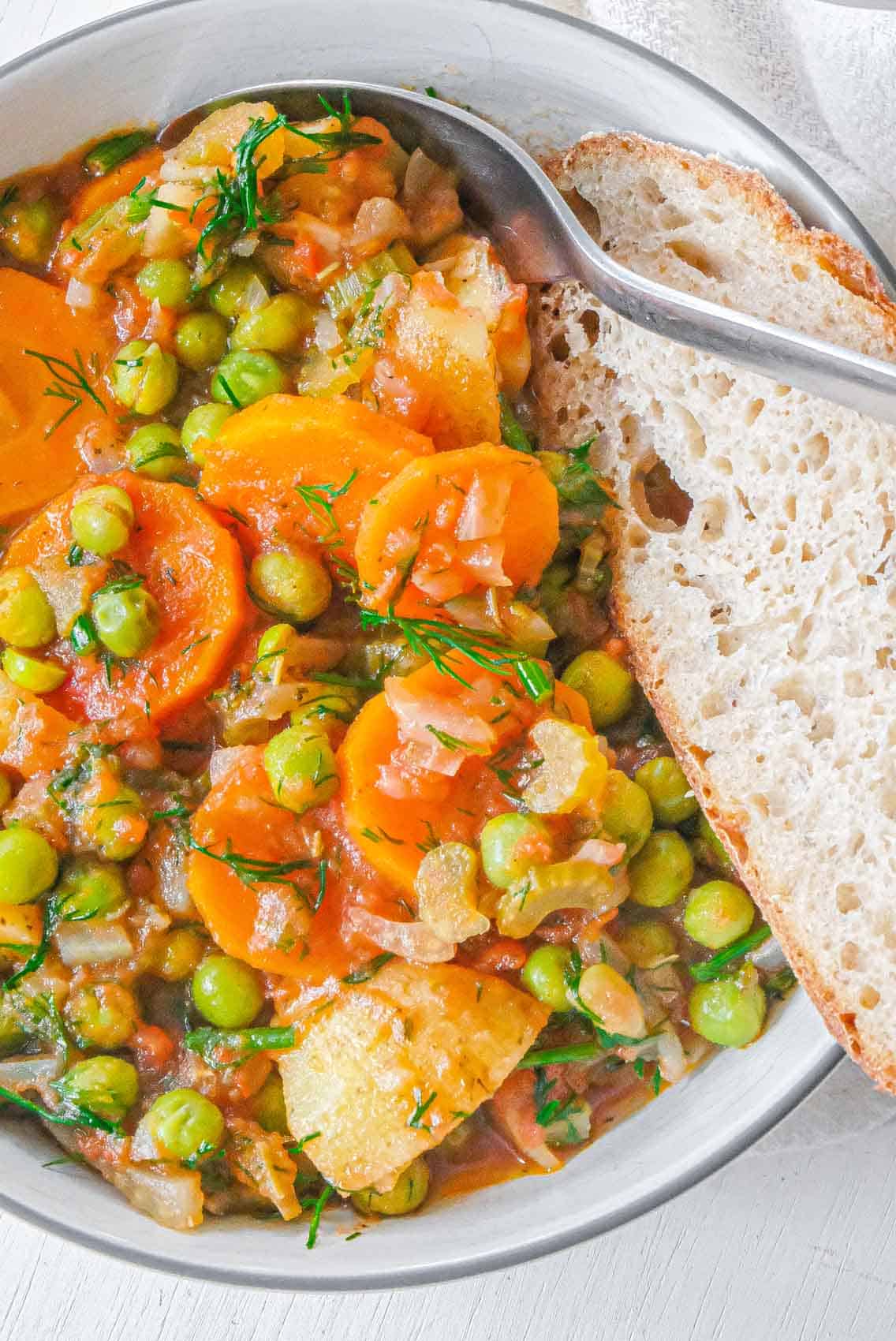 Related
Looking for more Romanian recipes? Try these:
Pairing
This recipe goes very well with bread. You can also make your own homemade bread:
Recipe
Romanian Green Pea Soup (Mancare de Mazare)
This Romanian green pea stew or mancare de mazare is a comforting and healthy stew reminiscent of childhood for many Romanians.
Print
Pin
Rate
Ingredients
450

grams

green peas

ideally frozen or fresh

400

grams

tomato puree

or equivalent of a small standard sized can (about 14 oz)

1

yellow onion

finely diced

4

stalks

celery

thinly sliced

2

carrots

large carrots, cut into medallions

6

potatoes

small potatoes cut into small cubes

1

cup

fresh dill

roughly chopped

3

dried bay leaves

2

teaspoons

cimbru

or substitute thyme

1

teaspoon

paprika

1

teaspoon

salt

or more to taste

0.5

teaspoon

white pepper

or substitute black pepper
Instructions
Preheat oven to 200 C / 400 F if using the oven method or skip this step if using the stovetop only.

Heat the oil over medium heat.

Add onions and cook until browned.

Add the diced carrots and celery and sauté another 3 minutes.

Add the potatoes and 400ml (1.5 cups) water.

Cover with lid and cook on high heat for 8 minutes or until potatoes are fork tender.

Add the crushed tomatoes and all the seasoning except the fresh dill. Stir to mix everything in then cover and cook on stovetop or in oven for 30-35 minutes or until the vegetables are soft and the tomato sauce has thickened.

Take out of oven or off stovetop and add the chopped dill, reserving some for garnish if you like.

Taste the stew and adjust the salt to your liking. I ended up adding an additional teaspoon of salt.

Serve hot with crusty bread.
Nutrition
Calories:
318
kcal
|
Carbohydrates:
91
g
|
Protein:
16
g
|
Fat:
1
g
|
Saturated Fat:
0.3
g
|
Polyunsaturated Fat:
1
g
|
Monounsaturated Fat:
0.2
g
|
Sodium:
696
mg
|
Potassium:
2425
mg
|
Fiber:
19
g
|
Sugar:
17
g
|
Vitamin A:
7937
IU
|
Vitamin C:
135
mg
|
Calcium:
197
mg
|
Iron:
8
mg