This stew has a classic combination of comforting flavors. Smokey ham hocks and peas mix with hearty potatoes and fresh dill in a sweet tomato base.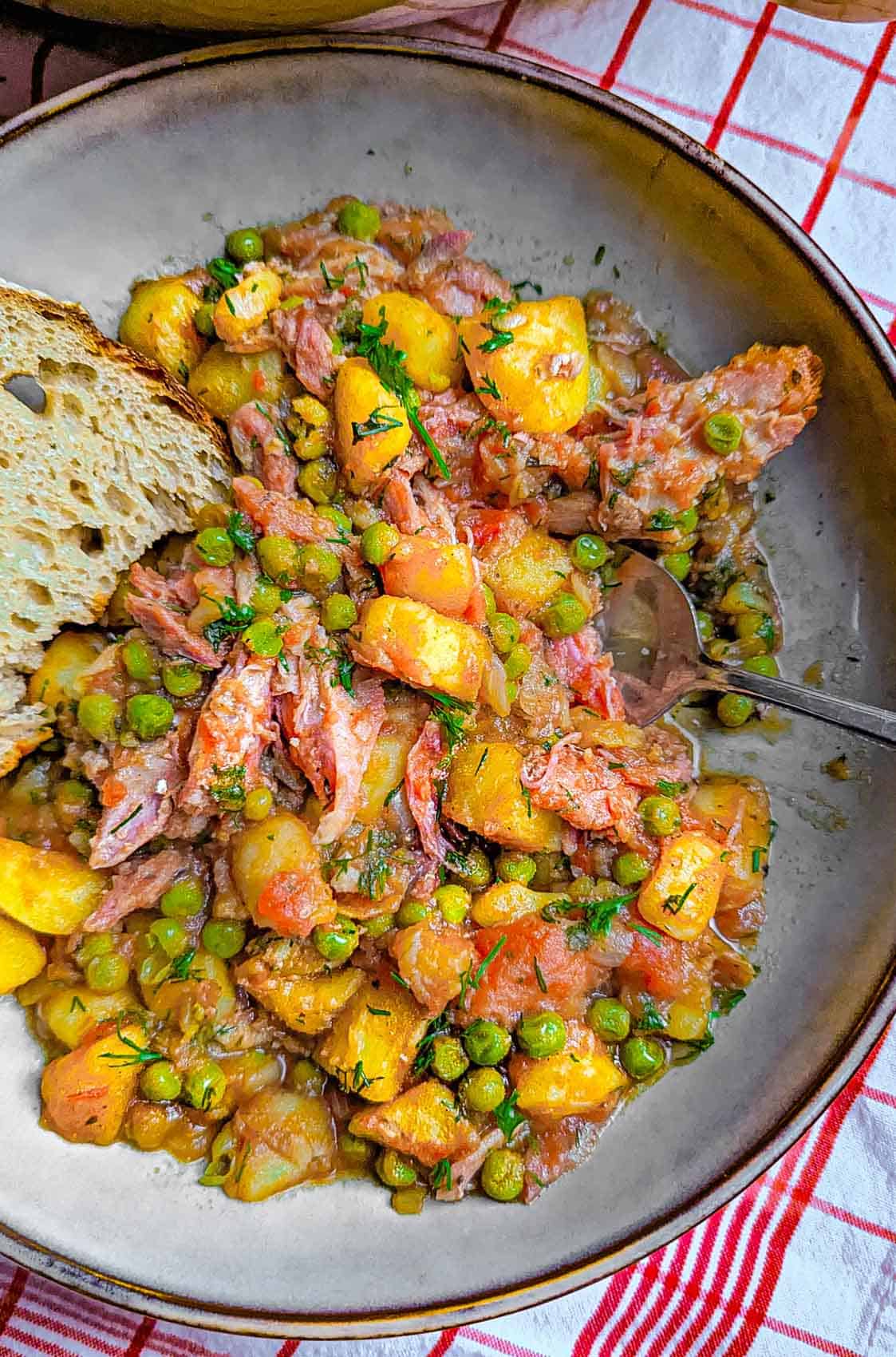 The flavors in this stew are a classic combination for stews in Romania, like this mancare de mazare or Romanian green pea stew that I posted previously.
In Romanian cuisine a stew is usually called a tocană (or more commonly using the diminutive tocăniță).
The term comes from the root verb a toca, (in turn derived from the Latin "toccare") which means, to chop. So any stewed dish with small bits that have been chopped up might be called a tocană in Romania.
There are a lot of different ways to make stew but this flavor pairing is a classic combination. You can adjust the elements to make it your own, or enjoy it as is for a very classic and comforting taste.
Jump to:
Ingredients
This recipe starts with whole food ingredients.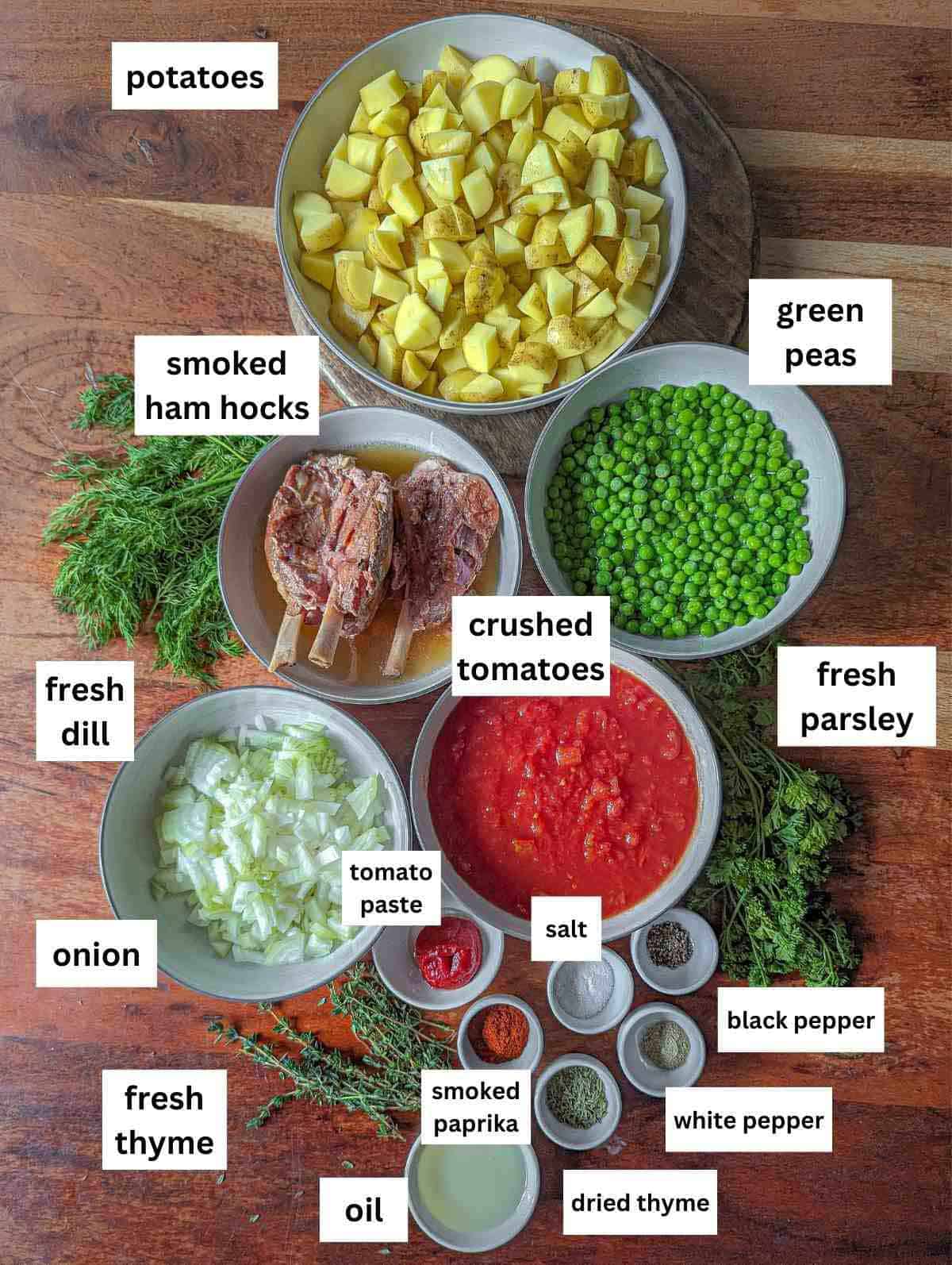 Potatoes: If you can find waxy potatoes that is idea as they are better for a stew since they keep their shape better when cooked in liquid.
Green peas: I prefer frozen since they have a fresher flavor and more bite than canned. You can also use fresh if they happen to be in season.
Ham hocks: Ham hocks are meaty and rich cuts that impart deep smokiness and umami flavor. It's becoming more common that you can find them at your regular supermarket, usually prepackaged in the deli section. If not then a specialty Eastern European or German grocer would likely have them. If you can't find ham hocks you can find suggestions for substitutions in the substitutions section below.
Diced onion: To add sweetness and flavor.
Crushed tomatoes and tomato paste: The crushed tomatoes are the base of the soup and the tomato paste adds a deeper layer of tomato flavor.
Fresh herbs: Fresh thyme, parsley and a lot of fresh dill bring lighter notes to an otherwise hearty and earthy stew.
Dry seasonings: The seasonings used here are traditional stew seasonings in Romanian cuisine.
Oil: For sautéing the onion and potatoes to give them a head start and develop more flavor.
Please see recipe card for full quantities.
Instructions
The most important step is to precook the potatoes in water before adding the tomato or the potato will take much longer to cook.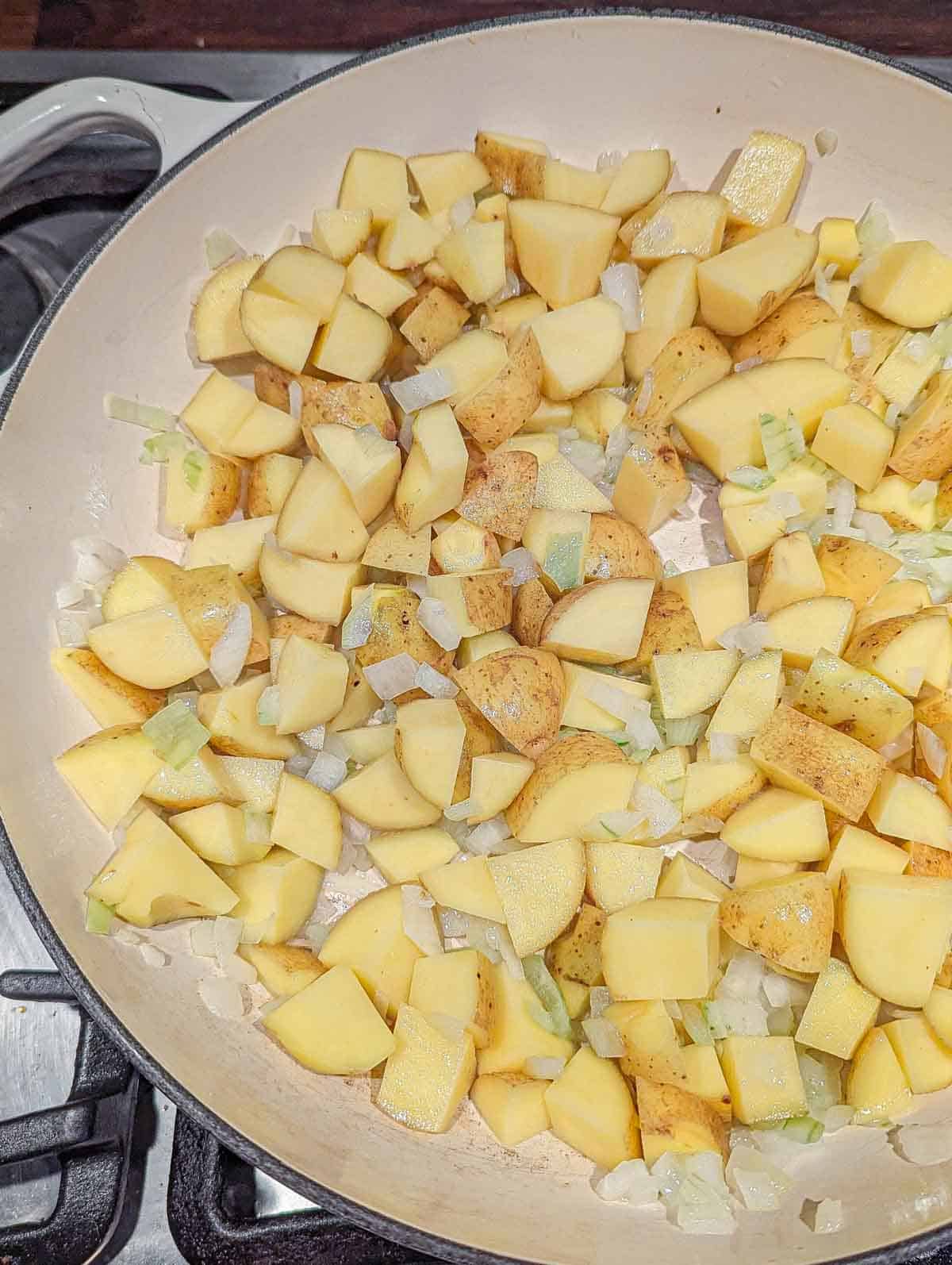 Sauté the onion and potato in oil over medium-high until the onion is aromatic and translucent.
Add the dry seasonings to the pot.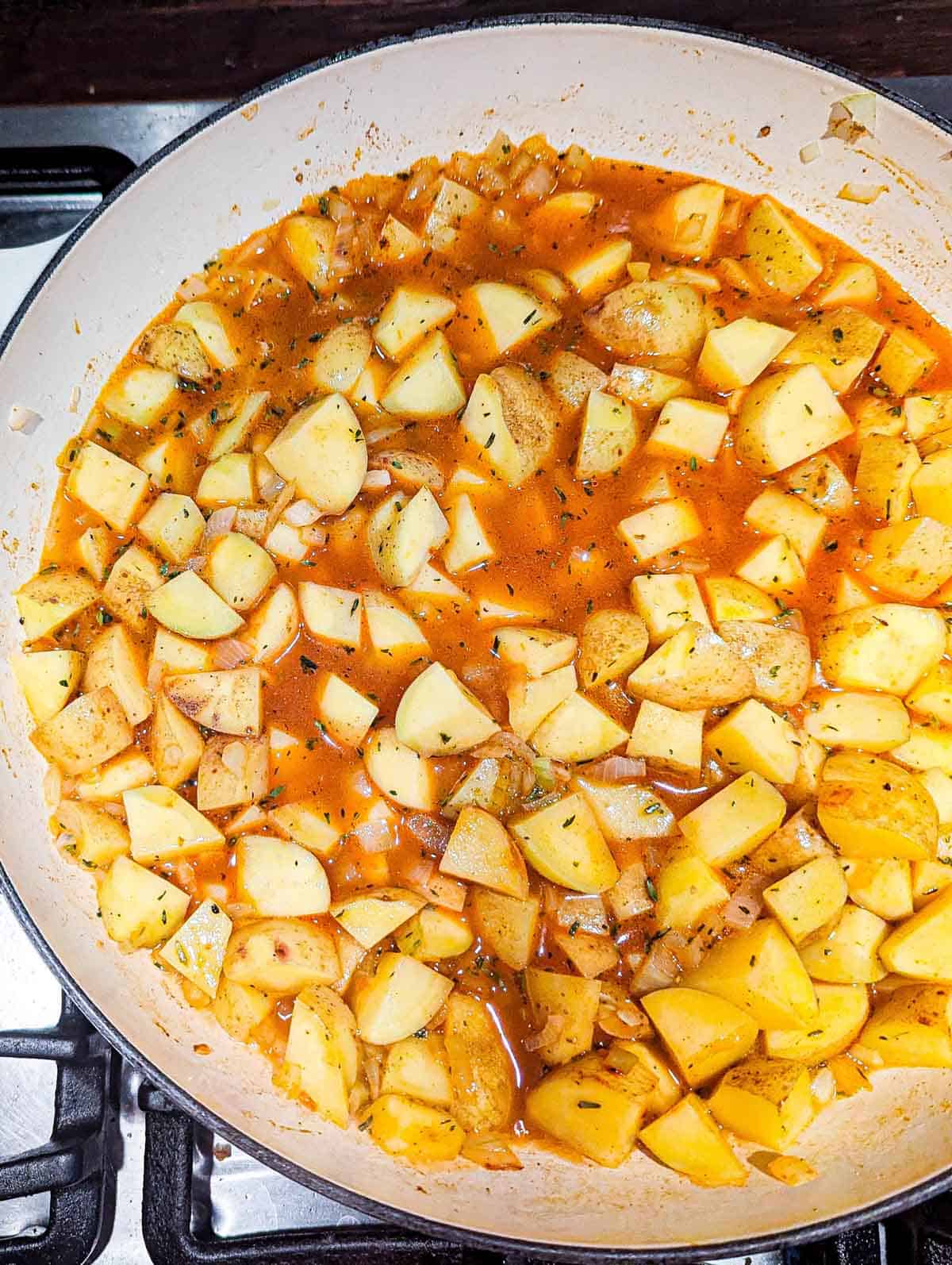 Add about 500 ml / 2 cups of water and cover. Simmer covered over medium-high heat for 10-15 minutes or until the potatoes are fork tender.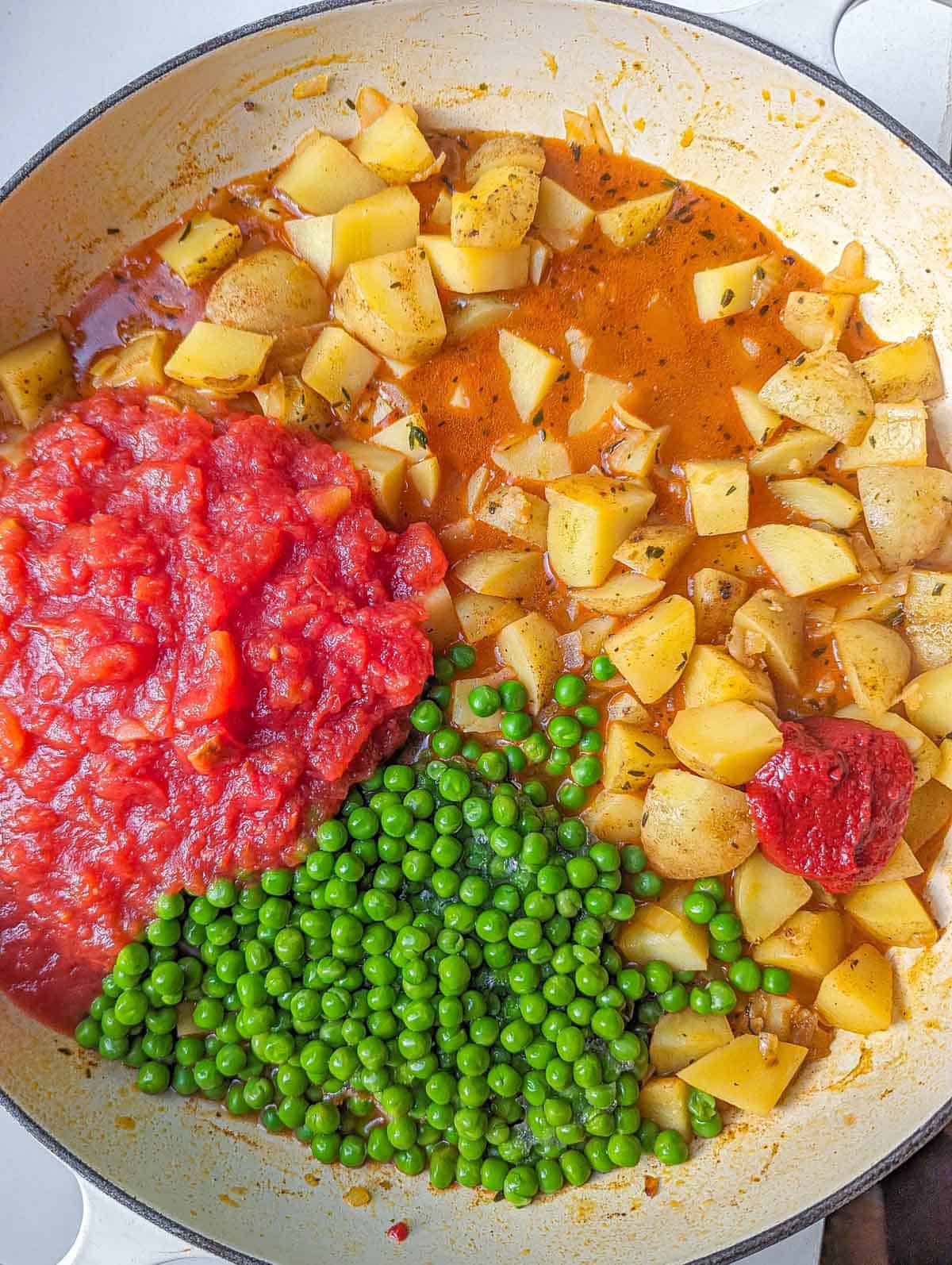 Add the crushed tomatoes, tomato paste, and peas. Mix to incorporate.
Once the peas and tomato are in the pot you simply add more water (approximately another 500 ml / 2 cups) and then add the ham hocks and fresh thyme.
I like to tie up fresh thyme with some kitchen string as shown below. This way, once the stew is cooked the leaves will have fallen off into the liquid and you can just remove the bundle of thyme twigs left over so your guests aren't fishing them out as they eat.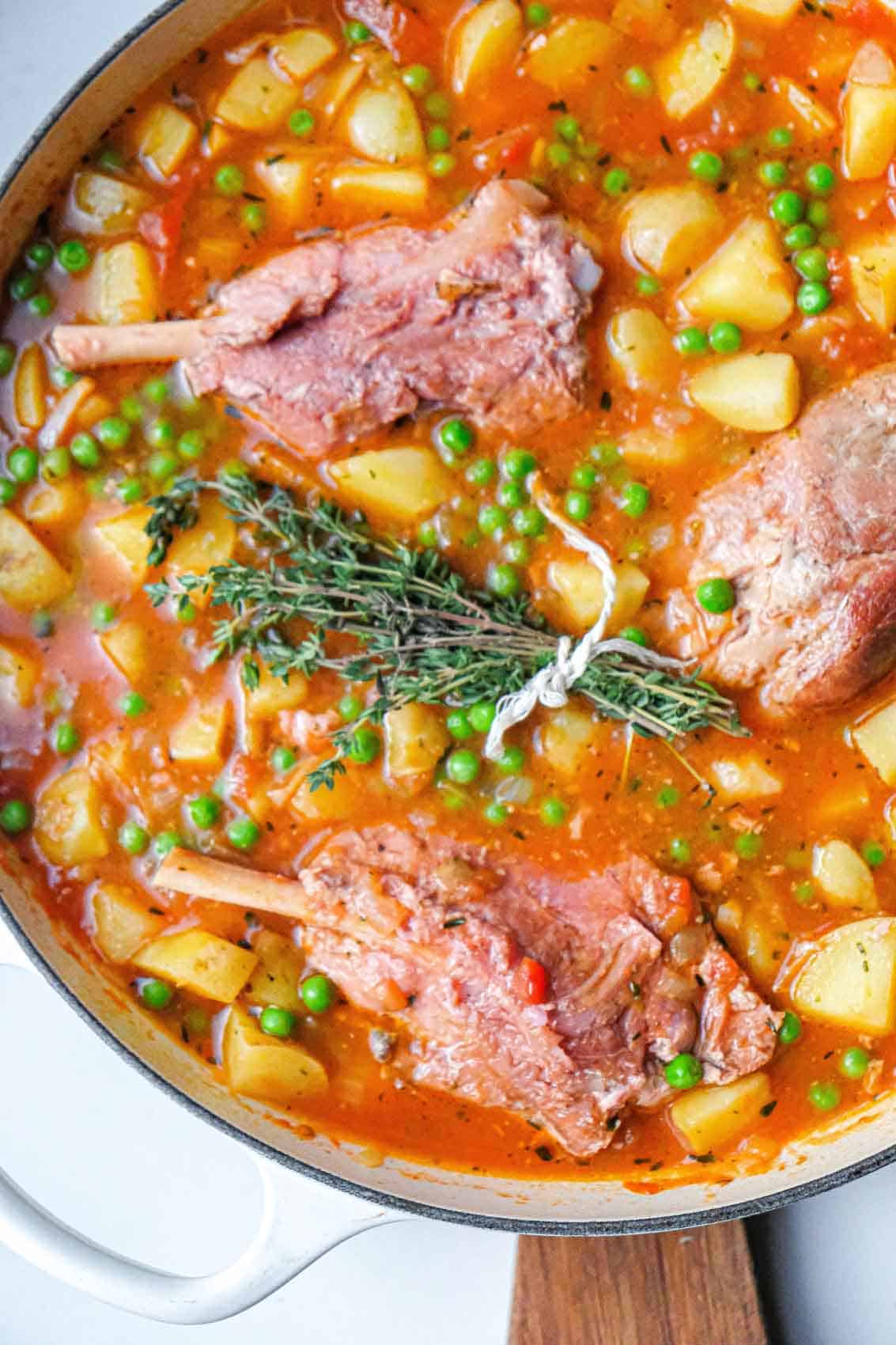 Substitutions & Variations
Potato and pea stew is a common staple meal in Romania. In Greece there's a similar dish called Arakas Latheros which shares the same core flavor profile of potatoes and peas cooked in tomato sauce with a lot of fresh dill.
Since the dish is so widespread, there are a ton of variations and a lot of substitutions that can be made to this recipe while still preserving the core flavor profile.
Different cuts of pork - instead of ham hocks you can use bacon (brown and drain it first so you don't get too much grease in the stew), or even finely diced ham (ideally smoked).
Chicken instead of pork - instead of pork you can substitute chicken. I would recommend a bone-in cut like drumsticks or thighs since these pieces will stay juicy and can be shredded into the stew after cooking. If using bone-in chicken then brown it before you do anything else and set it aside until you're ready to put it back in the pot. You can see a similar process in this recipe for chicken and leek soup. If you use chicken breast, then you'll need to dice it up into bite-sized pieces and lightly brown it, remove and set aside until ready to put it back in the stew when the ham hocks would normally go in.
Swap out the vegetables or add additional types - other vegetables that would be a good match in this stew are cut-up green beans, diced red pepper, diced carrots, or cauliflower florets cut into small pieces. You could also swap the potatoes for sweet potatoes (or use both sweet and white potatoes for variety).
Swap out the potatoes and peas for beans - see my recipe for slow cooked pork & beans with smoked ham hocks.
Equipment
A large non-stick stock pot with a lid
A large non-stick stock pot with a lid that holds at least 3 liters / 3.1 quarts. I used a 3.3 liter / 3.5 quart Le Creuset braiser to make this dish.
If you don't have a non-stick stock pot you can do the browning in a non-stick skillet and then put everything in a stock pot to simmer the stew.
Storage
This potato and pea stew can be stored in the fridge for up to 4 days. You can also freeze for up to 4 weeks.
The stew can be reheated either by using the microwave for 2-3 minutes or otherwise on the stovetop.
Tip: The potatoes will absorb more of the liquid as it sits in the fridge, which will make the stew thicker. If you want it thinner (more liquid) then stir in about a half cup of water for every 4 cups of soup and reheat.
Since you are adding more water, taste to make sure the seasoning is still to your liking.
Top tip: Start the potatoes in water to save time
This recipe calls for parboiling the diced up potatoes in water before adding the tomato paste and crushed tomatoes. This saves a lot of time because cooking potatoes in tomato sauce takes much longer than cooking them in water.
I learned this tip from my mother and have heard different theories about the cause (for example it being related to the viscosity or acidity of the tomatoes). I don't know what the cause is but in my experience it's very accurate.
Serving Suggestion
My favourite accompaniment to this hearty stew is a nice slice or two of a good quality bread. I've paired it with some sourdough here but you can also try some of my bread recipes below.
You can also pair this stew with polenta with a very hearty and traditional meal.
Pairing
Some bread recipes in case you want to make your own bread:
Related
Looking for other recipes like this? Try these:
Recipe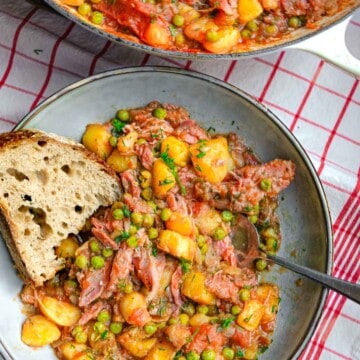 Potato Stew with Peas and Ham Hocks
This stew has a classic combination of comforting flavors. Smokey ham hocks and peas mix with hearty potatoes and fresh dill in a sweet tomato base.
Print
Pin
Rate
Ingredients
800

grams

potatoes

cubed

350

grams

smoked ham hocks

1.5

cups

green peas

400

grams

crushed tomatoes

approx. one small can or tetrapack

1

tablespoon

tomato paste

2

tablespoons

vegetable oil

0.5

cup

fresh dill

4

tablespoons

fresh parsley

3

tablespoons

fresh thyme

about 8-10 threads tied into a bundle

1.5

teaspoons

salt

1

tablespoon

smoked paprika

2

teaspoon

dried thyme

1

teaspoon

black pepper

0.5

teaspoon

white pepper

1

liter

water

or 1.5 liters / 6 cups
Instructions
Dice the onions finely and cut the potatoes into small cubes (2cm/1inch max across).

Sauté the onions and potatoes in the oil over medium-high heat for a few minutes until the onions are aromatic.

Add all the dry seasoning and mix to coat evenly.

Add 500 ml / 2 cups water to the pot and cover for 10 or so minutes over medium-high heat until the potatoes are fork tender.

Uncover and check if potatoes are fork tender. If not, cover and cook another 5 minutes.

Add the crushed tomatoes, tomato paste and peas. Mix until well combined. Add the meat and a bundle of fresh thyme on top. Push them gently down into the liquid.

Cover and cook in the oven at 200 C / 400 F for about 30 minutes or alternatively on the stovetop over medium-low heat for about 35 minutes.

Check half way through, stir and make sure there's still enough liquid (everything isn't clumping together or sticking to the pot). If not enough liquid, stir in another half cup or so to make a stew consistency again.

While the stew is cooking, wash and dice up the parsley and dill.

When the stew is finished shred the meat and remove any bones. Stir in the fresh parsley and dill, saving a few pinches for garnish if you like.
Nutrition
Calories:
399
kcal
|
Carbohydrates:
36
g
|
Protein:
23
g
|
Fat:
19
g
|
Saturated Fat:
6
g
|
Polyunsaturated Fat:
4
g
|
Monounsaturated Fat:
7
g
|
Trans Fat:
0.03
g
|
Cholesterol:
64
mg
|
Sodium:
860
mg
|
Potassium:
1185
mg
|
Fiber:
8
g
|
Sugar:
7
g
|
Vitamin A:
1746
IU
|
Vitamin C:
60
mg
|
Calcium:
103
mg
|
Iron:
5
mg