This warming chicken and leek soup with wild rice and mushrooms is the perfect dish to welcome the harvest season. The hearty, autumnal flavors work perfectly together and it's really simple to put together.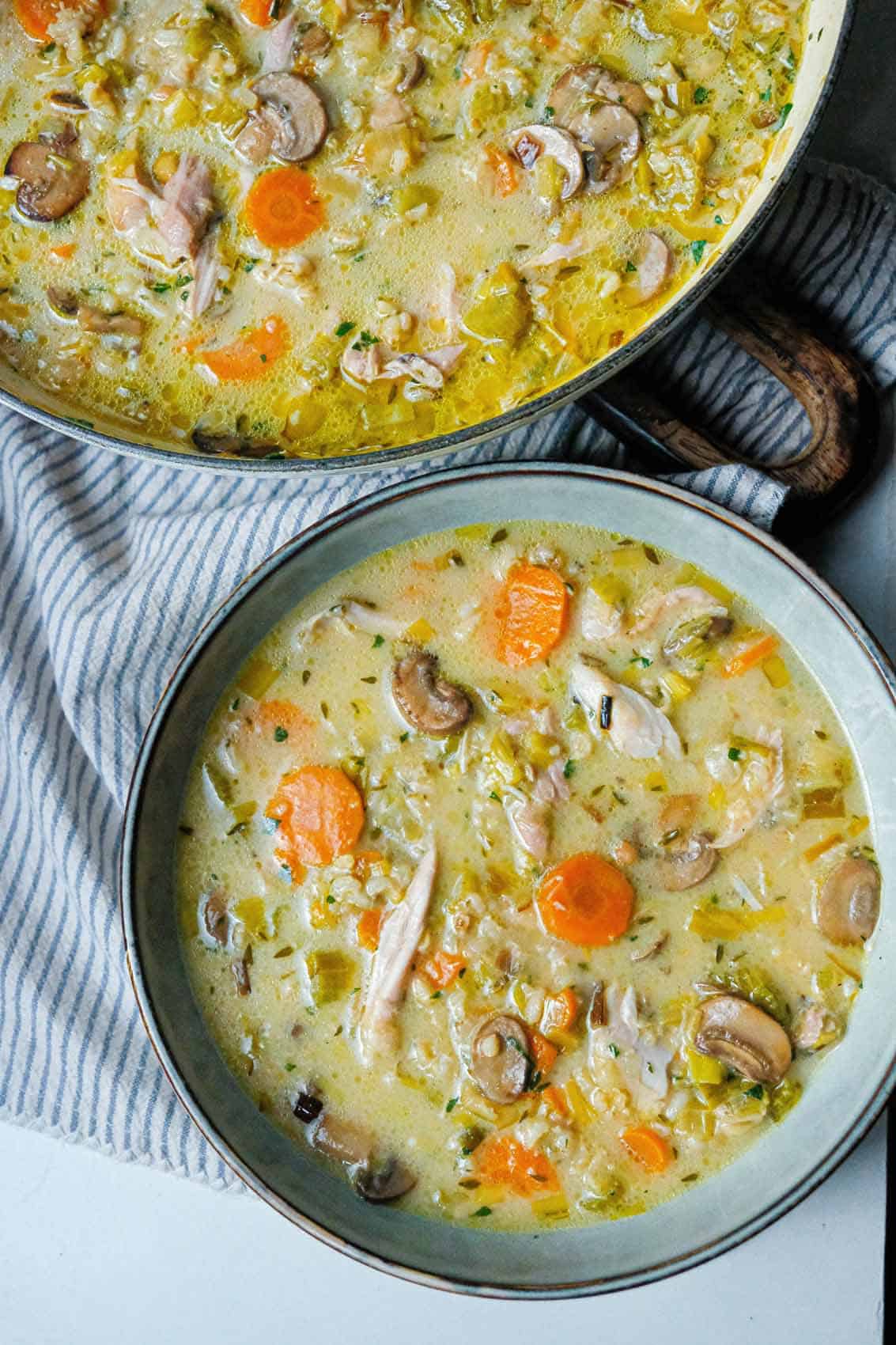 This soup brings together a perfect palette of autumnal flavors. Roast chicken with lightly caramelized leeks, browned mushrooms, a nutty brown rice blend and fresh thyme.
Lightly browning the chicken, mushrooms and leeks brings depth and hearty umami flavor. Once that step is done, the rest is very simple.
Jump to:
Ingredients
The ingredients, rough quantities and pot used for this recipe are shown in the photo below.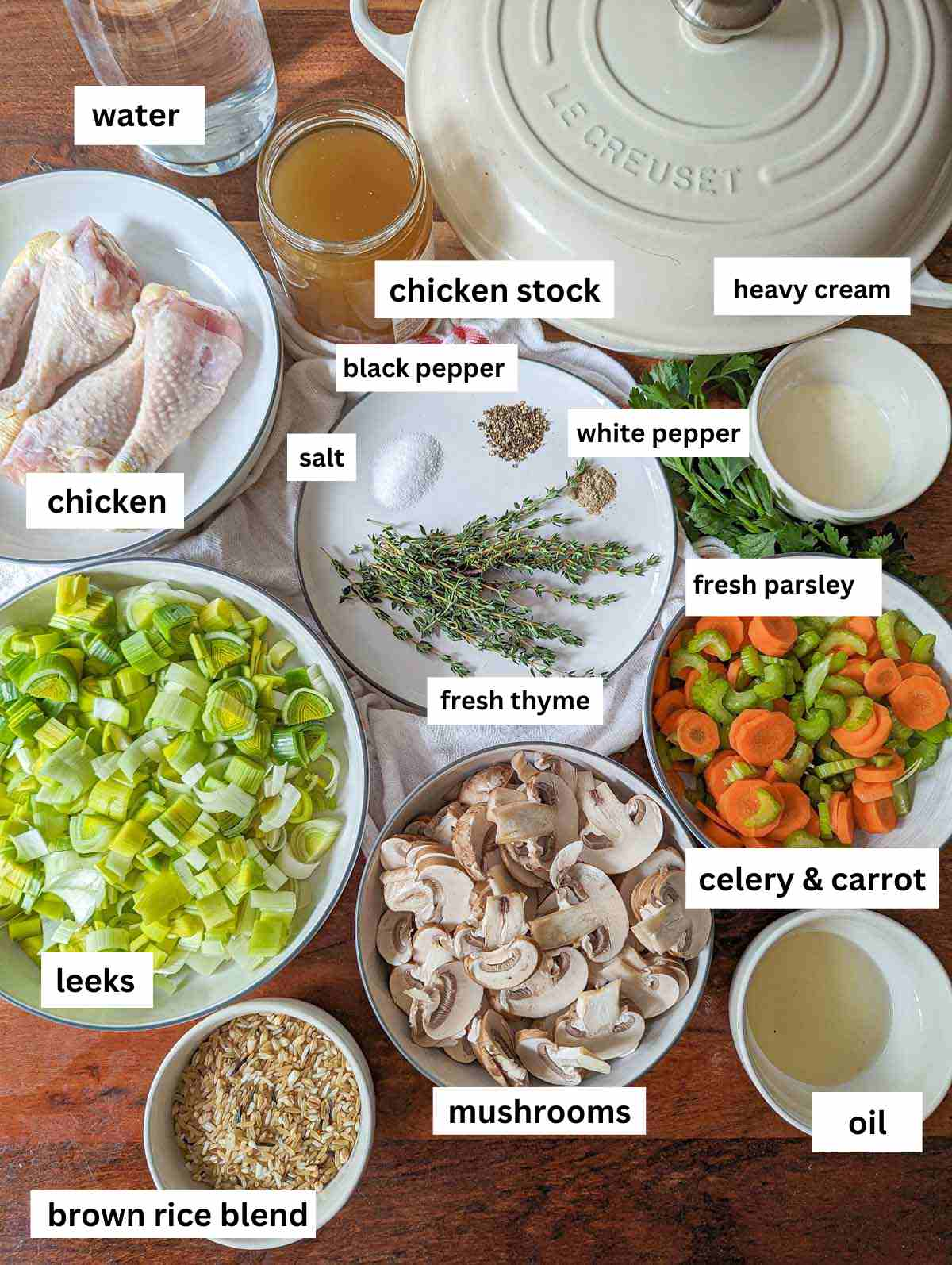 Chicken drumsticks: Drumsticks are an underrated cut for soups. The meat is juicy and the bone brings a lot of flavor to the stock. Plus, chicken drumsticks are super cost effective. This recipe is made with drumsticks with skin, as the extra fat brings more flavor. Once the soup is simmered, you can take the drumsticks out, fork the tender meat off the bone and put the meat back in the soup (you can also remove the skin at this point if you don't care for it).
Leeks: Leeks do the job of onions in this soup, bringing sweet and earthy notes.
Carrot and celery: Classic soup stock combination. Usually in combination with onion to mare mirepoix but in this case with leek.
Chestnut mushrooms: The chestnut mushrooms are browned to bring out their maximum umami flavor.
Brown rice mix: A brown rice mix that adds texture, bite and nuttiness.
Low sodium chicken stock: Chicken stock gives the soup a head-start with flavor development.
Oil: For browning the chicken, leeks and mushrooms.
Heavy cream: To add a little extra richness after cooking.
Fresh thyme: Adds an earthy, herbaceous note that's perfect for bringing out the earthy warmth of the other ingredients.
Black pepper and white pepper: Both peppers bring their own nuance. Black pepper is sharper and spicier while white pepper adds a musky quality that brings depth.
Please see the recipe card at the bottom of the post for quantities.
Instructions
The only part of this recipe that really involves hands-on preparation is browning the chicken, leeks and mushrooms.
These ingredients need to be browned one at a time so as not to crown the pan and steam things instead of browning. You will need quite a bit of oil to achieve this but it shouldn't be a whole lot more than indicated in the recipe card.
Brown the chicken on both sides and remove to a large plate or bowl. Then brown the leeks, stirring frequently so they don't burn. It can take about 10 minutes until they reduce in water content and brown. Likewise for the mushrooms.
Brown the chicken enough for it to get a bit of color on each side. Repeat the same with the mushrooms and leeks so they reduce in water content and begin to brown.
Add everything to the pot except the heavy cream.
Pour in the chicken stock and water.
If at any point the ingredients are sticking too much to the pan, then add a bit more oil. It also helps to use a non-stick skillet for browning, and then just put the browned ingredient directly into your soup pot.
Substitutions
There are a few substitutions you can make for this recipe:
Chicken thighs instead of drumsticks - You will get the same depth of flavor is you substitute bone-in thighs (either with skin or skinless). Chicken breast will not bring as much flavor but can also be used - skip the browning if you use breast so you avoid drying it out.
Mushrooms - Any other mushroom can be substituted.
Chicken bouillon - You can substitute a chicken or vegetable bouillon just be aware of salt content. If you use bouillon then add it at the start and taste after simmering to see if more salt is needed.
Wild rice, spelt or barley - Any other hardy grain with bite can replace the brown rice mix. Wild rice, spelt or barley are great choices. Wheat berries can work too but have to be presoaked and precooked.
Equipment
A large non-stick stock pot with a lid
A large non-stick stock pot with a lid that holds at least 3 liters / 3.1 quarts. I used a 3.3 liter / 3.5 quart Le Creuset braiser to make this dish.
If you don't have a non-stick stock pot you can do the browning in a non-stick skillet and then put everything in a stock pot to simmer the soup.
Storage
The soup will keep for 4-5 days in the fridge but depending on the brown rice mix you use, it could get a bit thicker. If it gets too thick for your liking, add cup of water and bring it back up to a boil for 2-3 minutes. Taste and adjust the seasoning if necessary.
Serving suggestion
This soup is great served with fresh crusty bread like a baguette or sourdough loaf.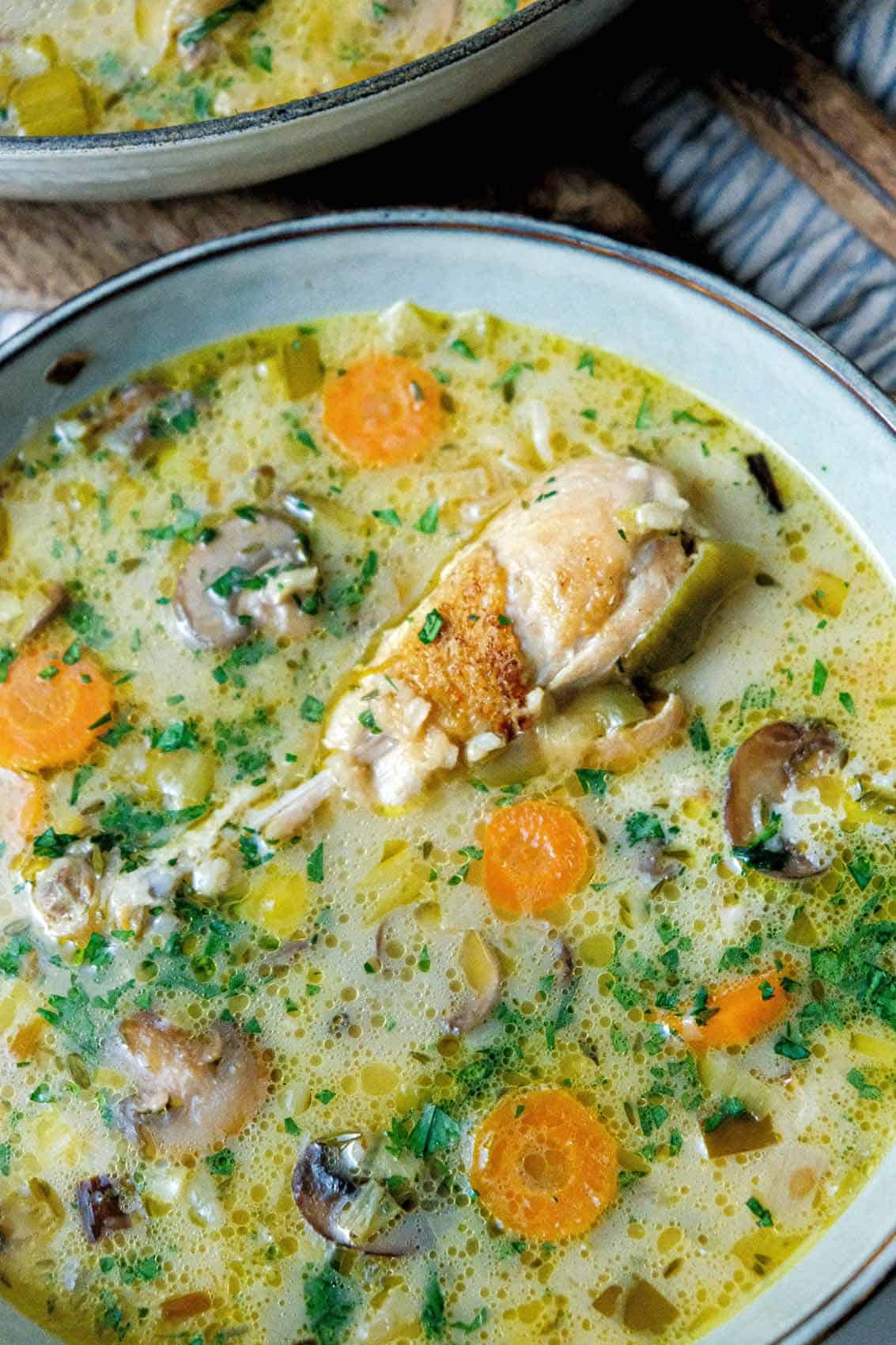 Pairing
These recipes may be nice additions to this soup:
Related
Looking for other soup and stew recipe inspiration? Try these:
Recipe
Equipment
large non-stick stock pot with a lid (at least 3 liters / 3.1 quarts)
Ingredients
4

chicken drumsticks

½

cup

wild rice

2

leeks

thinly sliced

2

carrots

cut into medallions

3

celery stalks

thinly sliced

250

grams

chestnut mushrooms

thinly sliced

500

ml

low sodium chicken broth

1.25

liters

water

6

tablespoons

vegetable oil

bunch

fresh thyme

3

tablespoons

fresh parsley

1

teaspoon

black pepper

½

teaspoon

white pepper

2

teaspoons

salt

or more to taste

3

tablespoons

heavy cream
Instructions
prepare the vegetables and herbs
Wash and thinly slice the leeks, mushrooms, carrots and celery.

Use a bit of kitchen twine to tie the thyme into a small bundle.
cook the soup
Add a tablespoon of oil to the pot and heat over medium-high.

Once hot, brown the drumsticks on both sides and set aside in another plate.

Add another tablespoon of oil and sauté the leeks, stirring often until they've reduced in volume and begin to brown. If they stick, stir more or add another tablespoon of oil. Then set them aside in another plate.

Add the mushrooms to the pot and sauté until they've reduced in volume and begin to brown. If they begin to stick, add more oil one tablespoon at a time.

Add all of the ingredients except the heavy cream to the pot. Bring just to a boil and then reduce heat to medium and cook covered for 40 minutes.

Allow to cool for a few minutes and stir in the heavy cream.

Remove the thyme bundle from the soup and discard (it should just be the stems by the end).

Taste to make sure the salt level is to your liking.*
Notes
It's hard to determine if the salt level is sufficient while the soup is still very hot. To avoid over-salting, take some soup out with a ladle into a small bowl and allow it to fully cool before tasting is the salt is sufficient. If more salt is needed, add a quarter of a teaspoon at a time, repeating the taste test each time.
Nutrition
Calories:
325
kcal
|
Carbohydrates:
20
g
|
Protein:
15
g
|
Fat:
22
g
|
Saturated Fat:
5
g
|
Polyunsaturated Fat:
9
g
|
Monounsaturated Fat:
6
g
|
Trans Fat:
0.1
g
|
Cholesterol:
55
mg
|
Sodium:
891
mg
|
Potassium:
574
mg
|
Fiber:
2
g
|
Sugar:
4
g
|
Vitamin A:
4207
IU
|
Vitamin C:
8
mg
|
Calcium:
60
mg
|
Iron:
2
mg