These hoisin meatballs are super saucy, sweet, spicy and oh-so-tender! Make it a meal by spooning the rich and flavorful sauce over some jasmine rice.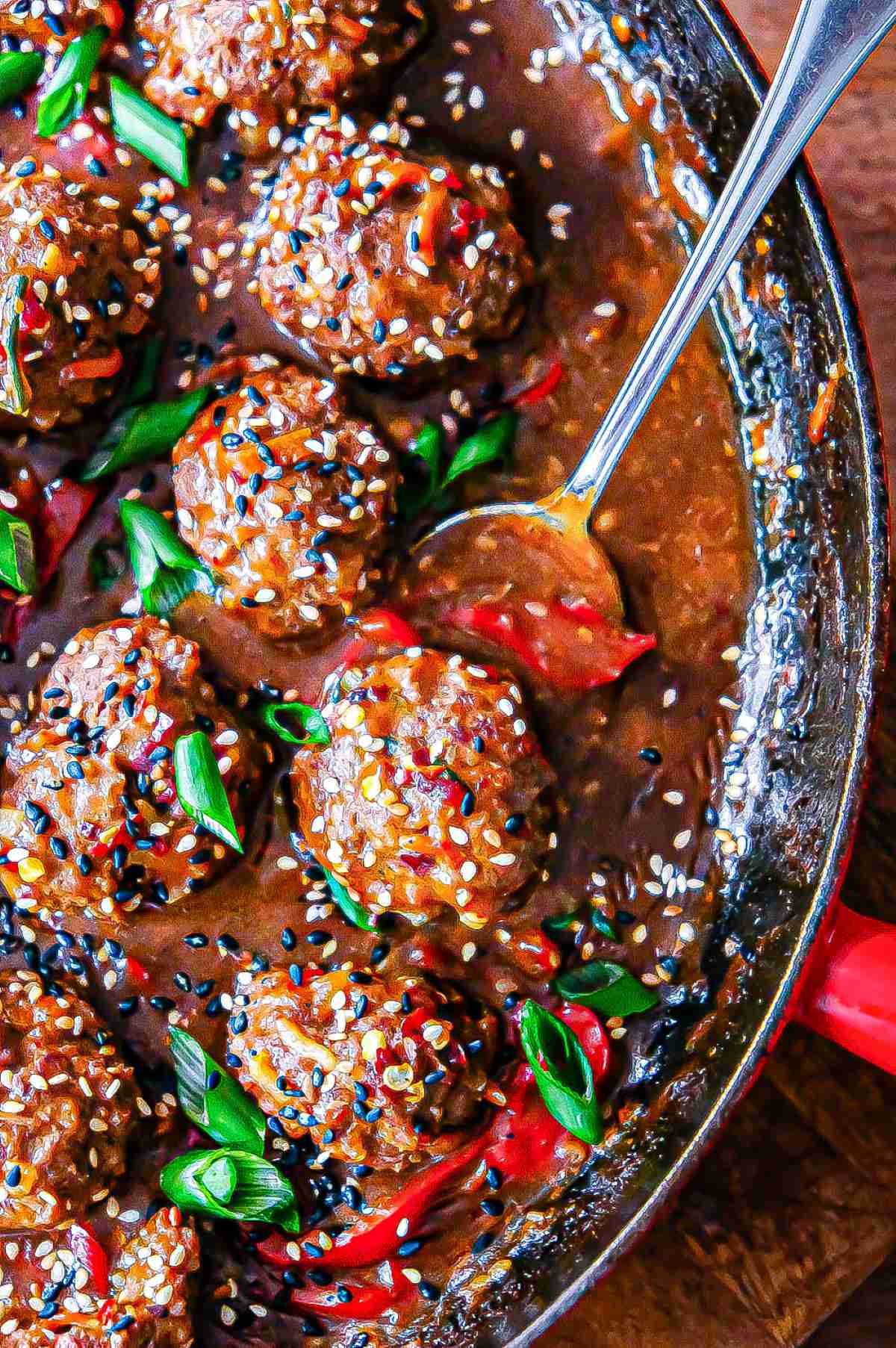 This is a great option for a weeknight meal because after mixing and shaping the meatballs, it's just a matter of whipping up a quick sauce and putting the meatballs in to simmer. You'll have dinner ready in an hour, tops.
These hoisin meatballs would pair really well with simple jasmine or sticky rice and a side dish like Sesame Sautéed Cabbage with Garlic, Ginger & Chili.
Meatballs are really versatile and you can also follow the same basic steps but make some minor ingredient adjustments to get Melt-in-Your-Mouth Coconut Curry Meatballs.
Jump to:
Ingredients for hoisin meatballs
Ground meat: Ground meat is the main ingredient of course. For this recipe I used ground beef and the nutritional information is for 80% lean ground beef (20 grams of fat per 100 grams). You can also substitute regular ground beef, ground pork, or even ground chicken/turkey but you will need to recalculate the nutrition facts yourself.
Breadcrumbs: Breadcrumbs act as a binder and introduce moisture into the mix, which prevents the meat from seizing up and getting hard. This is a crucial ingredient to get tender meatballs. Some people like to soak the bread/breadcrumbs in milk or other flavourful liquid before adding to the meatballs - my goal for this recipe was to make it fast so I didn't do that: I just added it all to the bowl. If you don't have breadcrumbs but have a few slices of bread lying around you can easily substitute - just soak a roughly equal amount of bread in the sauce, mush it up with your hands until it's a slurry and add it to the meat.
Aromatics: garlic cloves, fresh ginger, green onion and red chilies add flavor to the dish.
Red pepper: a whole red pepper sliced thinly adds vegetal sweetness and a pop of color to an otherwise brown affair. Other good options are carrots, broccoli or green beans - just add them at the same time as the red pepper.
Carrots: I love sneaking some vegetables into my meals. In this case the carrots bulk up the meatballs and add some natural sweetness and extra moisture. I very finely julienned the carrots in a food processor but if you don't have one another good option is to just grate the carrot.
Egg: The egg holds the whole shebang together. Don't skip the egg 😉
Sauce: This recipe combines soy sauce for salt, hoisin sauce for sweet, sriracha for spice. Hoisin sauce is a thick, sweet and umami condiment made from fermented soybean paste. Hoisin has a similar taste and appearance to teriyaki sauce. All these ingredients go into both the meatballs and the cooking liquid, which makes for a very flavourful dish. 
Cornstarch: The cornstarch acts as a thickener for the sauce. Cornstarch is a pantry staple in my kitchen because it's a silky smooth thickener for sauces and makes a nice and crunchy coating on fried chicken (among many other uses).  You could also substitute an equal amount of regular wheat flour if you don't have cornstarch.
Instructions for making the meatballs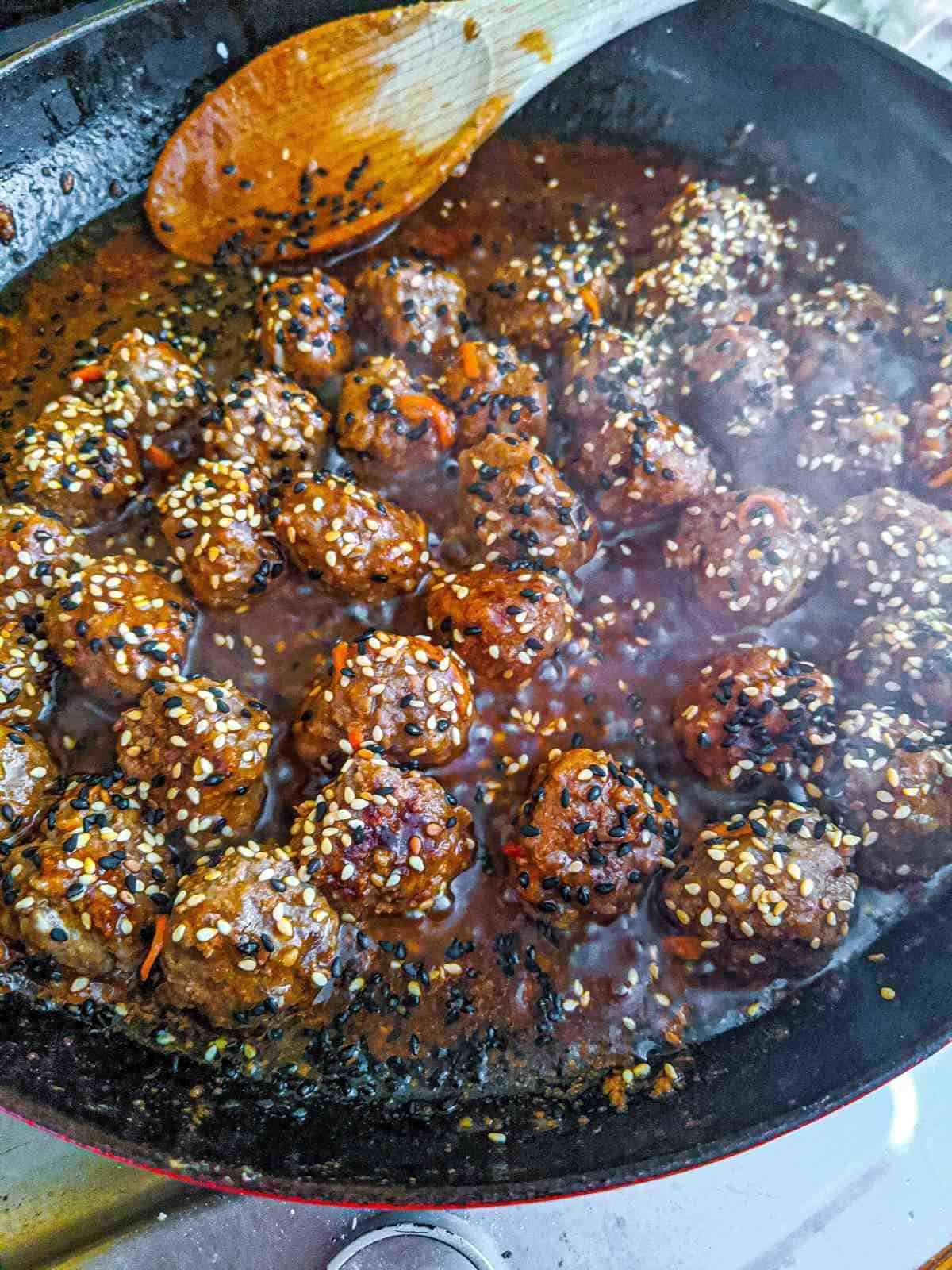 To make the meatballs you simply need to mix all the ingredients together and shape them into meatballs. You'll end up with around 25-30 roughly golf ball sized meatballs.
Once they're shaped you can either cook them immediately or freeze them for later. See the freezing instructions in the next section.
I love freezing meatballs and often double up on batches so I can have some waiting in the freezer when I need a quick meal.
Also works great with the meatballs in my Traditional Romanian Meatball Soup (Ciorba de Perisoare) and my Porcupine Meatballs in Tomato Sauce.
If you aren't freezing, then just whip up the sauce: saute the aromatics together, add the cornstarch, then the liquids. Allow the liquid to get very hot and then gently put the meatballs in. In about 20 minutes they're ready to eat.
Make ahead and freeze instructions
After mixing and shaping the meatballs they just need to be frozen.
The proper way to do this (provided you have a proper full-sized North American freezer) is to lay them out in one layer on a parchment lined sheet pan, place the whole sheet pan in the freezer until they're solid and then move them to a plastic container or zipper bag for more compact freezing.
I live in Europe and have a tiny Euro sized freezer so I don't have the luxury of freezing my meatballs in one layer. Maybe you also have a small freezer or limited freezer space (who really has the freezer space for a whole sheet pan anyway?! I certainly never did even when I lived in America!)
No matter - I just layered the meatballs in a plastic container between sheets of parchment paper as shown in the photo above, and put them in the freezer that way.
I find they are still pretty forgiving even when I'm impatient and jam them all into a bag (with moderate gentleness I guess).
The frozen meatballs will keep for at least a month - any longer and it depends on your freezer and whether ice crystals or freezer burn sets in.
When ready to eat you can simply put the meatballs in the sauce and cook from frozen. Add about 10 minutes cooking time to the simmering phase.
Recipe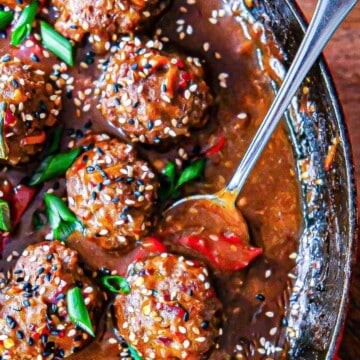 Super Saucy, Sweet & Spicy Hoisin Meatballs
These hoisin meatballs are super saucy, sweet, spicy and oh-so-tender! Make it a meal by spooning the rich and flavorful sauce over some jasmine rice.
Print
Pin
Rate
Ingredients
Meatballs
650

grams

ground beef*

4

tablespoons

breadcrumbs

⅓

cup

soy sauce

⅓

cup

water

3

tablespoons

hoisin sauce

3

tablespoons

sriracha

4

cloves

garlic

minced, pressed or mashed

1

tablespoon

fresh ginger

grated

1

red chili

thinly sliced

2

stalks

green onion

thinly sliced

1

carrot

small, grated

1

egg
Sweet & Spicy Hoisin Sauce
2

teaspoons

vegetable oil

3

cloves

garlic

minced, pressed or mashed

0.5

tablespoons

fresh ginger

grated

1

red chili

finely minced

1

red pepper

cored and sliced thinly

2

teaspoons

cornstarch

or substitute plain flour

¾

cup

hoisin sauce

⅔

cup

water

3

tablespoons

soy sauce

or more to taste

2

tablespoons

sriracha

or more to taste
Garnish
2

stalks

green onion

thinly sliced

2

teaspoons

black and white sesame seeds
Instructions
Mix and shape the meatballs
Combine all the ingredients together in a large bowl and mix with your hands until incorporated.

Use your hands or a scoop to shape them into roughly 25-30 golf ball sized balls.
Prepare the sauce
Heat the vegetable oil on medium-high heat in a large skillet.

Add the garlic, ginger and red chili. Sauté a minute or so until aromatic.

Sprinkle in the cornstarch and mix until it's absorbed and there are no more dry white spots.

Pour in the hoisin sauce, water, soy sauce and sriracha. Stir to make sure everything is incorporated and press out or whisk any lumps in the starch.

Increase heat to high and simmer until the sauce begins to steam (about a minute) and then reduce heat back to medium.
Cook the meatballs
Gently drop the meatballs into the sauce. Let simmer a minute to set and then gently rotate so they are fully coated in sauce.

Cover and reduce heat to medium then simmer the meatballs for 20 minutes.

Taste the sauce and add any additions you think are necessary. More spicy sriracha or salty soy sauce for example. When ready to serve top the meatballs with more sesame seeds and green onion. Serve hot.
Notes
* The nutritional information in this recipe is for 80% lean ground beef (i.e. ground beef with 20 grams fat per 100 grams).
Nutrition
Calories:
345
kcal
|
Carbohydrates:
23
g
|
Protein:
19
g
|
Fat:
19
g
|
Saturated Fat:
7
g
|
Polyunsaturated Fat:
2
g
|
Monounsaturated Fat:
8
g
|
Trans Fat:
1
g
|
Cholesterol:
79
mg
|
Sodium:
1755
mg
|
Potassium:
446
mg
|
Fiber:
2
g
|
Sugar:
11
g
|
Vitamin A:
1951
IU
|
Vitamin C:
44
mg
|
Calcium:
56
mg
|
Iron:
3
mg