Frangipane is an almond flavored custard made from a 1:1 ratio of almond cream and pastry cream. It's sweet, creamy, rich and even when baked stays very soft which gives a very luxurious bite.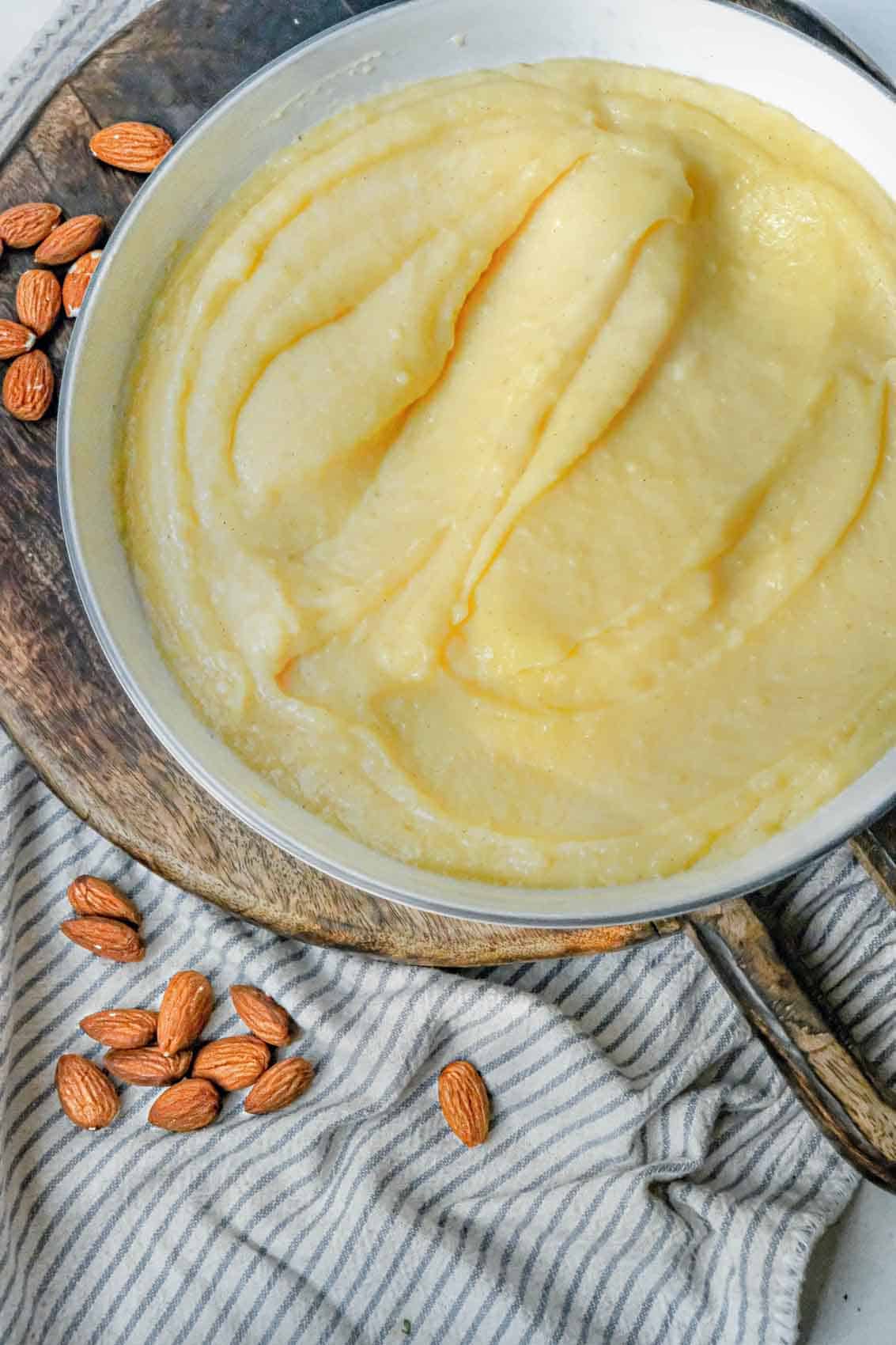 Frangipane is used in many different culinary traditions around the world. For example, frangipane is used in the classic Northern French Epiphany dessert galette de rois, the British bakewell tart, and Dutch gevulde koekjes (almond cookies stuffed with almond cream).
Jump to:
Ingredients
The ingredients for frangipane are simple, whole-food ingredients that are usually easy to find and many of us already have in our pantry and fridge.
Ingredients for almond cream
Almond meal
Almond extract
Butter
White sugar
Whole egg
Salt
ALMOND MEAL VS ALMOND FLOUR
Finely ground almond meal or almond flour are both okay to use. Almond meal is made from whole almonds whereas almond flour is made from blanched and peeled almonds.
Almond flour will tend to have a finer texture and lighter color. Texture and color can vary widely between different manufacturers. The same goes for almond meal - it can be either finely ground and light or coarse and dark.
I used very finely ground almond meal for this recipe. You can see in the photo above the texture and color.
Grittier almond meal is also okay to use. You will still end up with a nice and tasty cream but it might be a bit darker or gritter than in the photos here.
Another option is to make your own almond meal by using a food processor to grind the equivalent weight of almonds until just fine (but don't go too far or you will end up with almond butter).
ALMOND ESSENCE VS ALMOND EXTRACT
Pure almond extract is a natural food flavoring that's made by extracting bitter almond oil from almonds or the pits of other stone fruits.
The bitter almond oil is combined with alcohol and water to create an extract that's been used in baking since the 16th century.
Almond essence is a synthetic food flavoring made using artificial ingredients which means it's usually much cheaper than almond extract.
I use Nielsen-Massey Pure Almond Extract for my almond flavoring needs. It's a really high quality product with a nice flavor and one bottle will probably last a lifetime with how sparingly almond flavor is usually used.
Whatever almond extract or essence you use, keep in mind that you really only need a very small amount or it can easily become overwhelming or bitter to the point of being inedible.
Ingredients for pastry cream
Egg yolks
White sugar
Vanilla bean - I use Nielsen Massey Madagascar Vanilla Bean Paste. All the benefit of vanilla bean without the work of scraping.
Cornstarch - not yellowish and grainy corn flour or cornmeal , but pure white and fluffy cornstarch.
Whole milk
Please see recipe card for exact quantities for the almond cream and pastry cream ingredients.
Instructions for making frangipane
There are a lot of ways to make frangipane. This frangipane recipe is very straightforward with simple steps and ingredients.
The recipe is adapted from recipes for almond cream and pastry cream in the book Patisserie: Master the Art of French Pastry. This is a great recipe book with many foundational recipes that are good jumping off points for making many sweet baked goods.
There are three basic steps:
Step 1: Make almond cream;
Step 2: Make pastry cream;
Step 3: Mix them together!
That's it.
Step 1: How to make almond cream
The almond cream is the simpler of the two creams in this recipe. You just have to mix all the ingredients together.
Keep in mind the butter should be room temperature (i.e. very soft)
If your almond meal or sugar are particularly lumpy or hard, run them through a sieve to break up the lumps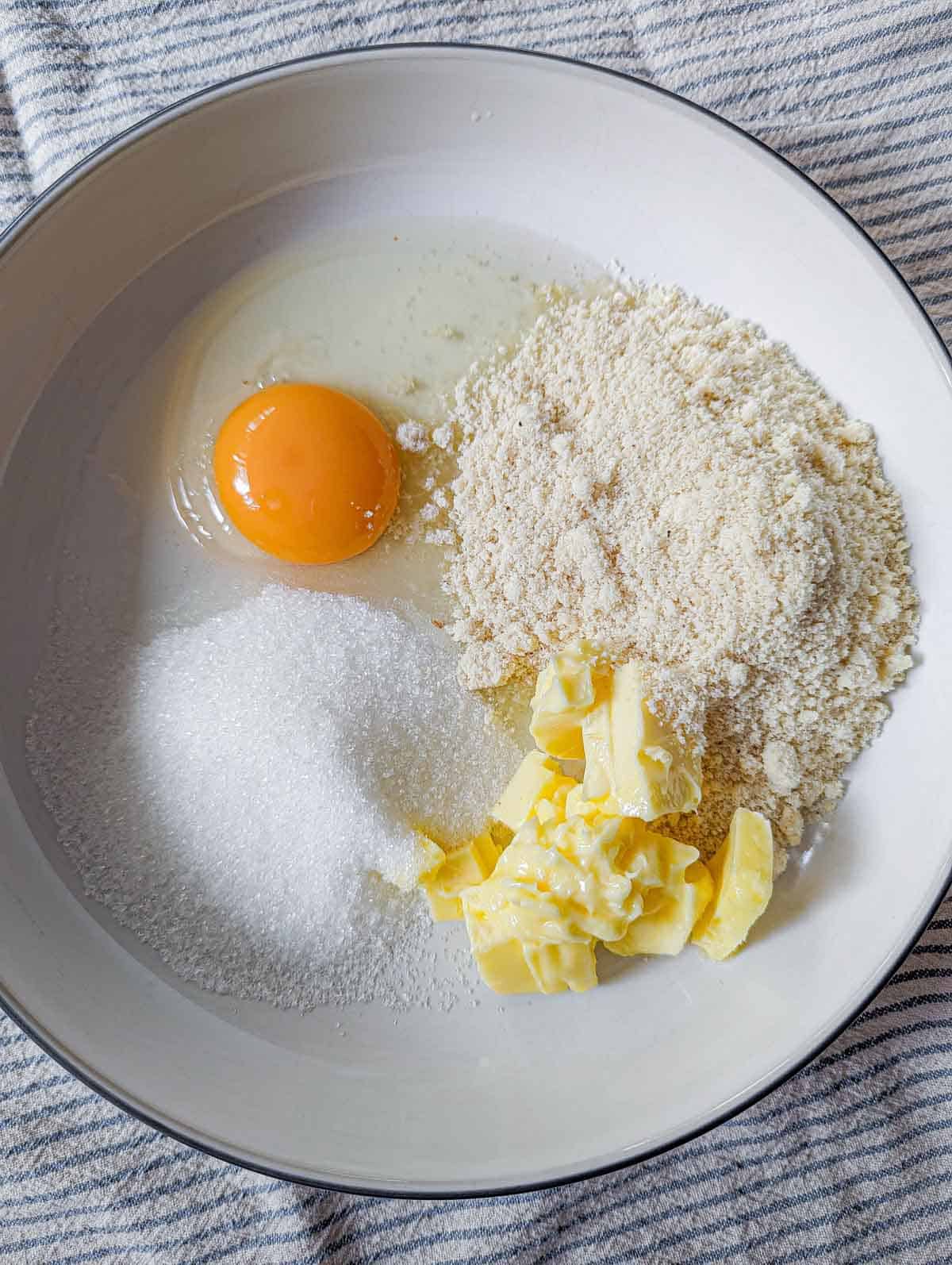 Combine the almond meal, whole egg, softened butter, sugar, almond extract ingredients in a bowl.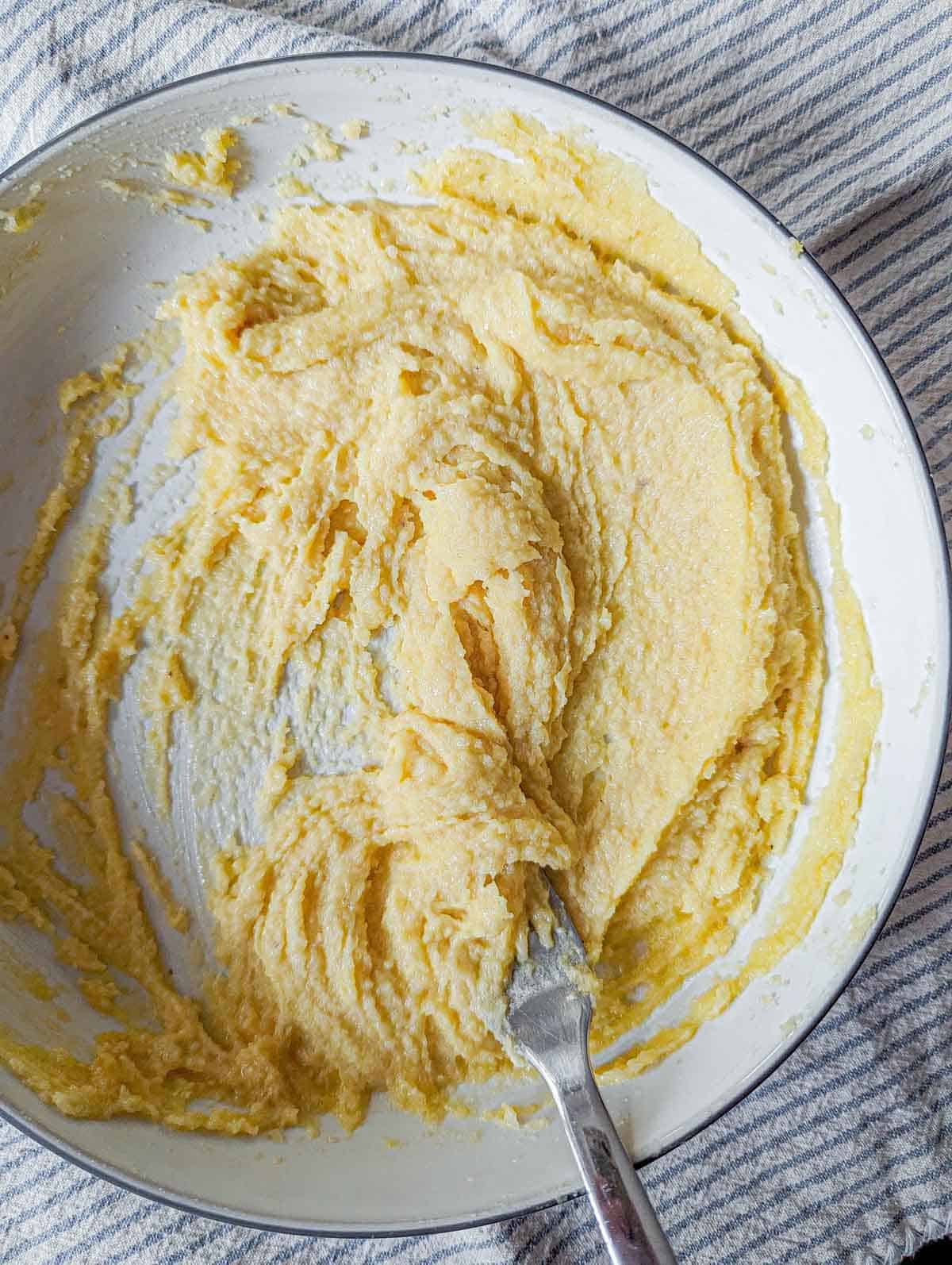 Mix the ingredients together until the cream is smooth and homogenous.
Hint: Almond cream is also a standalone cream for desserts. For example, combine it with fruit in a pie shell to make a nice almond fruit tart like this raspberry almond tart.
Step 2: How to make pastry cream
The pastry cream is the more challenging of the two creams in this recipe but not by a lot. Plus, the effort is well worth it.
There's nothing like homemade pastry cream. The taste is magnitudes better than anything premade and truly incomparable.
Once you've made it once you'll taste the difference and also might be surprised how simple it is to make something sooo good.
Personally I can't make pastry cream without eating a few spoonfuls right out of the pot. It's hard to stop myself sometimes.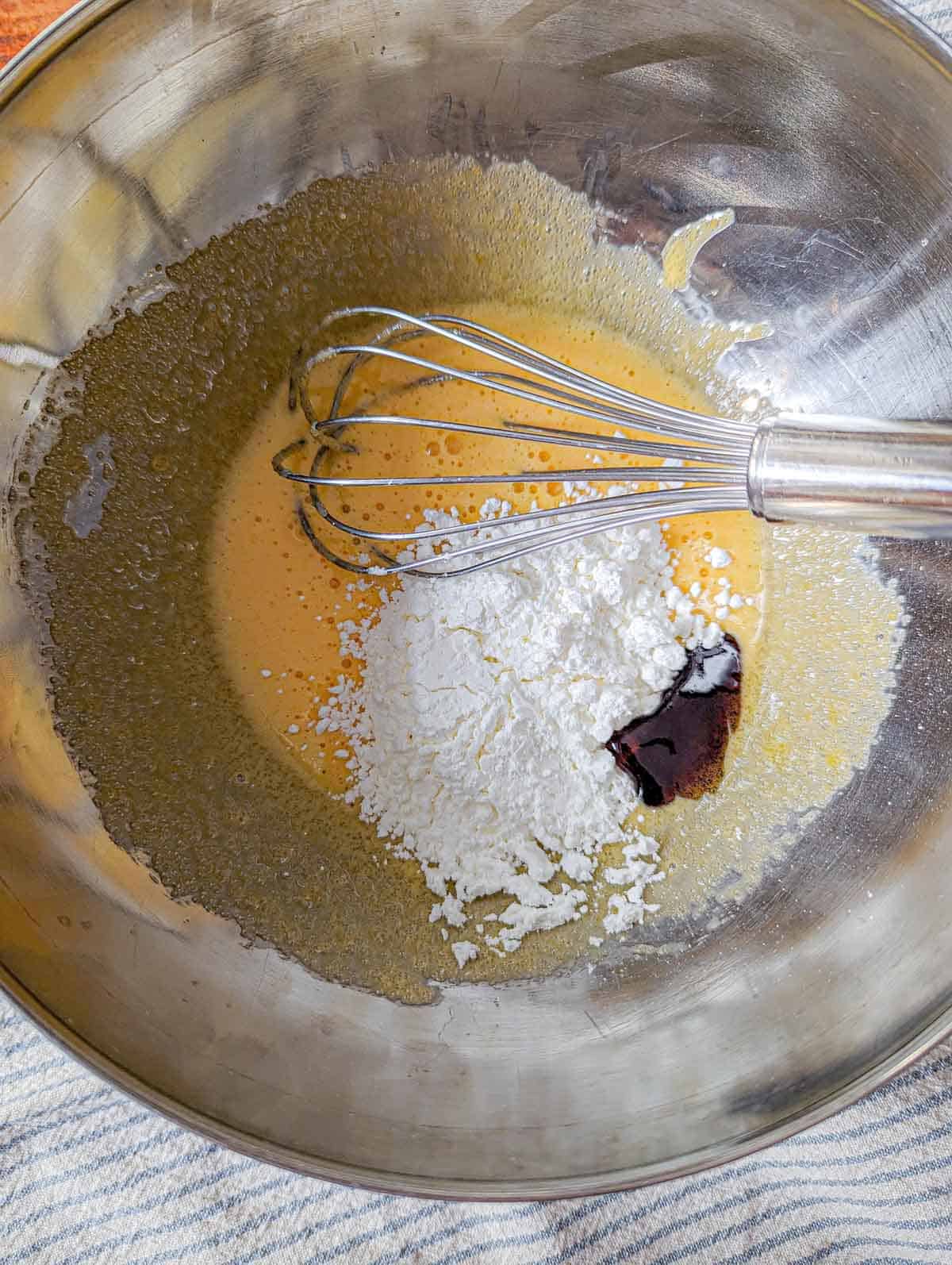 Whisk the egg yolks and sugar in a bowl until they lighten in color. Then add the vanilla bean and cornstarch, whip again until homogenous.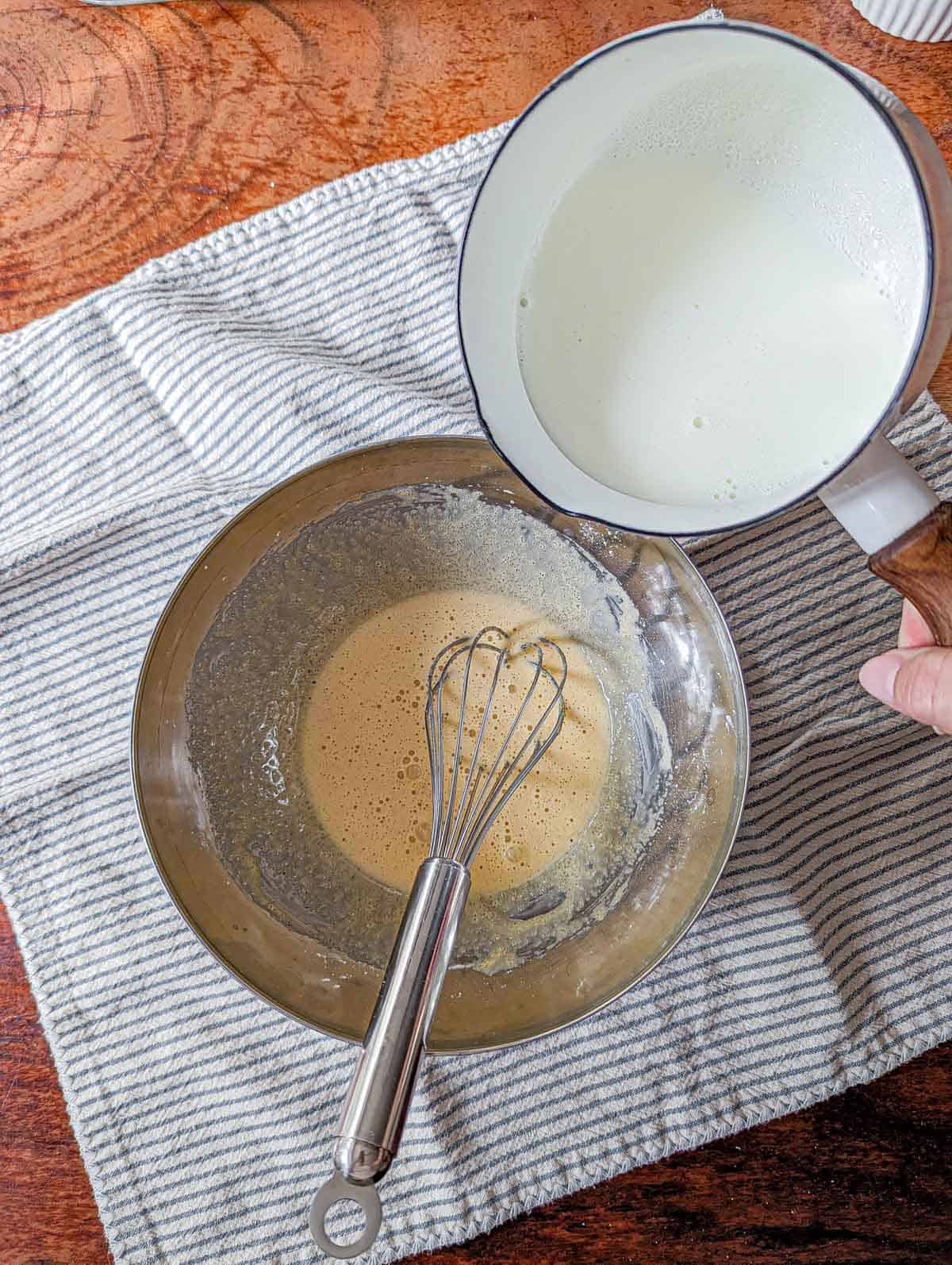 Slowly pour the milk over the egg and sugar mixture continuously whisking as you do.
After all the hot milk is added to the bowl, pour the contents back into the pot. Put over medium heat and whisk continuously until the mixture thickens (3-5 minutes)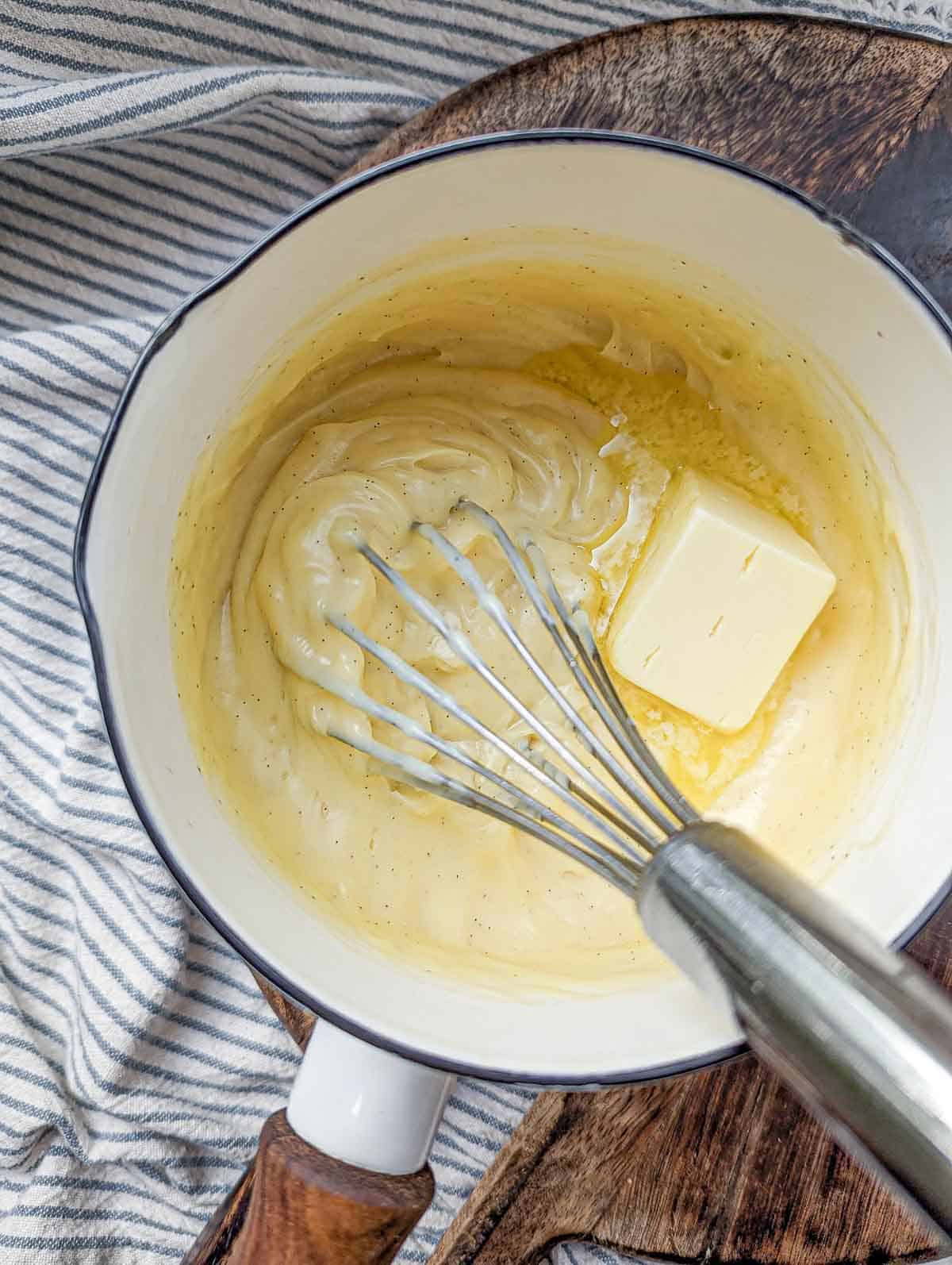 Remove from heat and mix in the butter until incorporated.
Hint: Even if not mixed into frangipane, pastry cream is a standalone dessert ingredient. It's used to fill eclairs, cream puffs, fruit tarts, cream pies, doughnuts, trifles, cream horns, mille-feuille and probably more!
Step 3: Mix almond cream and pastry cream to make frangipane
Once you have both the creams made, you simply mix them together until fully combined. The mixture will be smooth and light, slightly yellow in color and a little bit grainy from the almond meal.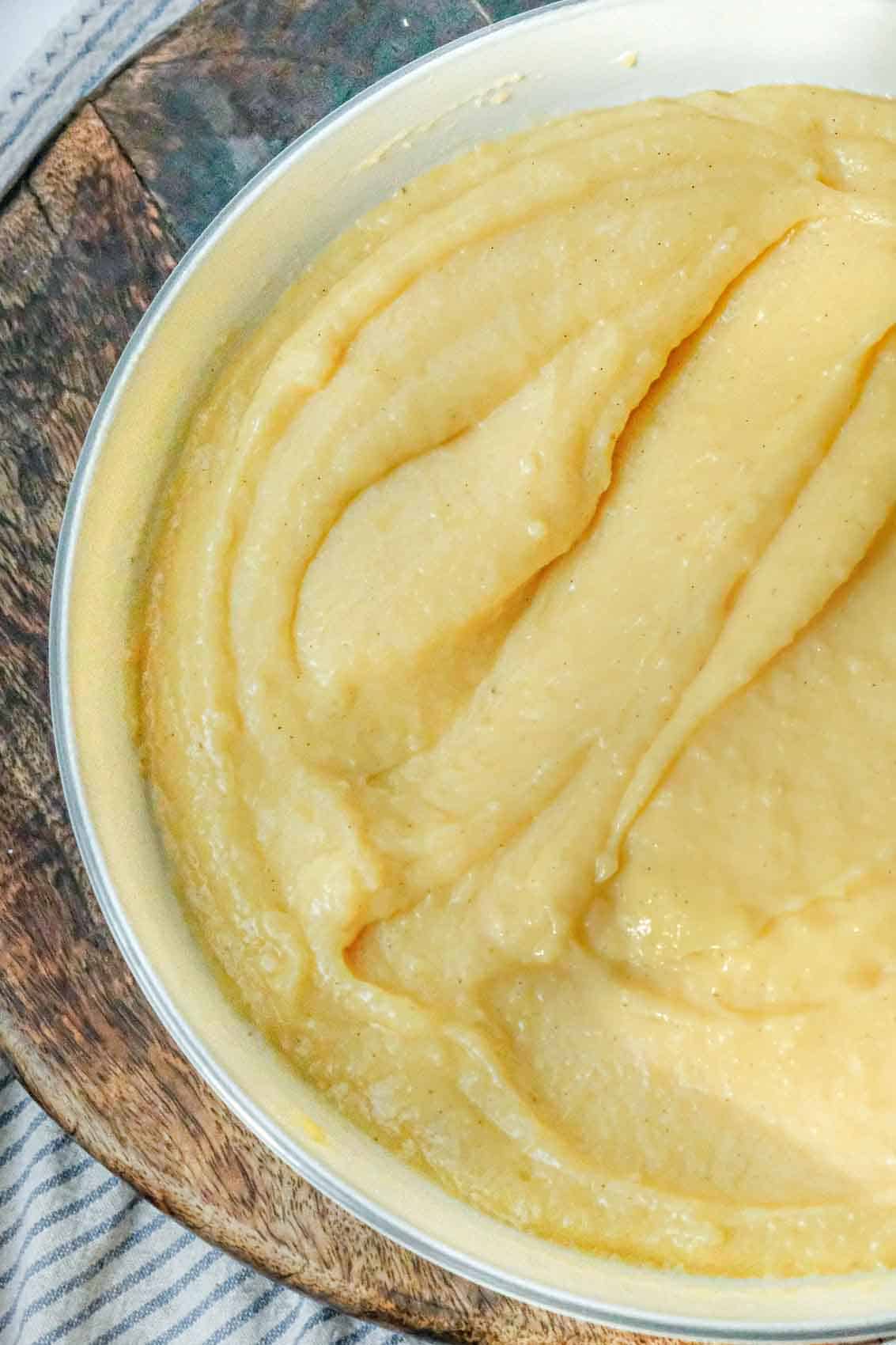 Substitutions
While the recipe for frangipane is very simple, there's a lot of baking chemistry happening with the ingredients. The eggs and milk create an emulsification which is given more stability by the cornstarch.
Making significant substitutions can alter that precise emulsification process and you could end up with a lumpy or too-thin cream. So if you do want to make any substitutions, do some research to make sure it will work.
Milk - you can substitute skimmed milk for the whole milk tough of course this may alter the taste.
Vanilla bean - this recipe calls for vanilla bean paste but you can easily substitute vanilla extract or a whole vanilla bean. If using a vanilla bean, slice it and scrape it then soak it in the milk while the milk heats up. Remove it before pouring the milk over the egg/sugar mixture.
Equipment
You don't need any special equipment but a small to medium sized whisk is really essential and a small saucepan with a pouring spout makes things easier.
Small to medium sized whisk
A whisk is pretty essential for making the pastry cream. It will help make the mixture very smooth. If you use a fork or spoon you could end up with a lot of lumps.
Small saucepan with pouring spout
A small saucepan with a pouring spout will make the job much easier. This recipe only calls for 250ml (about a cup) of milk, so it's not a very large volume of liquid. A large pot will spread out the liquid too much.
Any small saucepan will do. I used a Dansk Kobenstyle White Mini Saucepan which has a capacity of about 450=500ml (about 2 cups).
Storage & Make Ahead
You can make almond cream, pastry cream, and francipane ahead and then keep them in the fridge or freezer for later use.
The almond cream and pastry cream can be stored separately or together. The key is the reduce air contact as much as possible.
You can store the cream(s) in one of the following ways:
Put the cream(s) in a tupperware container and place a layer of plastic wrap over it, gently pressing it down so it fully covers the surface area of the cream. Then put the lid on and refrigerate or freeze;
Put the cream(s) in a zipper bag and store in the fridge or freezer.
Pastry cream will keep in the fridge for 4 days or in the freezer for 4-6 weeks.
The almond cream has raw egg in and goes into the frangipane without cooking so both almond cream and frangipane should be used quickly or frozen. They can be kept in the fridge for a day or two at most or freeze for 4-6 weeks.
Top tip
Take out and measure all the ingredients first. Having the ingredients ready to go will make the process feel much simpler than taking things out and measuring as you go!
FAQ
What is frangipane used for?
Usually as a filling for tarts, pastries, cookies and even cakes. You could also get creative and use it in less common preparations like cinnamon rolls (but frangipane rolls).
What flavors go well with frangipane?
Good flavor combinations for frangipane include fruit, especially apples and pears but also berries, stone fruit, quince and even figs. Flavorings like orange or orange blossom water and rosewater are nice. You can also have frangipane with chocolate or just on it's own in a tart or cookie.
What's the difference between frangipane and almond cream?
Almond cream is just almond meal, butter, sugar and egg whereas frangipane has all those ingredients as well as pastry cream. Some cooks use the terms interchangeably and that's usually okay. They can be used in a lot of the same recipes and give similar results and flavor. The main difference is that frangipane is lighter and says pretty wet when cooked. Almond cream firms up when cooked and has a denser texture.
Is frangipane the same as marzipan?
No, they are different. Marzipan is closer to almond cream but still quite different. Marzipan is a very firm paste made from almond meal or flour, sugar and sometimes egg whites and flavorings like almond extract/essence or rosewater.
Related
Looking for some recipe inspiration? Try these:
Recipe
Classic French Frangipane
Frangipane is a classic French almond flavored custard made from a 1:1 ratio of almond cream and pastry cream. It makes a delicious filling for pies, tarts and cookies, often in combination with fruit.
Print
Pin
Rate
Equipment
small saucepan with pouring spout

whisk
Ingredients
almond cream
50

grams

almond meal

50

grams

white sugar

50

grams

unsalted butter

1

egg

½

teaspoon

salt

¼

teaspoon

almond extract*
pastry cream
50

grams

egg yolk

about 3 yolks

60

grams

white sugar

25

grams

cornstarch

¾

teaspoon

vanilla bean paste

or 1 vanilla bean

250

ml

whole milk

25

grams

butter
Instructions
almond cream
Make sure the butter is softened to room temperature.

Mix all the ingredients together in a bowl until homogenous.
pastry cream
Heat the milk over medium heat in a small saucepan until it's steaming, but make sure it doesn't bubble over or burn. **

In a bowl, whisk together the egg and sugar until blanched (it will turn white as air is incorporated)

Add the cornstarch and vanilla bean paste (if using) and again whisk together until homogenous.

When the milk is hot, slowly drizzle it over the egg and sugar mixture while whisking the whole time.

Once all the milk is in the bowl, pour all the contents back into the saucepan.

Heat over medium heat while whisking the whole time until the mixture thickens (usually 2-3 minutes but could be more). Nothing will happen, and then it will thicken very quickly.

Take off heat and mix in the butter.

Allow the pastry cream to cool for a few minutes and then combine the almond cream and pastry cream.
Notes
** Be very careful not to use too much almond extract or it can easily become overpowering/bitter.
*

If using a whole vanilla bean, scrape the contents and add the pod to the milk before heating the milk. Remove the pod before pouring the milk over the egg and sugar mixture.
Nutrition
Calories:
496
kcal
|
Carbohydrates:
46
g
|
Protein:
10
g
|
Fat:
32
g
|
Saturated Fat:
15
g
|
Polyunsaturated Fat:
2
g
|
Monounsaturated Fat:
7
g
|
Trans Fat:
1
g
|
Cholesterol:
256
mg
|
Sodium:
433
mg
|
Potassium:
150
mg
|
Fiber:
2
g
|
Sugar:
36
g
|
Vitamin A:
929
IU
|
Calcium:
152
mg
|
Iron:
1
mg