A sweet potato shakshuka spiced with the homemade Ethiopian berbere spice blend that I made last weekend for Ethiopian lasagna. The sweet and spice flavours play nicely with tangy tomatoes and fresh cracked eggs. It's complemented by a side of homemade garlic butter naan to scoop it all up with.
It's a strange and surreal world we find ourselves in right now and it's only getting stranger by the day. Both Bogdan and I were working from home this week, doing our part to stem the spread of the virus.
I've spent the better part of the week set up in the kitchen, the dining table rotating between its dual roles as home office and home.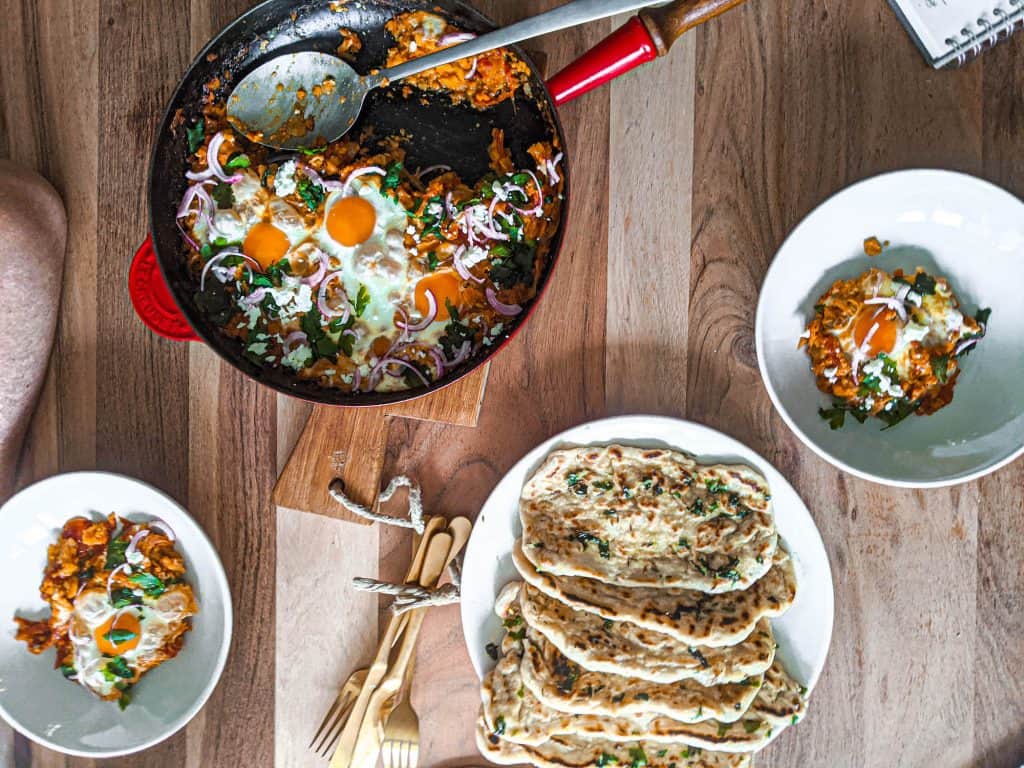 One of the positive aspects of this widespread quarantine is that many people are spending more time with their families and are spending more time cooking.
Bogdan and I have been able to eat more meals together, sometimes green smoothies for a quick breakfast and other times, more indulgent meals like this one.
Using what we have is a principle I've been applying to my cooking for some time, for example like this recipe for Romanian green pea stew made with fridge and pantry odds and ends. But making do has taken on a new meaning during these trying times.
We had some sweet potatoes that were sitting in the pantry for a very long time so I figured, in the spirit of quarantine cooking, we should find a good use for them.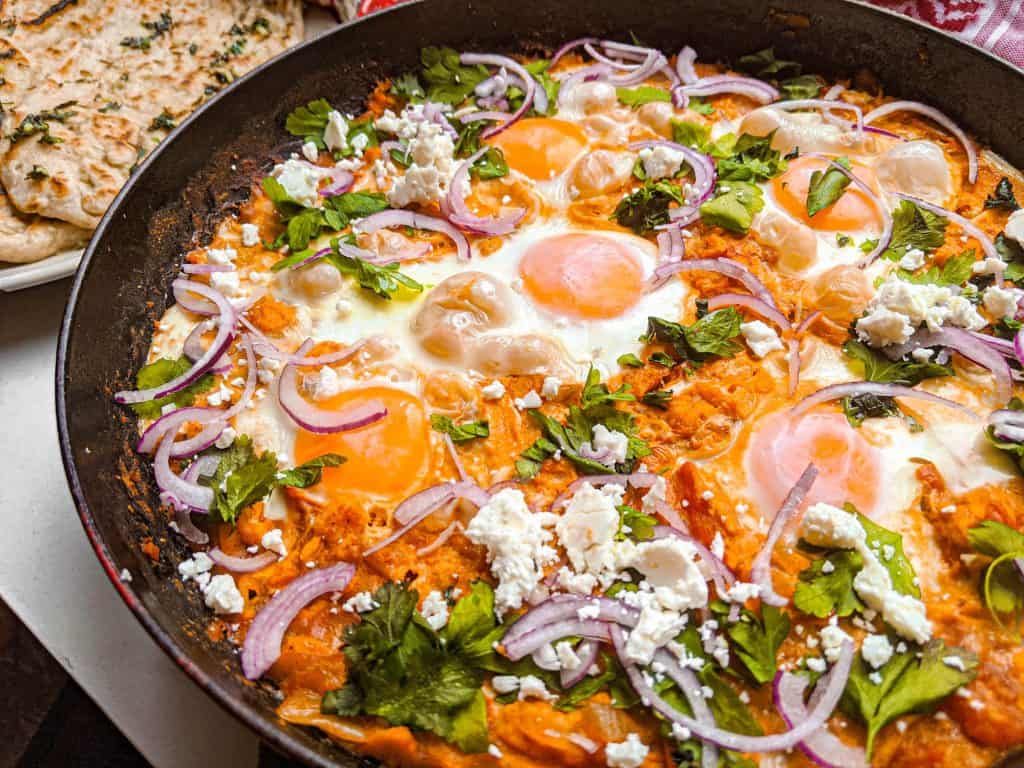 Add some spices, an onion, tomatoes, and eggs and it was a perfect meal.
Garlic Butter Naan with Cumin Seeds & Fresh Herbs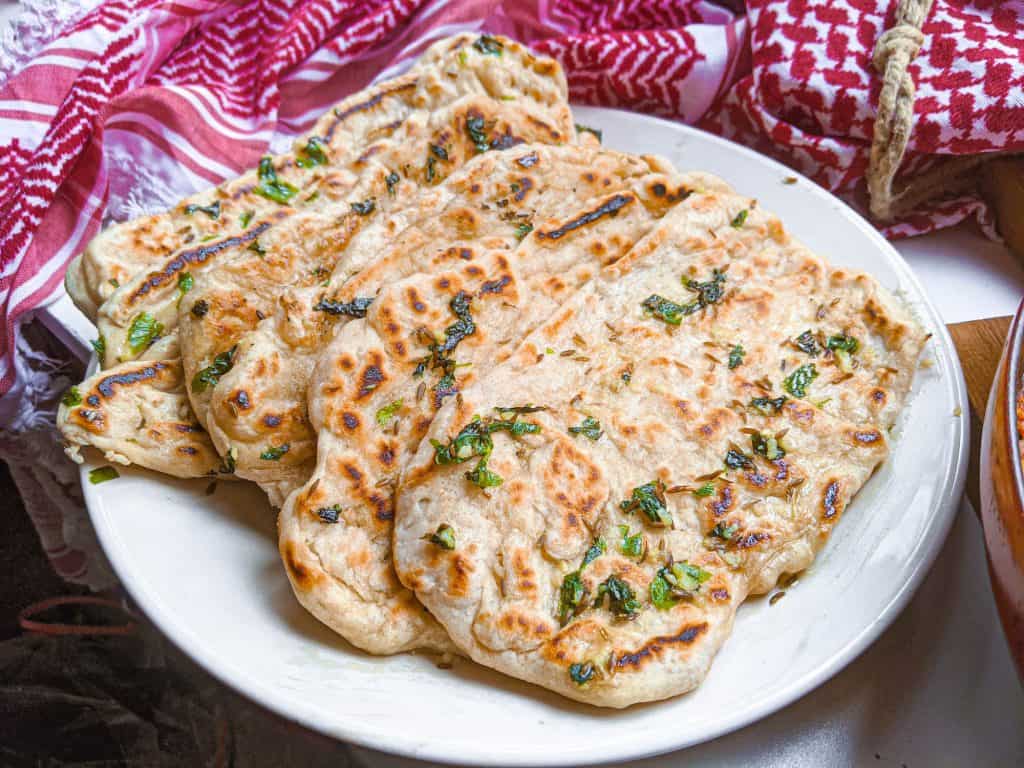 For the naan, I used my homemade garlic naan recipe but instead of chilli flakes I used cumin seeds.
The dough is simple to make. It's just 4 cups flour, 2 cups water, 2 teaspoons of instant yeast and 1 teaspoon of salt. I mixed it all up in a bowl until just incorporated (as in the first picture above) and then moved onto the shakshuka. Once the sweet potatoes were simmering, I started back on the naan - shaping it, frying it and topping it.
For the toppings I used 3 tablespoons of melted butter, 1 crushed garlic clove, 2 teaspoons of cumin, and 1 tablespoon each of fresh or 'fresh' frozen parsley and cilantro (described below).
You could also use chilli flakes or fresh chilli like my original recipe - it's very good too.
'Fresh' Frozen Herbs
For this recipe I used what I like to call 'fresh' frozen herbs. It's herbs that are washed, dried thoroughly and then frozen like fresh. You can see how fresh they look in the first picture below. They're frozen solid like fresh.
Preserving herbs by freezing isn't new. This particular method of drying the herbs thoroughly is something I picked up from my mother-in-law because it keeps the herbs much fresher than if you freeze them right after washing or even in ice cubes as I've seen done before.
I have to say I was impressed by how well the leaves held up to freezing. I don't think they would last months, but it's a great way to stretch fresh herbs and also makes it more convenient to use them since they're ready to go whenever I need them.
If you like food-saving tip you may also like 7 Waste-Reduction Kitchen Tips for Quarantine & Beyond.
Sweet Potato Shakshuka
For the sweet potato shakshuka I used two medium sized sweet potatoes, 5 medium sized tomatoes on the vine, 1 large yellow onion, 5 eggs, 3 teaspoons of homemade berbere, one tablespoon each of 'fresh' frozen parsley and cilantro, and ½ teaspoon of salt.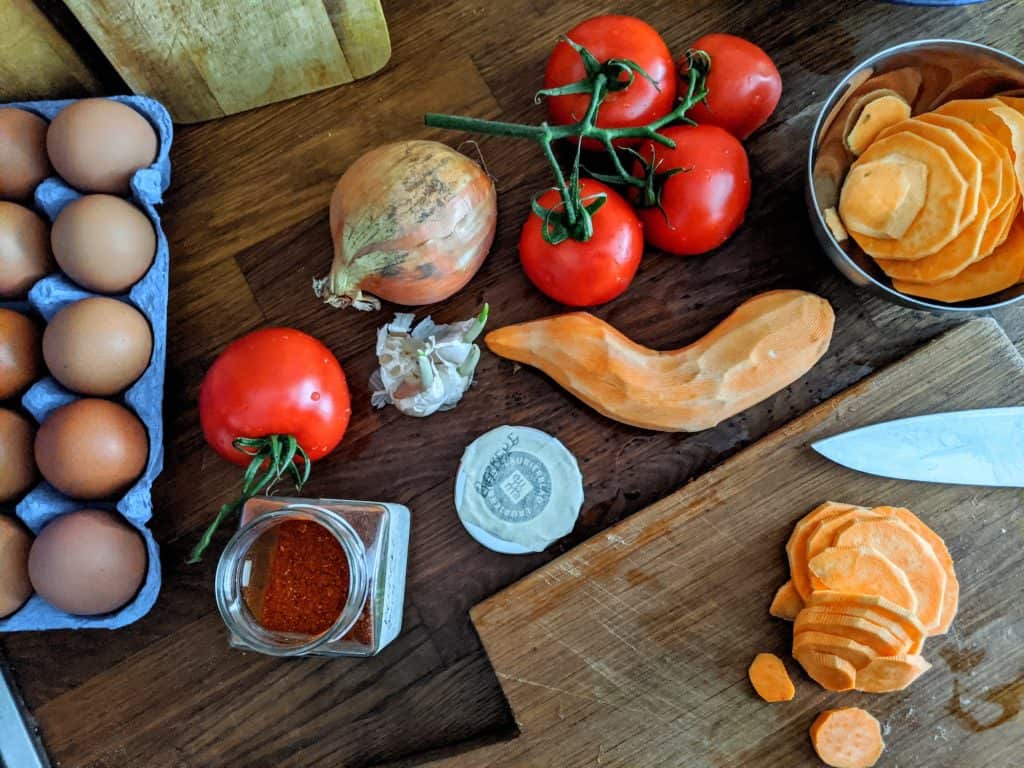 I sliced the sweet potatoe into disks, mostly because I wanted to see if it would stay intact enough to do a scalloped potato meets shakshuka type of thing. I then added the onion, garlic, spices, salt and 1.5 - 2 cups of water. Bring to boil on high then reduce heat, add tomatoes, cover with a lid and let it simmer while you make the naan.
The sweet potato didn't hold up. In fact they did the opposite - they totally fell apart.
That ended up being a good thing though because I was able to smush them down with the back of a large wooden spoon and turn them into a smooth and creamy thickener and a heartier shakshuka.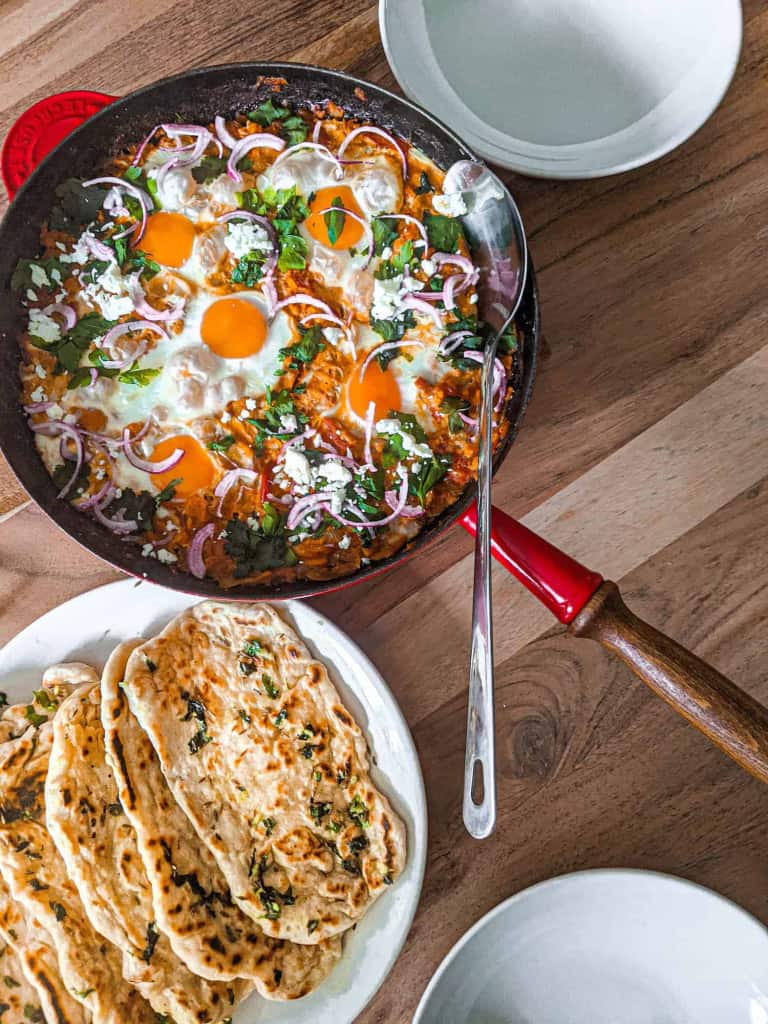 If you happen to also want a tasty, hot and fresh dessert to go with the sweet potato shakshuka then consider reserving some of the naan dough and instead frying it in some hot oil then tossing it with a bit of powdered sugar and cinnamon - instant donuts.
That's it for now,
Cristina
Recipe