This Ethiopian lasagna with homemade berbere is earthy, smokey and spicy with a creamy and decadent bechamel topping that will make you want to go for seconds.
When I first learned about Ethiopia and Eritrea's pasta culture I was really intrigued and couldn't wait to try pasta with traditional Ethiopian spices. I couldn't begin to imagine how it would taste.
Now that I've tried it I can only say that it's different but not so different. It's lasagna and it makes perfect sense with the spices. It tastes like exactly what happened - lasagna brought from Italy and spiced up with Ethiopian flavours.
Other great pasta recipes:
A Little Introduction to East African Pasta Culture
Earlier this month I was getting ready to head off to Mauritius on holiday and stopped into a salon to get vacation ready. I got to chatting with a young woman at the salon, 'where you from' and things like that, and as it turns out she was originally from Eritrea.
The only thing I knew about Eritrean food culture was that Eritreans have the very charming custom of serving popcorn during coffee ceremony.
Since that wasn't much to go on and I'm always curious to learn about food cultures, I pried gently into this lady's food culture - what did she eat back in Eritrea, what were weeknight meals like, how many times a week did they make bread and what kind was it?
I learned that Eritrea was originally a province of Ethiopia and that during the Scramble for Africa in 1869 it was annexed by Italy and became part of Italian East Africa along with Italian Somaliland.
My source told me that this history means two things for Eritrean cuisine.
First, it means that Eritrean cuisine is basically the same as Ethiopian cuisine. It's characterized by the widespread consumption of injera bread (a spongey and slightly sour flatbread) on which a variety of stews called wot (usually vegetarian) are served.
Since stews are put on the bread and it's also used to scoop up the food, injera has the lovely quality of being bread, plate, and utensil all in one..which I imagine makes mealtime cleanup a breeze.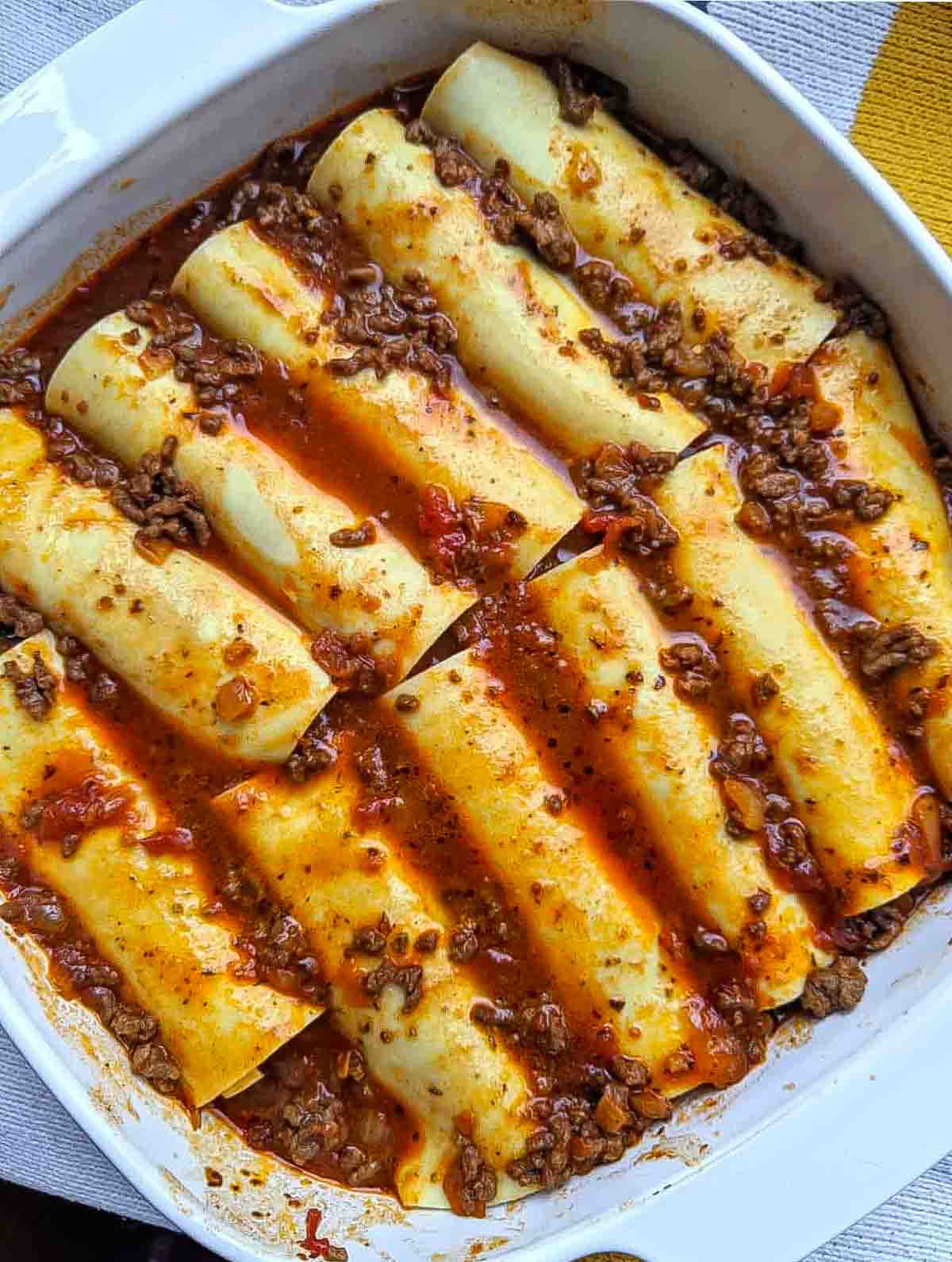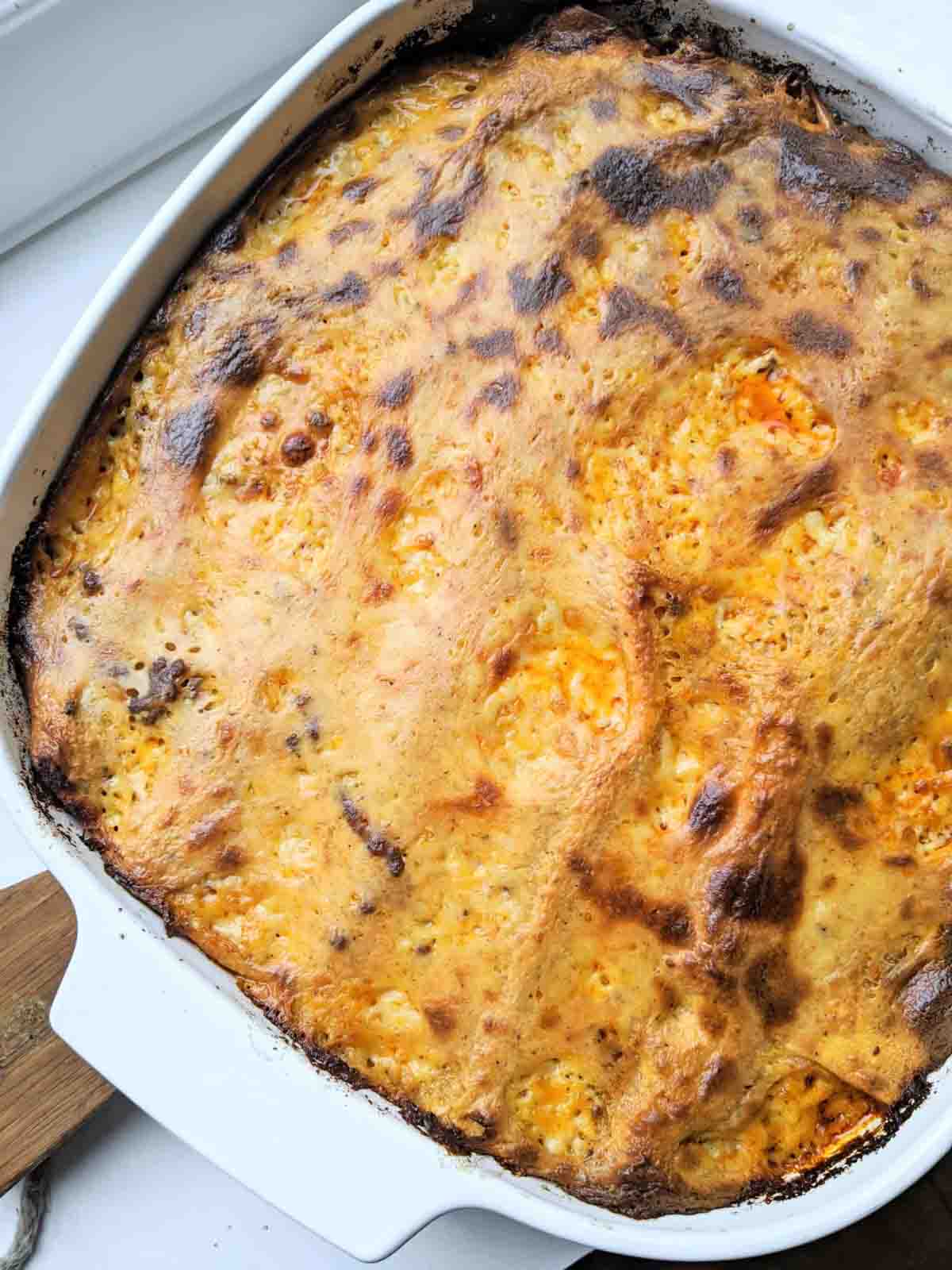 The Intersection of Italy and Eritrea
The second very interesting aspect of Eritrea's history and food culture is that it was a colony of Italy for sixty years, which resulted in some very unique mixing of the food cultures.
I've been on a whole pasta journey the past few months and my head was especially in that space since receiving my copy of the Pasta Grannies Cookbook.
Although my head was very much in pasta, it still came as a lightbulb moment for me when my source mentioned that pasta is a really common meal in Eritrea. Of course ?...with Eritrea's colonial ties to Italy of course there would be pasta. Mind blown.
At any habesha wedding, graduation, any kind of celebration, you will see lasagna," says Kibrework Gebre, chef and co-owner of Sheba's Ethiopian Kitchen in Dallas. "All habeshas I think like to make that and spaghetti—it's like our other injera." ....For Ethiopian- and Eritrean-American people (many of whom use the ubiquitous but historically complicated term "habesha" to refer to ourselves), the Italian dish is just as much a reminder of home as it is a relic of the countries' colonial history. - Ethiopia and Eritrea's Long History with Lasagna on tastecooking.com
I was so intrigued by the idea of Italian pasta made with Eritrean culinary sensibilities that I had started researching before I even left the salon. I learned that lasagna has deep cultural roots in Ethiopia and Eritrea extending all the way to diasporic households.
Similar to the Italian classic—though at times eschewing ricotta—pans of lasagne are common in Eritrean households during holidays and long weekends. Recipes have been passed down from grandparents who lived through the occupation. While traditional dishes like zigni (beef stew cooked with berbere, a spice blend) and shiro (chickpea powder mixed with berbere, garlic, and onions) are quotidian staples, panettone is still served in the days leading up to Christmas, and Italian food is a reminder of the country's historic challenges and triumphs. How Lasagna Landed in Africa in Saveur

I also learned what defines an Eritrean or Ethiopian take on lasagna. While of course there will always be differences between households ("a mother's fingerprint" says Rahawa Haile writing for tastecooking.com) the general consensus is that Eritrean and Ethiopian lasagna is made with less cheese and more spice.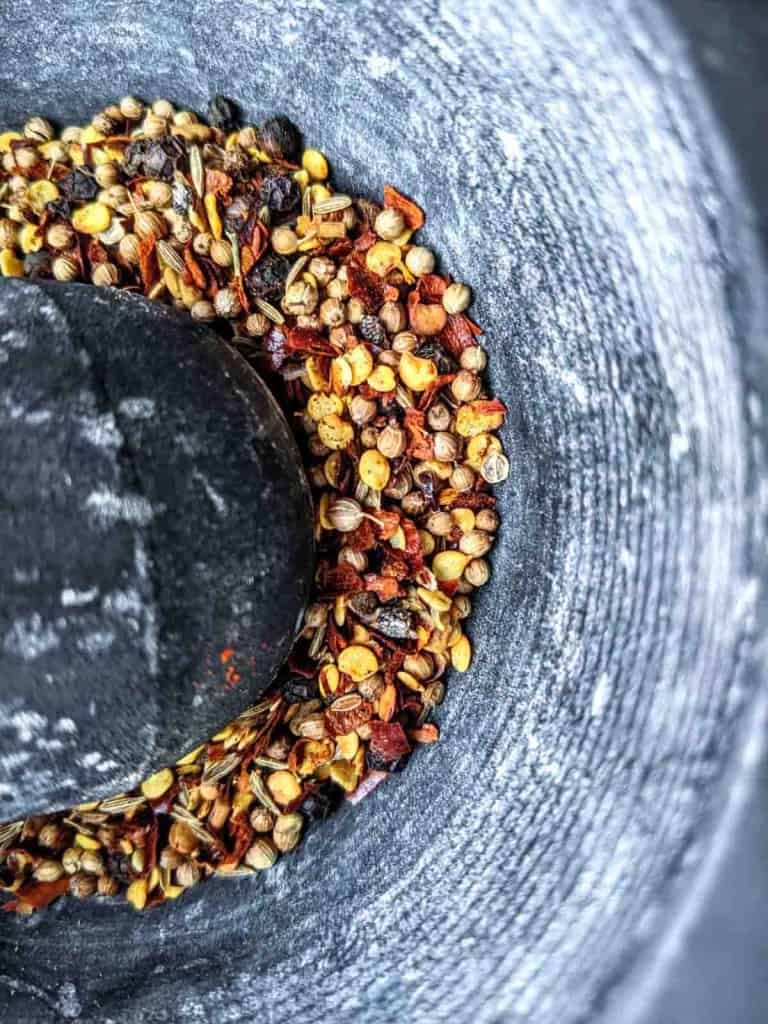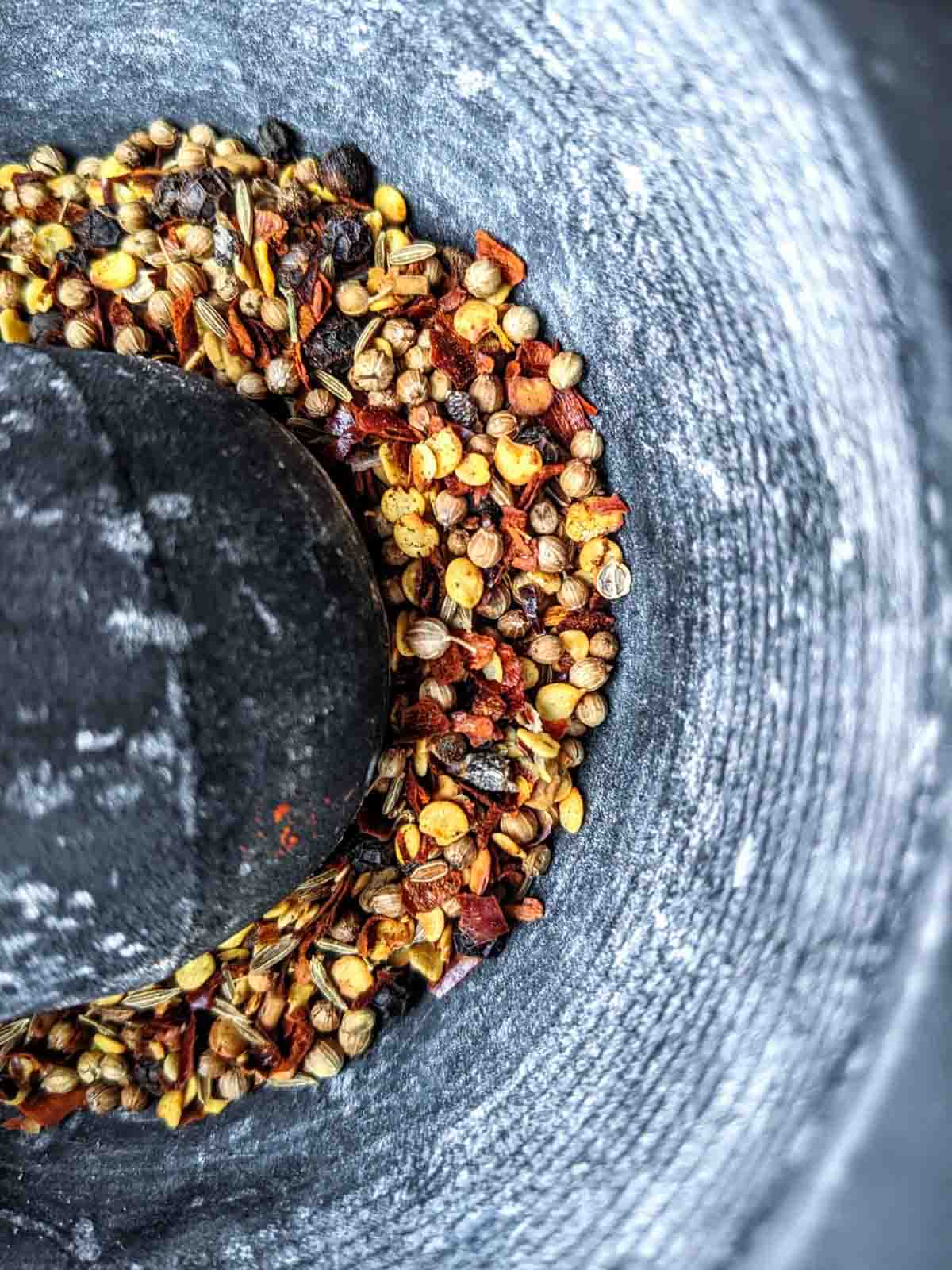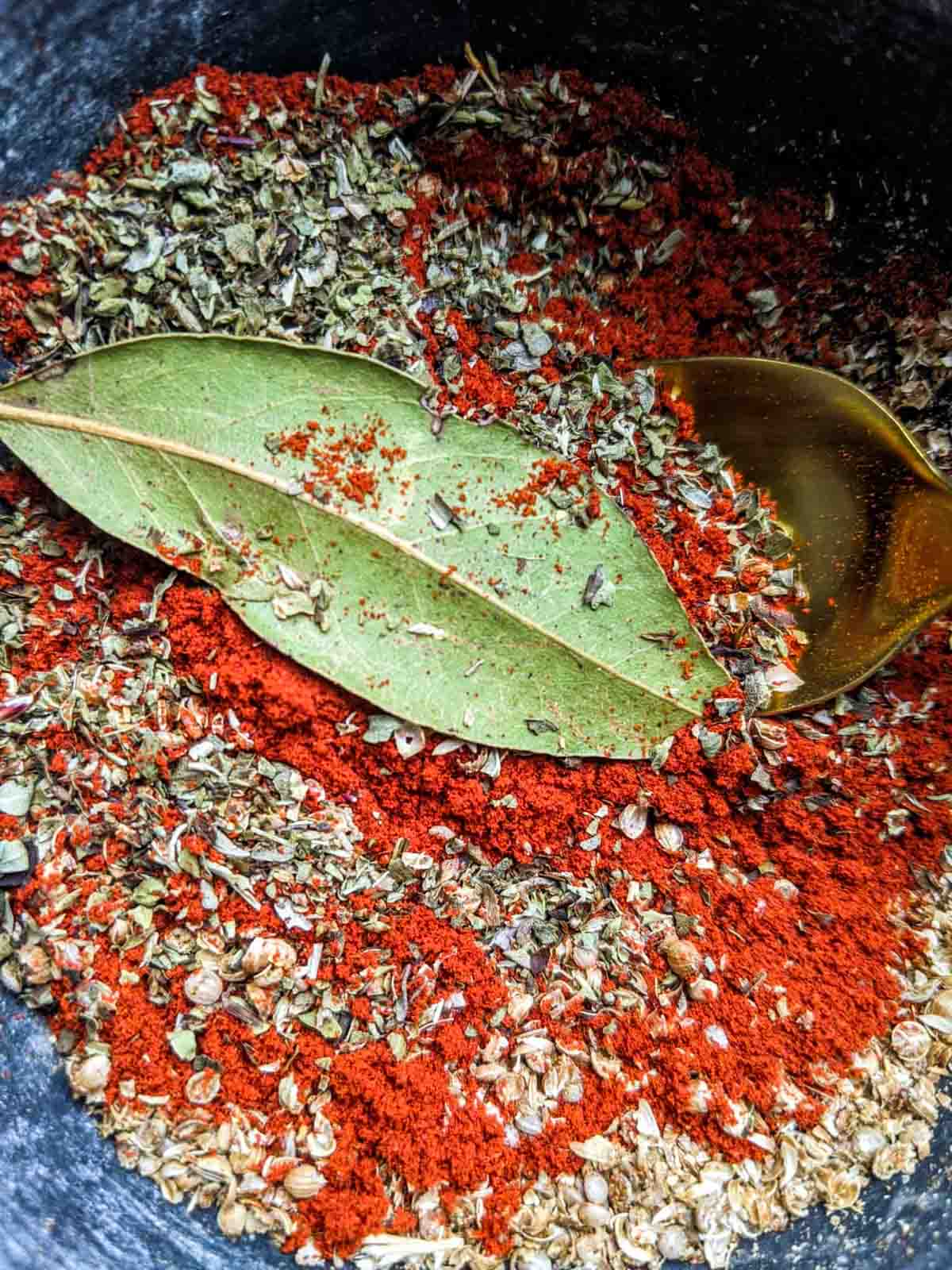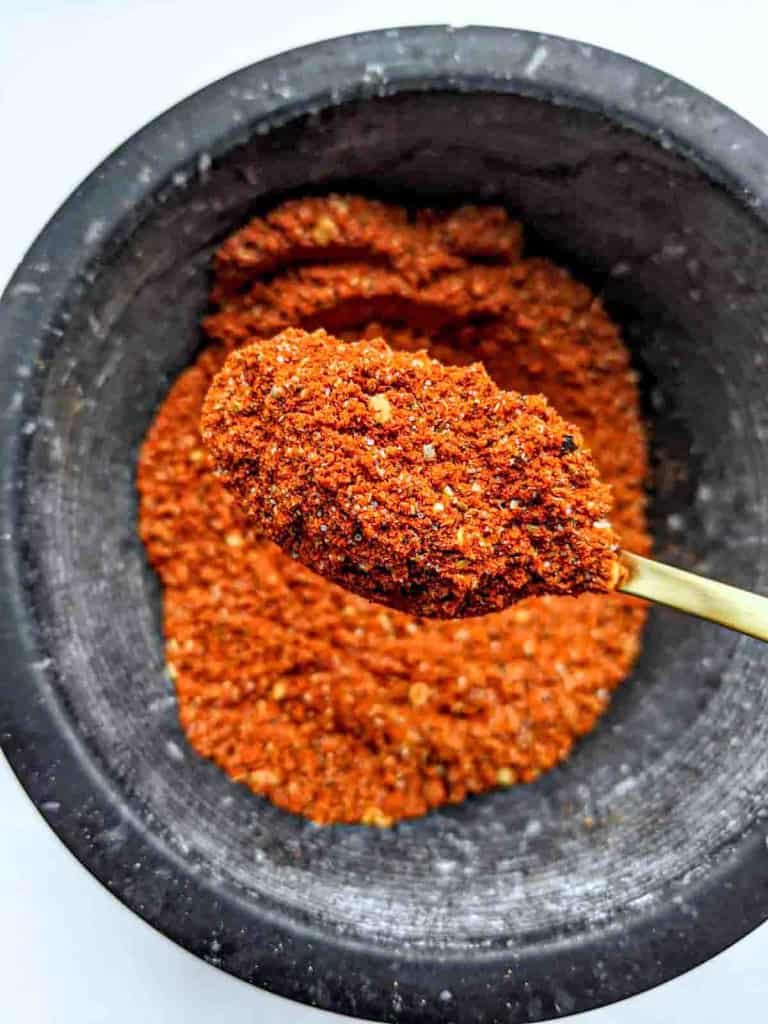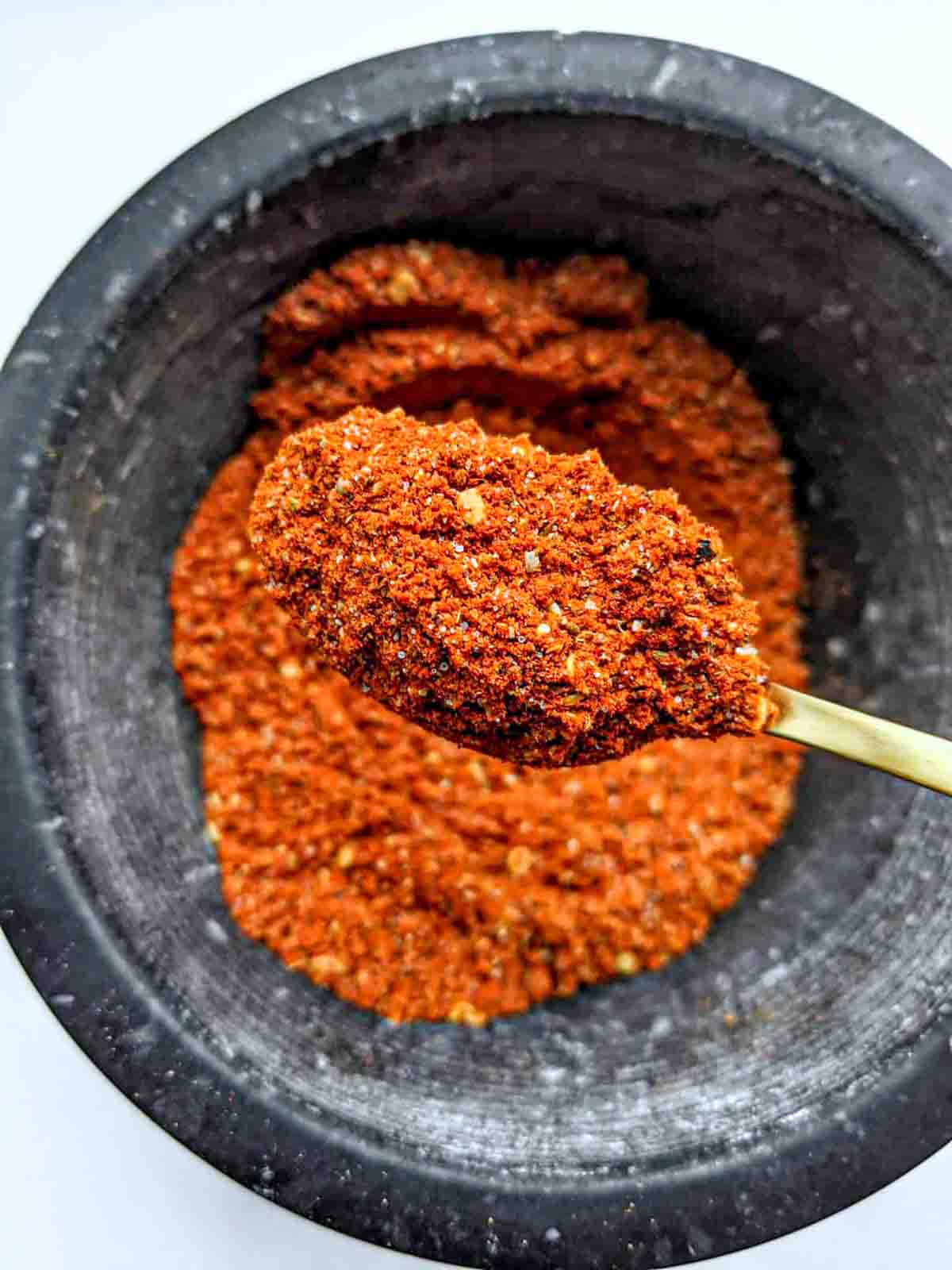 It didn't take long for me to realize I needed to try it myself. I found a few recipes, but ultimately chose to follow the recipe for Ethiopian Lasagna on tastecooking.com to make this dish with a few minor modifications.
Like most dishes borne of some mercurial mix of need, colonial history, and immigrant ingenuity, Ethiopian/Eritrean lasagna differs in preparation depending on who you ask.

tastecooking.com  Ethiopia and Eritrea's Long History With Lasagna
The Berbere Spice Blend
Before making this lasagna I made a batch of homemade Ethiopian berbere spice blend. The recipe I followed makes about a half cup of spice and this lasagna only calls for two teaspoons, which means you end up with more spice blend to try in different preparations. For example I also made sweet potato shakshuka with berbere and garlic butter naan.
You can of course just buy Berbere spice as well.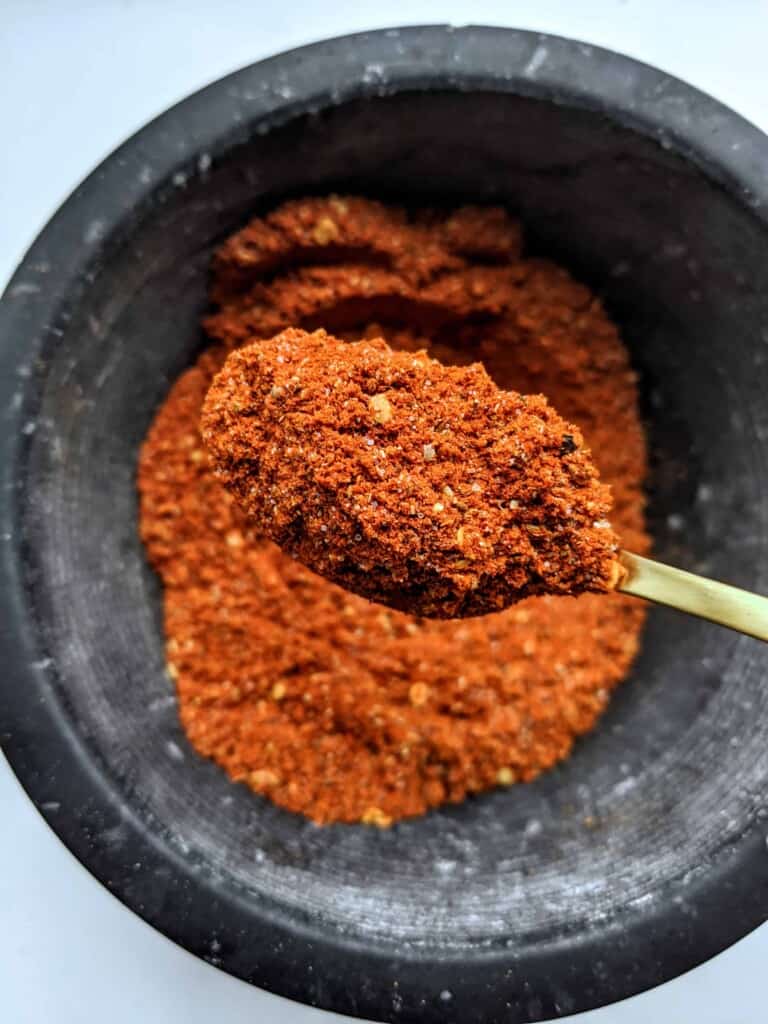 I made a few modifications to the original recipe, mainly out of necessity - pandemic times and all. I completely omitted the cheese, fresh basil and green onion because I didn't have any and decided to shelter indoors instead of venturing to the market to see and potentially find empty shelves. I also used half the amount of tomato sauce ..again because I didn't have any.
Otherwise I followed the recipe fairly closely, although I was a bit unsure about the directive to add berbere "to taste" - for my uninitiated palate that was precisely two teaspoons worth.
The Spiced Beef Sauce
After making the berbere and combining the spices called for in this recipe, I fried off the beef in a tablespoon of leftover chicken drippings that I often reserve for just such occasions. You can substitute olive oil or vegetable oil. I cooked the beef with half the spice and half a teaspoon of salt until it was reduced and began browning. Then I added the onions and cooked until they were translucent.
Finally, I added about a ¼ of frozen pasta water (you can also just whisk together a teaspoon of flour in a ¼ cup of warm water), the canned tomato, bay leaves, and the rest of the spices. I simmered for about 20 minutes covered.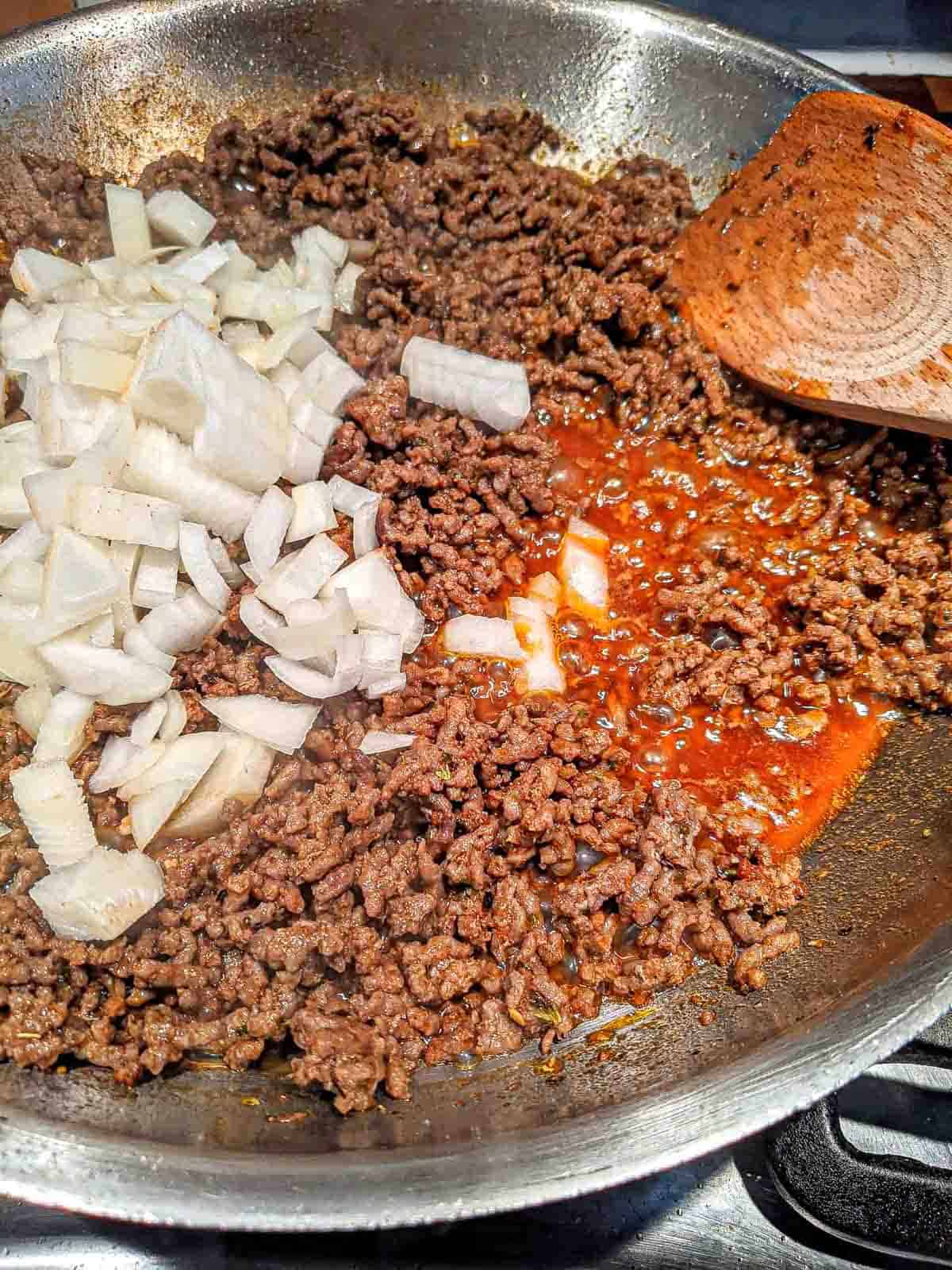 The Lasagna Sheets
After the sauce is made the rest of the process is simple. I used a 250 gram / roughly half pound package of premade fresh lasagna sheets that I soaked in warm water to make more pliable. I chose to roll the meat in the pasta sheets and arrange them in a square 25 by 25cm (10 by 10 inch) ceramic dish. You can also go the traditional route and layer the sheets with the meat sauce.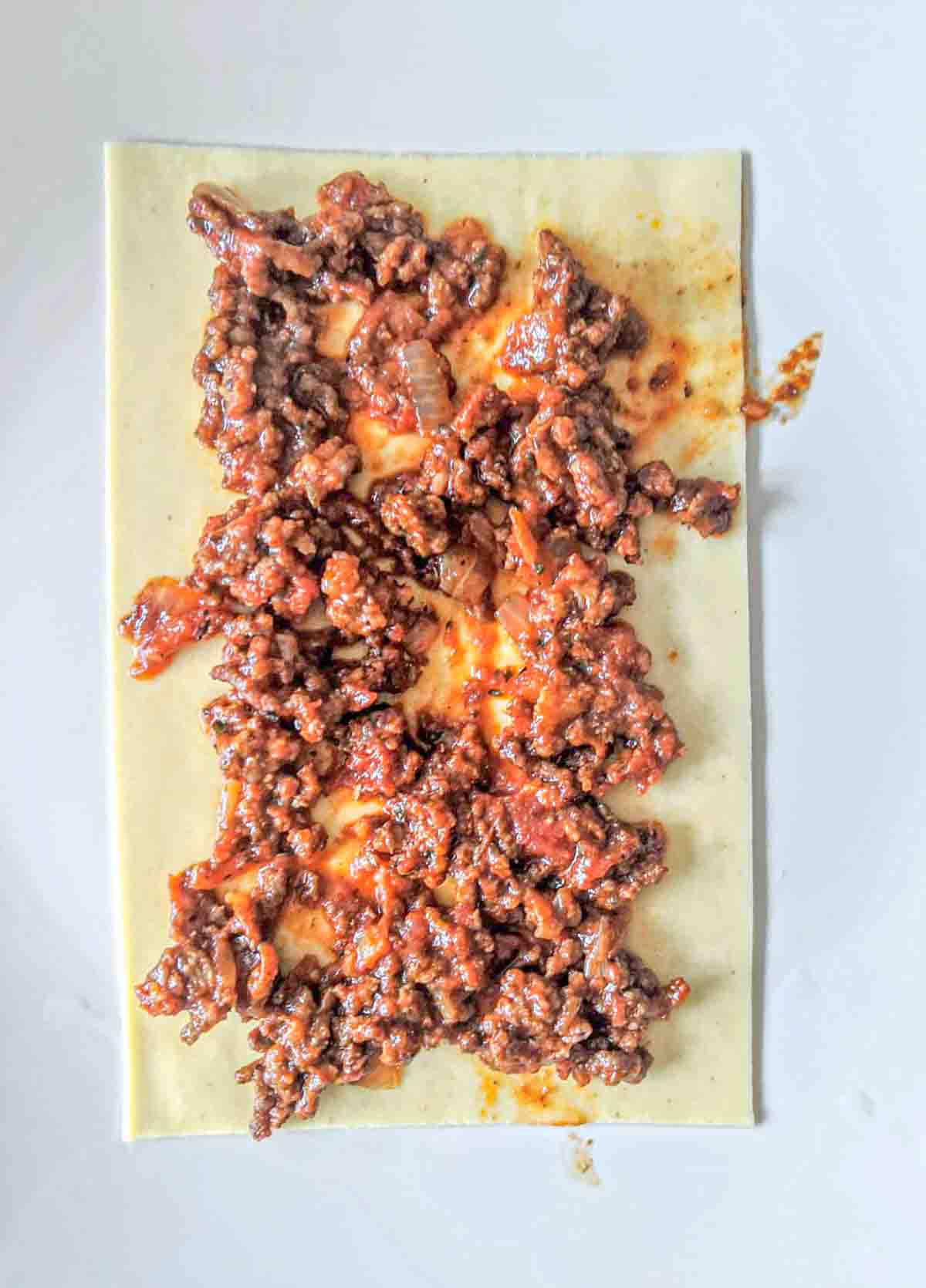 I filled the rolls in such a way that there was a bit of meat left in the pan. I added a cup of water and half a teaspoon of salt to the pan, swirled it around and poured it all on the lasagna rolls.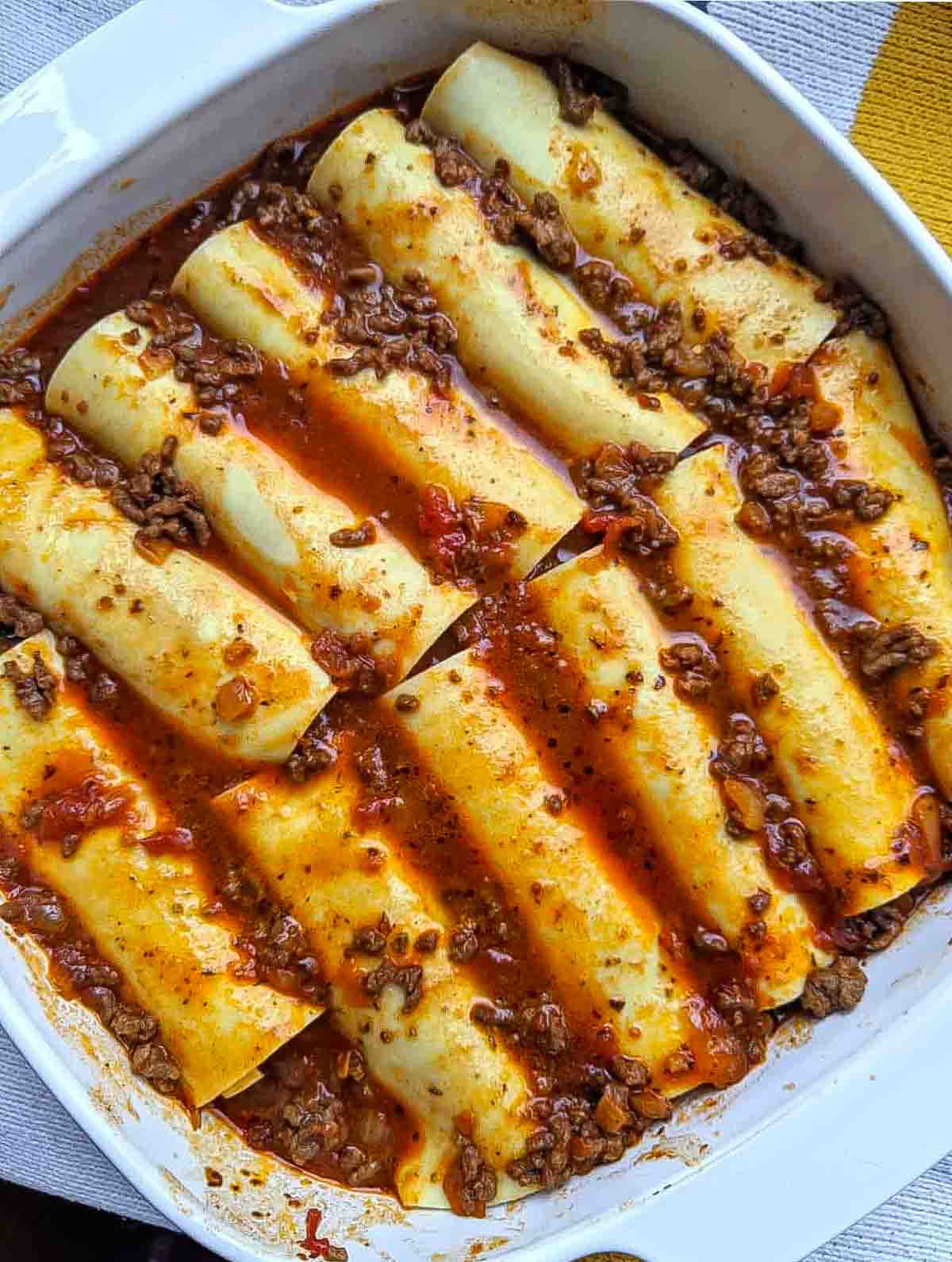 The Berbere Bechamel
The final step was making the bechamel sauce recipe and add berbere spice, ¼ teaspoon salt, and a few grinds of fresh black pepper. I also used chicken drippings instead of butter but you can of course just use butter. Once the bechamel thickened I strained it through a sieve to get rid of the chicken fat bits and poured it over the lasagna rolls.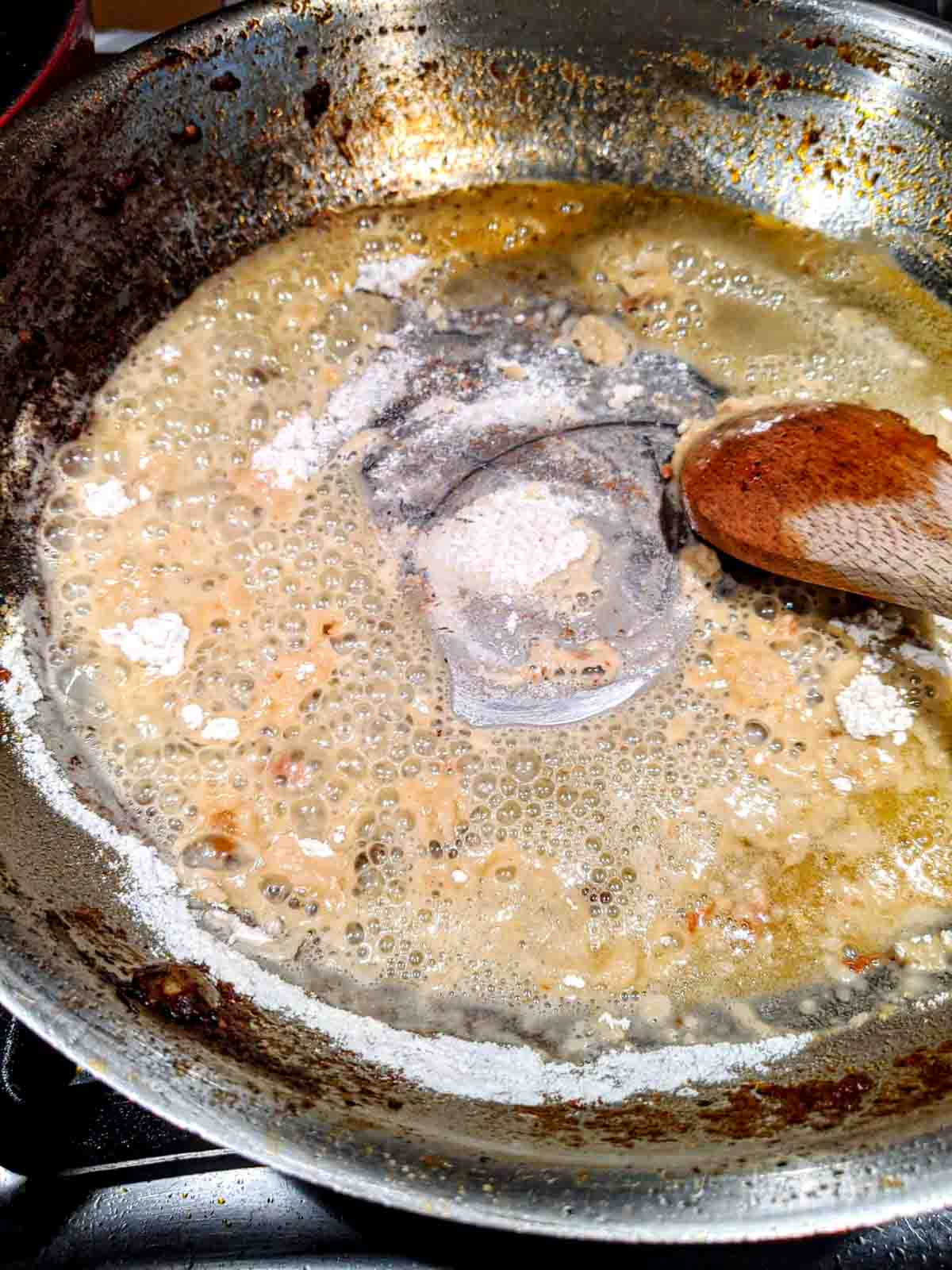 I baked the lasagna covered with a lid (or use aluminium foil) at 200 C / 400 F for one hour. Then I increased the temperature to 225 C / 440 F, removed the lid and baked for another 10 minutes to brown the top. Or skip this step if it's brown enough.
You may notice there's no cheese in this recipe. It's because I only had cheddar and thought that might be a bit too far outside the realm of East African Pasta so I went cheese free entirely - upon closer reading I learned afterwards that in fact the original recipe suggests cheddar. Oh well.
You can add cheese either to the bechamel or on top as you please....though I thought it was plenty creamy, umami and satisfying even without cheese.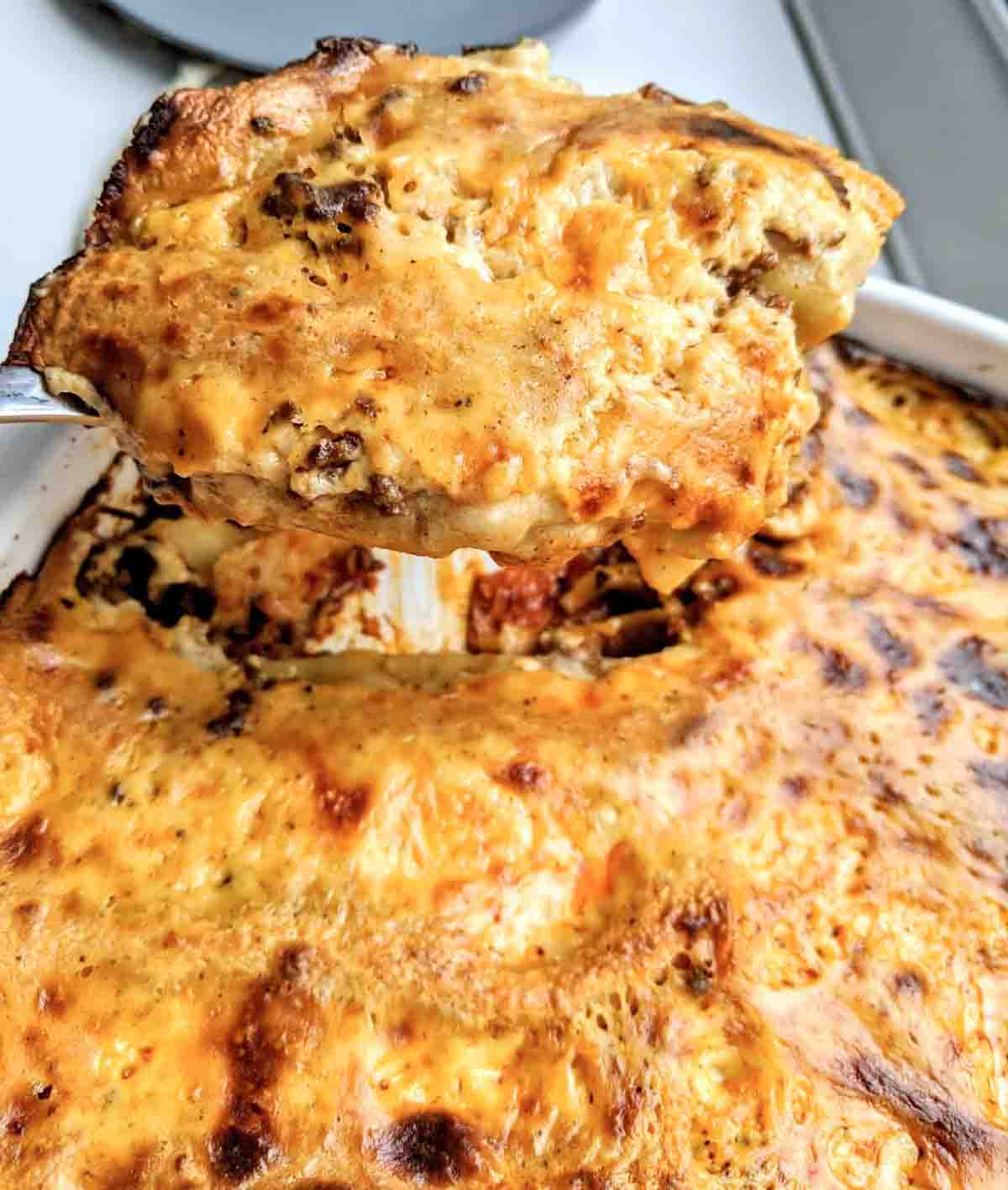 This was just the beginning of my entry into the African Pasta Diaspora as Rahawa Haile calls it in Saveur. Since posting this recipe to my Instagram stories I had a few people share other experiences of African pasta culture including Egyptian macaroni bechamel and the Somalian pasta sauce called suugo. It's a whole world out there and I can't wait to learn more about it.
Until next time,
Cristina
Recipe
Ethiopian Lasagna with Homemade Berbere
This Ethiopian lasagna with homemade berbere is earthy, smokey and spicy with a creamy and decadent bechamel topping that will make you go for seconds.
Print
Pin
Rate
Ingredients
Lasagna
2

tablespoons

chicken drippings

or substitute olive oil or vegetable oil

1

large onion

diced

8

cloves

garlic

minced

500

grams

lean ground beef

0.25

cup

pasta water

or whisk together 1 teaspoon of flour in a quarter of a cup of warm water

1

tablespoon

tomato paste

2

teaspoons

berbere spice

1

tablespoon

smoked paprika

1

tablespoon

ground coriander seeds

1 400

gram

can of diced tomatoes

2

cups

water

2

whole bay leaves

2

tablespoons

dried oregano

250

grams

lasagna noodles

1

teaspoon

salt

or to taste
Bechamel
2

tablespoons

butter

or substitute other fat

4

tablespoons

flour

2

cups

milk

½

teaspoon

berbere spice

¼

teaspoon

salt

0.25

black pepper
Instructions
Cook dried lasagna sheets according to package directions, or if using fresh pasta then soak in warm water if it seems too dry to roll without cracking. Skip the soak if you're just layering.

Brown the beef with half the ground spices and half a teaspoon of salt in the chicken drippings or oil. Add the onion and cook until translucent. Add the garlic, tomato paste, and pasta water. Add the canned tomato, cup of water, and bay leaves. Simmer 20 minutes.

Preheat oven to 200 C / 400 F.

Once sauce has simmered, begin rolling lasagna sheets with the meat filling or otherwise layer them with meat filling in between. Leave about a ½ cup of beef filling in the pan and combine it with a half a teaspoon of salt and 1 cup of water. Swirl it around to get all the pan juices and pour it over the rolls or layered sheets.

Make the bechamel. Melt the chicken drippings or butter in a skillet and then add the flour to create a paste. Slowly pour the milk in and once its thickened enough to stick to the back of a wooden spoon, strain the sauce and pour it over the lasagna.

Bake at 200 C / 400 F for one hour. At the end of 1 hour increase the oven temperature to 225 C / 440 F, remove lid and bake another 10 minutes to brown.
Nutrition
Calories:
841
kcal
|
Carbohydrates:
130
g
|
Protein:
38
g
|
Fat:
18
g
|
Saturated Fat:
6
g
|
Polyunsaturated Fat:
3
g
|
Monounsaturated Fat:
7
g
|
Trans Fat:
0.2
g
|
Cholesterol:
56
mg
|
Sodium:
584
mg
|
Potassium:
874
mg
|
Fiber:
7
g
|
Sugar:
10
g
|
Vitamin A:
671
IU
|
Vitamin C:
8
mg
|
Calcium:
187
mg
|
Iron:
6
mg