Pillowy soft and easy homemade gnocchi made using the Pasta Grannies gnocchi recipe from the Official Pasta Grannies Cookbook. They're made with nothing but mashed potatoes, flour, an egg, and a pinch of salt. The perfect complement to a rich ragu or creamy sauce.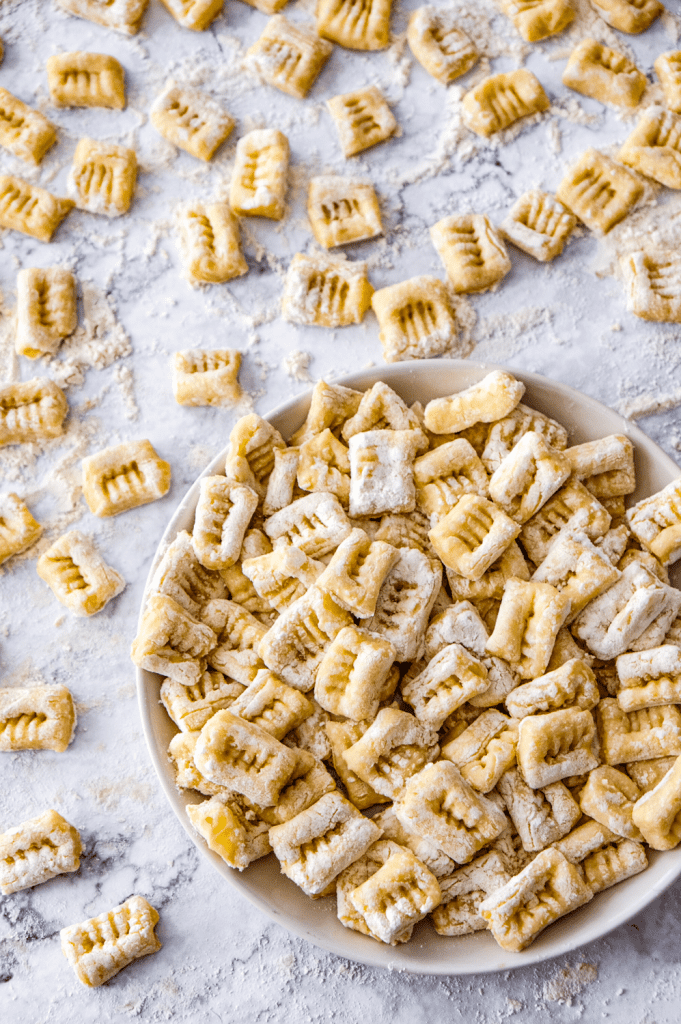 When I was growing up in Toronto the only good potato gnocchi was homemade potato gnocchi - and that was a rare treat.
Toronto has a pretty significant Italian population, so Italian food features prominently as a staple around the city.
Some places really stand out in my memory. The greasy pepperoni slices we'd get at lunchtime at Richview Bakery in the west, fresh gelato on warm summer evenings at the Sicilian Sidewalk Cafe in Little Italy, and the cannoli bought for special occasions like long weekends and birthdays at San Remo Bakery - which back then was just another of Toronto's many 'ethnic delis' that happened to have a pastry section.
What also stands out in my mind in a not-so-good way were the vacuum-sealed, expiry date-less plastic packages of 'potato gnocchi' sold at chain grocery stores around the city.
You probably know the ones - hard little nuggets of machine stamped potato starch and flour enriched with the subtle nuance of diglycerides, stabilizers and acidity regulators. Yum.
For all the effort that went into concocting a shelf-stable formula, they were unsurprisingly, terrible. The texture was gelatinous and the flavour, starchy with an acrid finish.
I had eaten good potato gnocchi before at Italian friends' houses and restaurants. After buying them a couple times in store, I realized it wasn't even close.
The only way to have good gnocchi, I concluded, was if they were homemade - and since potato gnocchi is supposedly "sooo hard to make" I left it at that and never tried making my own - until now.
How to Make Potato Gnocchi from Scratch
I had assumed making potato gnocchi from scratch was very challenging from a technical perspective.
The general consensus seems to be that it's difficult to get the gnocchi to stay soft and pillowy. I've learned from making my own gnocchi that it isn't really all that challenging if you stick to a few basic principles.
With the right ratio of ingredients and the technique described here, you can also make pillowy soft clouds of dough that are the perfect complement to a rich sauce like the roasted lamb ragu I made to go with these.

Gnocchi Ingredients
The gnocchi ingredients I used to make these gnocchi are from the Pasta Grannies Official Cookbook.
The Pasta Grannies recommend the following:
1 kilogram / 2.2 lbs of uncooked starchy potatoes
250 grams / 2 cups all purpose flour
1 whole egg
How to Make Leftover Mashed Potato Gnocchi
One of my favourite things about this recipe is that it's forgiving enough that it can be made with leftover mashed potatoes.
One of the replies to my Instagram stories on this recipe was that leftover mashed potatoes is not a thing. True enough! But it happened to be a thing in my household (okay, only like one time) and I really love transforming leftovers into something new and exciting - in this case I made a whole meal: leftover roast lamb, gravy and mashed potatoes into roast lamb ragu with homemade gnocchi.
So if leftover mashed potatoes ever happens to be a thing in yours then you can easily take that leftover mash and make some gnocchi with it. Otherwise you can also just boil some potatoes.
Do potatoes get heavier after boiling?
The original recipe calls for uncooked potatoes and my potatoes were already cooked and mashed I had to figure out if boiling potatoes changes their weight.
Weight of potatoes raw vs boiled
I did a little experiment where I boiled exactly 200 grams of peeled potatoes and then weighed them after boiling to see if they got heavier.
As you can see, the 200 grams of raw potatoes gained 7 grams of weight through boiling. That's about 3%, which is pretty negligible for a recipe that doesn't need to be super precise on measurements.
So if you want to make leftover mashed potato gnocchi you can swap out the uncooked potatoes in the recipe above for already cooked mashed potatoes at a 1:1 ratio.
This recipe makes four very generous portions or six starter portions.
Mixing the potato gnocchi dough
In order to get very soft gnocchi, the ingredients have to be mixed together until just incorporated. We don't want to mix so much that the gluten starts to form - which we can see as thick ropey strands developing in the dough.
Shaping the potato gnocchi
Once the dough is just mixed, turn it out onto a liberally floured surface, shape it into a log, and cut it into 6 or up to 10 easier-to-work-with pieces.
The basic idea is to gently roll each ball into a long rope about 1 centimetre thick, and then cut the strands into roughly even pieces about the size of a large green olive.
I found it much quicker to roll out a lot of ropes and then cut them, rather than rolling and cutting one by one.
After you've cut the gnocchi, make sure to set them out in one layer on a floured surface to prevent them from sticking. A good idea is to use something you can pick up and move like a few plates or cutting boards, which makes it easier to transfer the gnocchi to the pot for boiling.
Gnocchi making tips
Be very generous with the flour. They are quite sticky and will stick to any surface if it's not covered in flour.
Lay them out in one layer on a few plates or cutting boards so you can easily transfer them to the pot of water.
Finish with the rolling and cutting before you start boiling them because the boiling happens very quickly.
Getting the crinkle or ridges in the gnocchi dough
To get the characteristic crinkle in the gnocchi dough I used a fork and pressed gently into the center of the gnocchi on the horizontal axis, pushed upwards and then downwards in a fluid motion - like a swipe up and then down.
There are a lot of different ways to do this. If you have a ridged pasta board you can use that. You can also use the back of a fork, pressing it gently into the gnocchi enough to add a ridge but not so much that you flatten the gnocchi.
Cooking the gnocchi
Once the gnocchi are all rolled out and shaped, put a large pot of salted water to boil. The cooking happens very quickly so it will need your full attention.
Add the gnocchi to the boiling water either in batches or all at once, depending on the size of your pot. They are ready when they bob up to the surface - usually about 2 minutes.
Pro tip - save the pasta water: Since the gnocchi are floured so liberally and also contain potato, the pasta water they leave behind is amazingly thick and perfect for reserving. Pour it into an ice cube tray or small plastic containers and freeze. Use it to thicken soups or sauces. You can also reserve some if you're making a sauce to go with the gnocchi.
Remove the gnocchi from the water with a slotted spoon and immediately oil or butter them so they don't stick together.
Other great pasta recipes:
Recipe
Homemade Potato Gnocchi
Foolproof pillowy soft homemade gnocchi made with nothing but leftover mashed potatoes, flour, an egg, and a pinch of salt. The perfect complement to a rich ragu or creamy sauce.
Print
Pin
Rate
Ingredients
2.2

lbs

boiled potatoes

or equal amount uncooked

1

cup

flour

1

egg

1

teaspoon

salt

1

tablespoon

butter or olive oil
Instructions
Prepare the potatoes

If you are starting with uncooked potatoes, then boil them in salted water until fork tender and mash them or put them through a potato ricer.

Mix the dough

Mix the mashed potatoes, flour, egg and salt until just combined. Mix them gently and don't overmix or the gnocchi won't be as soft. You don't want gluten formation.

Shape the dough

Cut the dough into 6 - 10 roughly even pieces. Gently roll out each piece into a long rope about 1 centimeter thick. Use a sharp knife to cut the ropes into pieces about the size of a large green olive.

Add the ridge

To add a ridge to the dough, use a fork and gently press the tongs into the dough on the horizontal axis moving upwards, and then back down and across. it's like a gentle swiping motion across the dough. You can also use a ridged pasta board if you have one, or just gently press the fork down on the gnocchi being careful to produce a ridge without squishing them flat.

Cook the gnocchi

Bring a large pot of salted water to boil. Drop the gnocchi in being careful not to crowd them. You can do them in batches or all at once, depending on the size of your pot. The gnocchi are ready once they bob up to the surface - about 2 minutes of cooking.

Butter or oil

Remove the gnocchi from the water with a slotted spoon and immediately olive oil or butter them so they don't stick together.
Nutrition
Calories:
353
kcal
|
Carbohydrates:
68
g
|
Protein:
10
g
|
Fat:
5
g
|
Saturated Fat:
1
g
|
Polyunsaturated Fat:
1
g
|
Monounsaturated Fat:
3
g
|
Trans Fat:
0.01
g
|
Cholesterol:
41
mg
|
Sodium:
613
mg
|
Potassium:
1099
mg
|
Fiber:
6
g
|
Sugar:
2
g
|
Vitamin A:
64
IU
|
Vitamin C:
49
mg
|
Calcium:
41
mg
|
Iron:
4
mg