Macaroni or maccheroni in Italian is a classic pasta shape that can be made at home without any special equipment. By using the very simple traditional technique described in this post you can easily make perfect handmade macaroni in your very own kitchen.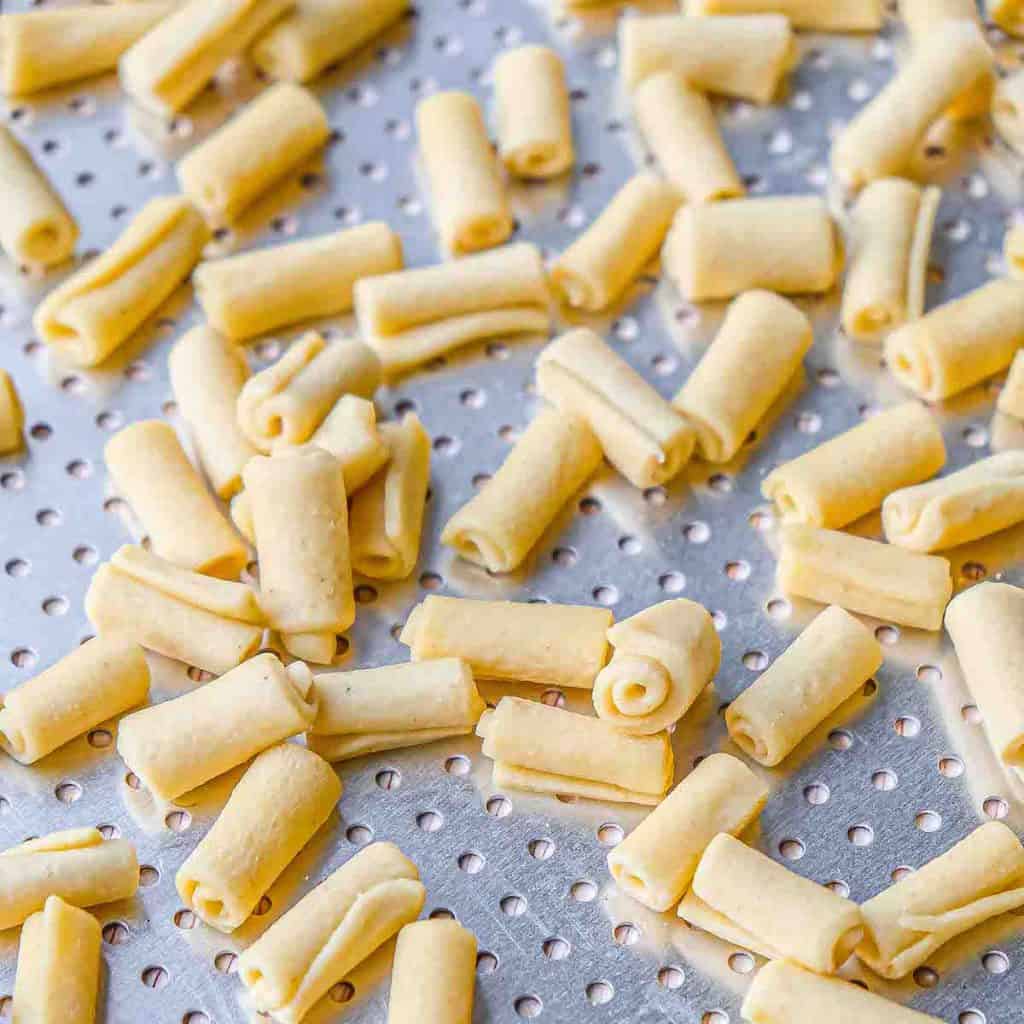 If you want to make macaroni pasta by hand without an extruder then you've come to the right place.
If you are looking for more information about making macaroni (or in particular, beautifully curved elbow macaroni) with a pasta extruder, the Pastafanataholics Facebook group is a great resource for extruder pasta dough recipes.
About traditional maccheroni
Pasta shapes in the style of 'short tubes' make up a whole category of pasta traditionally made with a thin metal rod that is pressed into a piece of pasta dough and rolled on a pasta board until the dough closes around the rod.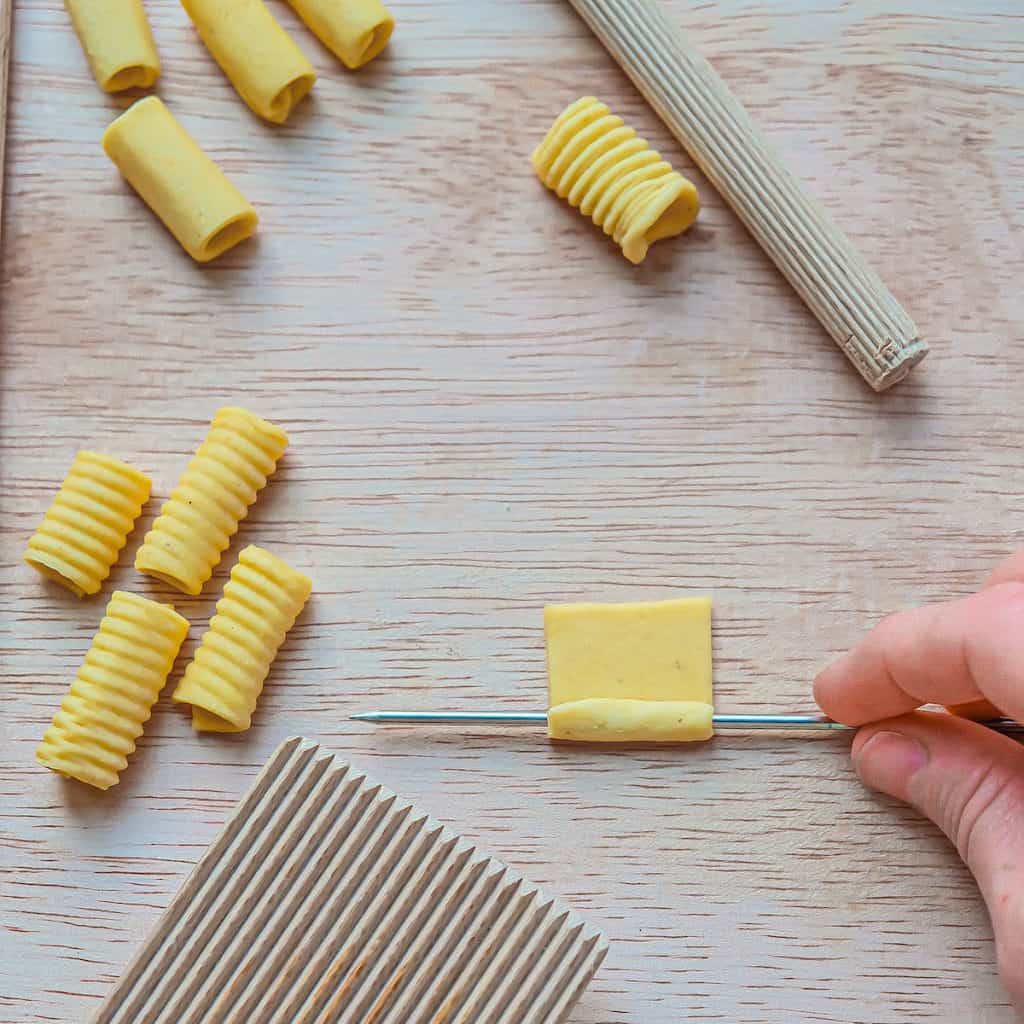 There are different names throughout Italy for both the shapes and the instruments used for this method.
For example, the pasta shape maccheroni con le ceppe is traditionally made with a thin metal rod called a ceppe, which is now used as shorthand for the dish as many just call it ceppe.
Another more commonly used name for the rod is ferretto (as in maccheroni al ferretto) which was traditionally a thin metal or brass rod specially made for pasta shaping but often replaced by a simple knitting needle.
In your own kitchen you can easily replicate this traditional method with a variety of tools you probably already have on hand. In this article I'll show you how you can use tools from around the kitchen or simple hardware store items to make a variety of macaroni in different shapes and sizes.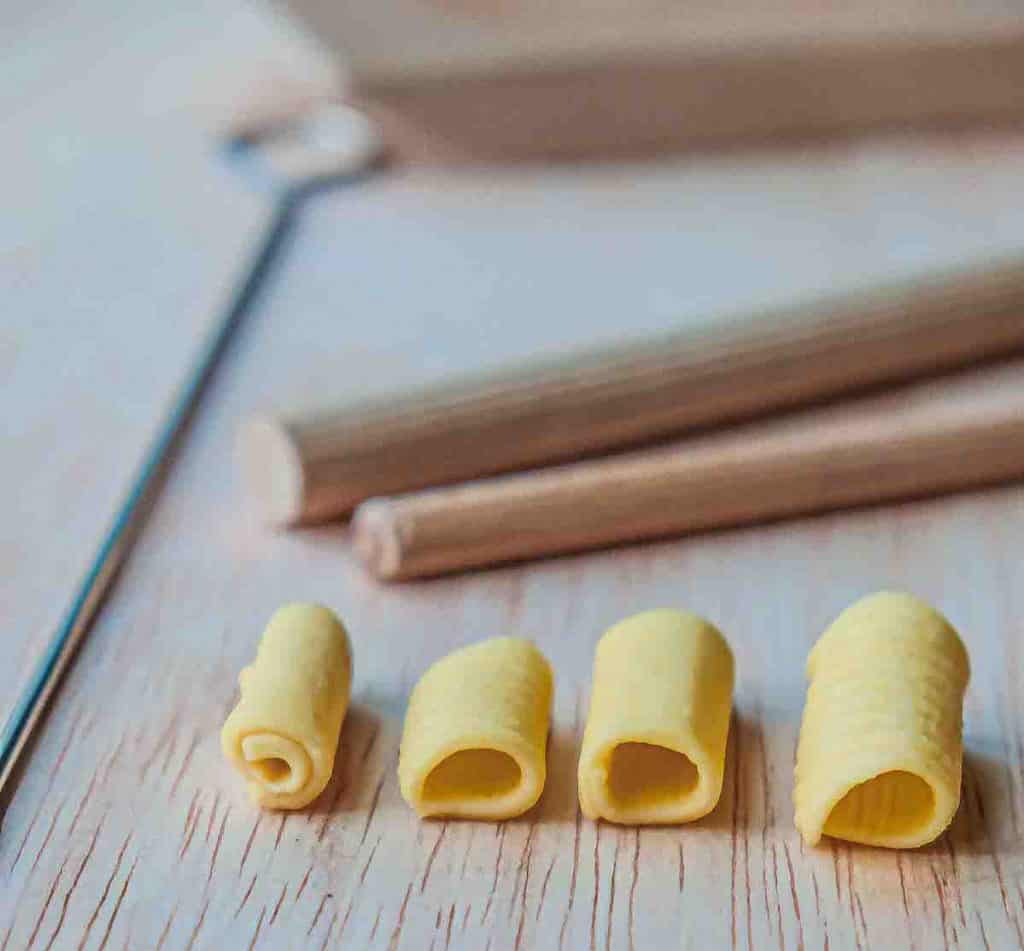 Pasta dough ingredients
The macaroni noodles shown in this post are made using a simple semolina dough with water and a bit of olive oil.
Semolina flour: semolina flour is made from a special variety of wheat called durum wheat. It has a slightly yellow color, is harder and has a higher protein content than regular varieties (usually around 12% or higher as compared to as low as 8% for other varieties). This makes semolina flour perfect for fresh pasta since the hardness and protein give the noodles more bite even if they are made without eggs.
Water

: just plain water.

Olive oil

: to give the dough a bit more

tenderness.
Ratio: The ratio for fresh pasta are pretty predictable and usually around 2 parts dry for 1 part wet. So that means 200 grams semolina (1.5-1.6 cups) and 100 grams liquid (in this case 85 grams water and 15 grams olive oil).
In Italian cuisine, tubular pasta shapes can be made with a variety of recipes made with different types of flours and different types of liquids. I recently made 6 different pasta doughs and tested them against 5 different pasta shapes.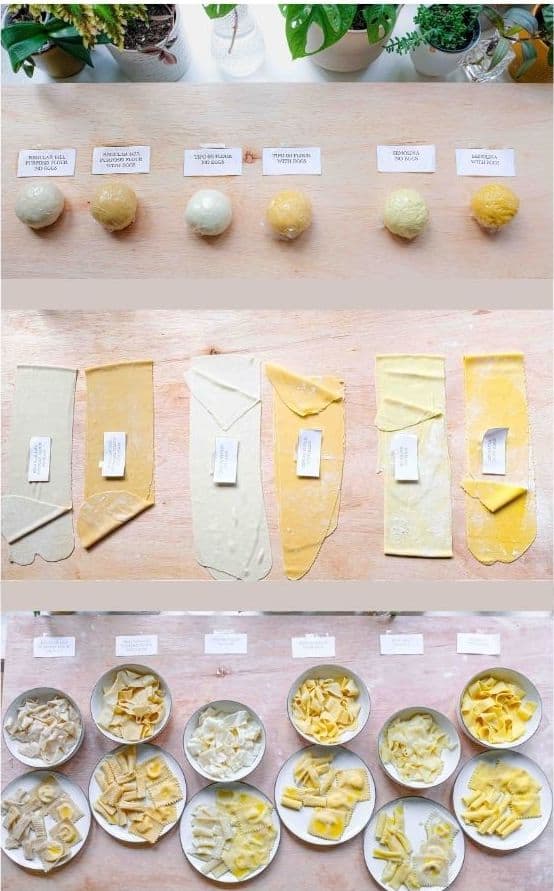 If you want to know more about pasta dough recipes and how to make the best pasta dough see my ultimate guide on how to make pasta dough.
Equipment
The most basic equipment you need to make homemade macaroni is a rolling pin, everything else is negotiable.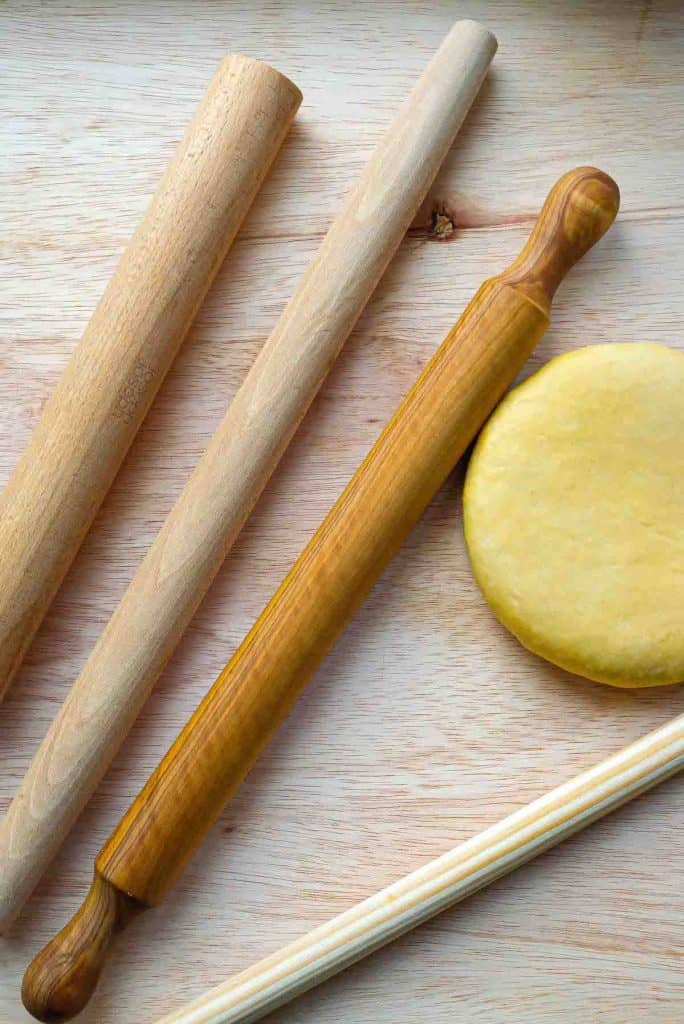 Necessary
A rolling pin: any rolling pin will do.
A thin wood or metal rod: like a barbecue skewer or even a chopstick. You need to use a very thin rod to get a macaroni shape - more like a skewer or chopstick side. But you can also experiment with larger sizes. I went to my local hardware store and found different sized wooden dowels for very cheap. While I was there I also grabbed a large piece of plywood to use as a pasta board!
A large work surface: to roll the pasta out but if you don't have that no worries, you can also just cut the dough into smaller pieces and roll it out a little at a time.
Nice to have
The following items are 'nice to have' as they can make things a bit easier:
Top tips
The hydration of your pasta dough is key: your pasta dough should be smooth and supple. Make sure you rest it sufficiently. A finger pressed into the ball of dough should leave an indent that slowly springs back. If it doesn't, your dough may be too wet or too dry. A dough that is too dry can also be undermixed (as the flour hasn't had time to fully hydrate yet). Read on below for more information on proper hydration.
Don't rush rolling out your pasta dough: if the dough is too thick, you can end up with gummy macaroni that doesn't fully cook in the middle. A shame for all the effort you've put in.
Make the macaroni ahead to manage time: especially if it's your first time making fresh pasta, it can be a good idea to make it a day ahead and leave it to dry until ready to cook. That way you aren't rushing to finish it when it's almost time to eat.
Method
Step 1: Mix the dough
Make a mound with a circular indent in the middle on your countertop, large bowl, or other work surface. Slowly drizzle the liquid into the indent in the mount as you use a fork to mix it together.
If you are using semolina flour, you will notice it has a very different texture - it's coarser than regular flour, almost resembling cornmeal. That is normal.
Use the fork to mix until all the liquid is incorporated. Then use your hands. Form the coarse grains into a ball then knead it by using the heel of your hand to press it flat, and then fold it over itself, do a quarter turn and repeat.
Knead it until the dough starts to look smooth and slightly paler - about 5 minutes.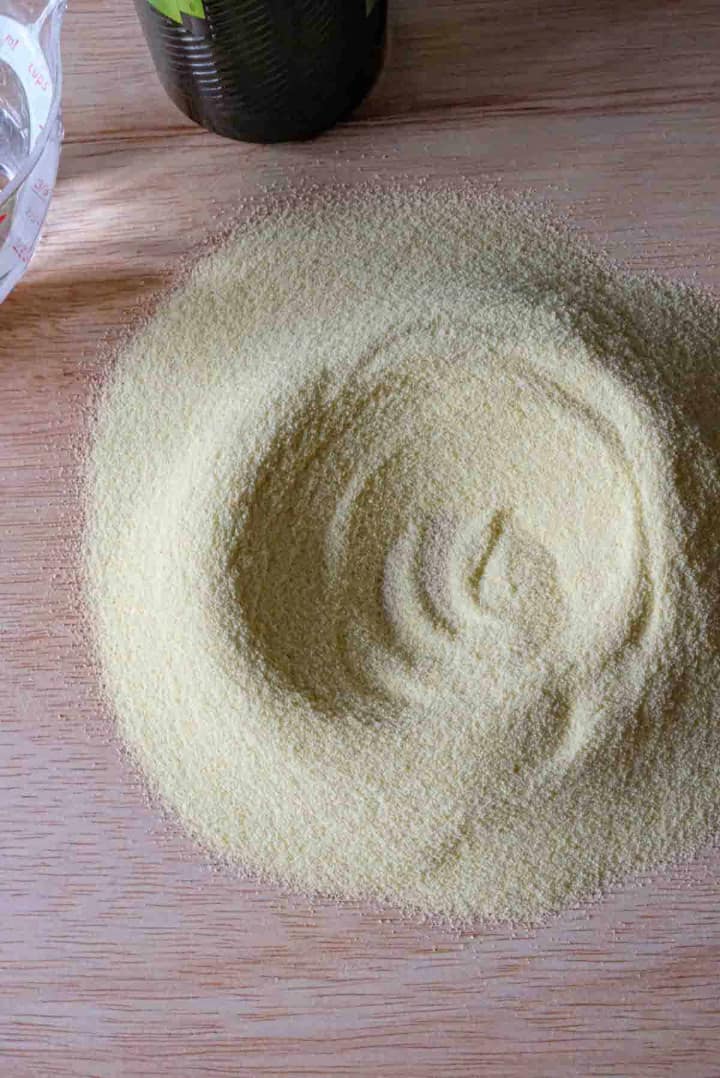 Mix the dough until it is smooth like in the photo below on the right. If there are cracks, the dough needs more mixing.
If you are using a machine to mix, use the mixer until the dough has combined into one mass. You may need to do a bit of hand mixing to then smooth out the dough.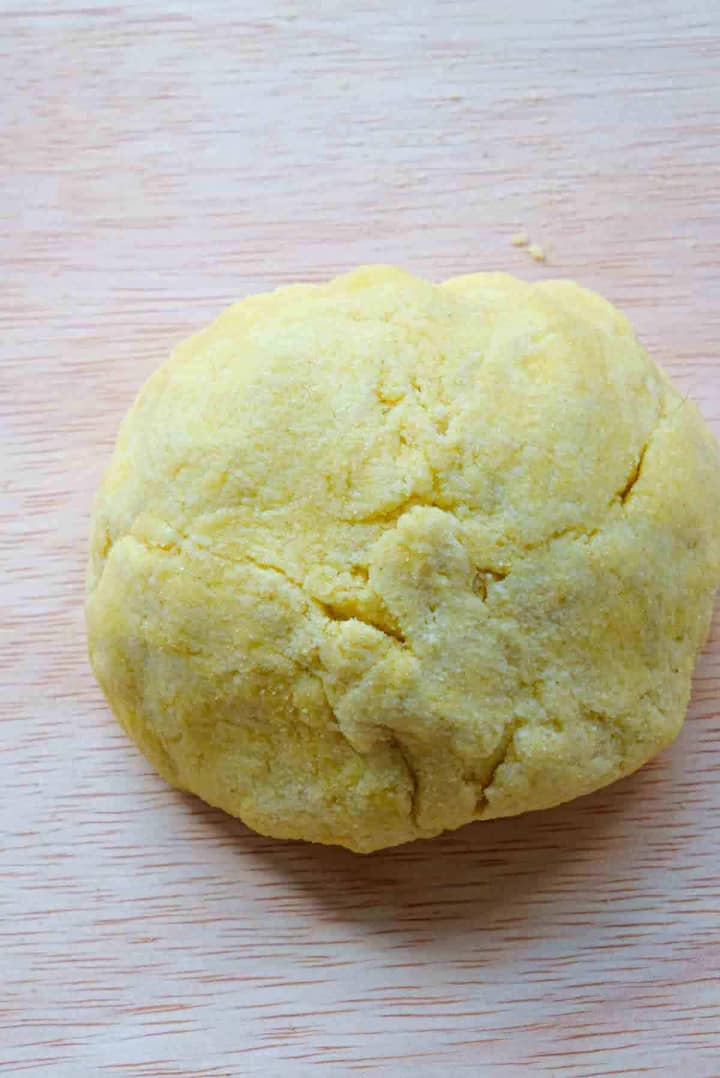 Step 2: Rest the dough
Resting the dough allows it to properly hydrate. Think of dipping the corner of some paper towel into water - it doesn't absorb the water all at once. It takes time for the liquid to fully penetrate the fibre of the paper. It's the same thing with pasta dough.
Cover the dough and rest it at room temperature for at least 20-30 minutes.
Step 3: Roll out the dough
Rolling with machine
If you're using a machine, you will need to cut the dough into smaller pieces so you can feed them through one at a time.
Different pasta rollers have different thickness settings in their dials. On my Marcato Atlas I roll the dough for macaroni to a level 7 out of 9 which roughly equates to 1mm in thickness (or 0,039 of an inch).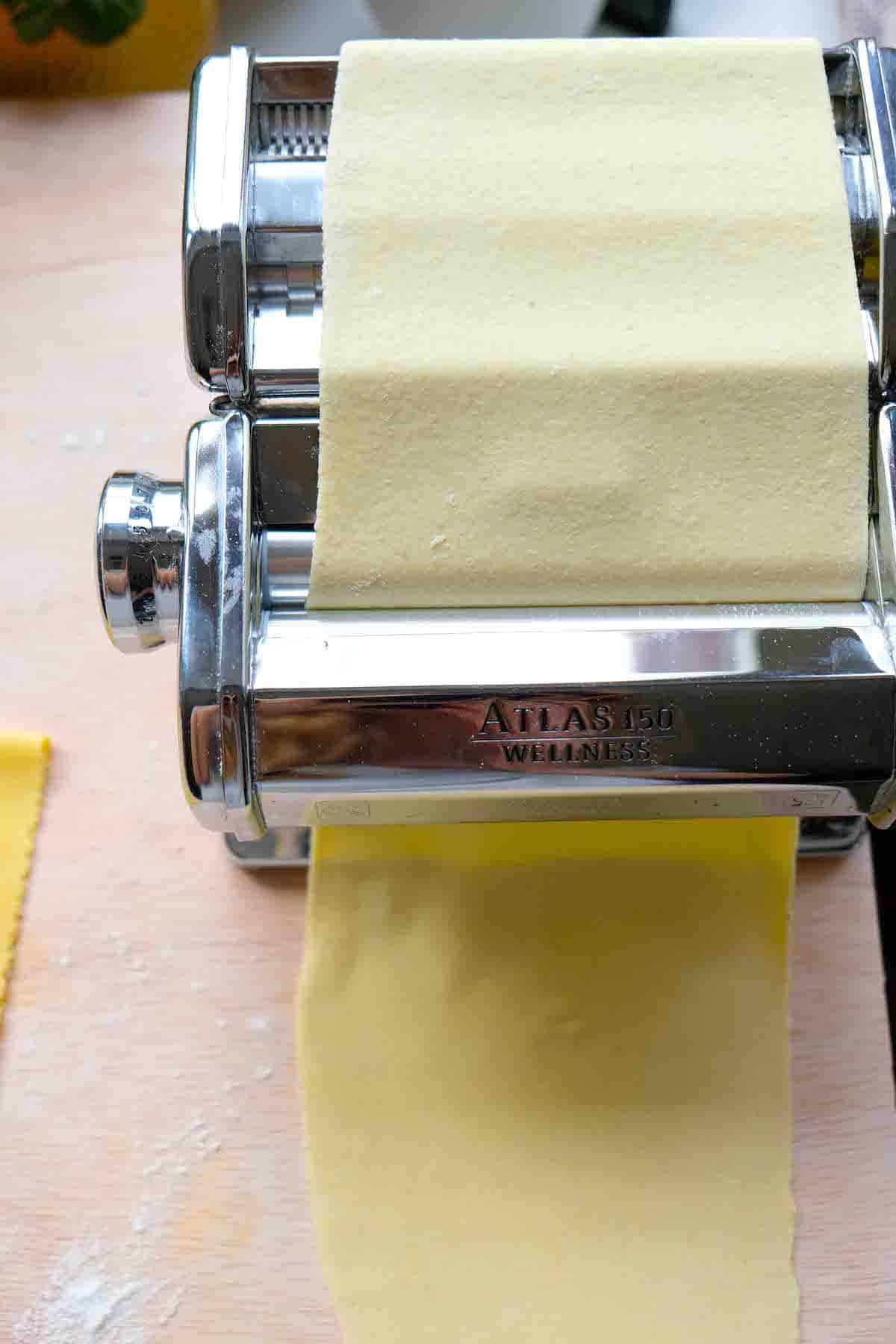 Rolling by hand
Rolling the dough out by hand is a bit more challenging and takes some elbow grease but with some patience you can get the dough as thin as with a machine. See my ultimate guide on making pasta dough for full details on rolling out dough by hand.
Step 4: Shape the pasta
If you want very even and consistent macaroni, first trim the edges of the pasta dough sheet to make a rectangle as shown above. A square also works.
Next you will cut the dough into squares about 2 by 2.5cm (1 by 1 inch). This is where a pasta bicycle comes in handy.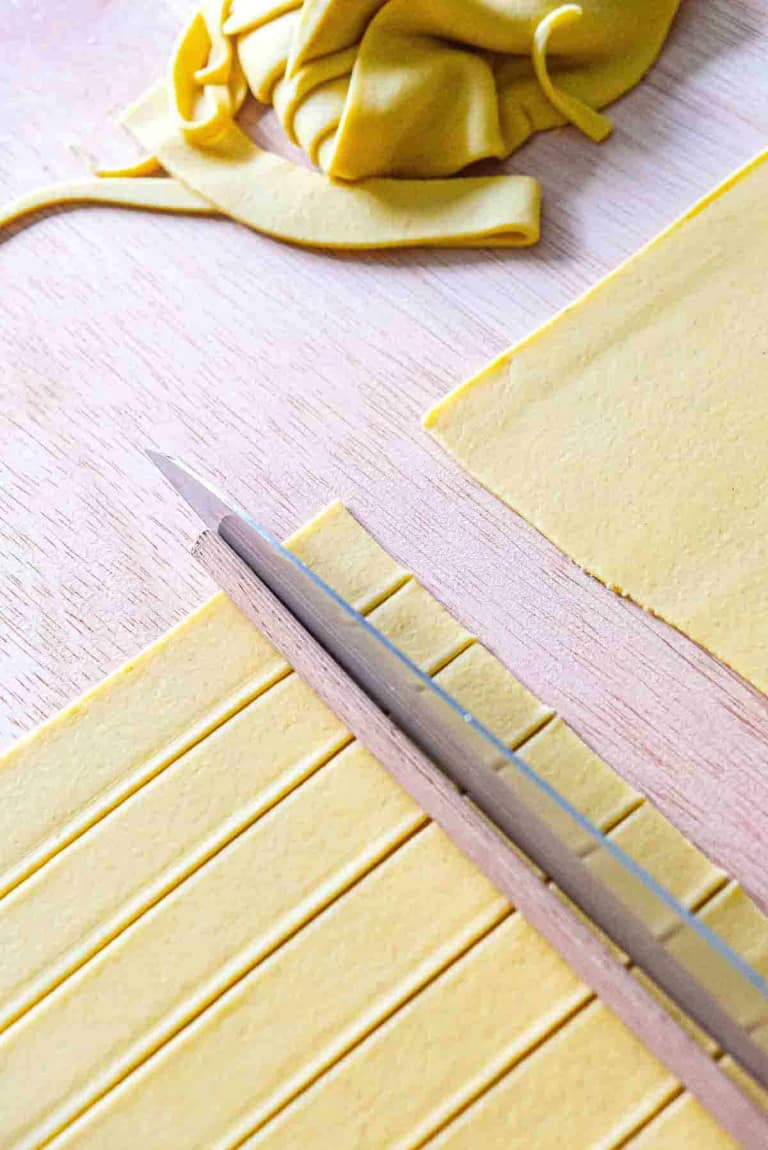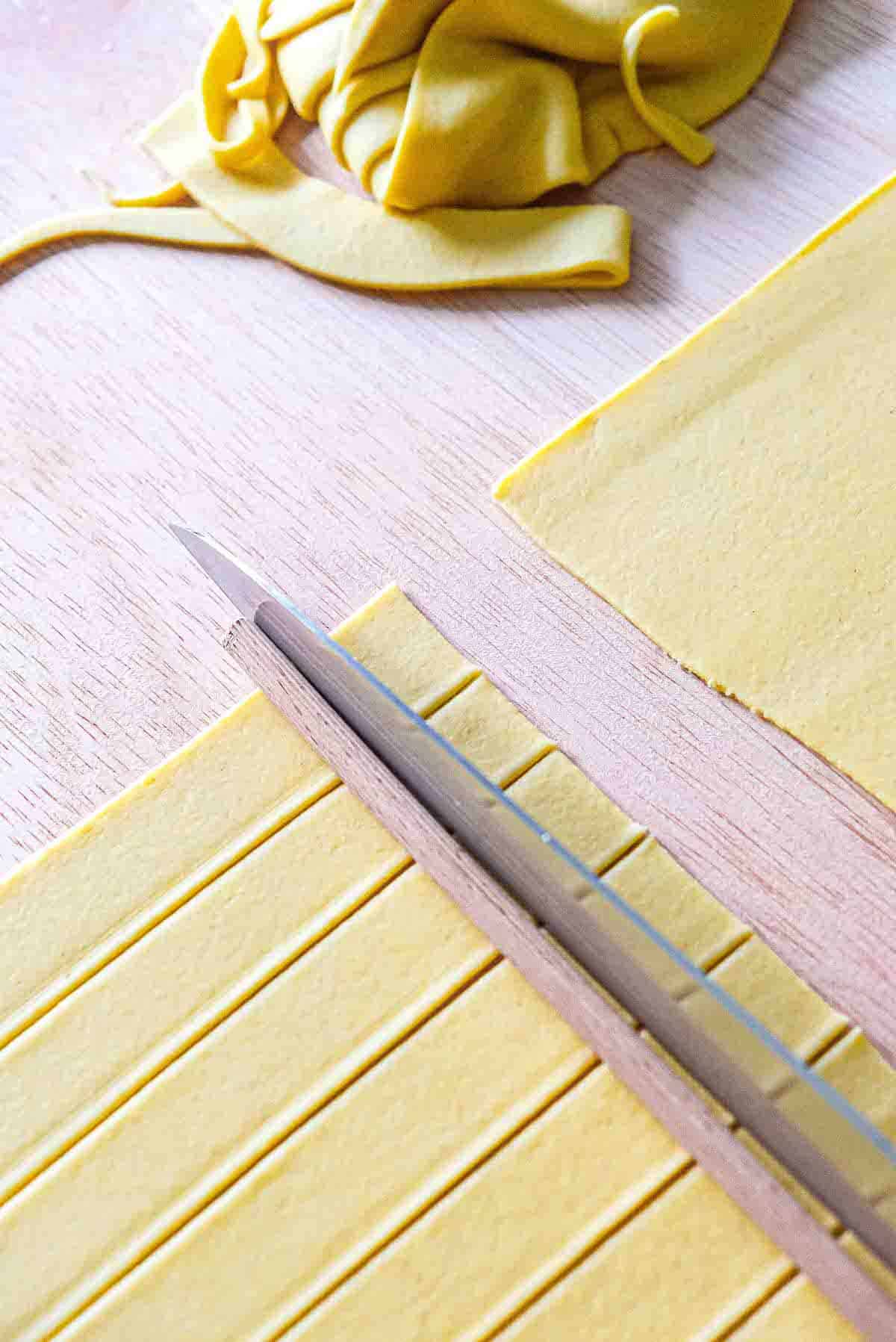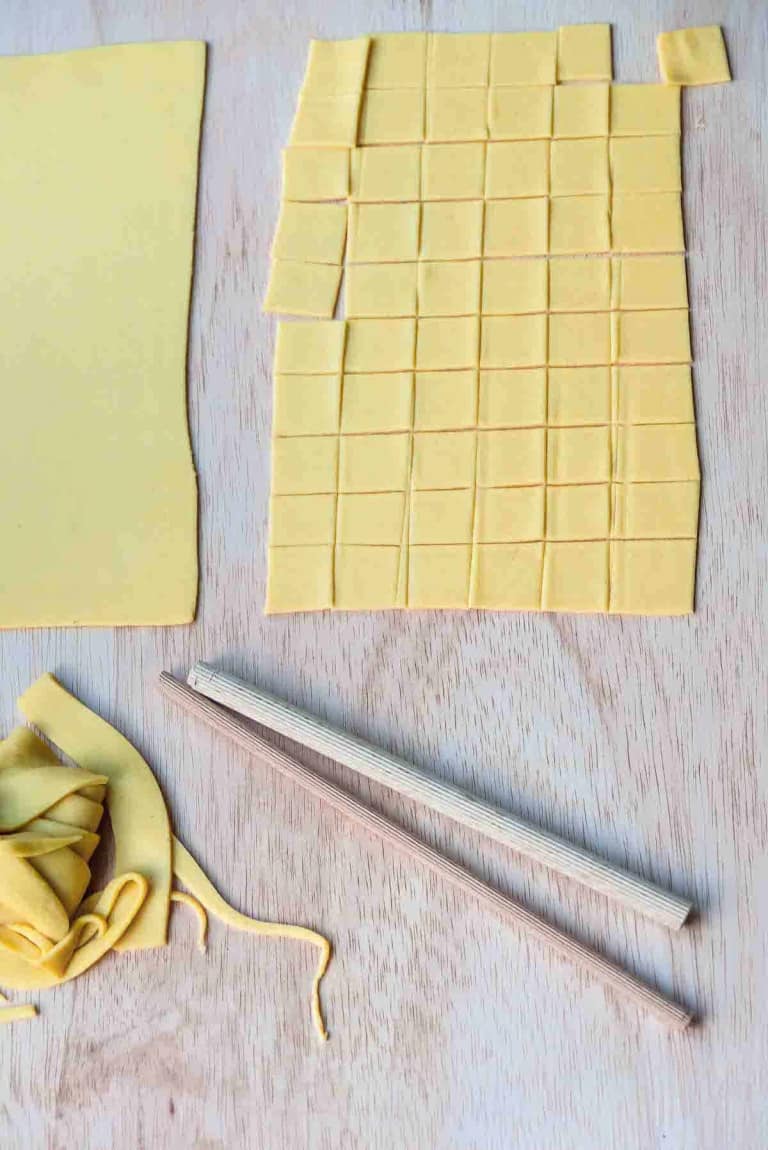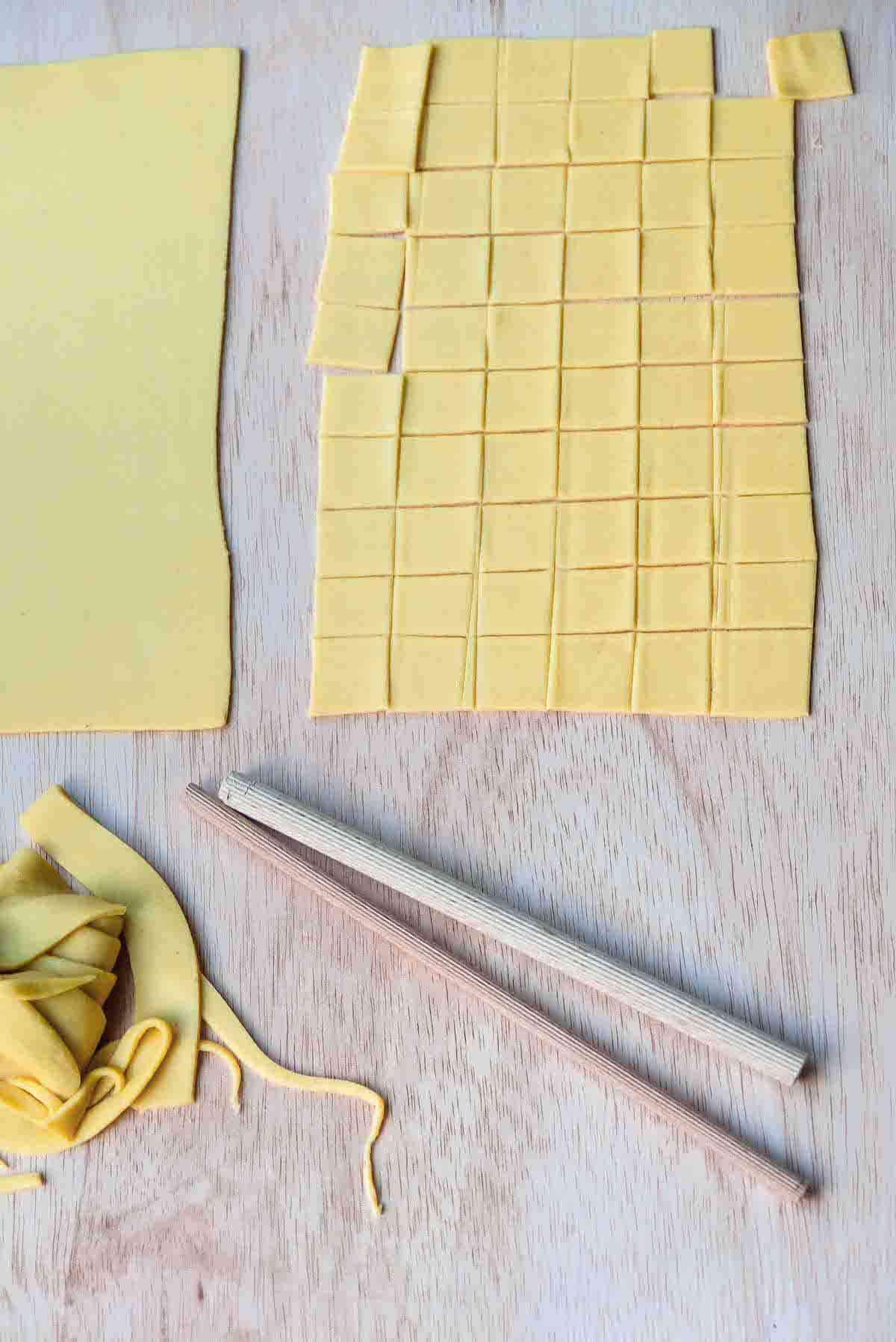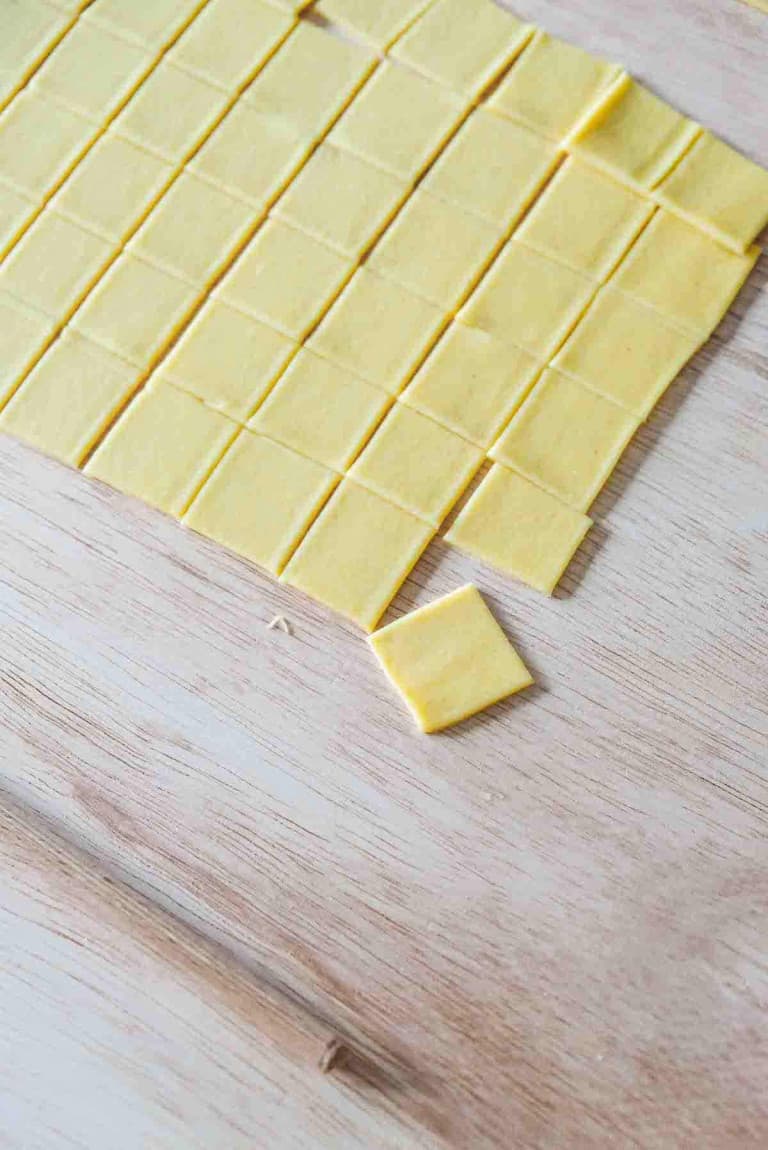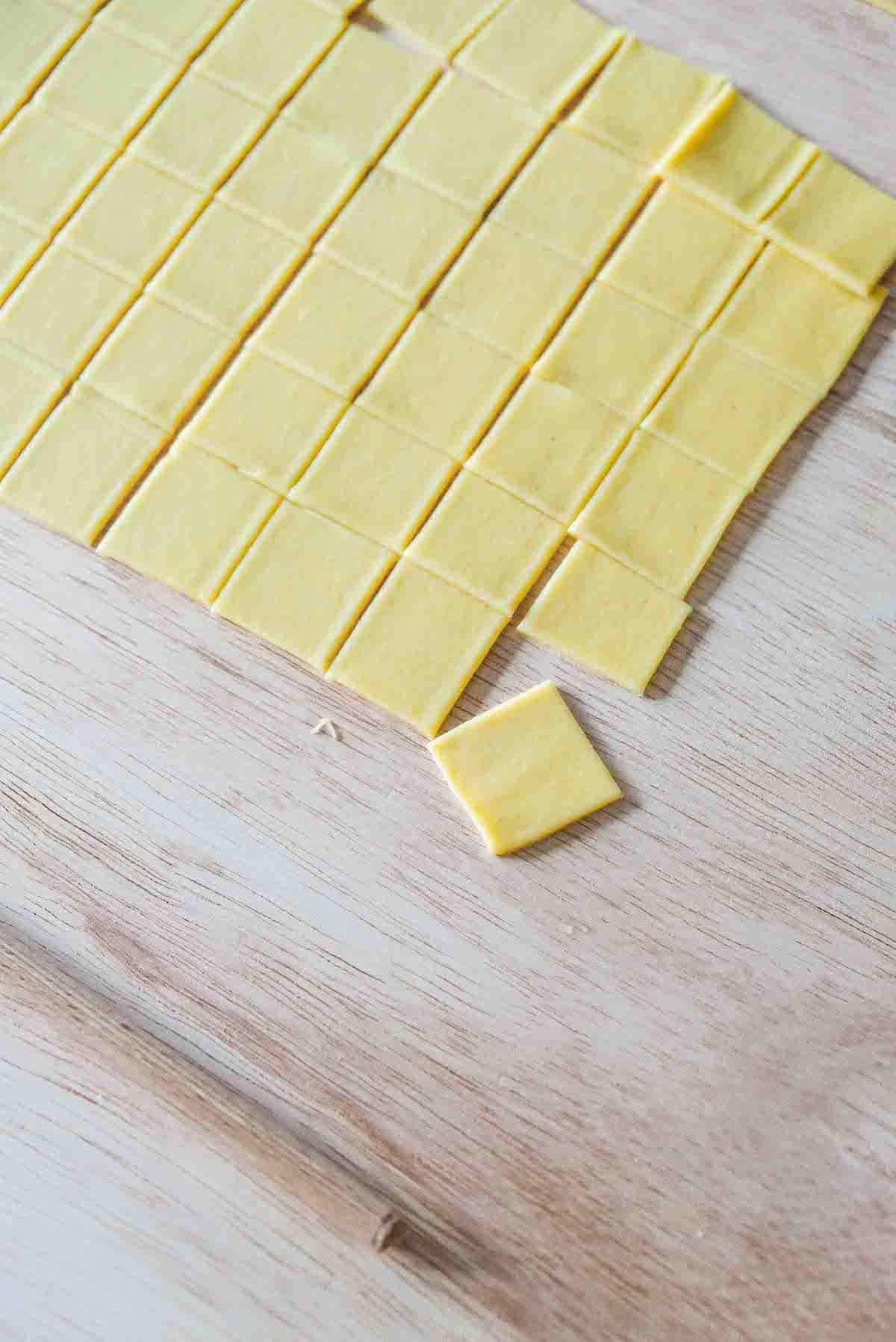 Once you've cut the sheet of dough into squares, take a square and use a skewer or wooden dowel to roll it into a tube as shown in the photos below.
You can do this on a work surface: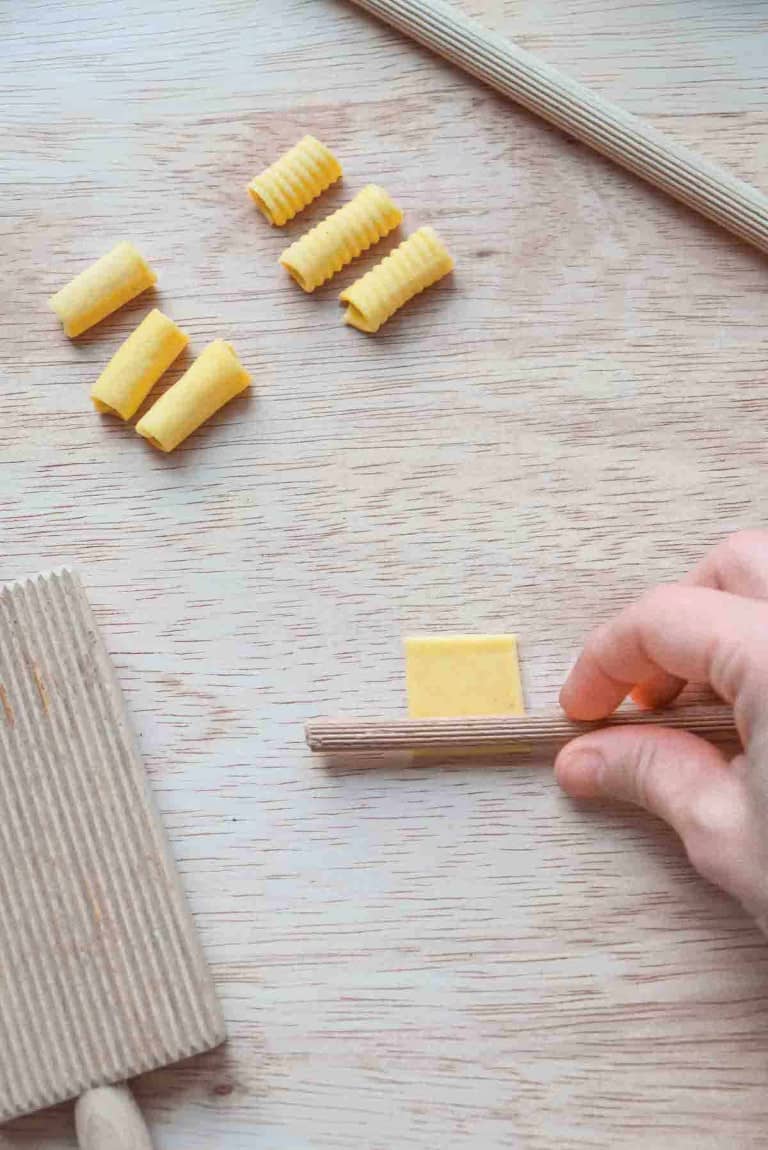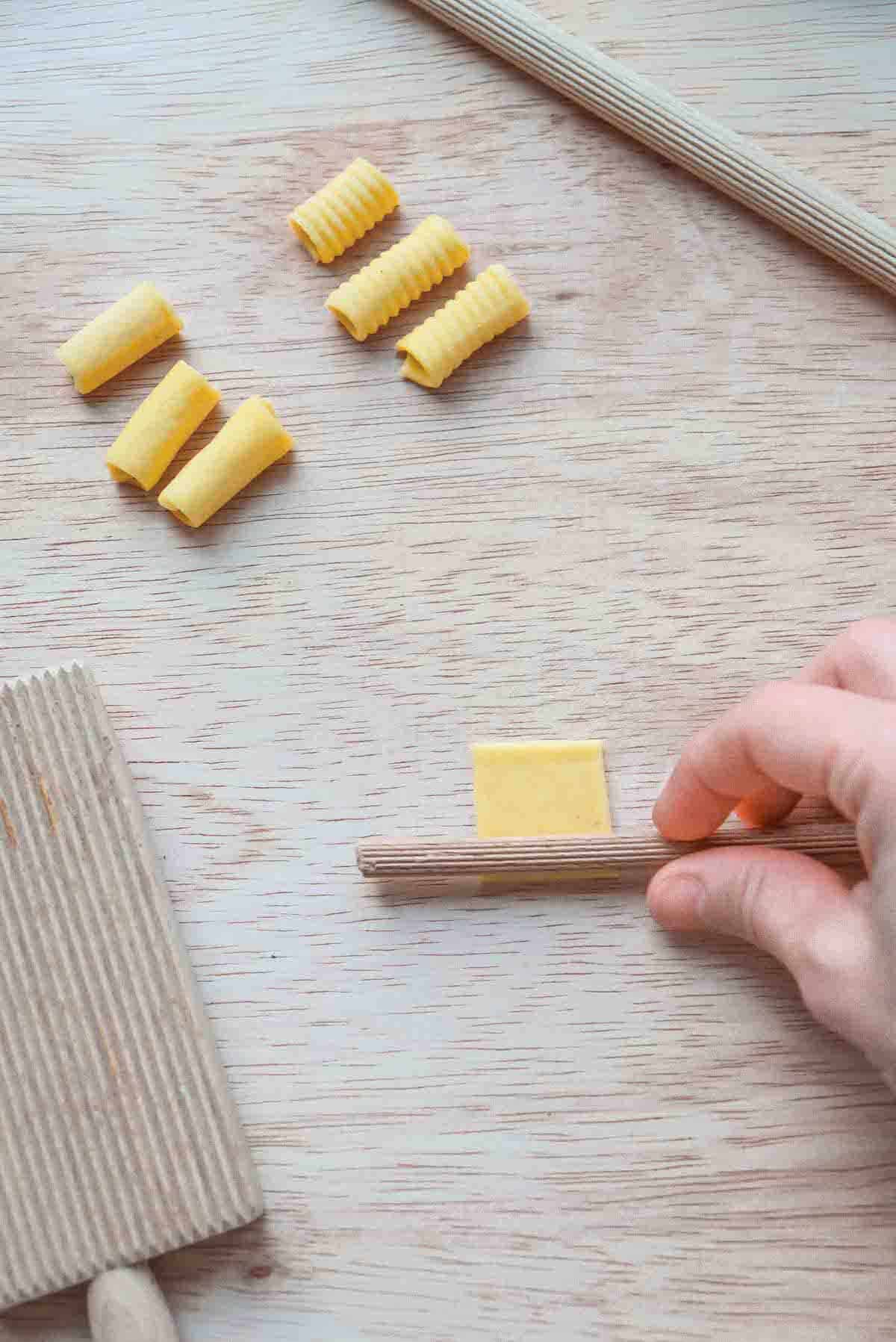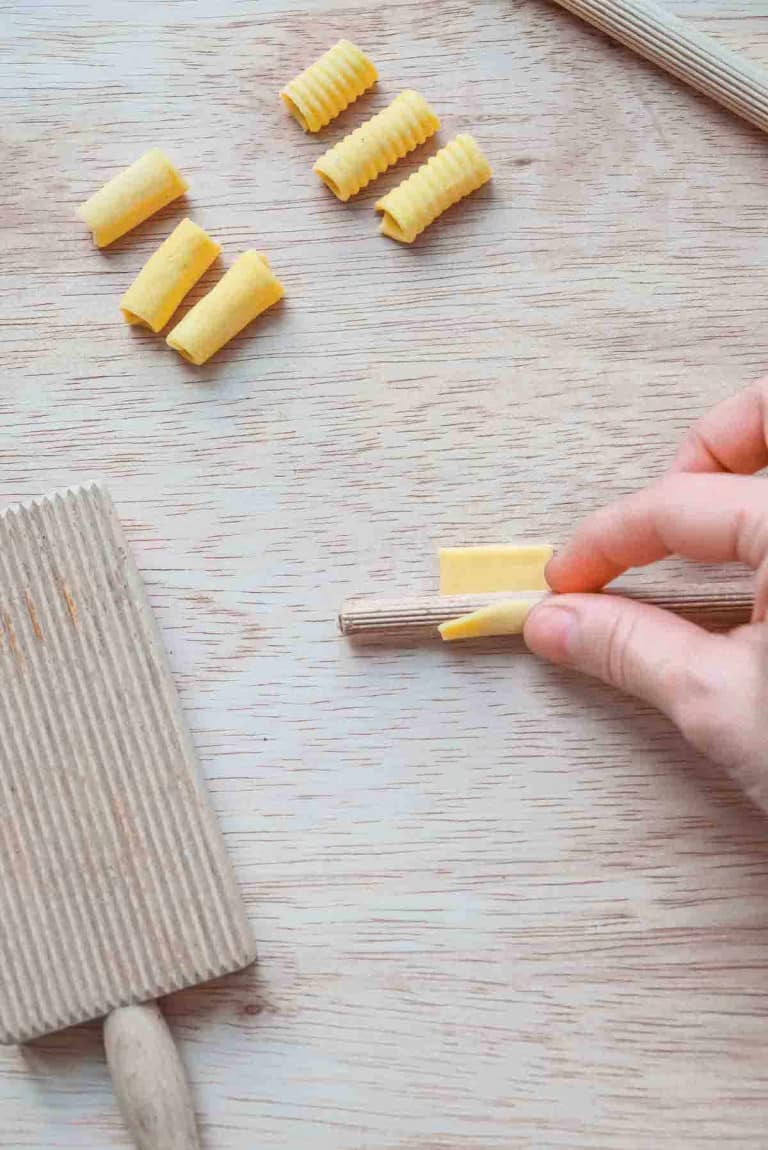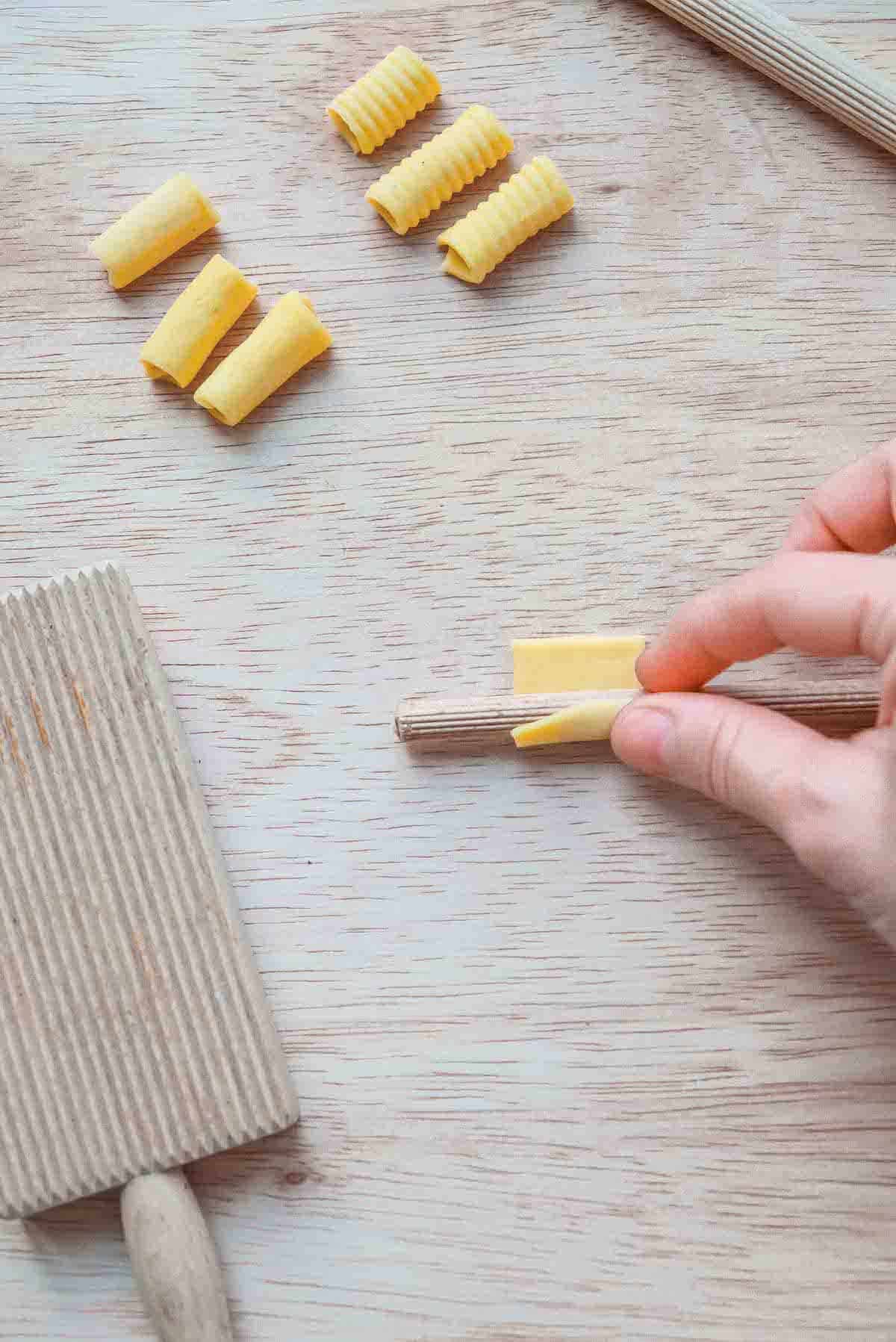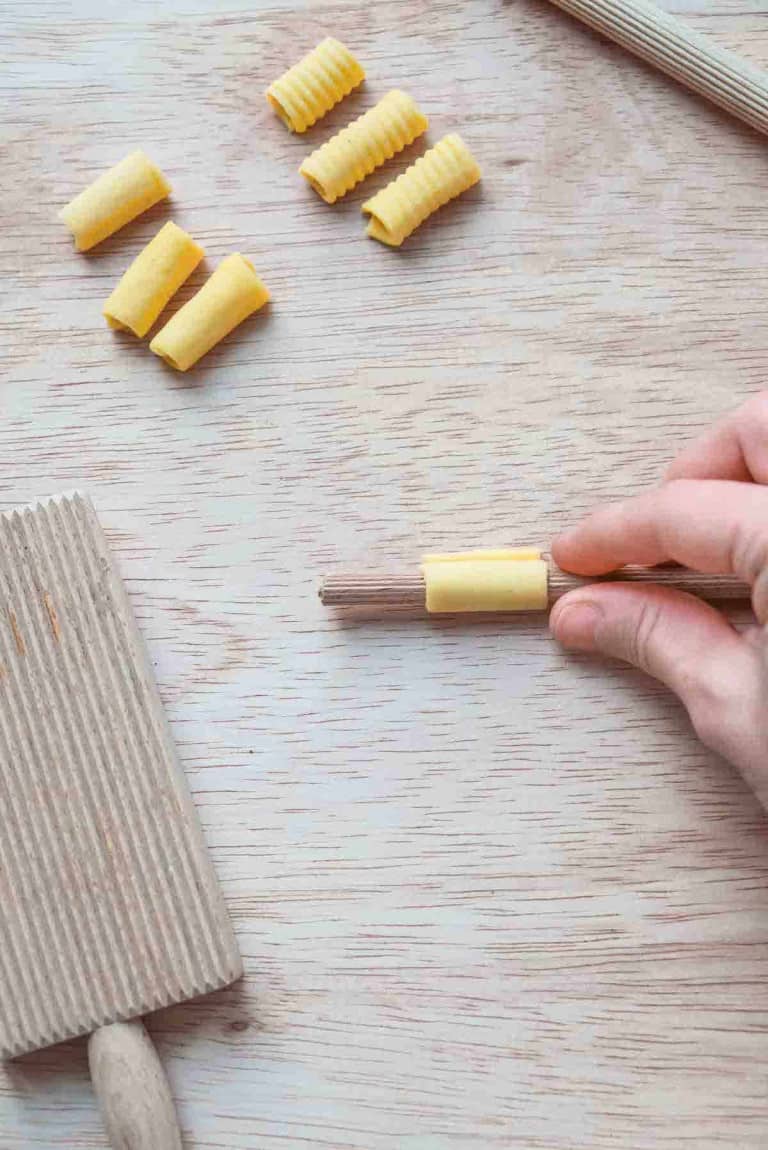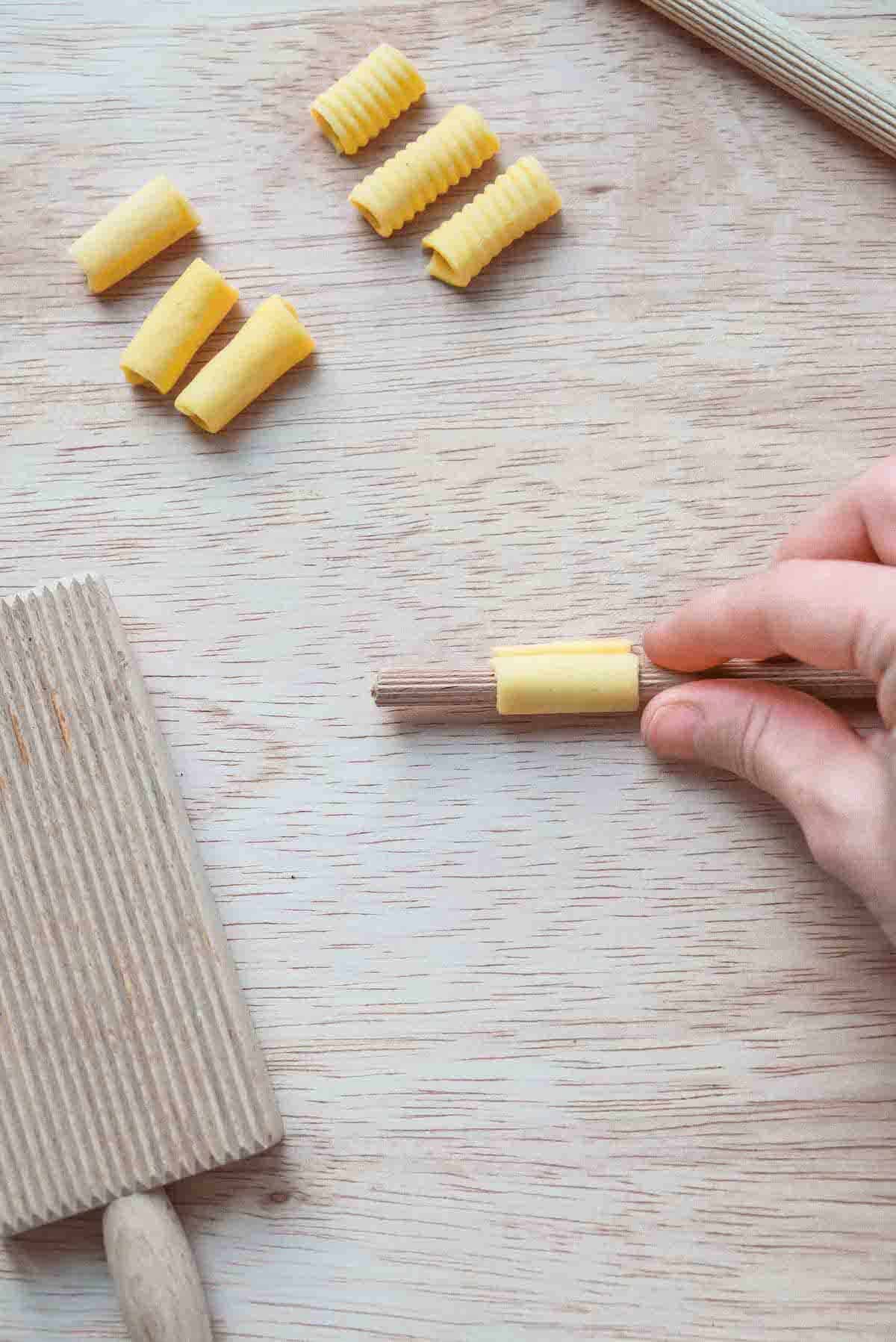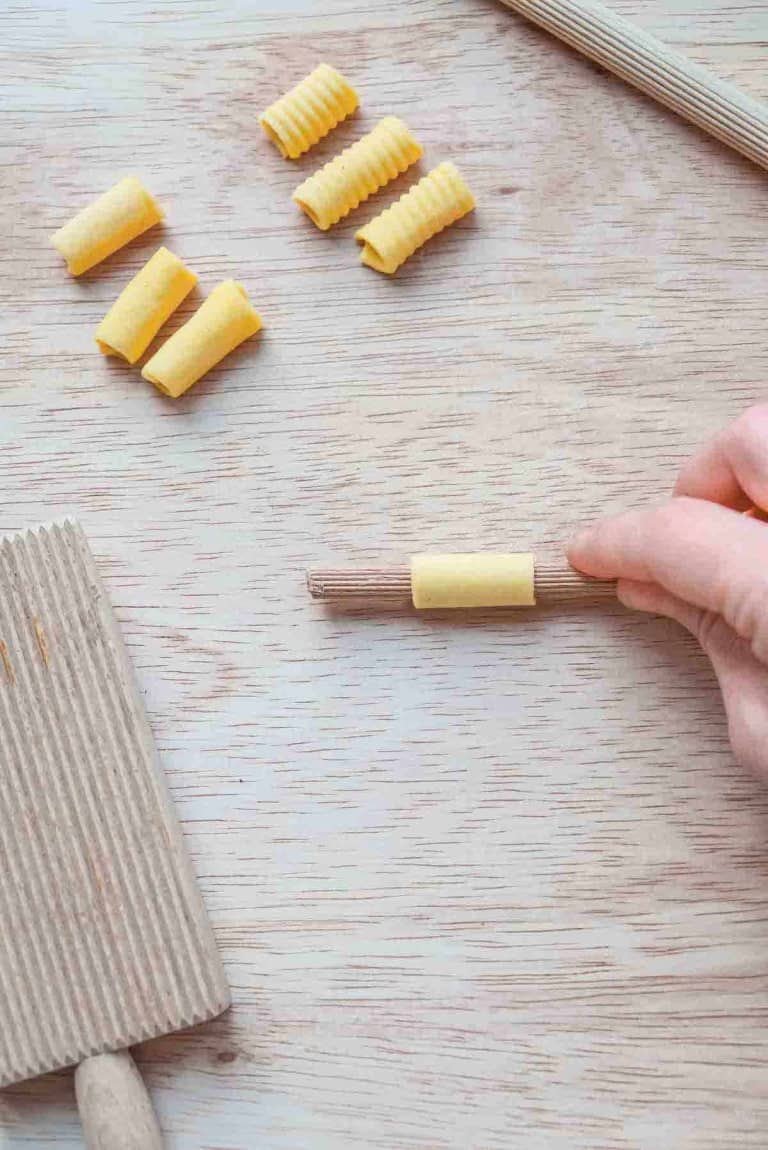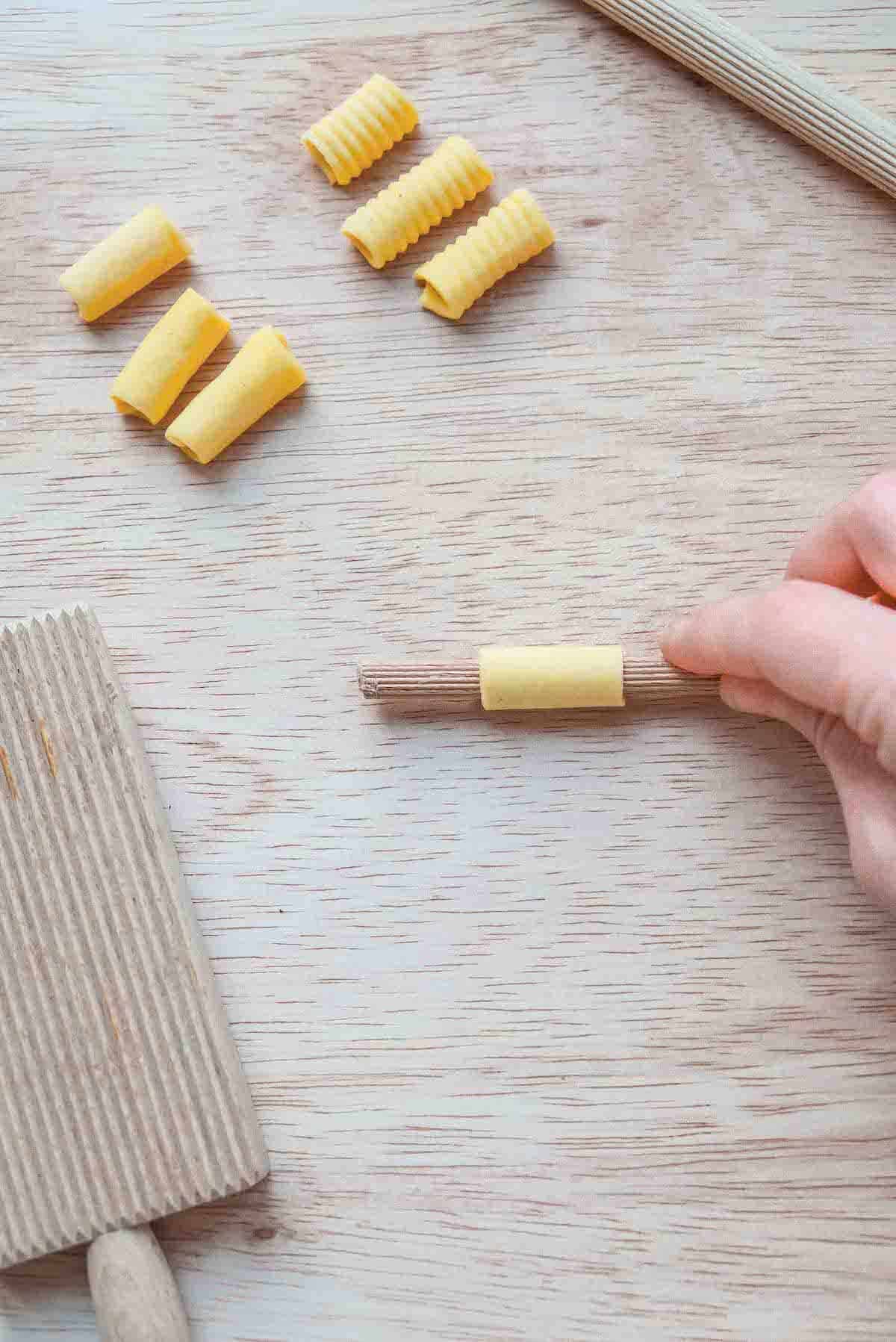 Or in your hands: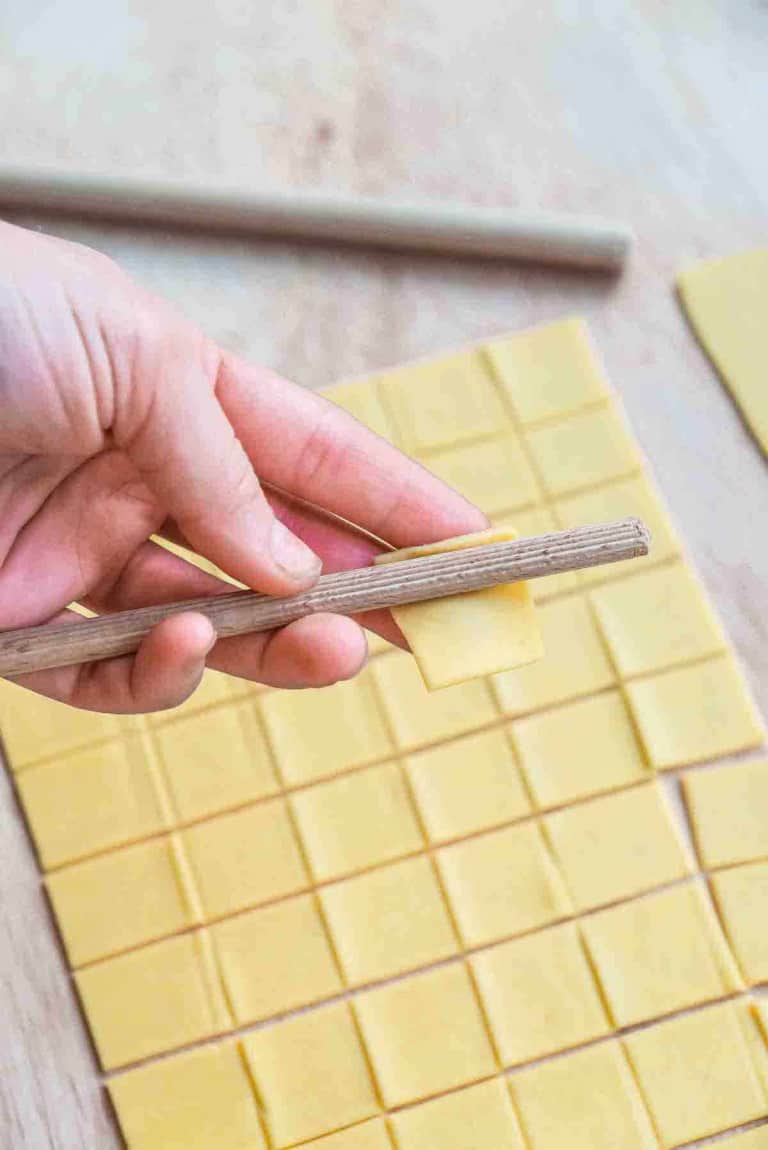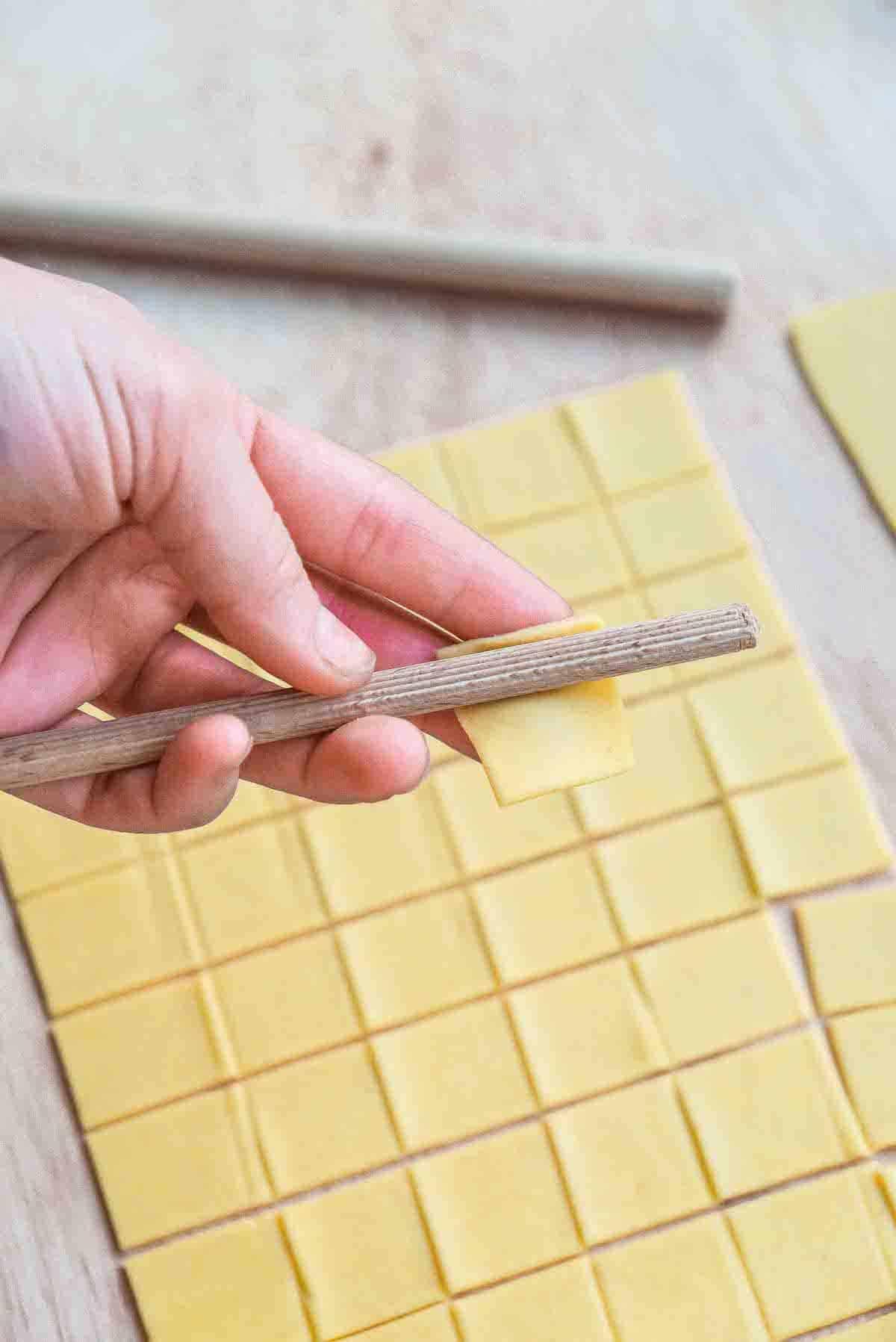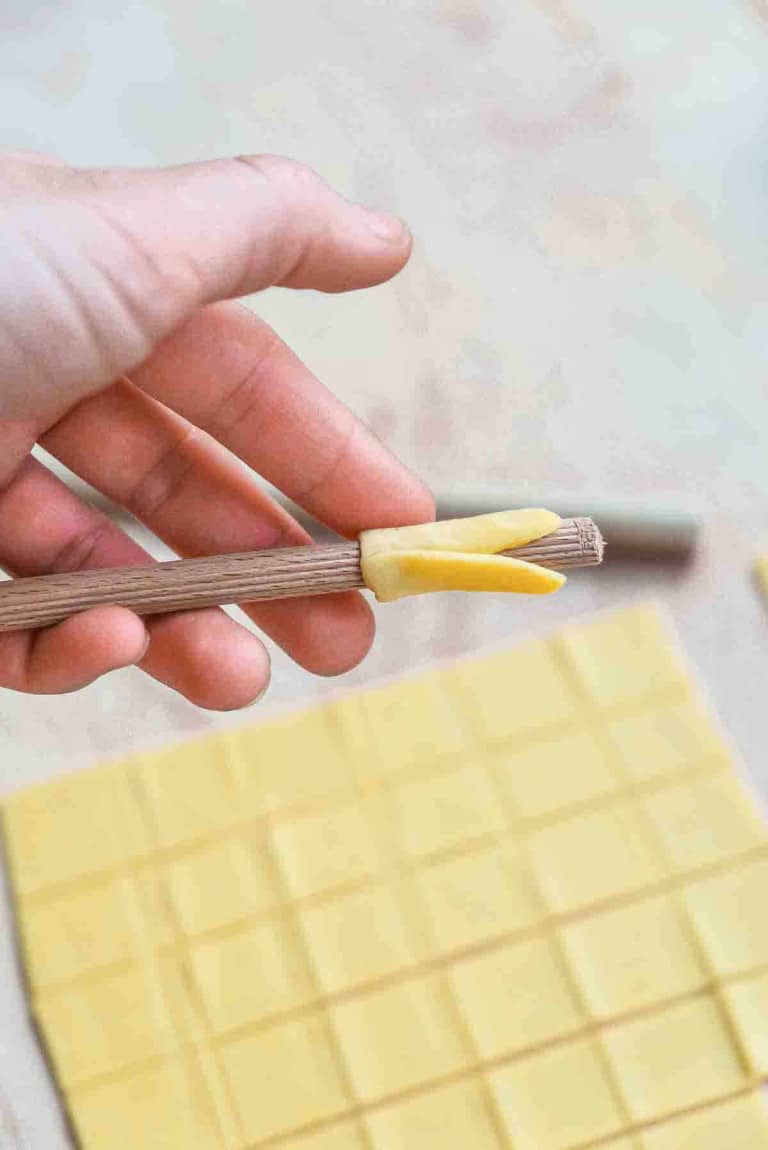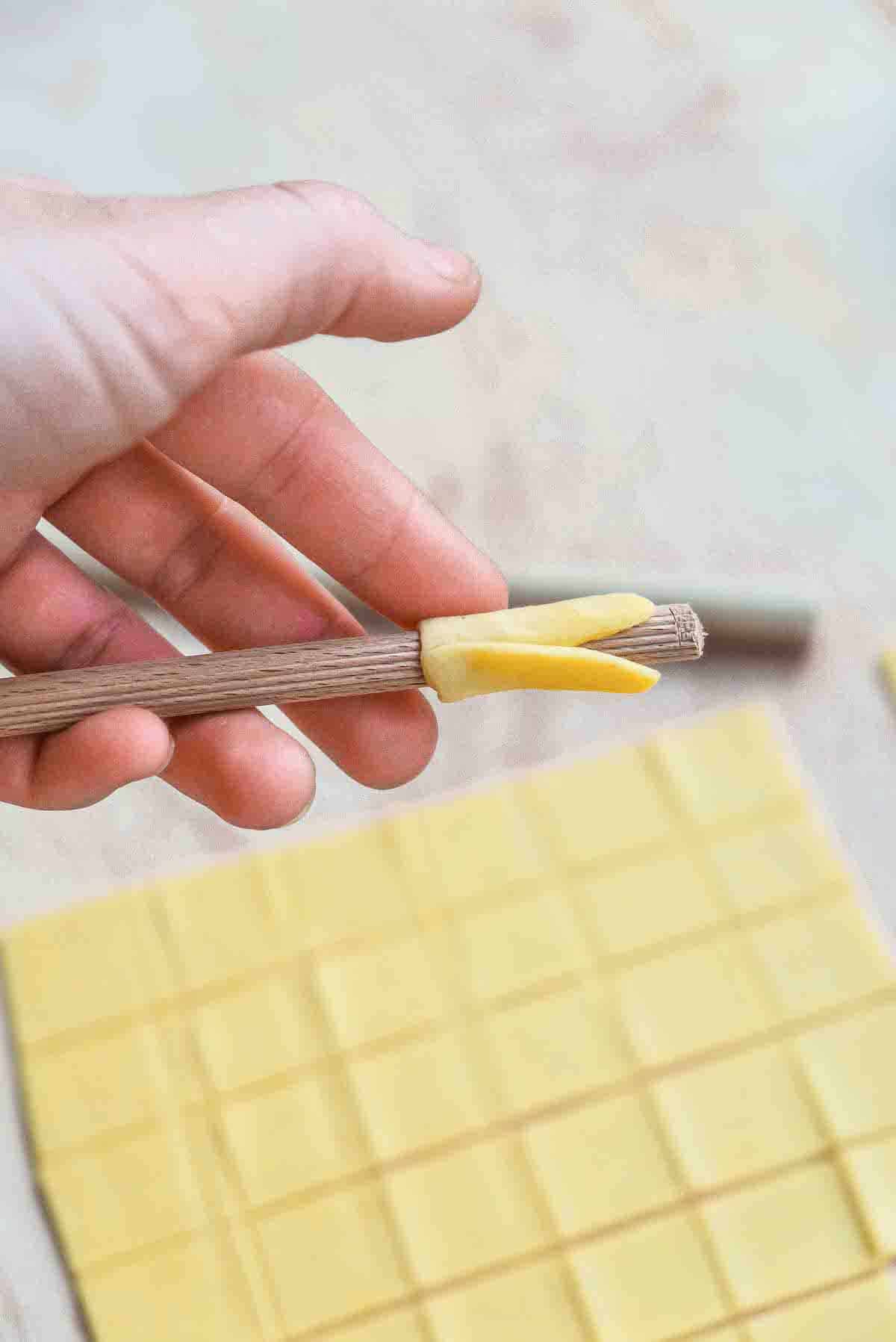 The rod shaping method is used to make many tubular pasta shapes like busiate, fusilli al ferretto, garganelli, rigatoni and even cannoli. By just swapping out different sizes and styles of rods you can make a totally different shape.
Storing
Pasta dough itself can be either frozen or refrigerated but certain types of dough will oxidize as they sit and turn brown which is not desirable.
The best way to store the pasta noodles is by drying them directly after shaping. If you dry them for 24 to 48 hours (depending on thickness) then you can store them for up to a few months but the pasta has to be absolutely bone dry or it may mold. Your safest bet is to dry and then freeze. Frozen pasta can be cooked without defrosting. Just start timing from the moment the water starts boiling again after introducing the frozen pasta.
Step 5: Cooking the dough
For the serving size shown in this post, you will need at least a 6 liter (or 6 quart) pot. Salt generously and bring to boil. Boil the noodles for 3 minutes. To test doneness: take one out and cut it through the middle. If there's no dry white portion, they are cooked.
Once cooked, they should be doused in sauce right away or they will stick together. See serving suggestions below for an interesting variation on mac and cheese that goes very well with fresh pasta.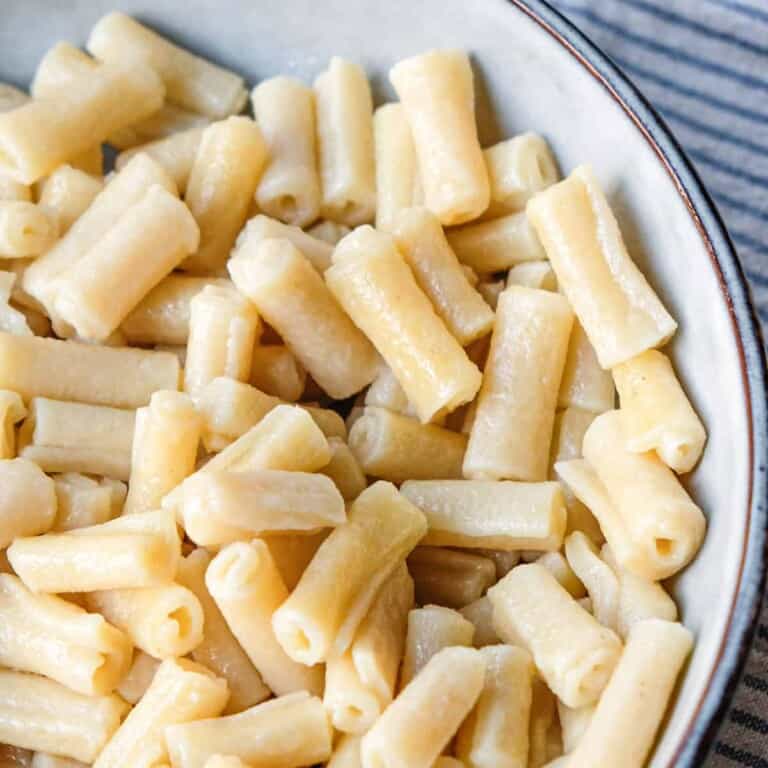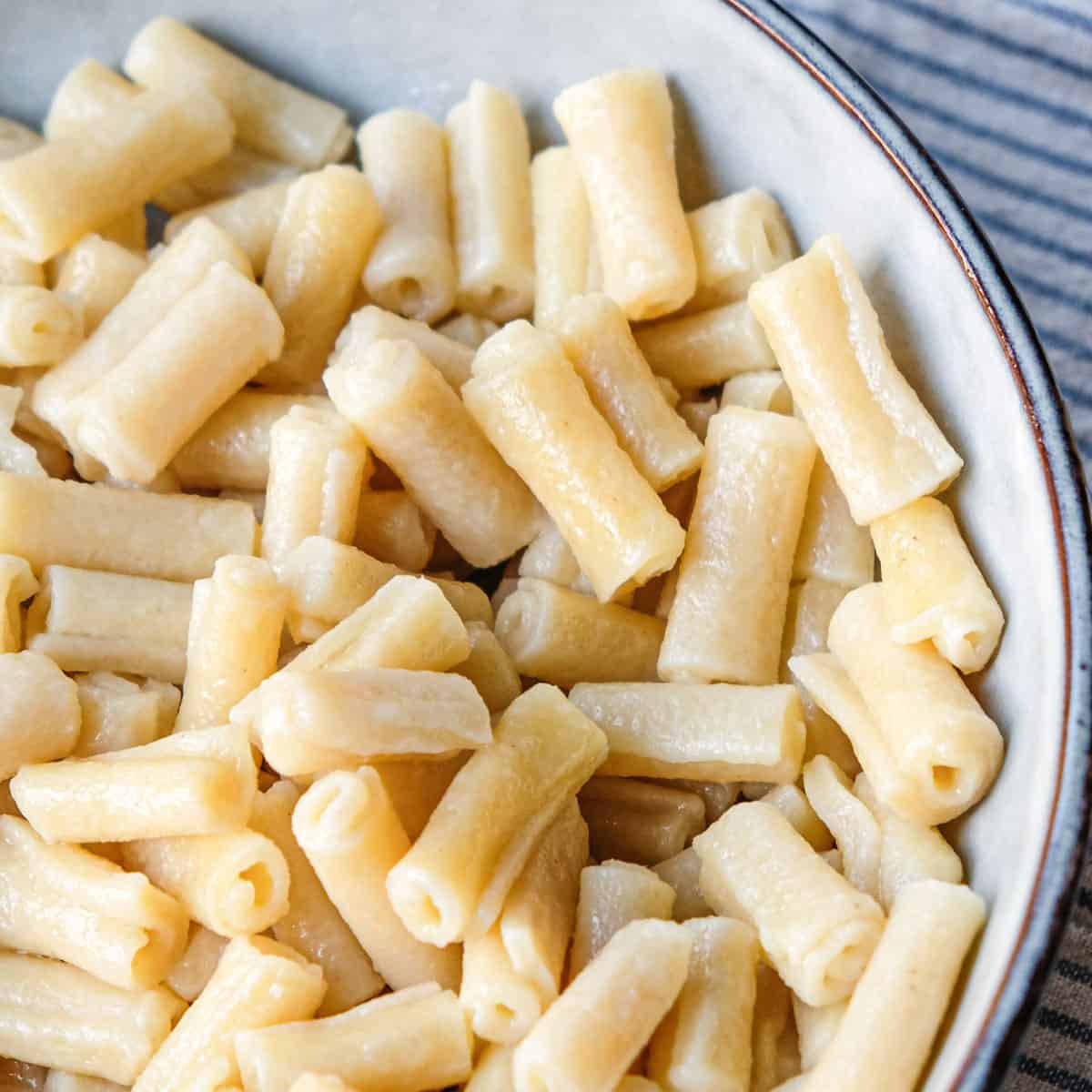 Serving suggestion
Making macaroni from scratch is not an everyday meal so it's nice to give it a little pizzaz when serving. One of my favorite ways to serve is by making Saffron Mac & Cheese.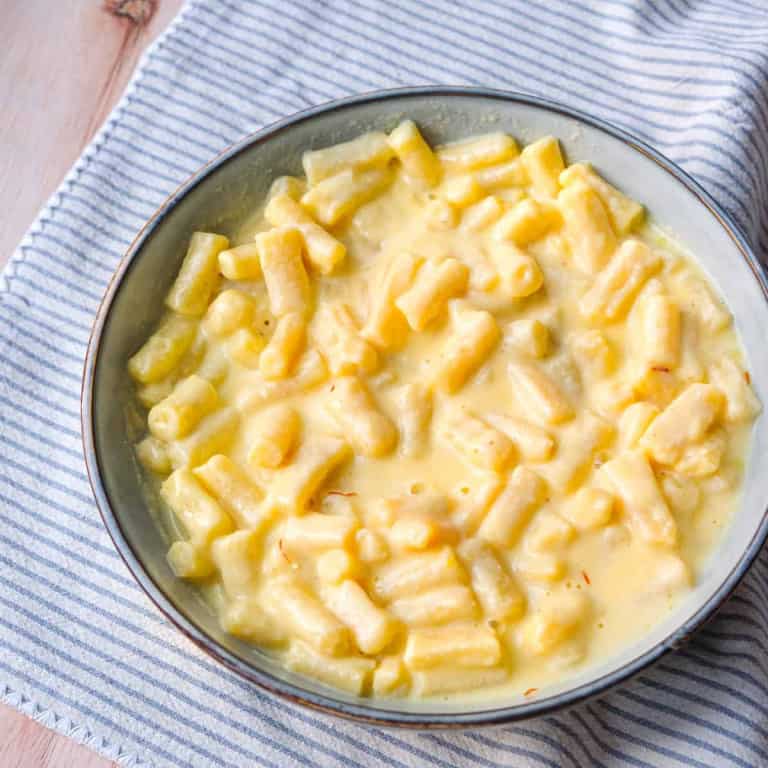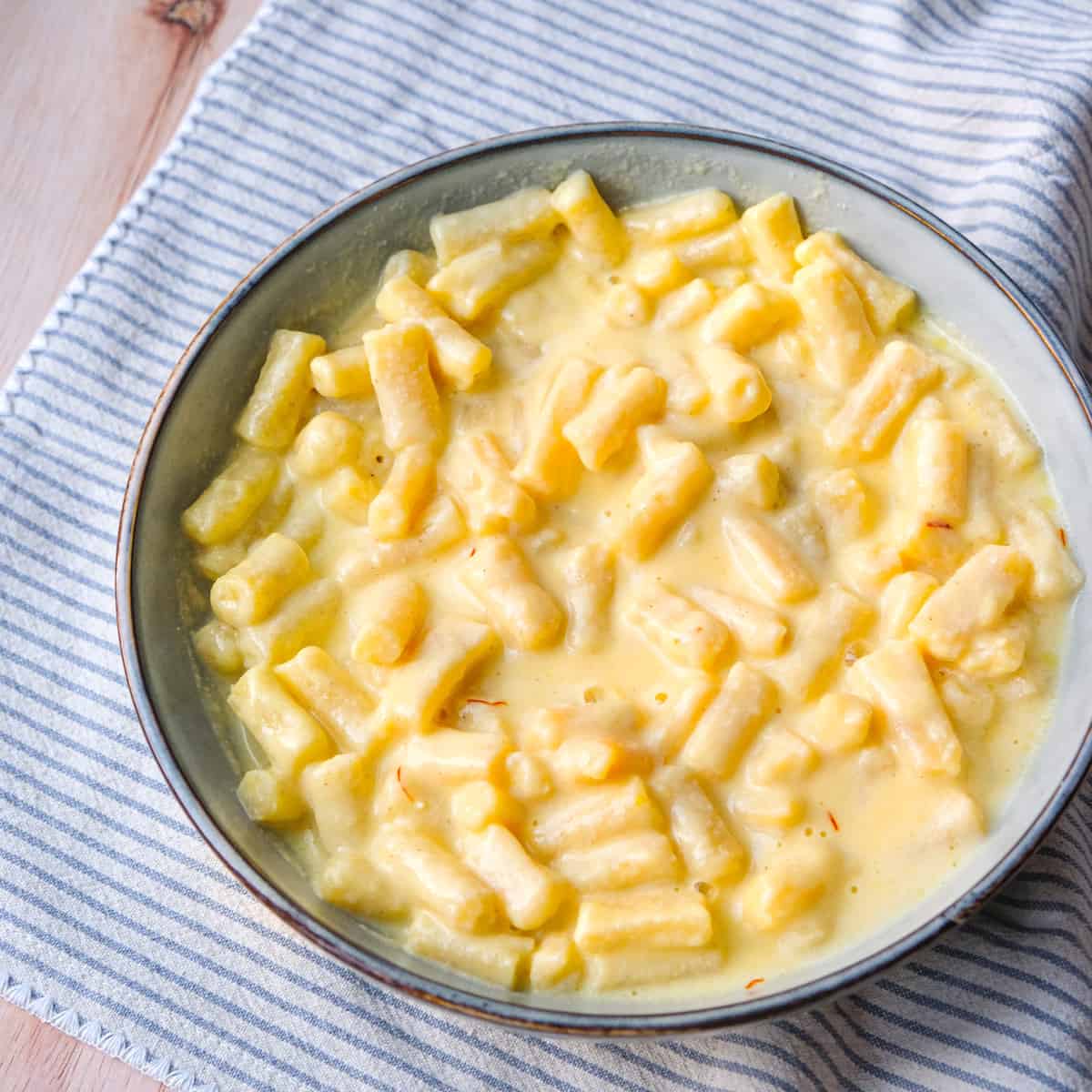 Scaling
As far as ingredients go, it's fairly easy to scale this fresh macaroni. The only limit is the time you're willing to put in. The usual rule is that a serving for one person is about 90 to 100 grams of flour (about 0.75 to 0.8 of a cup). So two cups of flour should make a quite generous serving for two.
Easy variations to try
By using different sized dowels or a ridged gnocchi board, you can make different types of pasta like the garganelli and rigatoni shown here.
Recipe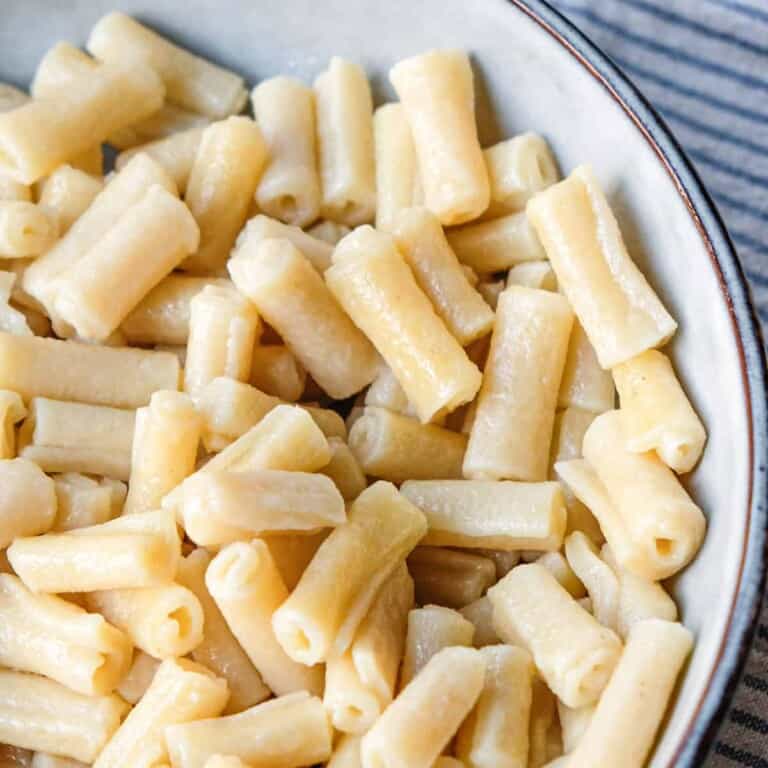 Handmade macaroni (no extruder)
Handmade macaroni is easy to make in your very own kitchen with the simple and traditional pasta making technique described in this post.
Print
Rate
Ingredients
200

grams

semolina flour

85

grams

water

15

grams

olive oil
Instructions
Mix & roll out the dough
Pour the semolina flour onto a work surface or into a large bowl.

Create a well in the center of the flour and slowly drizzle the water into the well while using a fork to mix it together. Do the same with the olive oil.

Once all the liquid is in, use your hands to bring it together into a ball of dough.

Knead the dough by pressing the heel of your hand to flatten it, fold it on itself, turn it a quarter turn, and repeat by pressing with the heel of your hand.

Knead for at least 5 minutes and then wrap the dough in plastic wrap or a clean kitchen cloth and rest for at least 20-30 minutes.
Shape
After resting, roll out the dough to approximately 1mm (0,039 inch) thickness using a rolling pin or pasta rolling machine.

Use a pasta cutter, pasta bicycle or knife to cut the dough into roughly 2.5 by 2.5cm (1 by 1 inch) squares.

Use a metal skewer, chopstick, wooden dowel or other cylinder to roll the dough squares into small tubes.

Gently push the pasta tubes off the skewer and lay them out on a wire rack, perforated tray or kitchen towel well-spaced apart.

Once all the macaroni has been rolled you can either dry it according to the instructions in the post, or cook it.
Cook
To cook bring a 6 liter or 6 quart pot of well-salted water to boil. Boil the macaroni for 3 minutes or until done (fully cooked to the center).

Drain the macaroni and immediately add to sauce. You can also drizzle with olive oil or butter but it may still stick.
Nutrition
Calories:
426
kcal
|
Carbohydrates:
73
g
|
Protein:
13
g
|
Fat:
9
g
|
Saturated Fat:
1
g
|
Polyunsaturated Fat:
1
g
|
Monounsaturated Fat:
6
g
|
Sodium:
3
mg
|
Potassium:
186
mg
|
Fiber:
4
g
|
Calcium:
18
mg
|
Iron:
4
mg