This saffron mac and cheese is a more sophisticated take on classic mac and cheese. A rich bechamel sauce base combined with 2 types of cheese and delicate saffron threads give it a taste reminiscent of the classic Italian dish Risotto alla Milanese.
You can also take it up another level by making the macaroni by hand.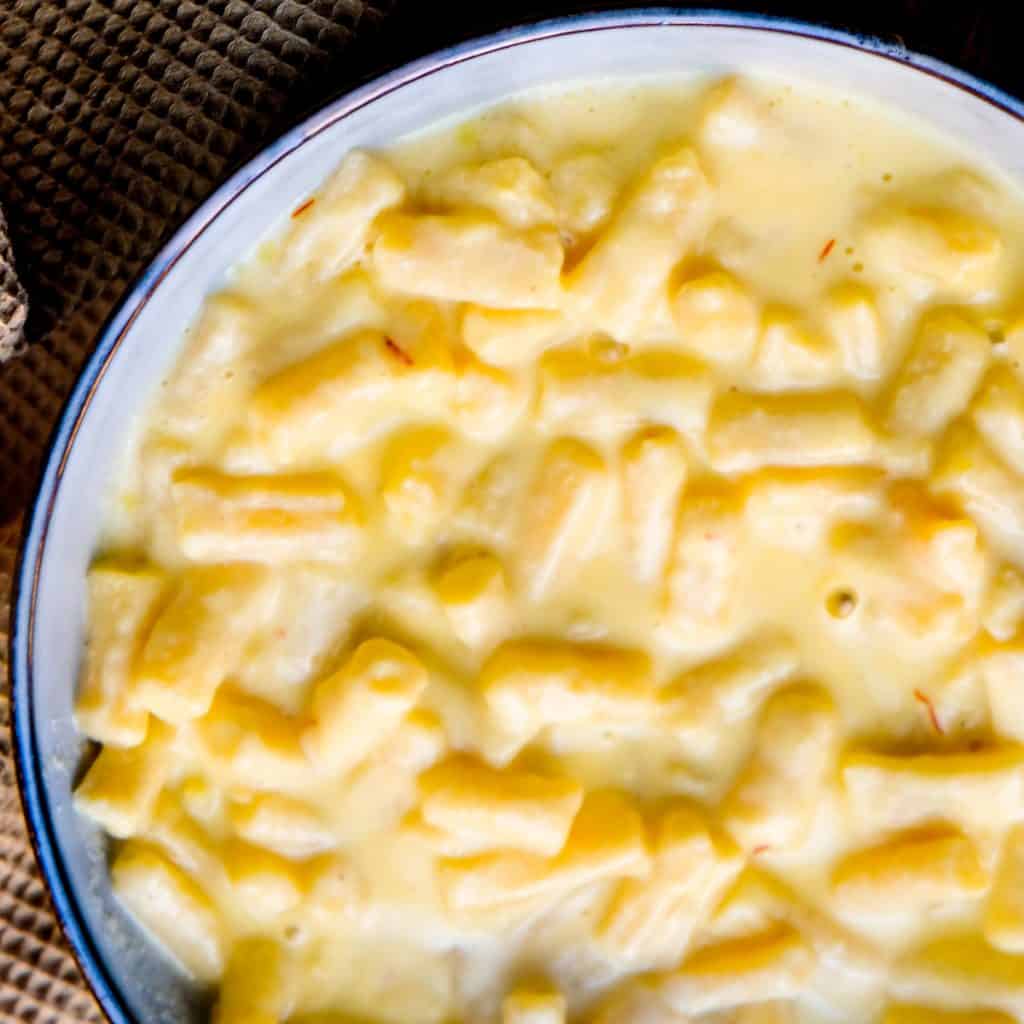 The basic idea it to make a very thin bechamel sauce and then add a lot of cheese to it. You can add any cheese you like.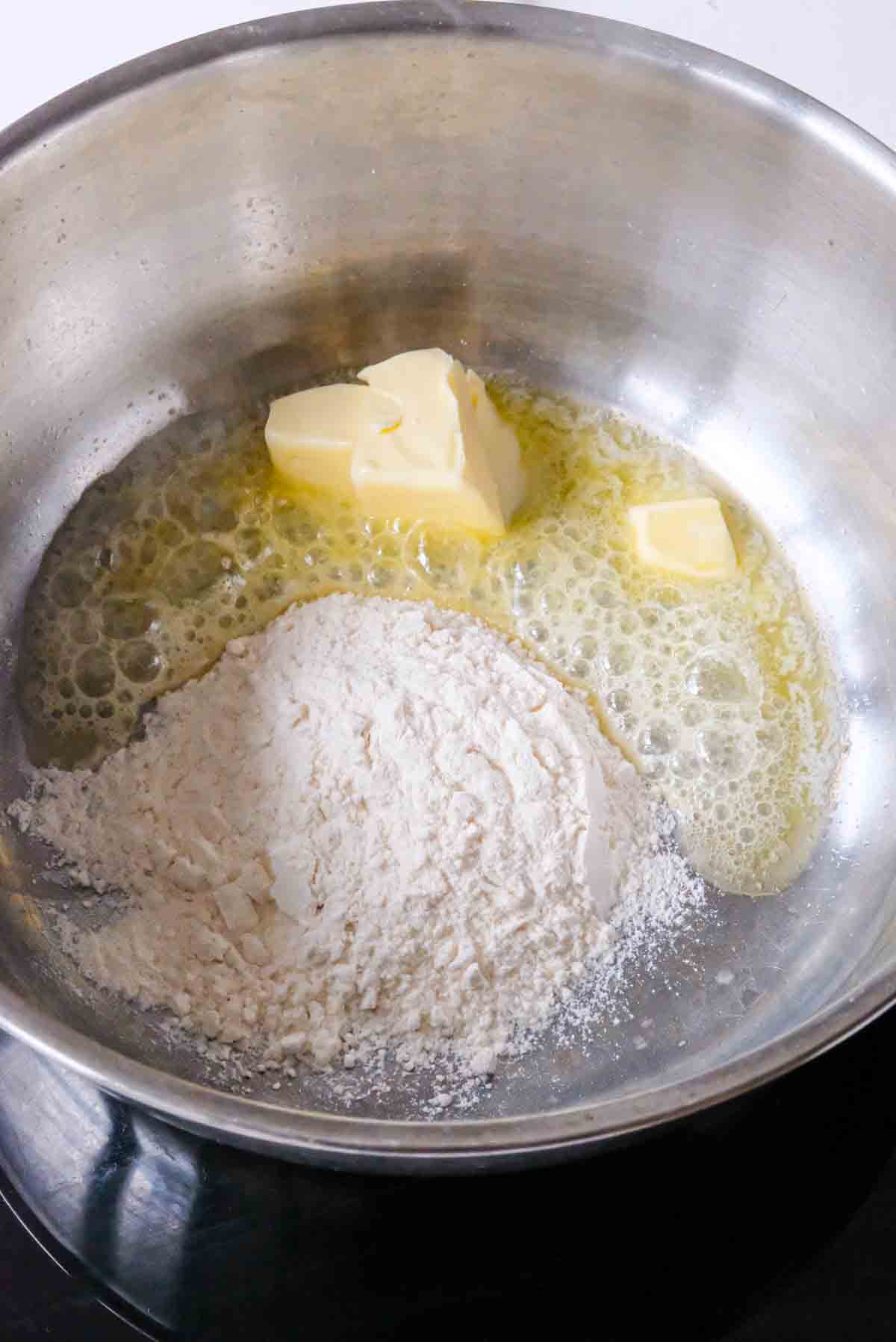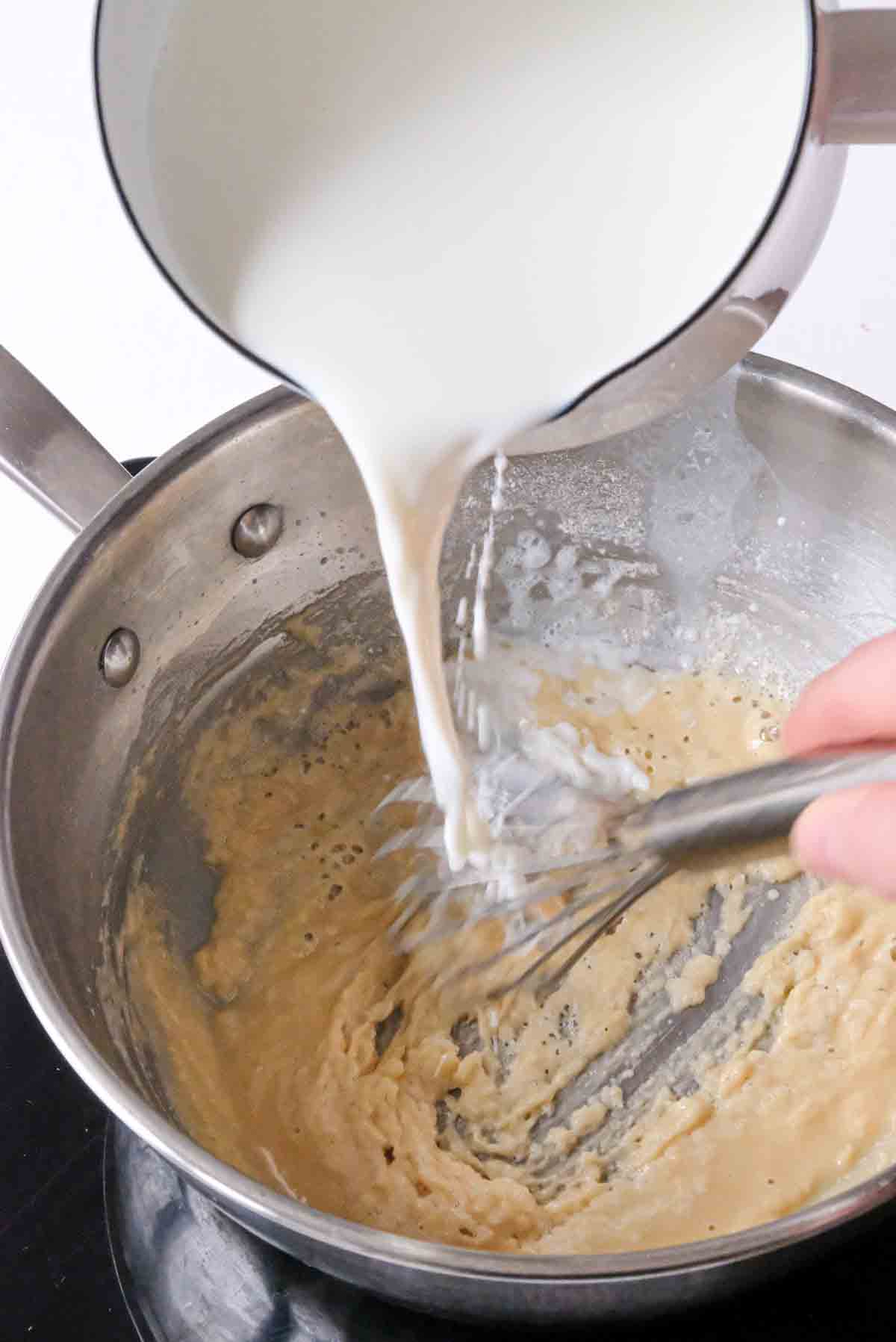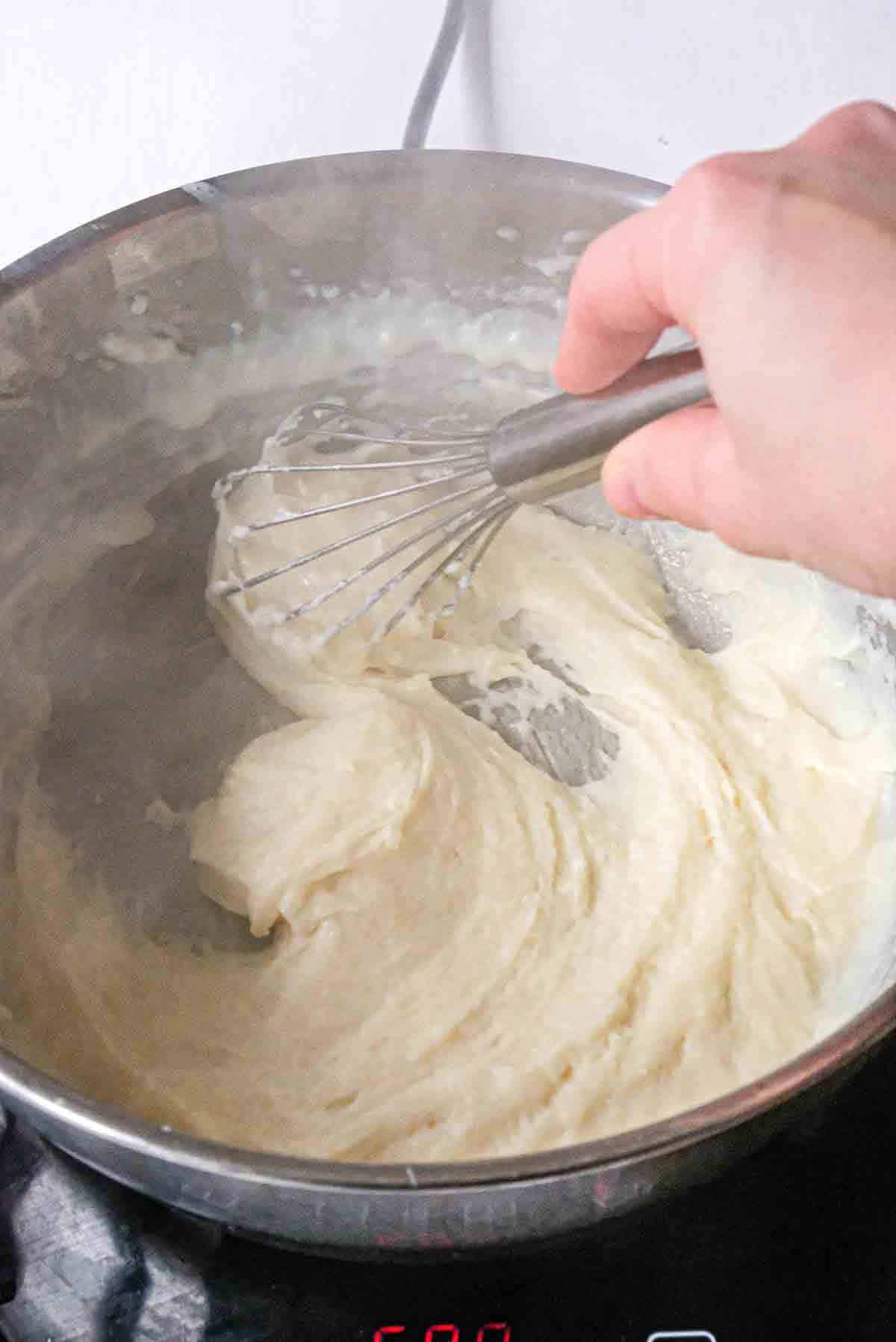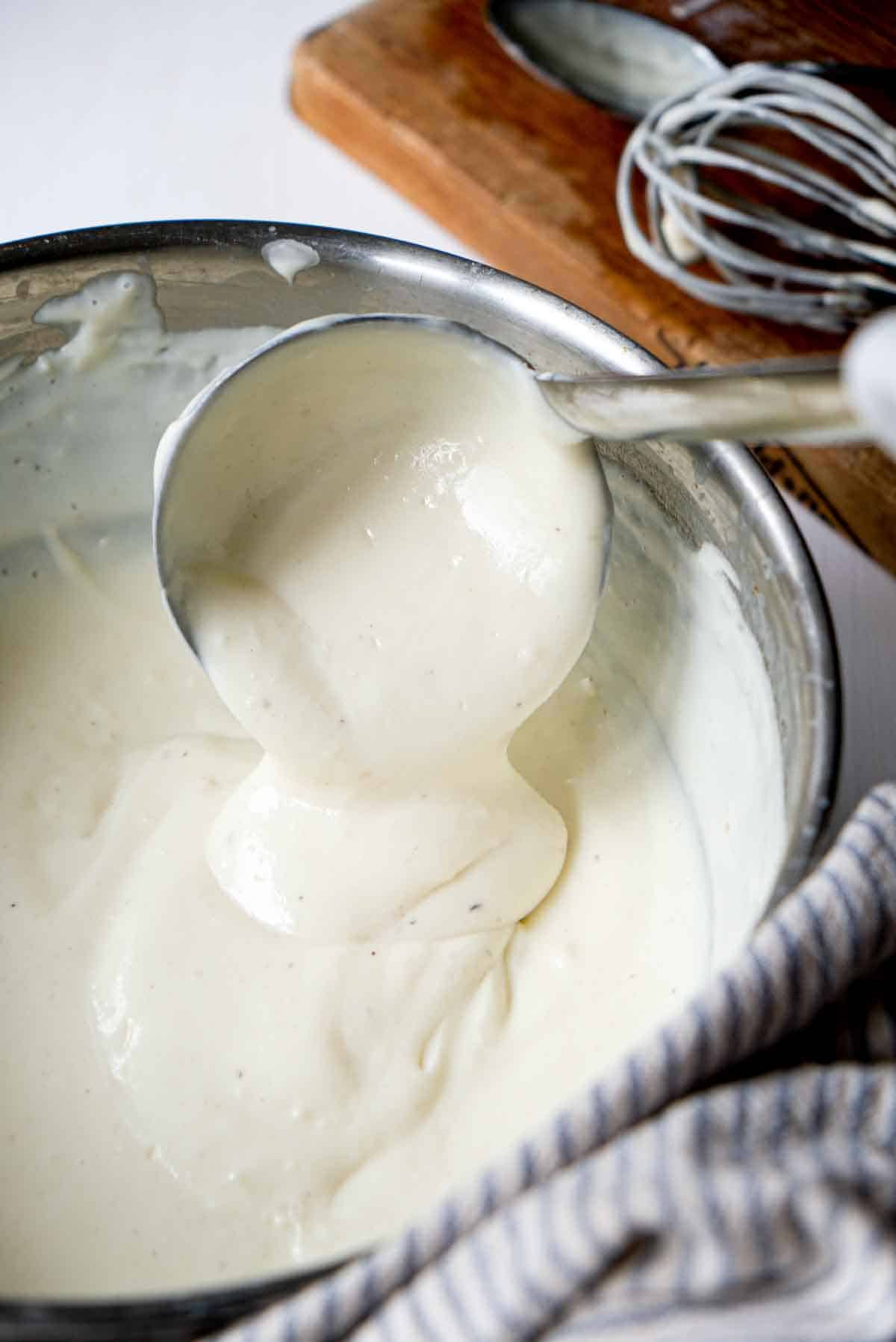 Bechamel substitutes
Saffron mac and cheese is best when made with a creamy bechamel sauce base. A bechamel sauce is made with a roux which is a 1:1 ratio of starch and fat used to thicken liquids into sauces. It's the base for a variety of creamy sauces like bechamel as well as gravies and even soups like gumbo.
A roux is a really good foundational element for a cream based pasta sauce because it is a very stable emulsion.
Unlike a purely cream based sauce, a roux prevents the fat from separating from the liquid.
Fat: Most commonly butter but you could also make a roux with other fats like lard or even olive oil.
Starch: Most commonly wheat flour. In a snap you could also substitute a cornstarch slurry and there are also options for a gluten-free roux although the texture will be different than wheat flour. There's a reason wheat flour is most commonly used.
Milk: Most commonly dairy milk but you can substitute a variety of plant-based milks like oat or soy without a very significant variation in texture. Likewise if you were making a gravy you would substitute vegetable or meat stock for the milk.
Alternative to bechamel: Cream Sauce
If for any reason you need an alternative, you can make a dairy cream based sauce without the roux.
For example you can heat a cup of cream in a skillet, add the cheese and then heat over medium-low heat stirring frequently until reduced to desired consistency.
Alternative to bechamel: Mascarpone cheese sauce
Another relatively simpler option is to melt 1 cup of mascarpone cheese in a skillet and add the cheddar and other flavoring cheeses to it. This will give a nice creamy consistency. Salt as needed and add ¼ cup of pasta water at a time until desired consistency.
While these options will produce a nice creamy sauce and might be slightly faster than making a roux, they can separate when you reheat them so they aren't the best option for leftovers or make-ahead meals.
Other great pasta recipes:
Creamy Tomato & Herb 3 Ingredient Pasta
Andouille Carbonara
Cheeses
Of course a variety of cheeses can go into a mac and cheese. Cheddar doesn't even have to be one of them - although it is an excellent option.
The only consideration is that the cheese melts homogeneously so that it blends into the emulsion. it's not always easy to know which cheeses will incorporate although it's only happened to me once that a cheese formed chunky strings instead of melting through.
If you want to use pre-shredded cheese be mindful that there is a trade-off between convenience and texture. Pre-shredded cheeses are often coated in anti-caking powders which can prevent the cheese shreds from incorporating properly into the emulsion.
At the end of the day it is unlikely to be a very significant effect, but if you're really rushed for time even rough cutting your cheese into big chunks and letting it melt down all the way can save you some hands on time.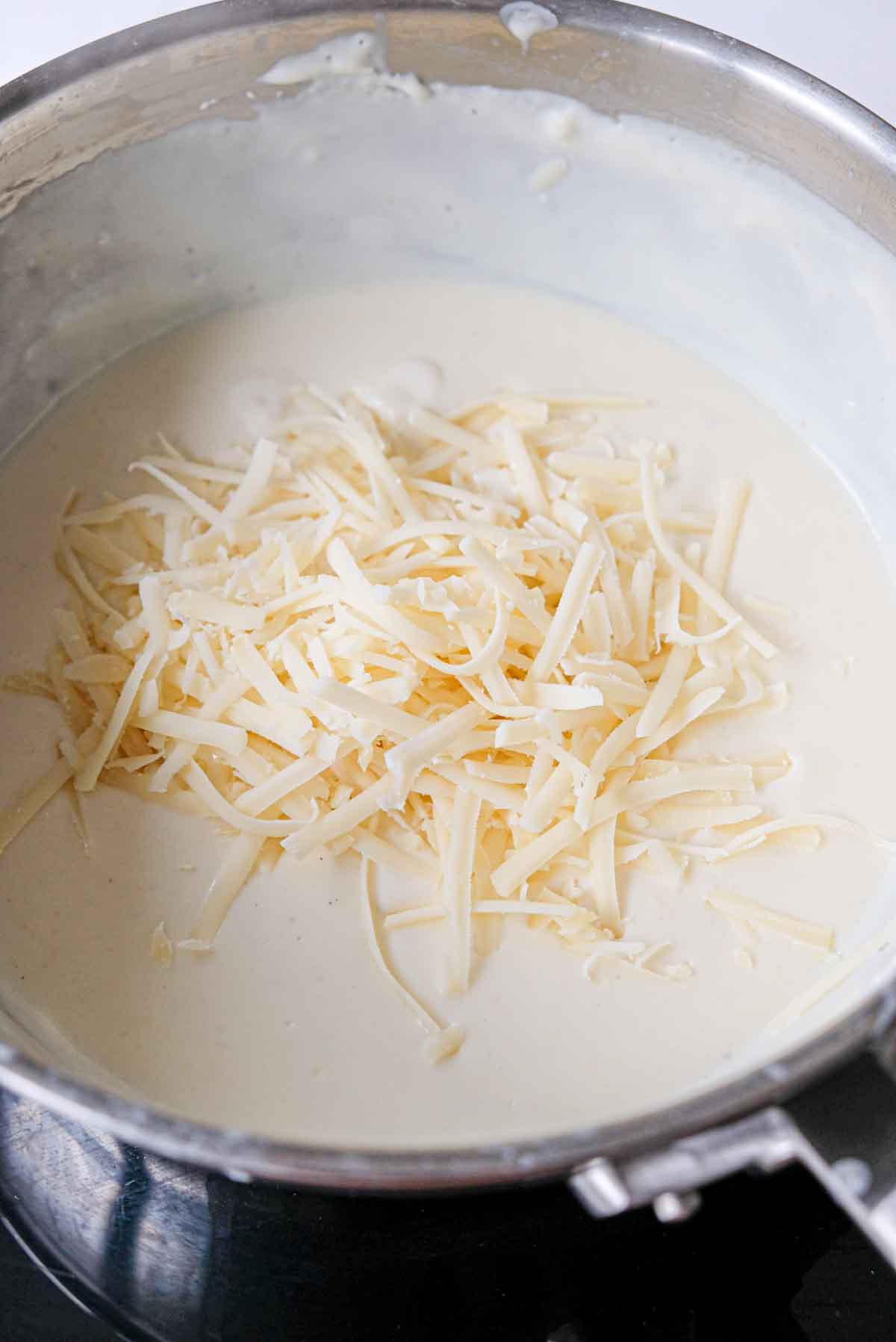 Saffron
Saffron has an aroma until any other spice. There's a reason it's the most expensive spice in the world and it isn't just the labour intensive process required to harvest it - it's the distinctive and complex aroma. Saffron is earthy like truffle, with warm notes and a sharp but subtle pungency.
The addition of saffron to cheese and cream based dishes has its origins in Italian cuisine. The famous risotto alla Milanese which was first mentioned in 1574 and itself is derived from Arab and Jewish influences in Italy.
Combining saffron with your mac and cheese creates a unique taste experience. It can't be replicated by substituting another spice without it becoming a completely different dish.
Recipe
Saffron Mac & Cheese
A sophisticated take on the classic mac and cheese. This saffron mac and cheese takes a cue from risotto alla Milanese, Milanese style risotto that combines rich cheese with fragrant saffron. Once you try it you'll see - these flavours belong together!
Print
Pin
Rate
Ingredients
500

grams

dry macaroni

or other pasta of your choice

2

tablespoon

salted butter

2

tablespoon

flour

heaping tablespoons

1

liter

whole milk

1

cup

reserved pasta water

220

grams

cheddar

80

grams

gruyere

½

teaspoon

saffron
Instructions
Boil pasta per package directions in well-salted water to al dente consistency. 

Melt butter in a large oven safe skillet on medium heat. The skillet should be large enough to hold all of the cooked pasta.

Once the butter is melted, add flour and stir until incorporated to make a roux. Continue cooking for 2 or so minutes, until it begins to smell slightly nutty.

Slowly add milk ¼ cup at a time while stirring continuously to create an emulsion of fat, flour and liquid. Continue stirring until the mixture thickens. For details and troubleshooting see recipe notes.

Once the sauce has thickened, rough cut the cheeses and add them to the pan. Continue cooking until the cheese is melted.

Add the drained pasta to skillet and mix to coat it evenly with the sauce.

Season. Add the saffron and stir until incorporated. Taste and add salt if necessary. I didn't add any salt besides the salted pasta water.
Nutrition
Calories:
660
kcal
|
Carbohydrates:
73
g
|
Protein:
29
g
|
Fat:
27
g
|
Saturated Fat:
15
g
|
Polyunsaturated Fat:
1
g
|
Monounsaturated Fat:
6
g
|
Trans Fat:
0.2
g
|
Cholesterol:
82
mg
|
Sodium:
437
mg
|
Potassium:
487
mg
|
Fiber:
3
g
|
Sugar:
11
g
|
Vitamin A:
889
IU
|
Vitamin C:
0.01
mg
|
Calcium:
626
mg
|
Iron:
1
mg