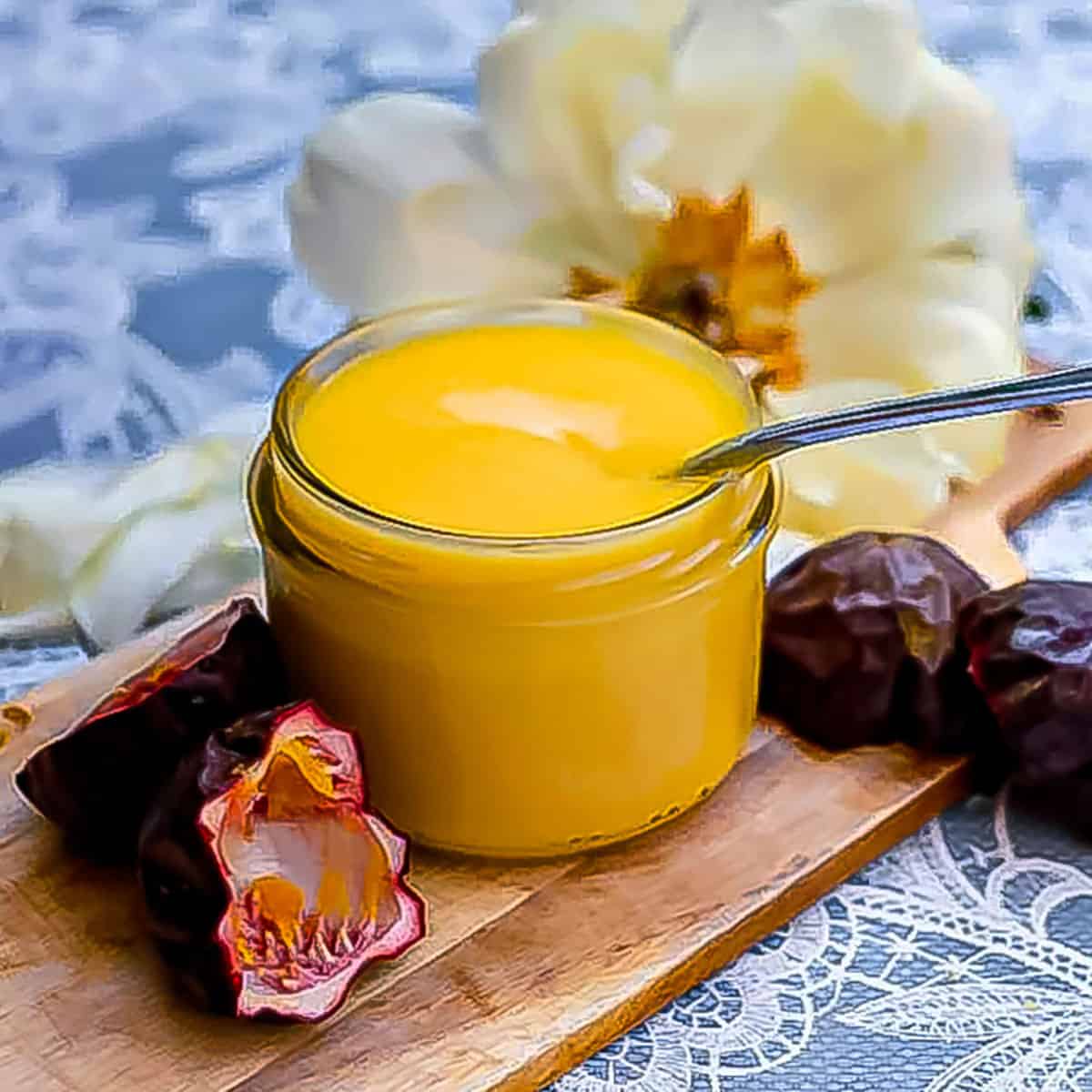 Passion fruit curd is a rich and tangy fruit custard that's a perfect accompaniment to crepes and pancakes (or a Dutch baby), cupcakes, cakes, as a filing for macarons, or spread on a lovely piece of toast at breakfast. Once you've extracted the juice from the fruit the rest of the process is so simple it made me wonder why I hadn't done it sooner.
It was so easy that now I want to make every kind of curd, starting with grapefruit and then maybe watermelon and lime.
The process of making a curd is really simple.
Extract the fruit juice.
Combine the fruit juice with eggs, sugar, and butter.
Cook in a double boiler over low heat until thickened.
Set aside to cool.
Extracting the juice from passion fruit
Since I was using fresh fruit I had to extract the juice myself. I used about 12 passion fruits, cut them in half, scooped out the pulp and pressed it with a stone pestle over a mesh sieve. Since the seeds are attached to the pulp with a gelatinous membrane, it takes a bit of pressure to fully detach the juice.
It's also totally optional to remove the seeds. I added one tablespoon of the seedy pulp back into the juice at first because I thought it looked very much like passionfruit with the seeds in. But then I tried one of the seeds and although it didn't taste bad, it was really crunchy and I thought it might ruin the luscious and smooth curd experience so I removed them. It's up to you.
You'll notice I also used 3 lemons. The lemon juice enhances the flavour of the passion fruit.
Cooking the passion fruit curd
Once all the juice from the passion fruit and lemons is ready, the cooking process is super simple. Everything goes into a double boiler and you cook it over low heat stirring all the while. I thought I was going to be stirring over the stove for an hour but it was less than 10 minutes. Extracting the juice probably took longer than cooking.
When cooking you'll notice a few minutes in that the mixture suddenly gets foamy. That's when all the action starts to happen. Once the foam appears and then disappears you'll almost immediately feel the curd starting to thicken. Continue stirring, making sure to scrape the bottom of the pot as well, and in about another 5 to 7 minutes the curd will be thicken enough to stop cooking.
Set aside to cool and then either use right away or store in an airtight jar in the fridge for 1-2 weeks. For an extra smooth curd, strain through a mesh sieve while it's still warm.
Recipe
Passion Fruit Curd
A tangy, creamy and sweet passion fruit curd that's the perfect tropical filling for cakes, cupcakes, pancakes, macarons or even just smeared on a piece of toast.
Print
Pin
Rate
Ingredients
.75

cup

passionfruit juice

.25

cup

lemon juice

6

whole eggs

1

cup

sugar

6

tablespoons

salted butter
Instructions
Extract the juice from the passion fruit by pressing it over a mesh sieve.

Add the juice, 6 whole eggs, 1 cup of sugar, and 6 tablespoon of salted butter to a pot.

In another larger pot, add enough water to cover the bottom of the pot by 2-3 finger lengths. Place the smaller pot with the ingredients over the larger pot and put them on the stove over low heat.

Stir continuously for about 5 minutes until the curd starts to foam. Once the foam disappears, the curd will begin to thicken.

Cook for another 5-7 minutes until the mixture is thicken enough to glob up on a wooden spoon.

Remove from heat and set aside to cool.

For an extra smooth curd, strain through a mesh sieve while it's still warm.

Once it's cool, use right away or store in an airtight jar for 1-2 weeks.
Notes
This recipe makes about 2.5 cups of curd or enough to fill one 8 inch / 20 cm springform pan about 1.5 inches / 4 cm deep.
Nutrition
Serving:
0.5
cup
|
Calories:
743
kcal
|
Carbohydrates:
92
g
|
Protein:
14
g
|
Fat:
38
g
|
Saturated Fat:
21
g
|
Polyunsaturated Fat:
3
g
|
Monounsaturated Fat:
11
g
|
Trans Fat:
1
g
|
Cholesterol:
465
mg
|
Sodium:
371
mg
|
Potassium:
387
mg
|
Fiber:
0.2
g
|
Sugar:
91
g
|
Vitamin A:
1943
IU
|
Vitamin C:
32
mg
|
Calcium:
72
mg
|
Iron:
2
mg