This smoky Romanian bean stew is a classic Romanian dish that I grew up eating and that I'm sure many Romanians have very fond memories of. It's a dish that says comfort and family.
The cold weather has finally arrived in Amsterdam so it's time for hearty stick-to-your-ribs food. In truth we eat this type of bean stew every few months, even in the summer. But it's especially comforting once there's a chill in the air.
This Romanian bean stew isn't necessarily served on any special occasions, but it's so ubiquitous on tables across the country and throughout the diaspora that it's hard not to associate it with cozy moments with the ones you love.
More Romanian recipes:
It's a humble dish, with its origins in humble sensibilities. No doubt it developed as a way to stretch meat, which until very recently was an expensive commodity that wouldn't grace the dinner table every night of the week.
The beauty of a dish like this is that smoked preserved meat (generally pork) is used a little at a time - just enough to impart flavour on beans and vegetables without making the meat the star of the show. There are similar analogues in culinary traditions all over the world from French cassoulet to American pork and beans.
While this might have developed as a way to make 'filler' ingredients taste better, I've always loved this bean stew even in its vegan iteration without the smoked meat.
Our particular combination of spices (at least what was used in my family) is smoked paprika and cimbru, or summer savoury, which has an earthy and herbaceous flavour somewhere between thyme and fenugreek. The combination is beautiful with beans. It adds depth and life.
In Romanian we call this type of dish mâncăre de fasole. There are so many ways to make mancare de fasole, both regionally and amongst different households.
Quite often it's made with smoked sausage as I've done here, in which case it's called fasole cu cârnaţi afumaţi. Fasole cu afumătură more broadly means bean stew (or soup) with some type of smoked meat.
Really it can be made with any sort of smoked meat - bacon is a great choice, thick cut ham could also work, and I've even made it with smoked chicken.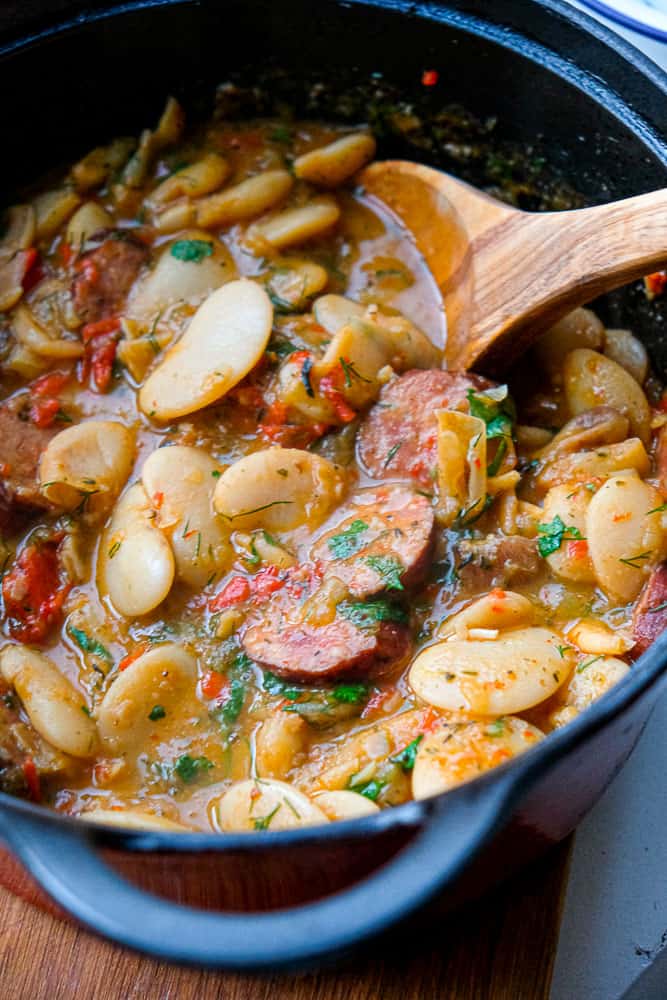 Likewise, since many Romanians adhere to the Orthodox calendar and fast for significant portions of the year there are generally vegan versions of many dishes - and this one is a no brainer.
For dry beans: Regarding the beans, in this instance I used dry Greek gigantes beans (giant lima beans). I soaked them overnight and they were soft after about 40 minutes of simmering. If you can get your hands on these beans I really recommend giving it a try - they're so meaty. But other types of beans are okay too. For example white beans like cannellini/navy beans or brown beans like pinto etc. I like starting with dry beans because I find it gives more flavour but if canned bean is easier for you then that works very well too.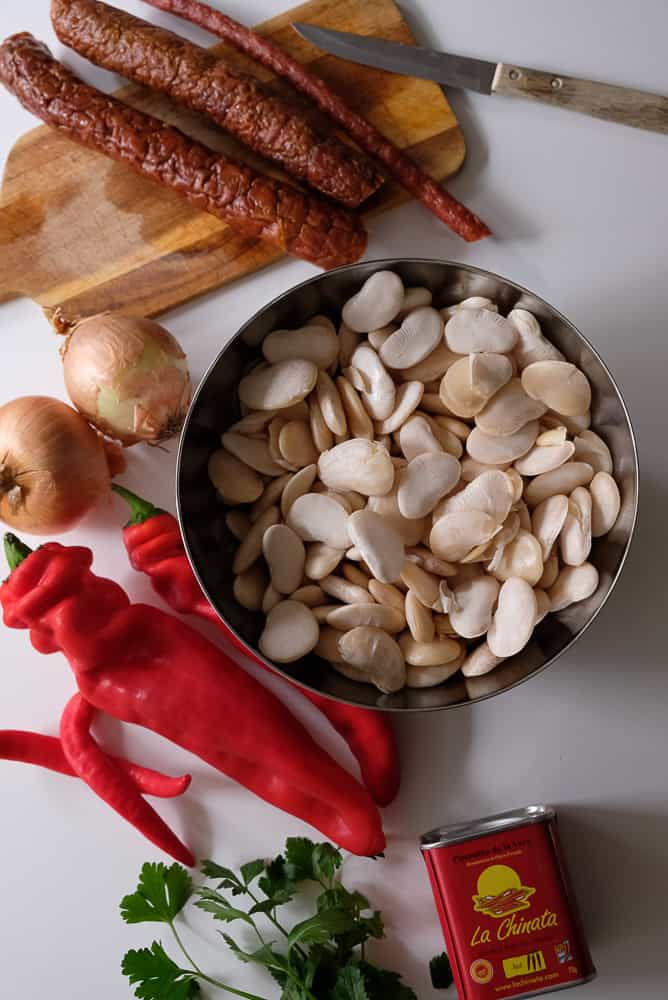 For canned beans: Follow the steps in the recipe below but simmer uncovered so the liquid reduces into a thick stew. You can also throw in a few potatoes. They add heartiness and soak in / thicken the cooking liquid.
Back in September when I visited Romania my grandmother made fasole cu cârnaţi afumaţi. The sausages she used were from their own pig that my family had slaughtered for the holiday season last December. They had stuffed and smoked the sausages themselves. It was a really special treat and although I had so many amazing and nostalgic tastes to choose from, I kept returning to mamaia's bean stew.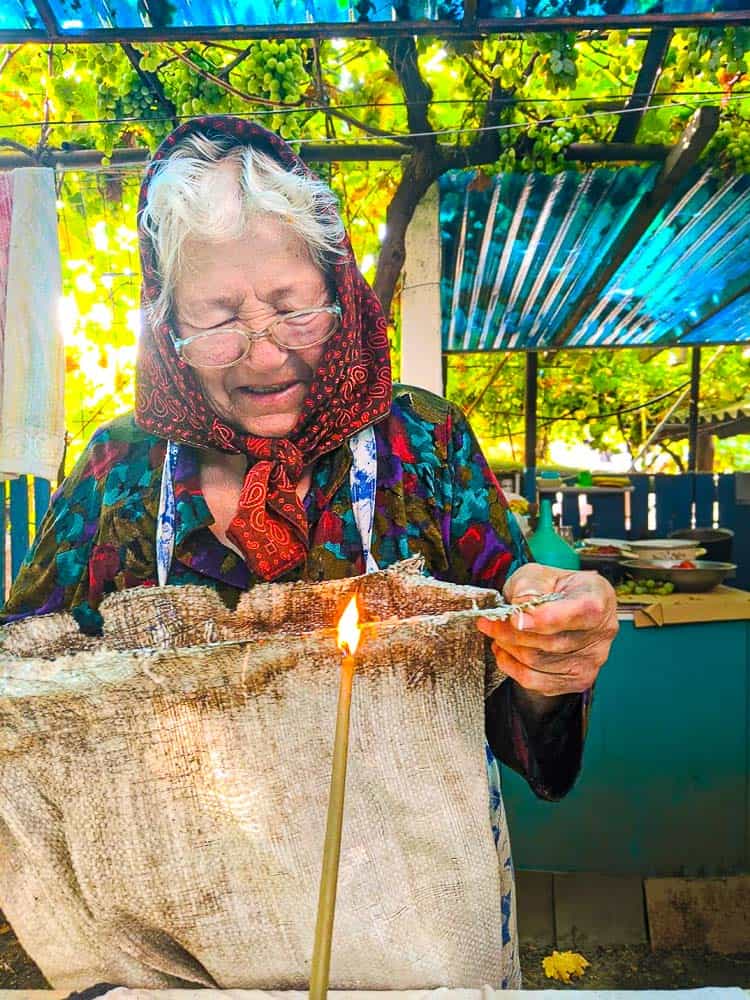 As a child my grandmother lived through a years long drought and famine that instilled in her a lifelong devotion to thrift.
In the photo above, taken the day before the annual grape harvest, she's using a beeswax candle to seal off the frayed edges of a large sac that would be used for the second or third time to collect grapes from our small family vineyard. She's smiling as she tells us a joke or some bit of village gossip.
Mamaia and I have an oddly meaningful connection around beans. She loves to recount when I was a child visiting from Canada and in my jetlag addled hunger, would request food at bedtime - when she asked me what I wanted I would always say fasole! Because I knew how long it took to cook dry beans and didn't want to go to bed. I thought I was very clever.
The day before I left Romania this past September I happened to find a lima bean in the sink drain that had sprouted. I was so impressed it had survived in such inhospitable conditions. Life finds a way.
I took the bean out to mamaia excitedly and what she did next was so illustrative of her spirit and the spirit that runs through so many rural people in Romania - she told me to put it in a pot under a few centimeters of soil and water it.
Maybe it's not a big deal but for someone like me who's lived in cities their whole life, what's a lost bean? I don't know about you but the number of beans I've dropped in the drain and didn't think twice about is high. It's so easy to forget how precious even a single bean can be.
A few weeks ago back in my own kitchen in Amsterdam, I found a chickpea in my kitchen sink stopper and wouldn't you know it, it was sprouted. So you know what I did? I planted it.
Recipe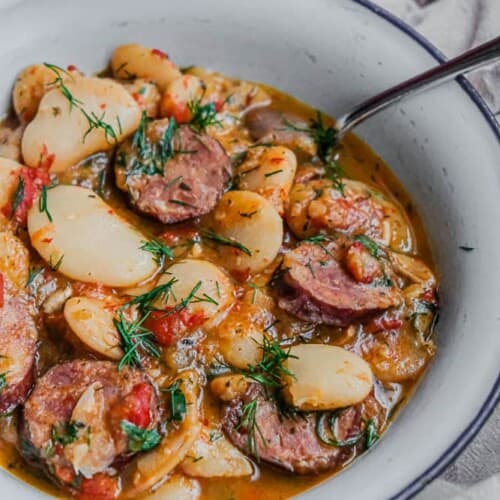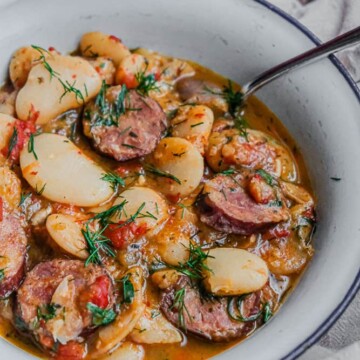 Smoky Romanian Bean Stew
This smoky Romanian Bean Stew tastes like home and comfort. It calls for just a few basic ingredients, it's versatile so you can use what you have, and it only needs about 5-10 minutes of prep time.
Print
Pin
Rate
Ingredients
2.5

cups

white beans

presoaked dry beans or substitute 3 small cans

2

teaspoons

vegetable oil

2

yellow onions

finely diced

2

red peppers

finely diced

1

cup

smoked sausage

or substitute other smoked meat of your choice

1

tablespoon

smoked paprika

1

tablespoon

cimbru

summer savoury or substitute thyme

1.5

teaspoons

salt

plus or minus to taste

⅖

liters

water

or enough to cover

2

tablespoons

fresh dill and parsley

finely diced and used for garnish
Instructions
Soak the beans overnight if using dry.

Finely dice the onion and dice the peppers.

Cut your smoked meat into bite-sized pieces.

Saute the onion and meat in oil on medium-high heat first until beginning to brown.

Add everything else and enough water to just cover the beans.

Bring to a boil and then reduce to gentle simmer for 40 minutes.

Cover with a lid if using dry beans / don't cover if using canned.

After 40 minutes uncover and continue to simmer until reduced to your liking.

Garnish with fresh chopped dill or parsley. Serve with crusty bread.
Notes
* Substitute ½ tablespoon thyme, ½ teaspoon oregano and a ¼ teaspoon fenugreek (if you have it).
This stew is also excellent with potatoes - cut two large potatoes into bite sized pieces and add them along with everything else.
Nutrition
Calories:
265
kcal
|
Carbohydrates:
28
g
|
Protein:
13
g
|
Fat:
12
g
|
Saturated Fat:
4
g
|
Polyunsaturated Fat:
2
g
|
Monounsaturated Fat:
5
g
|
Trans Fat:
0.01
g
|
Cholesterol:
27
mg
|
Sodium:
912
mg
|
Potassium:
680
mg
|
Fiber:
8
g
|
Sugar:
4
g
|
Vitamin A:
1954
IU
|
Vitamin C:
55
mg
|
Calcium:
139
mg
|
Iron:
5
mg