Smoked sausage and kale pasta with parmesan, garlic, red pepper, chili flakes and a beautiful walnut crumble is a pasta dish that's light but still full of flavor and best part, it's ready in about 20 minutes.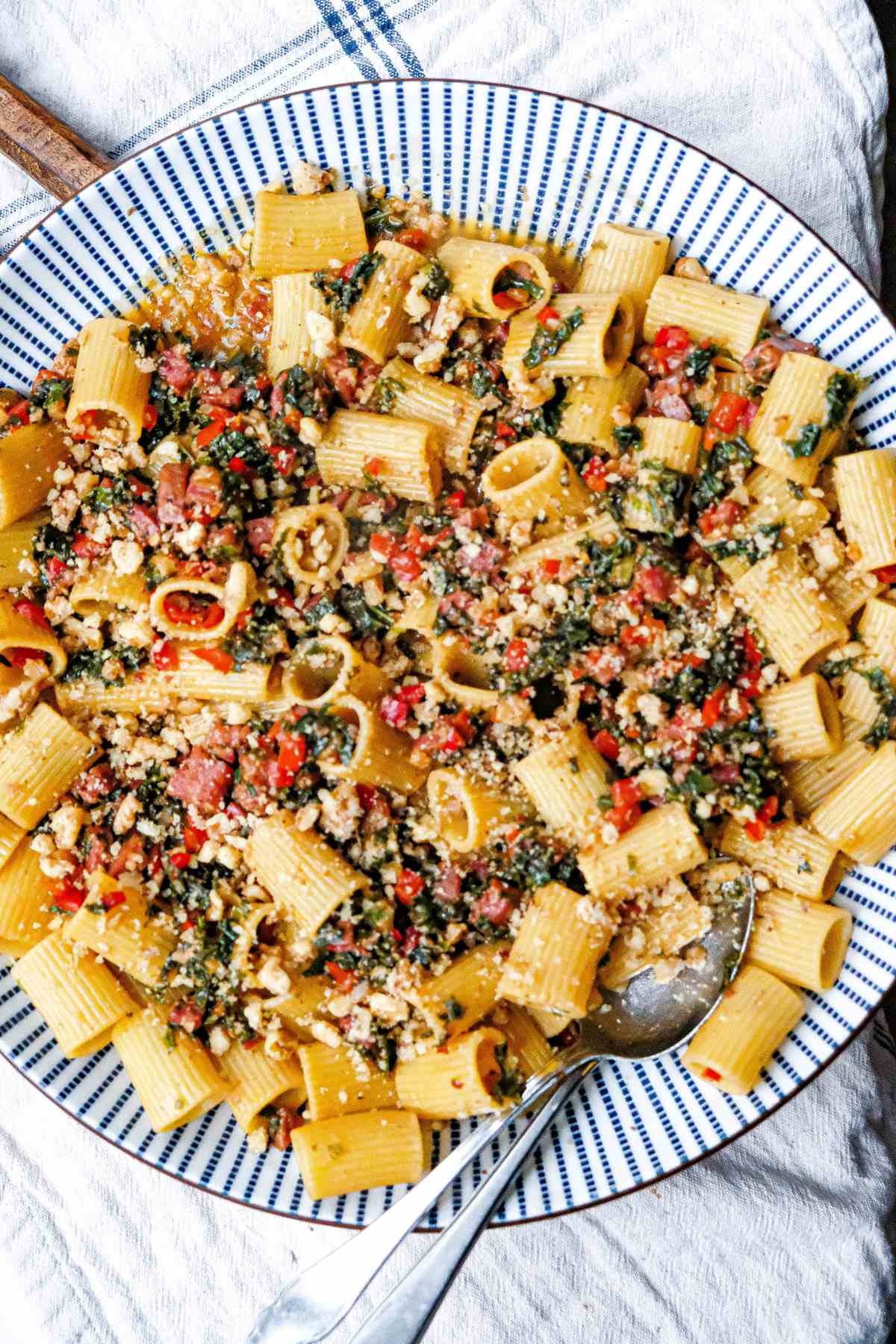 Fall is here and my kitchen has seen a non-stop rotation of hearty comfort foods like Romanian stuffed peppers, porcupine meatballs in tomato sauce, and potato stew with smoked ham and peas.
I love eating with the seasons and really lean into comfort foods during the cold weather months. But we felt the need for something a bit lighter that was still on theme with an autumnal flavor palette and this smoked sausage and kale pasta was the answer.
This is a lighter pasta dish that comes together very quickly (about 20 minutes) and isn't finicky at all.
It really feels more like a kale and walnut pesto than a sauce per se, but the parmesan and pasta water do work to create a sort of creamy base. Don't expect a creamy pasta here though or you'll be disappointed. For a creamy pasta check out my pasta archives and other recipes like saffron mac and cheese or caramelized leek pasta.
My husband and I particularly enjoyed the kale and walnut combination. I had to laugh when he asked what the 'green stuff' was between approving mouthfuls, and upon finding out it was kale, remarked 'oh...now I can feel good about myself too'.
Ain't it the truth. It's always nice when food not only tastes good, but you can also feel good about eating it.
Jump to:
Ingredients
This is not a finicky recipe and precise measurements are not required. I've given the measurements in the recipe card in volumetric units like cups and tablespoons, but if you prefer the precision of weight-based measurements you can toggle the measurements to metric.
Dry pasta (rigatoni or other pasta): This recipe is made using De Cecco Mezzi Rigatoni no. 26 which normally has a cook time of 12 minutes for al dente. I usually undercook pasta and scoop it out with a spider, then finish it in a skillet with a cup or so of pasta water. In this case I cooked it for 8 minutes and then finished it in the sauce with pasta water for another 3-4 minutes. Your mileage may depending on brand so I suggest doing a bite test before taking the pasta out of the water and likewise after finishing it in the sauce. I used rigatoni because I like it but this sauce would also go well with curly short pasta shapes that catch sauce like fusilli, orechiette or cavatappi.
Smoked sausage: I used a cured and smoked pork sausage that I picked up at a deli in Belgium on a weekend visit. I didn't think so get the name but the sausage is most similar to Polish kielbasa, which is usually widely available. You can substitute a different sausage just keep in mind that it should be cured but not totally dry like a salami because then it is likely to dry out too much during cooking. You can see the relative humidity in the photos above.
Kale: This recipe is made with regular curly kale cut into small pieces. Lacinato or Cavolo Nero (i.e. black / Tuscan kale) varieties are also good choices but may bring a stronger earthy/vegetal flavor to the sauce.
Parmesan cheese: Grated parmesan (Parmigiano Reggiano in particular) is used to make the sauce and also to garnish the dish. Good substitutes are other hard cheeses like pecorino or even ricotta salata.
Walnuts: For me the walnuts are the star of the show in this recipe. They do a lot of heavy lifting, bringing a nice toasty flavor and beautiful crunchy texture. If you don't have walnuts, pecans or hazelnuts are a good substitute. Pistachios would bring nice flavor but tend to get very soft during cooking.
Red pepper: The red pepper adds color, sweetness and body to the sauce. You can substitute a tomato, diced finely and added at the same time the red pepper would be.
Seasonings: Red chili flakes and garlic are the main seasonings in this recipe. The spice plays so nicely with the sweet, nutty, vegetal flavor base and brightens up the whole dish. And garlic...don't think I need to say anything about that. As you can see, no additional salt is added besides the salt in the pasta water. Since cured sausage and parmesan tend to be very salty, there is plenty of flavor from those two ingredients. I would suggest not adding salt until the dish is finished, then taste and see if any is needed.
High quality extra virgin olive oil: This recipe is finished with a high quality olive oil drizzled top. In my kitchen I sometimes stock high quality olive oil that I only use for finishing, and other still good but lesser quality (and less expensive) olive oil for cooking. You may also need some oil for cooking in this recipe if the sausage you use doesn't render out much fat (which was the case for me, and would likely be the case for a sausage like kielbasa), in which case you can easily substitute a less expensive cooking oil.
Please see the recipe card for detailed quantities.
Instructions
The first step is to dice up all the ingredients. Everything should be diced quite finely. The sausage can be in larger chunks and the walnuts are nice if they have varied sizes (I achieved this by crumbling them in a mortar and pestle but you can also just do a rough chop).
The red pepper and kale should be diced finely and the garlic should be minced very finely. If you don't have the patience you could also use a garlic press, grater or mortar and pestle for the garlic but I really find the fine mince distributes the flavor more evenly.
Once all the ingredients are diced, the sauce for this pasta is simple and comes together in about 10 minutes.
The sausage, walnuts and garlic are first sautéed together in order to render the fat in the sausage, bring out the toasty flavor in the nuts, and bring out a bit of caramelization in the garlic.
You may need to add more oil at this stage if the sausage you use doesn't have much fat it in to render out. If you notice things are sticking to the pan, then add a tablespoon or two of oil.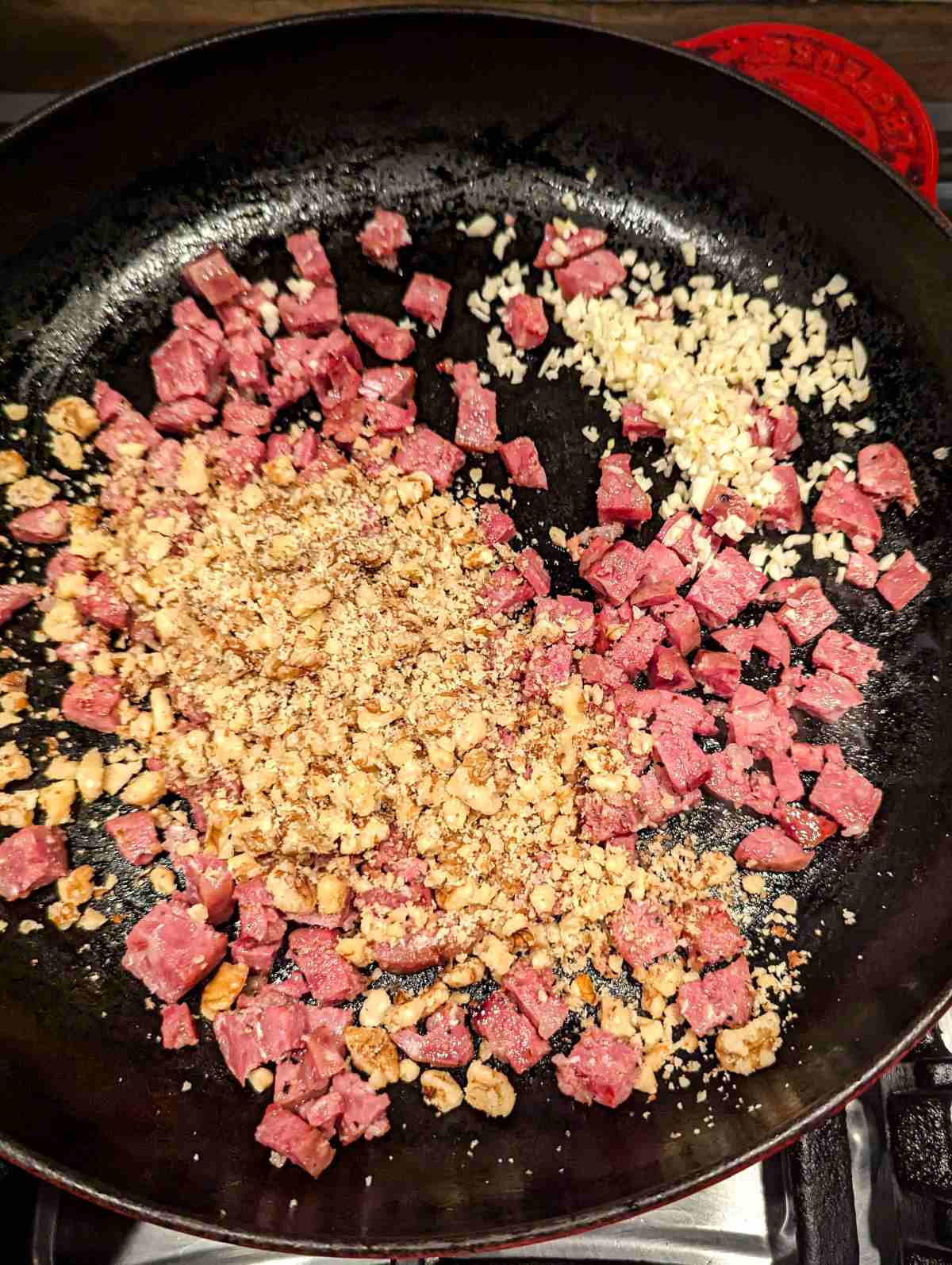 Sauté together the crumbled walnuts, diced sausage and minced garlic. Pro tip: reserve a bit of the garlic to add near the end for a more layered garlic flavor.
Add the kale and red pepper, and sauté until both are soft and reduced. Then add the pasta and grated parmesan along with one cup of pasta water, drizzled in half a cup at a time while stirring continuously. You can also add any reserved garlic at this stage.
Equipment
A pot for boiling the pasta, a spider strainer, and a large non-stick skillet. I used a Le Creuset 29 cm / 11 inch Signature Frying Pan for this.
A mortar and pestle could also be helpful but it doesn't do anything you can't also do with a good knife.
Serving Suggestion
Serve the pasta hot, drizzled with high quality olive oil.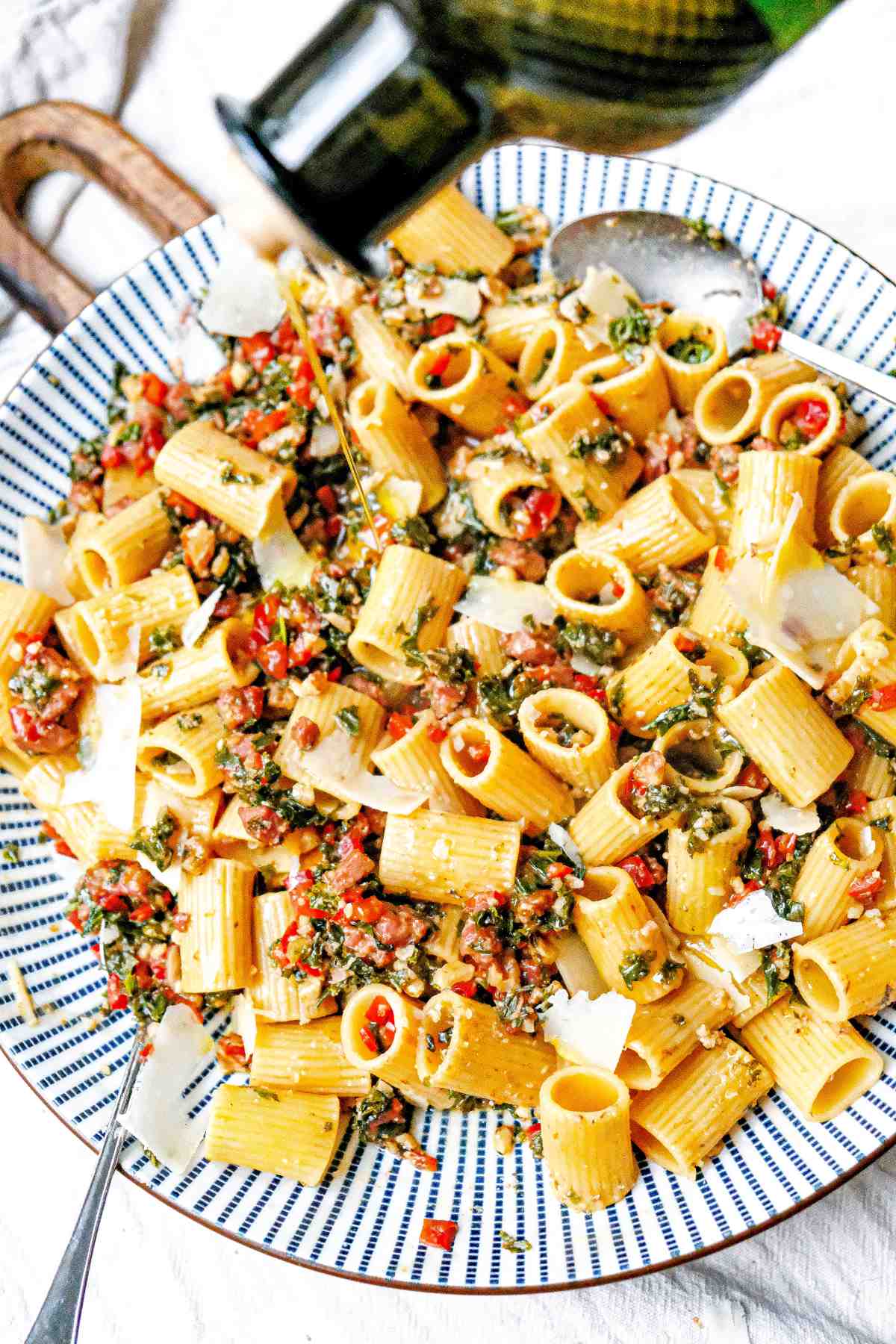 To really take it up a notch, garnish with more crumbled walnuts and shaved parmesan. If you don't have a cheese slicer for this then you can use a vegetable peeler, which is what I did here. You can also just buy shaved parmesan or use grated parmesan.
Storage & Reheating
This sausage and kale pasta can be stored in the fridge in an airtight container for about 2-3 days. If it sits longer the pasta can dry out and the kale can get a bit funky.
To reheat you can of course microwave it if you're in a rush, but the better method is to reheat in a skillet.
Since this is a quite light sauce, I would suggest adding a bit more liquid when reheating. This can be as simple as a tablespoon or two of water and a drizzle of olive oil, or you can jazz it up a bit by using heavy cream or milk.
Add the liquid to the pasta and then reheat covered (in a skillet or microwave). Taste and re-season if necessary.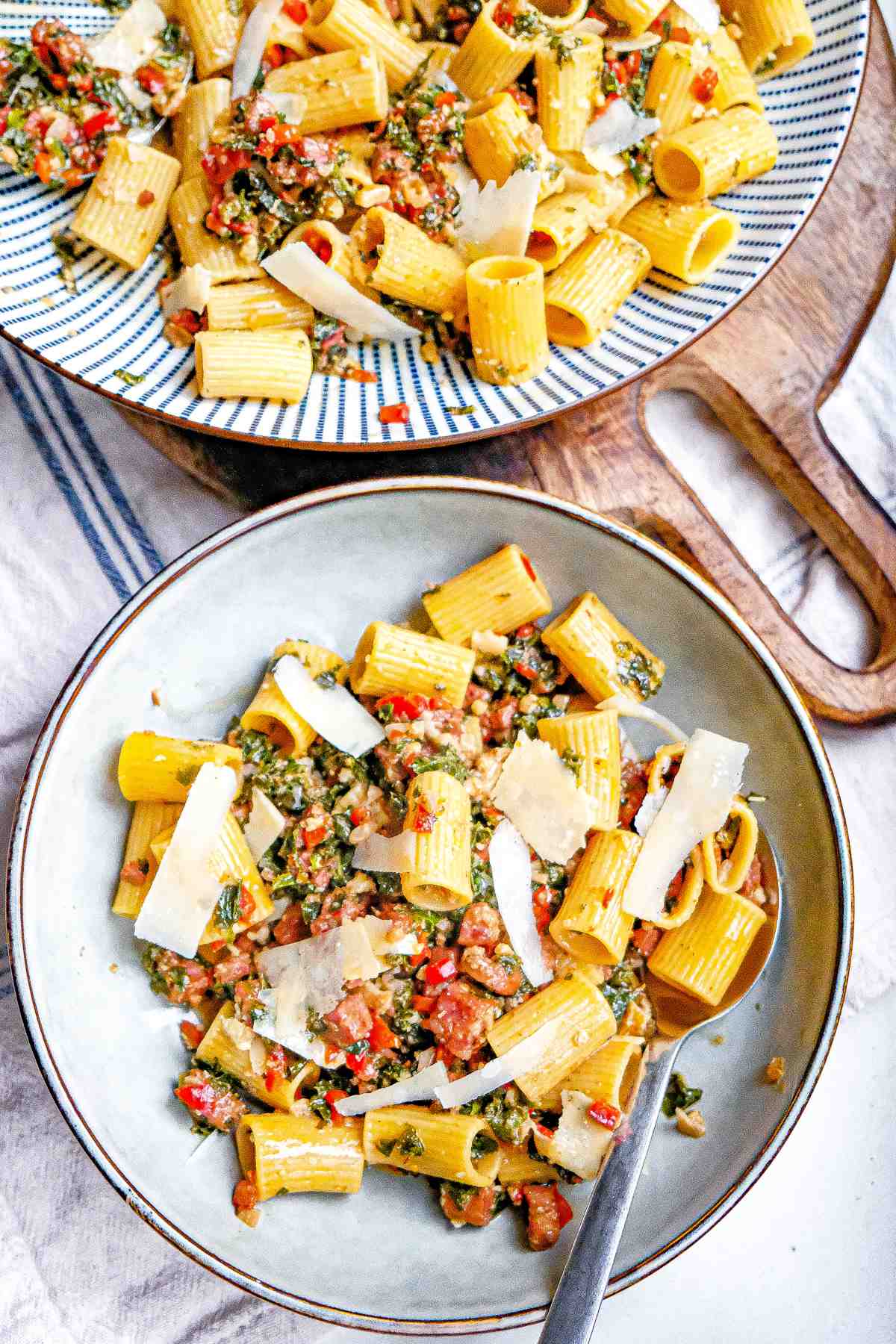 Related
Looking for other recipes like this? Try these:
Recipe
Smoked Sausage & Kale Pasta with Walnut Crumble
Smoked sausage and kale with parmesan, garlic, red pepper, chili flakes and a beautiful walnut crumble come together to make a pasta dish that's light but still full of flavor.
Print
Pin
Rate
Ingredients
2.5

cups

dry pasta

about half a 500 gram / 10 oz package

2.5

cups

kale

diced

⅔

cup

walnuts

crumbled

1

cup

smoked sausage

1

cup

parmesan cheese

grated

1

red pepper

finely diced

3

cloves

garlic

finely minced

1

teaspoon

chili flakes

1.5

cups

pasta water

1

tablespoon

olive oil

for cooking, plus or minus

1

tablespoon

olive oil

for finishing, plus or minus
Instructions
Boil the pasta to al dente (slightly undercooked) according to package directions. Do a bite test to see if it's slightly undercooked.

While the pasta is boiling, dice up the sauce ingredients. Roughly cut the sausage and kale; finely dice the red pepper; crumble the walnuts; mince the garlic; and grate the parmesan if it's not pre-grated.

Heat a large non-stick skillet over medium-high heat. Add the sausage, walnuts chili flakes and garlic and sauté until the fat renders out of the sausage. If the sausage is lean, add a tablespoon of oil (or more if things are sticking). Pro tip: reserve some of the walnuts for garnish, and some of the garlic for adding near the end of cooking (to layer the flavor)

Once the garlic, nuts and sausage are aromatic and slightly browned, add the red pepper and kale. Sauté until they are soft and reduced in volume.

Use a spider strainer or slotted spoon to add the pasta to the skillet, reserving at least 1.5 cups of the pasta water.

Add the parmesan cheese to the skillet along with 1 cup pasta water. Any reserved garlic can also be added now. Stir continuously until the cheese melts into the pasta water and thickens into a sauce (3-4 minutes).

If the pasta is not saucy enough, add half a cup more pasta water and continue stirring until it thickens.

Taste to see if the pasta is sufficiently cooked and if any salt is needed.
Notes
Please note the nutritional information may vary depending on the type of sausage used. 
Nutrition
Calories:
623
kcal
|
Carbohydrates:
37
g
|
Protein:
25
g
|
Fat:
42
g
|
Saturated Fat:
12
g
|
Polyunsaturated Fat:
12
g
|
Monounsaturated Fat:
16
g
|
Cholesterol:
57
mg
|
Sodium:
917
mg
|
Potassium:
526
mg
|
Fiber:
5
g
|
Sugar:
3
g
|
Vitamin A:
5462
IU
|
Vitamin C:
78
mg
|
Calcium:
444
mg
|
Iron:
3
mg