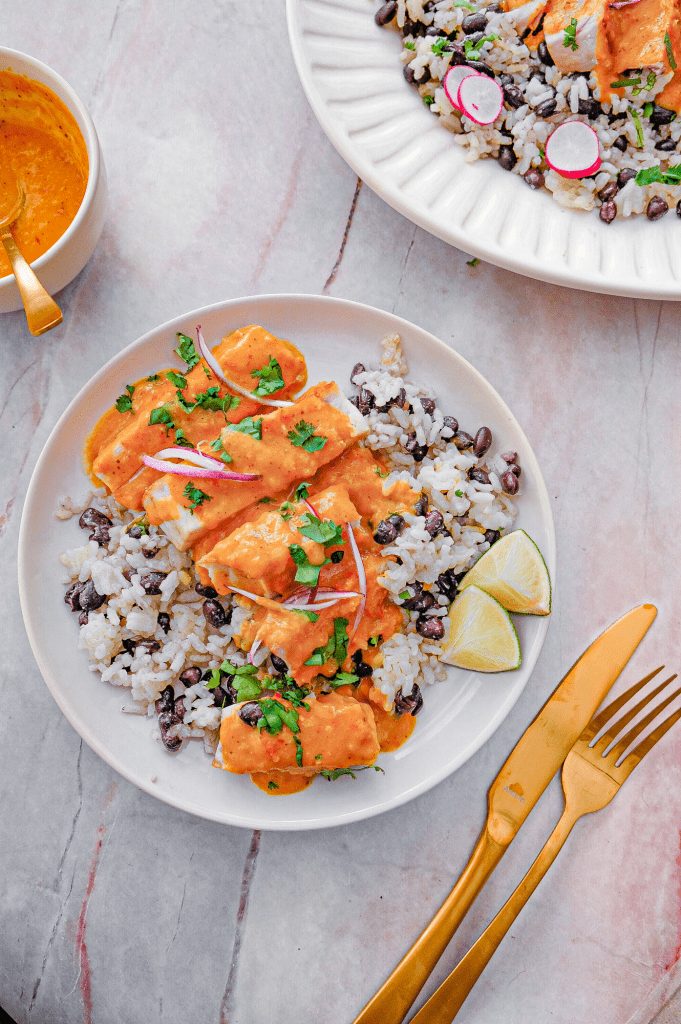 Quick seared tuna steaks with sweet and spicy coconut curry sauce. An easy and beautiful summer meal that's low on effort but big on flavour. Perfect for a weeknight meal or entertaining. Just 30 minutes all in, including an optional side of coconut lime rice with cilantro and black beans.
It's (almost officially) summer and the last thing I want to do is spend a lot of time in the kitchen but I still want to eat and serve meals that are exciting and adventurous.
There are so many great summer flavours to explore, including these fast and flavourful summer meals I've made in the past:
Tuna Ceviche in Toasted Plantain Bowls
Vietnamese Vermicelli Bowls with Lemongrass Grilled Pork
Curried Cod Stew with Coconut & Red Pepper
Lately I've been delving into Latin & Caribbean flavours. The beautiful thing about Latin & Caribbean cuisine is that dishes composed with these ingredients strike a perfect balance between acid, spice, sweet, and salty.
Think fresh citrus, spicy chillies, garlic, starches like corn, plantains and rice, and lots of options for proteins like beans, pork, chicken, and of course seafood!
Nothing says summer like fresh seafood.
Preparing the Coconut Curry Sauce
Preparing the coconut curry sauce is simple and doesn't require any special skills or equipment.
This sauce only requires about 10 minutes of hands on prep, 15 minutes cooking, and about 5 minutes to cool and blend.
Ingredients for easy coconut curry sauce
1 - 1.5 cans of coconut milk
1 yellow pepper
2 medium sized fresh tomatoes
1 large yellow onion or 2-3 smaller ones
3 cloves of garlic
1.5 cm piece of fresh ginger
2 tablespoons of fresh cilantro, plus more for garnish
2 red chillies or ½ a fresh jalapeno (you can also use the rest as garnish)
1 tablespoon of coconut oil
2 tablespoons of curry powder
Just toss all the aromatics and veg into a skillet with some coconut oil, sauté until soft and aromatic, add coconut milk + a bit of water and simmer for 15-20 minutes.
While the vegetables and aromatics are simmering is the perfect moment to make a side dish, like coconut lime rice with cilantro and black beans which only takes about 5 minutes of hands-on prep and 10-15 minutes on the stove.
Once the simmering veg have softened and the liquid has reduced, remove from heat and let it cool for 5 minutes. Once cool, blend it all up until very smooth. You can use an immersion blender like I did, a regular blender, or a food processor.
How thick should the sauce be
After blending the sauce should be thick enough to coat a spoon. To thicken up a sauce that's too thin, put it back in the skillet and simmer on medium-high, stirring often, until reduced enough.
If the sauce is too thick, add about 1 tablespoon of water and mix until desired consistency is achieved. If you add more than 2 tablespoons of water you may want to put it all back in the skillet and reheat.
This recipe makes about 2.5 - 3 cups of coconut curry sauce. This is more than enough to drench a couple tuna steaks in sauce and is especially good if you're serving this to a group and need a lot of sauce. If not no worries - there are plenty of ways to use the sauce!
Other uses for coconut curry sauce
If this recipe makes more sauce than you need for the tuna, you can always save the rest. It makes a great addition to your weeknight meal routine.
For example:
Freeze for up to a month. Defrost in a skillet or microwave.
Pour over any meat, seafood or rice.
Use it as a cooking sauce. For example you can make super tender beef meatballs in coconut curry sauce - only 15-20 minutes of hands-on prep for a really flavourful meal.
Searing the tuna
Tuna steaks look elegant and luxurious but they couldn't be easier to make.
Simply add a bit of vegetable oil to a non-stick skillet and heat on medium-high. Sprinkle each side of the tuna with salt. Once the skillet is hot, slide the tuna steaks into it. Immediately start a timer and use the following timetable to get the tuna exactly how you like it:
Rare tuna steaks
1-2 minutes first side then flip and another 1 minute other side.
Medium rare tuna steaks (what I did)
3 minutes first side, and 2 minutes other side.
Fully cooked tuna
Cooking tuna beyond medium rare isn't recommended. Since the tuna continues to cook after removing from heat, you may end up with very hard tuna.
However, if you just don't like the idea or raw tuna or you're pregnant etc. then to make fully cooked tuna you can sear it for
A better option if you want the tuna fully cooked but tender is to simply poach it directly in the coconut curry sauce.
Serving seared tuna steaks with coconut curry sauce
The sweet and spicy coconut curry sauce and fresh tuna go very well with Latin and Caribbean flavours.
I served them with coconut lime rice with cilantro and black beans and garnished with thinly sliced radishes, red onion, limes, and fresh cilantro.
Some other serving ideas:
Steamed broccoli and peppers
Plain rice
Boiled or fried plantains
Recipe
Ingredients
2 - 4

tuna steaks

depending how many servings you want to make

1 - 1.5

cans of coconut milk*

1 - 1.5

cups

of water

1

yellow pepper

2

medium sized fresh tomatoes

1

large yellow onion or 2-3 smaller ones

3

cloves

of garlic

1.5

cm

piece of fresh ginger

2

red chillies or ½ a fresh jalapeno

the rest can be used as garnish

1

tablespoon

of coconut oil

2

tablespoons

of curry powder

2

tablespoons

fresh cilantro

1.5

teaspoons

of salt or more to taste
Instructions
Prepare the vegetables and aromatics: Mash the garlic and ginger and rough chop the cilantro, chillies, onion, tomatoes, and peppers.

Heat 1 tablespoon coconut oil in a large skillet on medium-high heat. Add the vegetables and aromatics.

Saute about 5 minutes or until aromatic then pour in the coconut milk and water. Heat until bubbling then reduce heat and simmer covered another 10-15 minutes.

While the sauce is simmering prepare any side dish you'd like to serve.

After 10-15 minutes the vegetables should be soft and the sauce reduced. Let cool 5 minutes and then blend until smooth.

While sauce is cooling, heat oil in a non-stick skillet over medium-high heat. Sear the tuna on each side. Rare: 1 -2 minutes first side and 1 minute second side. Medium-rare: 3 minutes first side and 2 minutes second side. Fully cooked: 4 minutes first side and 2 minutes second side or poach it for 8 minutes directly in the coconut curry sauce.

When ready to serve, spoon the warm sauce over the tuna steaks.
Notes
I used 1.5 cans of coconut milk because the remaining ½ can went into the coconut lime rice I served as a side. If you don't plan on using the remaining ½ can then you can either only use 1 can of coconut milk and replace the rest with water or use a full 2 cans of coconut milk for a really flavourful and rich sauce.