Jamaican beef patties are savoury hand pies filled with super aromatic spiced ground beef wrapped in flaky golden pastry. If you've never had one you're missing out on a world class taste experience up there with the samosa and burek.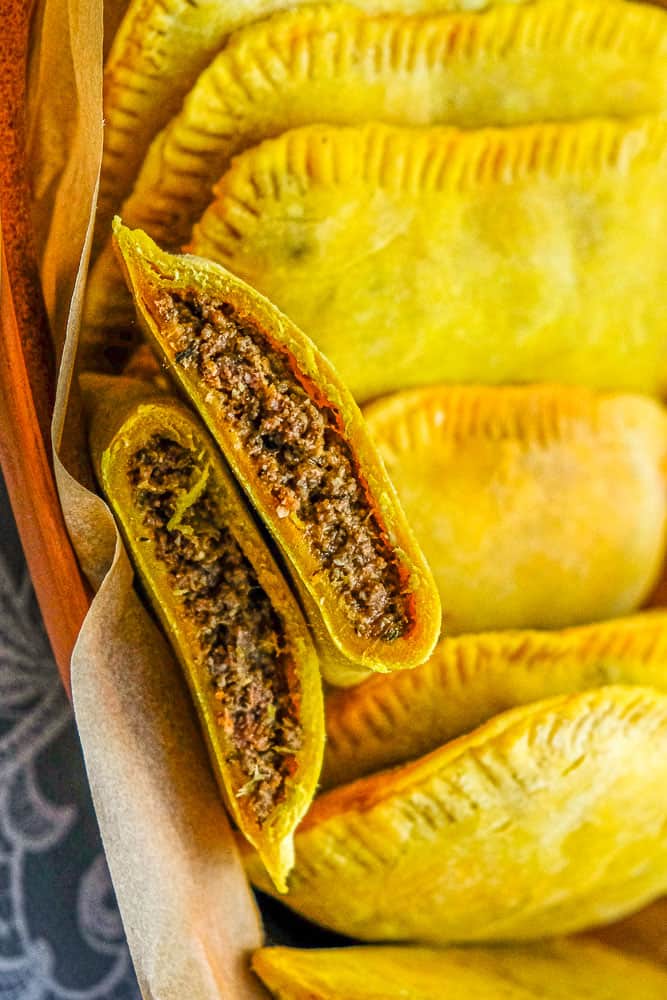 Beef patties have a quintessentially Jamaican flavour profile featuring the unique combination of allspice, thyme, and green onion as well as hot pepper like Scotch bonnet (if you're lucky enough to find it where you live) or otherwise habanero pepper.
Thyme and spice is a delicious albeit uncommon combination. It's hard to imagine what it tastes like but once you do, it makes perfect sense.
I grew up in Toronto where Jamaican patties are everywhere thanks to the significant Jamaican population. They're so ubiquitous that most Torontonians just call them 'patties' or at most 'beef patties'.
I come from Toronto, where there is a lot of Jamaican influence in the cultural mosaic. I now live in Japan, so naturally, the one thing I missed the most are beef patties ( especially the spicy ones ). Comment on SeriousEats Jamaican Patty Recipe
While I've had a lot of great food-related discoveries since moving to Amsterdam in 2017 (like Surinamese roti and Indonesia/Dutch Rijsttafel), I still find myself missing the easy access I had to beef patties.
At some point around the two year mark I realized I couldn't take it anymore and had to start making patties because my biannual trips to Toronto to get my fix weren't cutting it anymore.
Background & origins of this recipe
So I began scouring the internet for recipes and sources. I wanted to find a recipe that was true to the patty. It was like I was asking Google "What's the most authentic recipe for Jamaican beef patties?"
They may seem fairly simple. Pastry crust and spiced filling. But there are so many different ways to make beef patties! From the spice mix in the filling to the type of pastry dough, opinions vary widely.
Some will swear that the pastry has to be made with beef suet to be legit. Others say butter is more authentic than shortening.
So how did I find the most authentic recipe? I didn't...because such a thing doesn't really exist.
The best I could hope for was to recreate a recipe that tastes like the patties I've eaten and loved. A crisp golden crust with flaky layers that you can peel away with your fingers and firm edges that crunch when you bite them.
I wanted a rich and super flavoured filling....not the thin barely there more-breadcrumbs-than-beef filling you get at some places.
I wanted them to taste like the countless patties I've eaten before both in Toronto and in Jamaica. But the amazing and memorable ones, not the so-so ones.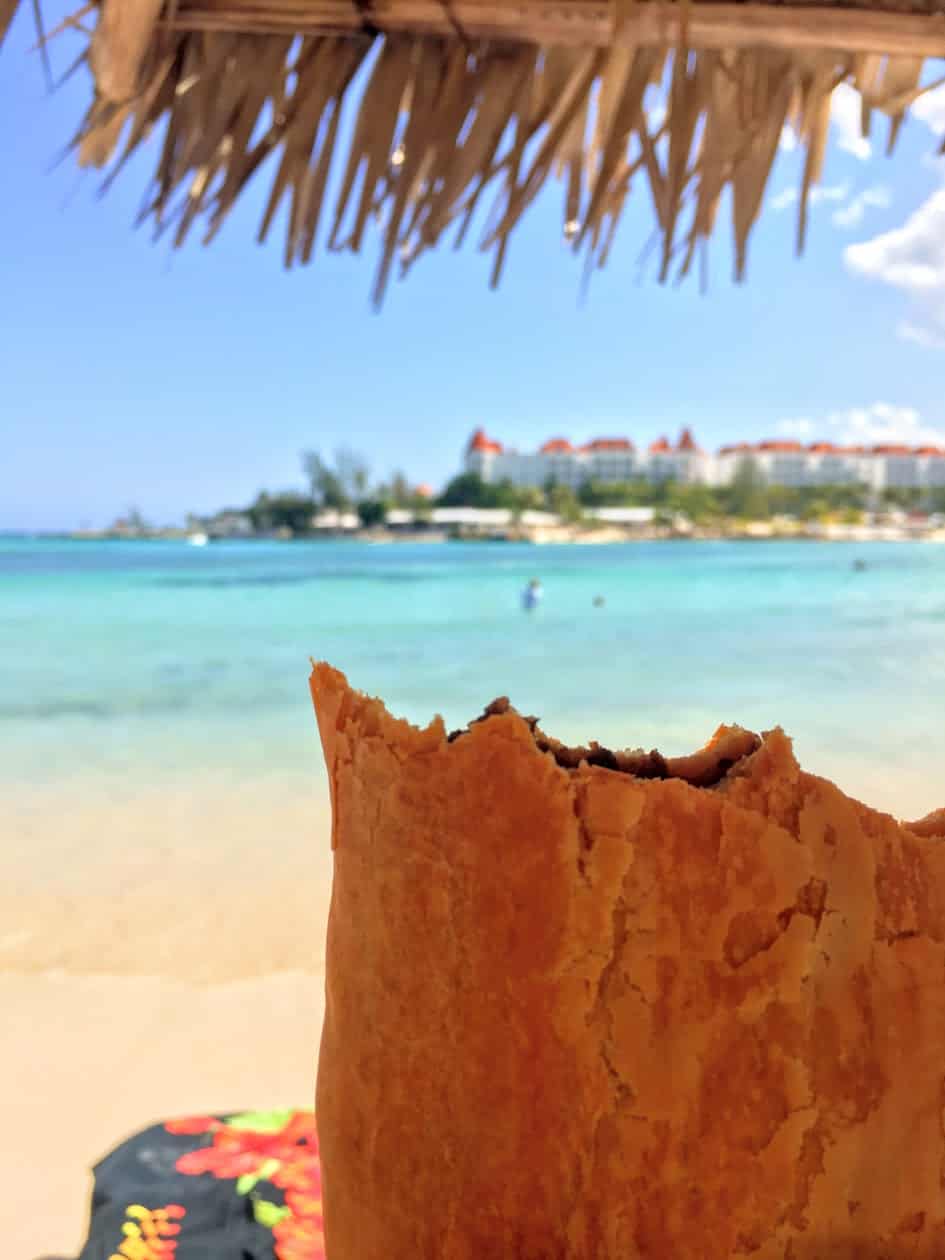 I reviewed over a dozen recipes in written and video form (and documented the differences between the top contenders in this spreadsheet) to come up with the proportions and techniques in the recipe featured here.
After much recipe testing and development, my friend Sarah's reaction to the patties told me I hit the mark.
"It's pretty close to the best patties I've ever had and miles better than the bad ones I've had." Sarah - friend, recipe taster/tester and fellow patty lover from London
So without further ado, this is how you can make your very own.
How to make Jamaican beef patties
What you'll need
A large mixing bowl or bowl of a stand mixer
A clear work surface to roll out the dough
A rolling pin
2 parchment lined baking trays
A tool to cut the patties. To get the characteristic beef patty shape I used a rectangular tupperware with rounded edges.
Timing
Like any pastry made from scratch, this isn't a quick dish. You'll need about 2 hours to prepare the pastry and filling and then roll out and stuff the patties.
Yield
The nice thing is that although this recipe involves a bit of a time investment, you'll get 15 large and juicy patties out of it.
Step 1: Prepare the ingredients for the Jamaican patty pastry
Ingredients
600 grams of white all purpose flour
400 grams cold unsalted butter
150 grams ice water
1.5 tablespoons curry powder (ideally Jamaican)
1 tablespoon turmeric
1.5 teaspoon salt
½ teaspoon sugar
Directions
Cut the butter & refrigerate
Take the butter out of the fridge
Cut the butter into small cubes approx. 1 x 1 cm
Put the butter cubes on a plate and back into the fridge for at least 5 minutes
Mix the dry ingredients
Add the flour, salt, sugar, turmeric and curry powder to your large mixing bowl or stand mixer and mix to combine it well.
Step 2: Prepare the ingredients for the Jamaican patty filling
Wet ingredients
Finely dice the following and add to a bowl.
1 large or 2 small yellow onions
3-4 cloves garlic
4 stalks green onion
8 sprigs fresh thyme
1-2 hot peppers, ideally Scotch bonnet but if you can't find it then habanero or alternatively any other hot pepper.
Dissolve 1 beef bouillon cube in 1 cup of beef stock or alternatively 2 beef bouillon cubes in 1 cup of water. Set the beef stock/water aside for now.
Dry ingredients
Mix the following dry spices in a small bowl or put directly into the ground beef.
1 teaspoon salt
1 scant tablespoon sugar
3 tablespoons curry powder (ideally Jamaican curry powder but if you can't find it then any yellow curry powder - not red or orange)
1 teaspoon ground allspice
2 teaspoons each onion powder, garlic powder, dry thyme and sweet or smoked paprika
½ teaspoon black pepper.
Step 3: Mix and knead the pastry dough
Take the butter out of the fridge and add it to the flour either in the mixing bowl or bowl of the food processor.
Cautionary note: turmeric stains so don't use your good kitchen cloths for wiping up any messes.
Mix the butter and flour
Manual (mixing bowl) method
Put the butter into a large bowl with the flour. Use a fork or pastry cutter to cut the butter into the flour. This short video is a good reference starting at the 0:30 second mark. The butter and flour mix is ready once it's mealy.
Food processor method (only for butter pastry - not for shortening)
Pulse until the butter and flour are completely combined and look mealy. You may have to do this in two rounds since it's a lot of flour and butter, which can compact down the lower layers and over mix.
If you notice the blade is spinning but the contents aren't moving then remove half the contents to a bowl (as even a mix of butter and flour as you can) and mix it in batches.
Add the water
Once the butter and flour are mixed either by hand or food processor, the rest of the mixing is done by hand. You can start adding the water in the food processor as explained in this video at the 3:45 minute mark, but if you are new to pastry it's best to add the water and mix by hand as it leaves less up to chance.
With your butter and flour mix in a large bowl or on a work surface, slowly drizzle in the water one tablespoon at a time. You may not need to use all the water. Use your hands or a fork to fluff the flour, move it around so it sticks to the water rather than squeezing it together.
Test the dough to see if it's ready by using your hands to squeeze it into a ball. If it can form a ball without falling apart, it's ready.
Cooking note: In the video above, vinegar is added to prevent gluten formation. You can also replace 1 tablespoon of water with vinegar if you are new to pastry making but keep it mind it could alter the taste of the pastry.
Knead & refrigerate the dough
Lightly knead the dough until all of the crumbly bits are incorporated. Form it into a ball, wrap it in plastic wrap or a kitchen towel and put it in the fridge while you make the filling.
Step 4: Make the ground beef filling for the Jamaican patties
Some tips for making the filling:
Add the aromatics: Heat 1 tablespoon of oil in a skillet over medium-high heat and add the wet ingredients prepared for the filling. Sauté until aromatic and softened.
Add the beef and spices: Add the dry spices and the 450 grams/1 lb ground beef to the skillet.
Brown and break it up: Cook the beef until starting to brown. Use a spatula to continuously break up the beef so it doesn't form large clumps.
Thicken with breadcrumbs & liquid: Add ½ cup breadcrumbs and mix. Then add the beef stock or bouillon dissolved into beef stock. Hold off on the extra salt until the next step.
Taste test!: Once everything has been added and the mix is ready to go into the patties, be sure to taste test! Sometimes peppers are less spicy than expected and beef boullion can come in a lot of different forms - some containing more or less salt. The mix should be really flavourful - maybe a little on the spicy or salty side of things since it will go into a relatively less flavourful pastry crust.
Cooking note: Ground beef quantity - don't worry too much about a few extra grams or oz. If you can only find 500 grams of beef, then that's totally fine. The filling recipe does not need to be so precise.
Ultimately it comes to one or two teaspoon difference per patty so it's not a big deal. The patties will still be sufficiently plump even if you are slightly off.
Step 5: Cut, stuff and bake!
Now comes the fun part!
In all seriousness this is the home stretch. Stuffing and baking is the simplest part of the process.
Find a stamp: I used a rectangular tupperware with rounded edges to get that characteristic patty shape. You can also use a circular stamp like a bowl or pastry ring if that's easier.
Flour a work surface: Clear a work surface and lightly flour it to roll out the dough.
Portion the dough: Cut the dough into quarters and work on 1 quarter at a time, leaving the rest under a cloth or bowl so it doesn't dry out.
Roll out: Roll out each quarter into roughly a large rectangular shape between 2-4 millimeters thick. You can also cut smaller pieces and roll them out to roughly the size of whatever you're using as a stamp if that's easier.
Cut: Once rolled out, press the stamp into the dough either to cut it or just to stamp on the shape and then use a knife to cut it.
Fill the patties: Spoon about 3-4 tablespoons of the filling onto one half of each patty shape. Fold over the top and use a fork to seal the edges. No need for water to seal.
Bake: Place the patties on a parchment lined baking tray and bake at 175 C / 350 F for 25-30 minutes or until the edges are just beginning to brown.
That's it! Enjoy!
You may also like these other tropical dishes:
Recipe
Jamaican Beef Patties
Perfect Jamaican beef patties with a rich and aromatic filling of spiced beef wrapped in crisp and flaky golden pastry. So good.
Print
Pin
Rate
Ingredients
Pastry
600

grams

white flour

all purpose

400

grams

unsalted butter

cold

150

grams

ice water

1.5

tablespoons

curry powder

ideally Jamaican

1

tablespoon

turmeric

1.5

teaspoon

salt

½

teaspoon

sugar
Filling
450

grams

ground beef

2

yellow onions

finely diced

4

cloves

garlic

4

stalks

green onion

8

sprigs

fresh thyme

2

hot peppers

ideally Scotch bonnet

0.5

cup

bread crumbs

1

cube

beef bouillon

in 1 cup of beef stock or alternatively 2 beef bouillon cubes in 1 cup of water.

0.8

tablespoons

sugar

3

tablespoons

curry powder

ideally Jamaican

1

teaspoon

ground allspice

2

teaspoons

onion powder

2

teaspoons

garlic powder

2

teaspoons

dry thyme

2

teaspoons

sweet or smoked paprika

0.5

teaspoon

black pepper

1

teaspoon

salt

optional at the end

oil

for frying
Instructions
Prepare the pastry dough

Cut the butter into cubes and chill. Mix the flour with the other dry ingredients that go into the pastry. Cut the butter into the flour and then drizzle in 1 tablespoon water at a time until it holds a ball. Knead for a few minutes and form it into a ball. Refrigerate until filling is ready.

Prepare the filling

Finely dice the aromatics. Heat oil in a skillet and saute the aromatics until soft. Add the beef and brown, breaking up often. Add the breadcrumbs and then the liquids. Turn off heat and set aside to cool for a few minutes.

Preheat oven

Preheat oven to 175 c / 350 F.

Roll out & fill the dough

Roll out the dough one piece at a time, using a stamp like a lid or bowl to shape the patties. Spoon 3-4 tablespoons of filling onto half of each patty, then fold over and seal with a fork.

Bake

Place patties on a parchment lined baking sheet and bake for 25-30 minutes or until starting to brown.
Notes
See full recipe post for more details on every step.
Nutrition
Calories:
453
kcal
|
Carbohydrates:
39
g
|
Protein:
11
g
|
Fat:
29
g
|
Saturated Fat:
16
g
|
Polyunsaturated Fat:
1
g
|
Monounsaturated Fat:
8
g
|
Trans Fat:
1
g
|
Cholesterol:
79
mg
|
Sodium:
443
mg
|
Potassium:
250
mg
|
Fiber:
3
g
|
Sugar:
2
g
|
Vitamin A:
944
IU
|
Vitamin C:
12
mg
|
Calcium:
49
mg
|
Iron:
4
mg