These fish tacos with mango salsa and creamy white lightning sauce are full of vibrant flavours layered together to create a perfect bite. Made with baked fish and lots of fresh ingredients, they're healthy but they taste like pure indulgence. All for only 400 calories and 10 grams of fat per serving of 3.
The best part is that they're quick and easy to make. Fish tacos are the answer to boring weeknight meals.
Essential Elements
Something fresh: Mango salsa
Protein: Fish
Something creamy: White lightning sauce
Hold it all together: Tortillas
Make it your own: Additions
The beautiful thing about tacos in general is the sheer versatility. There are so many varieties of taco and if you're missing one element you can usually find an easy substitute.
The key is to aim for a balance of flavours. Fresh, sweet, acid, creamy, crisp, crunchy, soft, seasoned, spicey, and smokey all have a place at the proverbial table and that's what makes tacos so freaking delicious.
Essential elements: Mango salsa
This mango salsa is made with:
1 ripe mango
½ red pepper
½ yellow pepper
1 small red onion
3 tablespoons chopped cilantro
½ a habanero pepper
Juice of 1 lime
¼ teaspoon salt
Dice up the mango, peppers, onion, and cilantro very fine (or as fine as you have the patience for). Sprinkle with salt and squeeze in the lime. Set aside to let the flavours develop while you prepare the fish.
What goes into mango salsa?
Fundamentally it can be as simple as just mango, onion, cilantro, and lime or lemon juice. Peppers add another dimension of sweetness and a little kick of heat from a hot pepper like habanero (classic) or jalapeno plays really nicely with the sweet overtones.
Red onion is a classic pairing but in a pinch you can also use white, yellow, or shallot.
Other nice additions for mango salsa are corn, black beans (especially nice if you're also feeding vegans), and avocado. I've also seen cucumber and if you live somewhere hot and have access to chayote, that would also be a great pairing.
Essential elements: Fish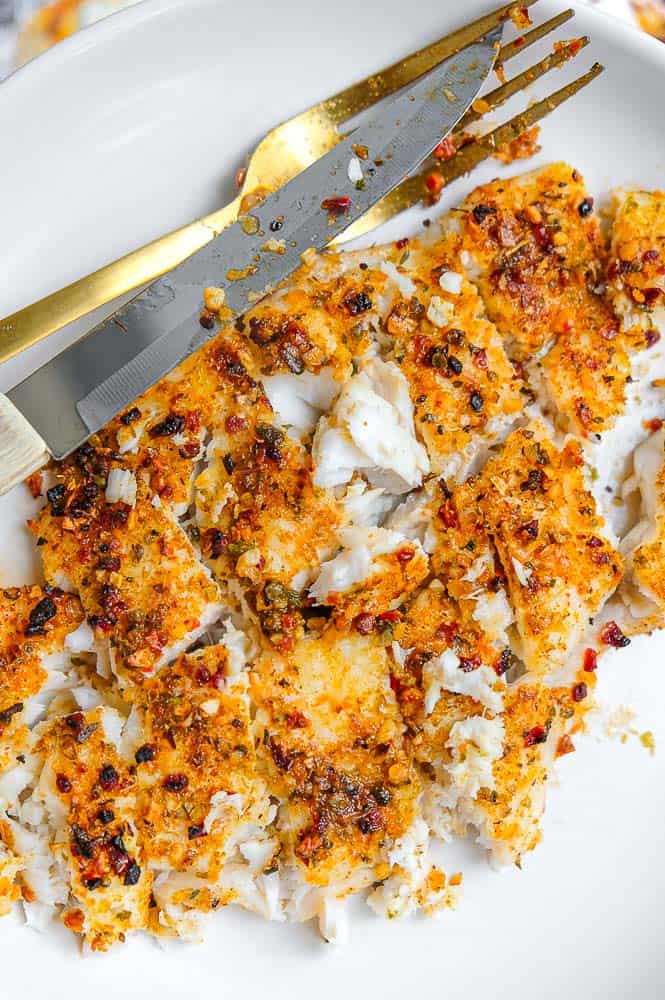 Fish pairs so beautifully well with the flavours of tacos.
In a lot of places it's really common to see battered and fried fish in fish tacos. I love battered and fried fish in my taco as much as the next person, but I'm not about to do all that work on a weeknight.
The next best thing (in my book at least) is very well seasoned oven baked filet cut roughly into chunks. I like this method because it also gives me a chance to char a bit of jalapeno and onion which adds smokiness, depth, heat and sweet to the creamy white lightning sauce.
If you're really after that fried fish crunch but short on time, a great option I came across recently is to use store bought fish fingers or frozen fried fish like Rachel does in this post for Fish Finger Taco Wraps.
What kind of fish is best for fish tacos?
Firm fleshed white fish are best but I've also seen many people using salmon. The choice is yours just be sure to adjust the cooking time accordingly.
Some good options for firm fleshed white fish include:
Pangasius
Tilapia
Cod
Haddock
Halibut
Hake
Bass
Grouper
Snapper
How long to cook the fish
I've used both pangasius and cod for this recipe which both work out to about 10 - 12 minutes at 200 C / 400 F.
How to season the fish for fish tacos
Before seasoning I rinse and pat dry the fish and then rub them with about ½ teaspoon of vegetable oil per filet. Place the filets onto a parchment or foil lined baking tray. In addition to the fish filets, add a jalapeno and small onion cut into quarters to the tray and drizzle with oil.
As for seasoning, I really appreciate a high quality seasoning blend. It makes life easier and helps weeknight meals come together quicker.
Lately I've been using Euroma Mexican Taco Seasoning and Picadillo Seasoning for fish tacos. I add a bit of extra garlic powder and smoked paprika for more oomph.
You can also use a seasoning blend or just make your own in about 5 minutes. Sprinkle on the seasoning blend after rinsing, drying and oiling the filets.
Combine the following:
1 tablespoon of ground cumin
1 teaspoon dried oregano
1 teaspoon smoked paprika
1 teaspoon sweet paprika
½ teaspoon ground black pepper
½ teaspoon garlic powder
½ teaspoon chili flakes (more or less to taste)
½ teaspoon salt
These are basic proportions. You can adjust them to your liking and depending on what you have in your pantry. Here are some more tips on using and adjusting these ingredients:
Cumin: Cumin is a foundational flavour is many of the cuisines of South America. If you really want that taco flavour then cumin is pretty indispensable. If you don't have it then don't worry - it will still taste good
Dried oregano: While normally seen as a mainstay of Italian and Mediterranean food, oregano is also a key flavour component in many Mexican and South American dishes. The peppery and astringent quality of oregano balances heat from spicy peppers which is why oregano is so common in everything from spicy Sicilian pappardelle to Ethiopian lasagna and of course fish tacos.
Smoked paprika: One of my favourite spices of all time (if not my favourite). Smoked paprika adds smoke and depth to any dish. I use it widely and consider it a pantry staple.
Essential elements: White lightning sauce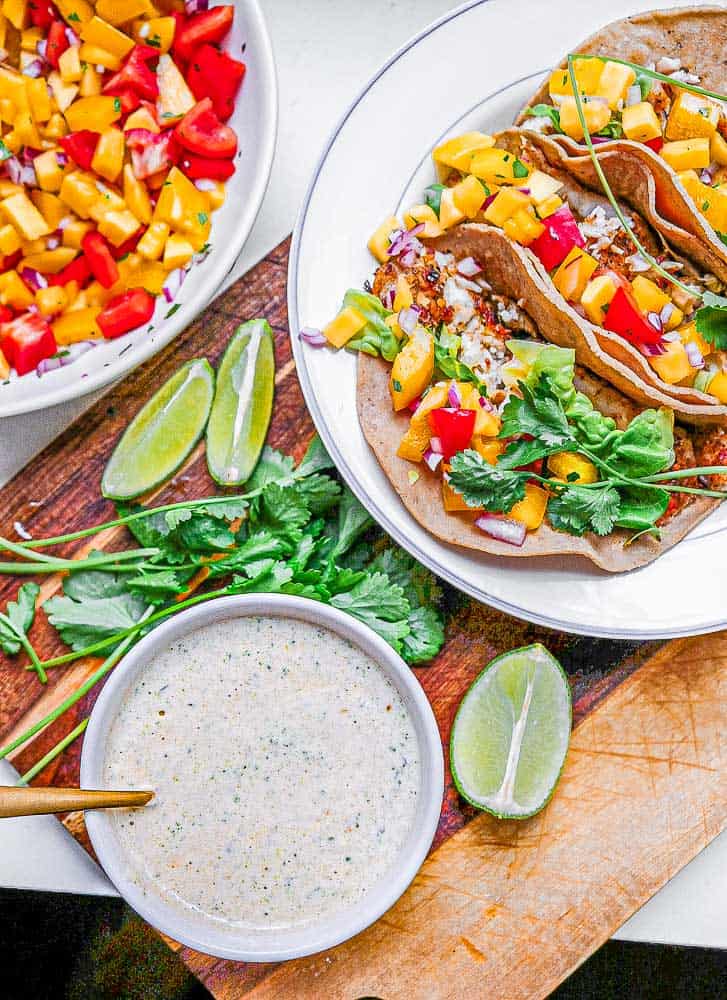 The name for this sauce comes from a little taco stand in Niagara Falls, Ontario circa 2015. The sauce was so aptly named because it was white and also white-hot like lightning.
White sauces as a pretty common feature in tacos. Usually they're made with sour cream and mayo. I made this sauce a bit lighter by swapping the sour cream for non-fat Greek yogurt. The addition of roasted onion and jalapeno adds a nice layer of sweet, spice and smoke.
How to make a white taco sauce
Add a halves or quartered jalapeno and a quartered small red onion drizzled with oil to your baking tray and bake them along with the fish. If you use a large onion for the mango salsa you can also just reserve a quarter of it for roasting.
When it all comes out of the oven add the following to the bowl of a food processor or blender:
⅔ cup non-fat Greek yogurt like Fage Total 0%
¼ cup full or half fat mayo
1 roasted jalapeño (or other hot pepper to taste)
1 roasted small red onion
½ to 1 whole teaspoon brown sugar
½ teaspoon cumin
1 small clove garlic (or half a teaspoon granulated garlic)
¼ teaspoon smoked paprika
¼ teaspoon salt
Juice of ½ a lime
1 tablespoon sriracha (optional)
Blend until smooth and then taste and adjust as necessary - you may need to play with the sweet, spice, acid, and salt until you get it exactly to your taste. You can also add more hot pepper or a bit of sriracha if you're in the mood for more heat.
If you don't have a food processor or blender then simply dice the jalapeño, onion and garlic very finely and whisk everything together with a fork.
Essential elements: Tortillas
This recipe is made with La Morena corn tortillas. If you live in the Netherlands you can find La Morena Yellow Corn Tortillas at Albert Heijn. If you don't then any corn tortillas will do though bear in mind they may be smaller which could affect serving size.
I laid the tortillas out on a sheet pan and popped them into the oven for the last 2 minutes of the fish cooking time and then left them about 2 minutes longer until they were completely warmed through and a bit crisp on the edges.
I've also heated these tortillas in a skillet which adds a bit more texture and dimension but also takes a bit more hands-on time.
Additions
Other great additions to this taco include:
Avocado
Corn
Black beans
Thinly sliced radishes
Thinly sliced fresh or pickled jalapeños
Pickled red onion
Instructions
Preheat oven to 200 C / 400 F.
Mango salsa: Finely dice all the ingredients for the mango salsa and add to a bowl. If using a large red onion reserve a quarter to be roasted for the white lightning sauce. Set aside the mango salsa while you prepare the fish.
Fish: Rinse and pat dry the fish. Place on a foil or parchment lined baking tray and drizzle on all sides with oil. Sprinkle with premade or homemade seasoning blend. Cut a jalapeno and a small red onion (or the reserved onion from the mango salsa) into quarters or thing strips. Add to the baking sheet along with the fish and drizzle with oil. Bake at 200 C / 400 F for 10 - 12 minutes.
Tortillas: During the last 2 minutes of baking the fish, add the tortillas to the oven laid out on a sheet pan. They can overlap a bit. Heat at 200 C / 400 F for a total of 4 minutes or until warmed through and slightly crispy on the edges.
White lightning: When the fish comes out of the oven, add the roasted jalapeño and onion to the bowl of a food processor with the yogurt, mayo, spices and lime. Blend until smooth adding more sweet, heat, acid or salt as necessary.
Assembling: The tacos are best eaten immediately so they don't get soggy. You can either do this by serving family style (everything goes into bowls and it's make your own taco) or youc an assemble and serve right away. Roughy cut the fish into pieces. Layer the fish in the tortilla with a bit of lettuce, mango salsa, white lightning sauce, and cilantro for garnish. Serve with extra sauce on the side.
You may also like these other dishes:
Recipe
Did you like this recipe?
Let me know in the comments ♥️