These crispy parmesan & herb chicken quarters with roast potatoes are a low-effort comfort food that's nice enough for Sunday dinner but easy enough for a weeknight meal.
With just 10 minutes of prep and 50 minutes in the oven you can get juicy inside, crispy outside chicken every time.
Making chicken taste good isn't difficult, but making chicken that has perfect crispy skin and a juicy and tender inside calls for some tricks.
Crispy Parmesan & Herb Chicken Seasoning
To make this crispy parmesan & herb chicken I used dried oregano, sumac, black pepper, and parmesan on the chicken and added sliced lemons and garlic to the roasting pan.
Sumac is a really nice addition to a summery herb mix - it adds a sour earthy note a bit like lemon but deeper. If you don't have sumac you can omit it or replace it with another earthy flavour - maybe a bit of smoked or sweet paprika, a pinch of garam masala, or some dried fennel.
The lemon and garlic in the roasting pan impart extra flavour into the roasting chicken and potatoes when they mix with the pan juices.
Alternative Flavours
The combination of lemon, garlic, parmesan and herbs adds a lot of flavour but you can also experiment with other flavour combinations - maybe you want to use basil, sun-dried tomato and fennel for an Italian feeling or smoked paprika and summer savoury for something a little Balkan.
Getting Crispy Chicken Skin
Getting perfectly crisp chicken skin with a juicy and tender interior is probably the most important part of serving skin on chicken. Nobody wants to eat chicken skin that's soft - it's actually a bit off-putting.
The secret to getting that perfectly crisp skin before the chicken overcooks is simply making sure the chicken skin is very very dry before covering in oil and roasting.
There are a few steps to ensure your chicken is dry enough.
Step 1: Don't wash it
Recent research suggests that chicken is less likely to transfer food-borne bacteria and illnesses if it isn't washed. You can find more information on this from the NHS, CDC and The Kitchn.
This works out perfectly for me because I like my skin crispy and also prefer less steps between me and dinner.
What you choose to do in your kitchen is your choice - but just know that if you do insist on washing your chicken you have to really make sure it's dry before roasting. You can do this by patting it dry with a lint-free kitchen towel or with paper towels.
Step 2: Pat it dry
Even if I don't wash my chicken, it still often comes out of the packaging with a bit of wetness/condensation. In order to make sure it's perfectly dry I still pat it down with a lint-free kitchen towel or paper towel on all sides.
Step 3: Give it some time to air dry
After I've patted the chicken dry I set it out on the lined baking sheet to air dry while I continue preparing the other elements of the dish.
Even as little as 5-10 minutes will help the skin air dry and also bring the chicken to room temperature which is better for more consistent roasting results.
Step 4: Oil it up
Once the chicken has air dried a bit I cover it in a good high-smoke point oil. Good choice include avocado, peanut, canola or sunflower.
Not so good choice are virgin or cold pressed oils like extra virgin olive oil or unrefined sunflower oil - these finishing oils are better used after cooking.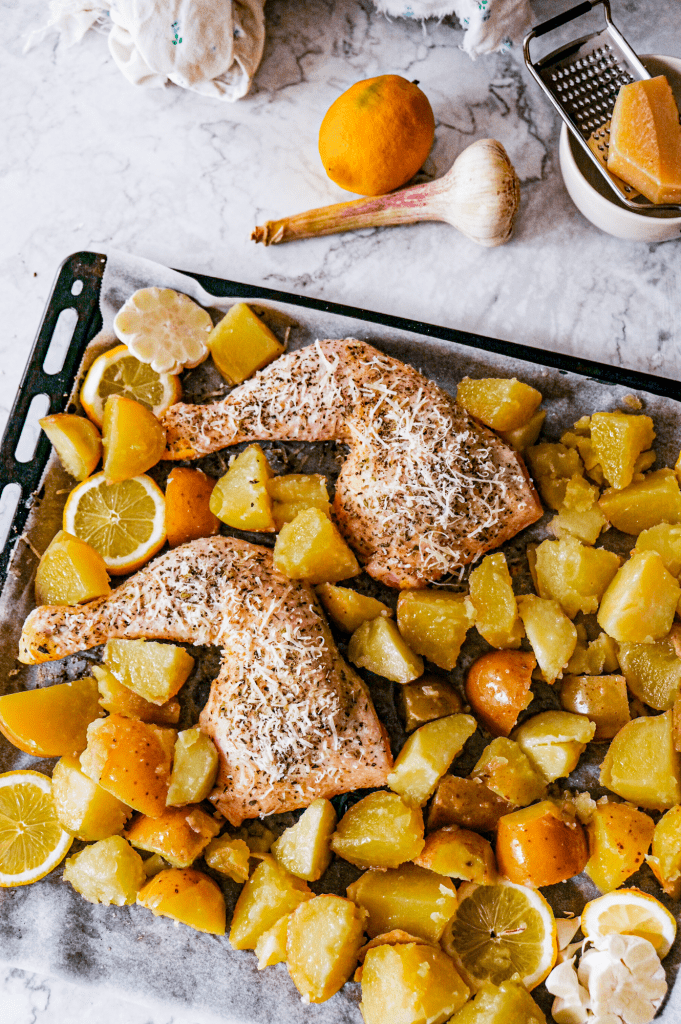 Step 5: Give it space
I roasted these chicken quarters with parboiled potatoes that I also allowed to dry. I arranged the potatoes so they weren't touching the chicken (as much as possible) because anywhere they're touching they're more likely to steam instead of roasting.
Steaming will prevent both the potatoes and the chicken from getting crispy.
Step 6: Roast on high ideally convection

I roast chicken at relatively high temperature - around 180 C - 200 C or 350 F - 400 F.
If you have a convection setting on your oven that circulates the air then you should roast on that setting. If not then the regular setting is fine too - you may want to rotate the pan once during cooking to help with even roasting.
The time and temperature balance depends on the cut of chicken but as a general rule remember that lower heat won't render the fat very well so if you try to do this low and slow you might end up with super juicy chicken with soggy skin.
Getting Crispy Sheet Pan Potatoes
The secret to getting really nice and crispy potatoes in the same pan as your roasting chicken is parboiling them.
If you boil the potatoes until just fork tender and then let them sit until the steam evaporates - you'll end up with very crispy potatoes - sort of like the roasted version of Belgian double fried potatoes.
I let my potatoes cool in a large bowl and then when I was ready to add them to the pan, I drizzled them with oil and salt and used a large spoon to gently toss them and then spoon them onto the pan.
Serving
Crispy chicken and potatoes should be served immediately while still hot. If you're preparing another side dish to go with the meal then make sure it's ready by the time the oven timer goes off.
Personally I went for a simple solution and served this chicken with a side of crunchy pickles - a nice tour contrast to the rich and crispy chicken and potatoes.
More tasty low-effort meals:
Recipe
Crispy Parmesan Chicken Quarters with Roast Potatoes
These crispy parmesan and herb chicken quarters with roast potatoes are a low-effort comfort food that's nice enough for Sunday dinner but easy enough for a weeknight meal. With just 10 minutes of prep and 50 minutes in the oven you can get juicy inside, crispy outside chicken every time.
Print
Pin
Rate
Ingredients
2

chicken legs

with skin

4

tablespoons

vegetable oil

or avocado, peanut, canola etc.

10

potatoes

quartered

1

bulb

garlic

1-2

tablespoons

grated parmesan or other hard cheese

1

teaspoon

dried oregano

1

teaspoon

dried sumac

¼

teaspoon

black pepper

1

teaspoon

salt

divided, plus more to taste

1

lemon

sliced into 1cm slices
Instructions
Parboil the potatoes. Cut the potatoes into quarters and add them to a pot of rapidly boiling salted water. Cook until fork tender - about 5 - 7 minutes. You can also cover them in water and microwave for 5 - 7 minutes or until fork tender.

Preheat oven to 190 C / 375 F on the convection setting if you have it.

In a small bowl combine the dried oregano, sumac, black pepper and half of the salt.

Cut the lemon into slices and cut the garlic bulb right down the center into two mirrored halves.

Line a sheet pan with parchment paper or reusable baking paper.

Prepare the chicken quarters. Whether you wash them or not, they have to be very dry. Either don't wash them (see notes) or thoroughly pat them dry with a lint-free kitchen cloth or paper towel.

Put the chicken on the baking sheet and drizzle one tablespoon of oil, using one hand to rub it in while the other hand sprinkles the spice mixture. After you give the chicken a good massage to loosen it up, arrange it on the baking sheet skin side up and sprinkle it with the cheese.

Once the potatoes are fork tender, drain them well and set them aside until they stop steaming. When they stop steaming, drizzle them with the remaining 2 tablespoons of oil and sprinkle in the remaining salt - use a large spoon to gently turn them to coat fully in the oil.

Arrange the potatoes, lemon slices and halved garlic bulbs alongside the chicken on the baking sheet.

Use the remaining tablespoon of oil to drizzle over the garlic and lemon slices.

Bake in the preheated oven for 50 minutes. Serve immediately.
Notes
Recent research suggests that not washing chicken is actually the better option for reducing the spread of food borne bacteria. It's up to you what your preferred method is - personally I've stopped washing chicken which makes it simpler to get the crispy skin.
Covering the skin with too much cheese can cause the fat to not render. If you want really cheesy chicken then add more cheese about 45 minutes into baking and pop it back in the oven for the remaining time.
Nutrition
Calories:
1367
kcal
|
Carbohydrates:
193
g
|
Protein:
44
g
|
Fat:
50
g
|
Saturated Fat:
11
g
|
Polyunsaturated Fat:
20
g
|
Monounsaturated Fat:
15
g
|
Trans Fat:
0.3
g
|
Cholesterol:
122
mg
|
Sodium:
1377
mg
|
Potassium:
4844
mg
|
Fiber:
25
g
|
Sugar:
10
g
|
Vitamin A:
190
IU
|
Vitamin C:
239
mg
|
Calcium:
204
mg
|
Iron:
10
mg