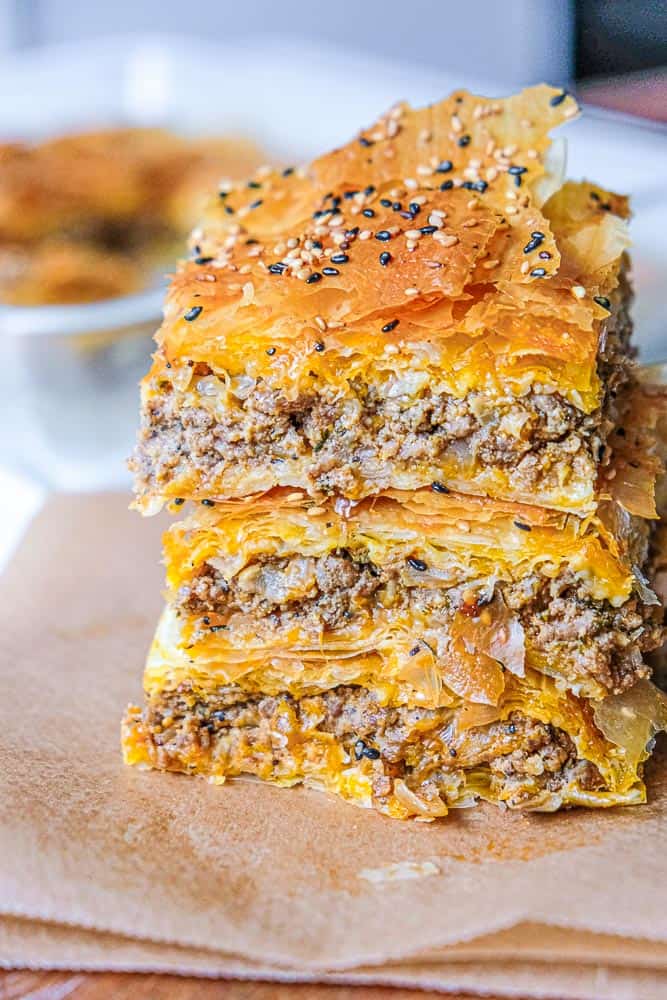 Classic Romanian meat pie features aromatic minced meat between layers of flaky phyllo dough. Meat pie is a standard dish in the Romanian culinary repertoire that's made often throughout the country both around special moments like the winter holidays and on a 'just because' basis.
Along with savoury feta pie, meat pie is one of my favourite Romanian dishes. There's so much to love about it. Aromatic beef sandwiched between crispy dough is a perfect combination.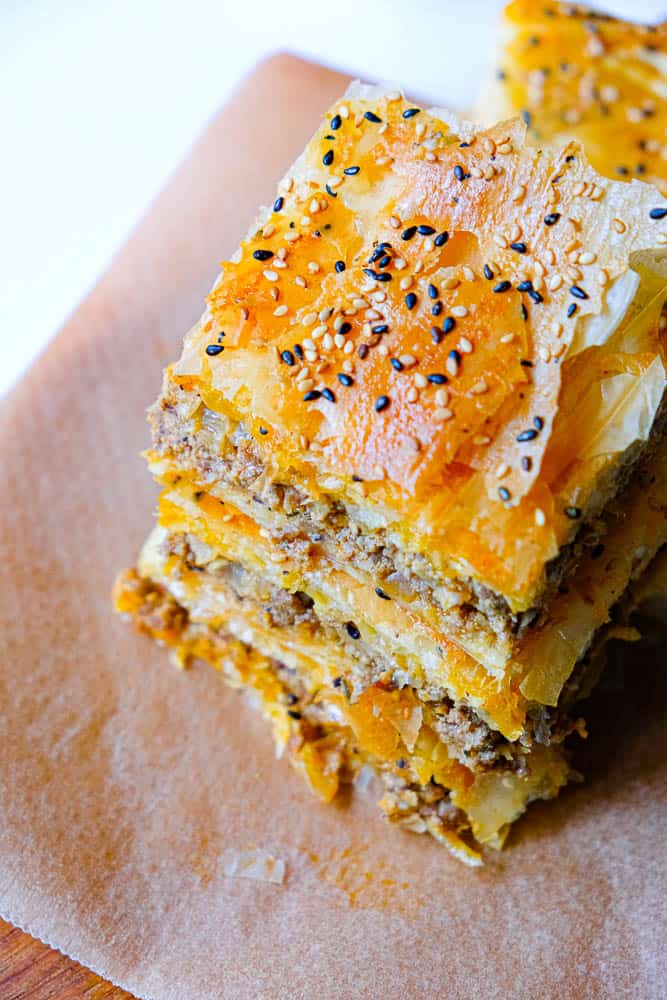 Meat in dough is such a perfect combination that it's repeated in different variations throughout the world, from Cornish beef pasties to Jamaican beef patties, South American empanadas, Balkan burek, Turkish borek, Hungarian Langosi, Romanian suberek, Russian chebureki (I could go on!) - and if we're really thinking outside the box - dumplings of all shapes and sizes!
I absolutely love a savoury stuffed dough in any form but I have to say I have no favourite. I love tasting all of the varieties and appreciating what makes them unique.
In the case of this Romanian meat pie what makes it distinctive is not only the use of phyllo dough, but more specifically the way the phyllo is layered to create a sandwich effect.
More Romanian recipes: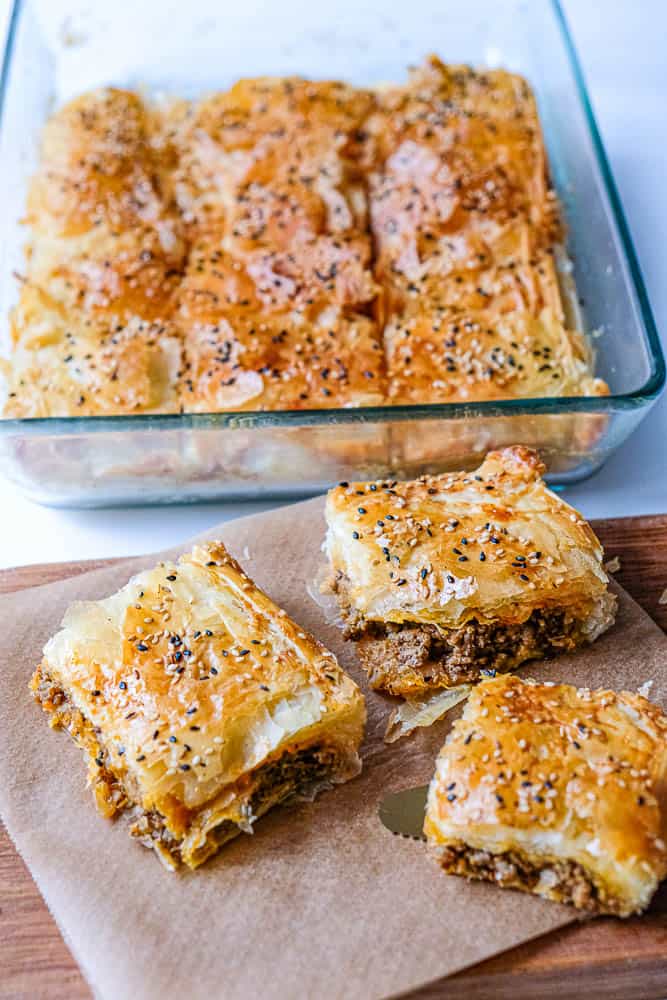 Preparing Romanian Meat Pie
Store bought vs homemade phyllo
You can make this with either store bought or homemade phyllo dough. The indications in this recipe post are for store bought dough.
To swap homemade dough you can use the directions in my post on homemade feta pie and follow the basic ratio of approximately 1 part phyllo dough to 1.5 parts filling by weight.
Puff pastry
You can easily substitute puff pastry for phyllo in this recipe. Since the phyllo is layered on itself with fat between each layer, the result is very similar to puff pastry. Just use one sheet on the bottom and one on the top.
Make the filling
Precook the meat
It's super simple - just saute the onion and then chuck the meat along with the spices, garlic and tomato paste into the pan. Don't add the salt yet. Cook until the beef has released its liquid, reduced and is beginning to brown. Use a spatula to break it up as it cooks so the texture is fine.
Once the beef is cooked sprinkle in the flour and stir well, then add the sour cream and half the water or beef stock. Cook a little longer until the flour and liquid thicken into a thick gravy. The texture of the filling should be thick but wet so that after baking, the pie is still moist. adjust liquid accordingly, keeping in mind you'll also add two eggs.
At this point you can start adding salt. Add a bit at a time, taste and see if you need to add more seasoning. Remove from heat and allow to cool for a few minutes before adding the eggs.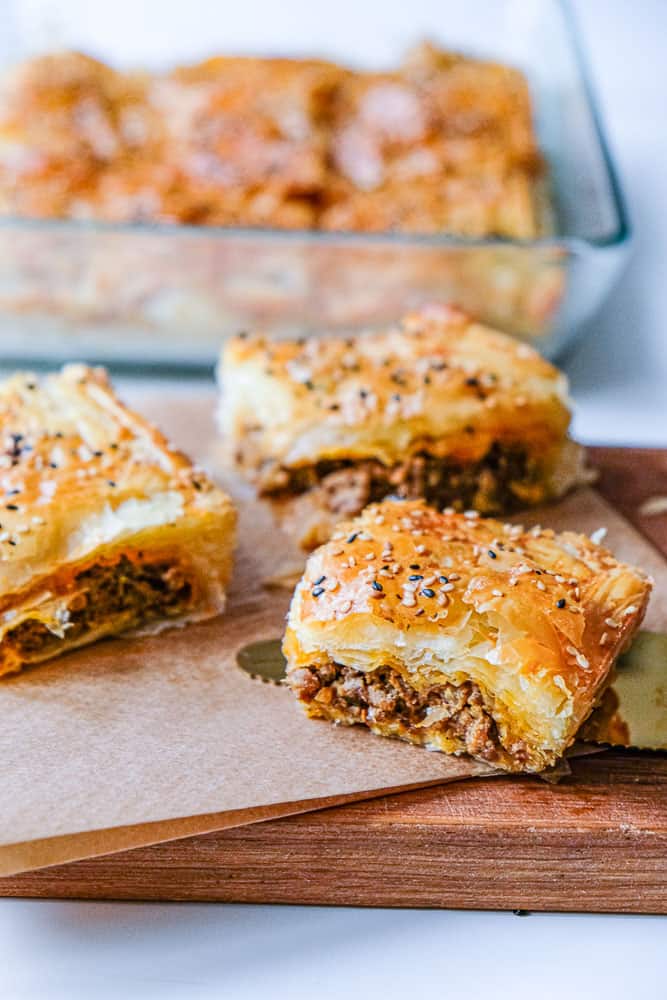 Type of meat
Lamb or beef is the traditional filling but you can use ground / minced chicken, turkey, beef, pork or lamb as you prefer.
I suggest using a meat on the leaner side since the phyllo will take a lot of oil and any extra fat in the meat could render out and leave a greasy pool in the pan - no bueno.
Prepare the phyllo
The phyllo is layered on itself, half on the bottom of your baking tray and then the other half on top of the meat filling.
The secret with phyllo is that every single sheet has to be individually brushed with oil or melted butter. If you skip this step or skip a few sheets here and there, the dough adheres to itself and once cooked has a hard and chalky texture that's enough to ruin the whole dish.
That being said, you don't have to drench the sheets with oil. Use a basting brush or your fingers and gently spread the oil around on both sides of each sheet. Tedious I know but worth it. If you don't feel like doing that much brushing then just use store bought puff pastry - one sheet on the bottom and another on the top.
Once all the layers are in, fold the phyllo on itself to create a smooth surface. Then brush the top with whisked up egg and sprinkle with sesame seeds for some extra pizzazz.
Type of baking dish
Any rectangular or square baking sheet will do. You may have to fold the phyllo sheets on themselves like I did if they're too large for your baking sheet. If you have a round baking sheet, you may want to do a spiral fold - you can see an example in my cabbage stuffed phyllo spirals.
Bake
Bake in a preheated oven for 25 - 30 minutes or until golden. I like to check at the 20 minute mark to make sure it isn't browning too rapidly - phyllo can go from golden to burnt very quickly.
Allow the pie to cool for up to 10 minutes before carefully slicing it into squares.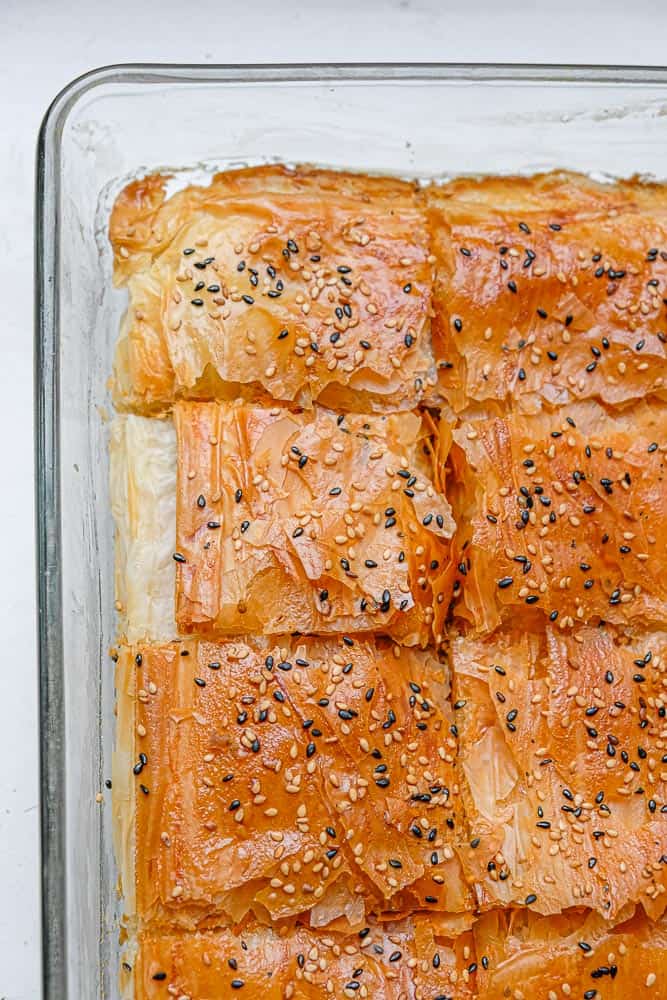 Recipe